Moving into the winter months means new considerations for how we kit out our MTBs and e-MTBs. Having the best MTB tyres for mud, snow and other wintery conditions is key to making sure you don't have months of slipping, sliding and crashing on the trails.
Luckily for you, we've done the hard work and reviewed the best winter MTB tyres so that you don't have to, meaning that you'll be gliding over trails this winter, not sliding once you make the change from your summer tyres.
If you just want the takeaway points, then the best MTB tyres for mud include:
The

WTB Verdict (our all-round winner)

which is good for:

downhill, enduro, standard trail riding, e-MTBs

.
The

Maxxis Shorty 3C Max Terra EXO

,

ideal for:

downhill & enduro

.
The

Schwalbe Magic Mary

, a great tyre for:

downhill, enduro

and

e-MTBs

.
The Continental Der Baron Projekt, perfect for: standard winter trail riding.
What Makes a Good Winter MTB Tyre?
The wet, sloppy, muddy and snowy conditions associated with winter create more challenging mountain bike riding, but you can make your life much easier if you have your bike kitted out with the right MTB winter tyres.
The best mud tyres have distinct features, which help grip the ground better and prevent you from skidding and sliding around all winter. 
These features include:
The key factor is the tread pattern. On a winter MTB tyre, the knobs are longer and the gaps between them are both wider and deeper. This gives the tyre more of a chance to get stuck into the muddy, wet ground, and gives you more grip as a result. 
The hardier riders amongst us also like to get out in the snow and ice, too, so those winter MTB tyres also include spikes to give optimal grip on the ground.
It's worth checking the wear and tear on your knobs from time to time, as they can wear down and become far less efficient in the mud or snow. If that occurs, it's probably time to get a fresh pair of E-mtb/mtb tyres.
This one isn't quite as clear to an untrained eye, but the best winter MTB & E-MTB tyres also are made out of a slightly different rubber that's designed to better stick to the ground beneath it.
The best MTB winter tyres have a lot of time and effort put into them, adapting the compound to become stickier and softer to help cope with those wintery conditions.
This does have a slight down side, however. It means that there'll be more rolling resistance, but ultimately, you won't be slipping off quite as frequently which is certainly a trade-off worth entertaining in the winter months.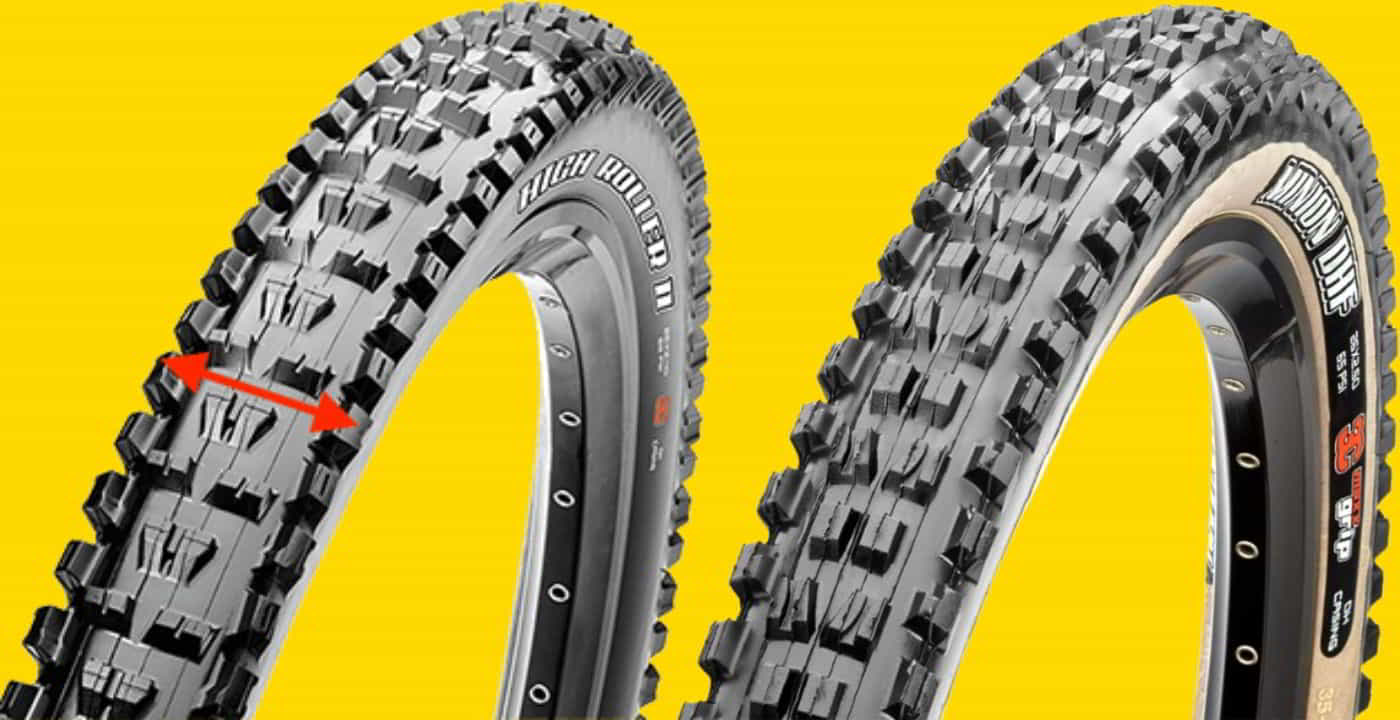 The width and size of a winter MTB tyre (or an MTB mud tyre) can also differ from your standard MTB tyre, too. Some come much larger – including fat bike tyres – to provide optimal surface area to grip the wet, muddy or snowy surface.
Other riders, depending on the type of wintery conditions – not snow – often go for thinner tyres with a much larger and deeper tread, as this enables them to really grip into the surface they're riding on.
What style of riding do you usually do? Is it enduro, downhill, standard trails or are you riding an e-bike? It's important to get this right because every style of riding demands different things from a winter MTB tyre.
Downhill riders need maximum grip and a thick tread so that the bike can handle the fast paces into those steep sections and corners, without sliding out.
For enduro rides, you need a good portion of the above, however you also need a bike which can clean out easily, so that you can climb better and get decent grip going uphill, too.
For the standard trail riders – you need something that can move fast on the flat and that doesn't get clogged up, so an overly aggressive tread wouldn't be ideal here.
And for our e-MTB contingent, you need something that can handle the fast paces, too, as well as providing decent grip for the steeper sections, whilst also managing to clean out for the flats.
Our Picks for Best Winter & Mud MTB tyres
So, now that we know the factors that go into making a good MTB mud tyre or winter MTB tyre, let's look at which brands are nailing it:
Price: £51.99
Weight: 1,280g 
Size tested: 27.5 x 2.5in
Pros: Good grip, agile in the turn, all weather performance
Cons: Slightly lower paced
Good for: Downhill, enduro, flat, e-MTB
The WTB Verdict offers a huge amount of grip due to its aggressive tread – it has very deep and well-spaced-out knobs, which cope really well in seriously muddy conditions and clears out well, too.
Due to its well-spaced tread it also manages to clear out well, so it performs admirably on firmer ground, too, and doesn't get clogged up. Its champion level of grip also means it can handle the pace of an e-MTB, too.
The only slight down-side is that it isn't the quickest, but it's a decent all-rounder and one you can use for many different styles of riding with the assurance that it'll perform well in each.
Maxxis Shorty 3C Max Terra EXO
Price:$84.00
Weight: 1,003g
Size: 29 x 2.4in
Pros: Good grip, fast moving, decent clear out, great for downhill riding
Cons: Poorer uphill
Good for: Downhill, enduro
This puppy really handles those thick muddy conditions well; it's well-designed so that the shoulder tread is very tall, providing the grip your winter MTB tyres need in sticky and unpleasant conditions – particularly when moving at pace on those tricky downhill sections.
It's well-formed in the centre of the tyre, too, with the knobs well-spaced out enough so that it works its way through the mud and doesn't get clogged up.
Due to that and an impressive tyre compound, it manages to cut through the wet conditions at a decent pace. Although a hero going downhill, it isn't quite as efficient on the up hills, due to a slightly less aggressive central tread overall.
Price: £42.99
Weight: 928g
Size tested: 29 x 2.35in
Pros: Great downhill, solid uphill, great in wet, good cornering & solid for E-MTBs
Cons: Not the fastest on the flat or sturdier ground
Good for: Downhill, enduro, e-MTBs
This is a really good winter MTB tyre if you're an aggressive rider. It's a particularly sturdy fighter downhill, cornering well and taking on those severely steep sections with relative ease.
If you're looking for the best wet weather tyre, then this is a really good bet – it even handles slippery rocks and roots well, too.
It's a really good bet for downhill and enduro riders; it has a wide tread, which allows all the gunk that builds up to clear out well.
Its ability to handle the fast paces mean it works really well on an e-MTB, as well as on a standard bike.
All that grip, though, does mean that you lose elements on the flat and its rolling speed isn't the quickest, but it climbs well.
Continental Der Baron Projekt
Price: £61
Weight: 1,000g
Size: 29 x 2.4in
Pros: Clears out well, fast paced on flat
Cons: Shallow tread, poor for fast-paced downhill, price
Good for: Standard trail riding
A really fast mover on the flat due to its wide tread spacing and fantastic for undulating trails, this option from Continental is certainly a solid winter trails tyre.
It does struggle, however, on the really thick sections due to its shallow tread and it can come a cropper on those steep sections as a result, too. So, whilst it's more-than-capable for your standard trails, this isn't the best MTB mud tyre when it comes to the gnarliest of conditions.
Another mark against it is its price, which is also significantly steeper than its rivals.
Overall Best Winter MTB Tyre and MTB Mud Tyre
Truthfully, there's very little to criticise when it comes to this beauty of a tyre. The WTB Verdict gets our title for the best MTB winter tyre and best MTB tyre for mud, and does so for many different reasons:
It's an incredibly versatile mud tyre which is great on steeper, faster downhill sections, due to its immense amount of grip.
At the same time, though, its tread spacing enables it to get rid of mud easily, too, without it becoming heavy or clogged up. That helps on the flat sections and also on the firmer ground – something that's perfect for standard winter trail riding.
Its tread length is well balanced, allowing it to climb well, making it great for enduro as well. And the icing on the cake? It comes at a very reasonable price for a winter MTB tyre.
The WTB Verdict is a winner for us and comes out as our best MTB mud tyre and our best MTB tyre for wet weather and winter conditions.
Congrats WTB – you've created a beauty of a tyre here!
Getting the right type of tyre for your style of riding is hugely important as we move into winter. If you get it wrong, then you could find yourself slipping and sliding all winter, potentially crashing or just finding riding an absolute nightmare in those really wet, muddy and downright-grotty conditions.
So, think hard about what you need from a tyre: are you a downhill rider mainly? Or an enduro racer? Or maybe you just want to have a good spin on your standard trails? Or potentially you want to get a tyre for your e-MTB?
We've looked at all 4 types of riding and our winner is the WTB Verdict – it copes admirably in all of the 4 disciplines we mentioned, giving you plenty of riding options over those cold winter months.
If you're reading this blog, then credit to you for prepping for winter riding. As the nights get longer and the weather gets more bleak, you're clearly made of stern stuff. As always, we'll see you on the trails.