The Bosch Performance Line CX motor is already one of the very best in the business. Offering an enormous amount of power, intelligent power delivery, a natural ride feel on the trails and an advanced display.
So can it get any better? Cue Bosch, who have brought out the Bosch Performance Line CX Race Limited Edition. This is a souped-up version of their top e-MTB motor, targeting pro-athletes and high level recreational riders.
Is it worth the money, though? Join us as we get to grips with the Bosch Performance Line CX Race Limited Edition…
A truly remarkable e-MTB motor, which is at the very top of its game.
Fast, powerful, light, intelligent and playful – it's an absolute powerhouse and nails what it sets out to do.
It's an all-out racer.
We only recommend this powerhouse for the very experienced and elite level riders – who are looking for those small margin gains at a competitive level.
Peaks:
Troughs:
Bosch Performance Line CX Race Limited Edition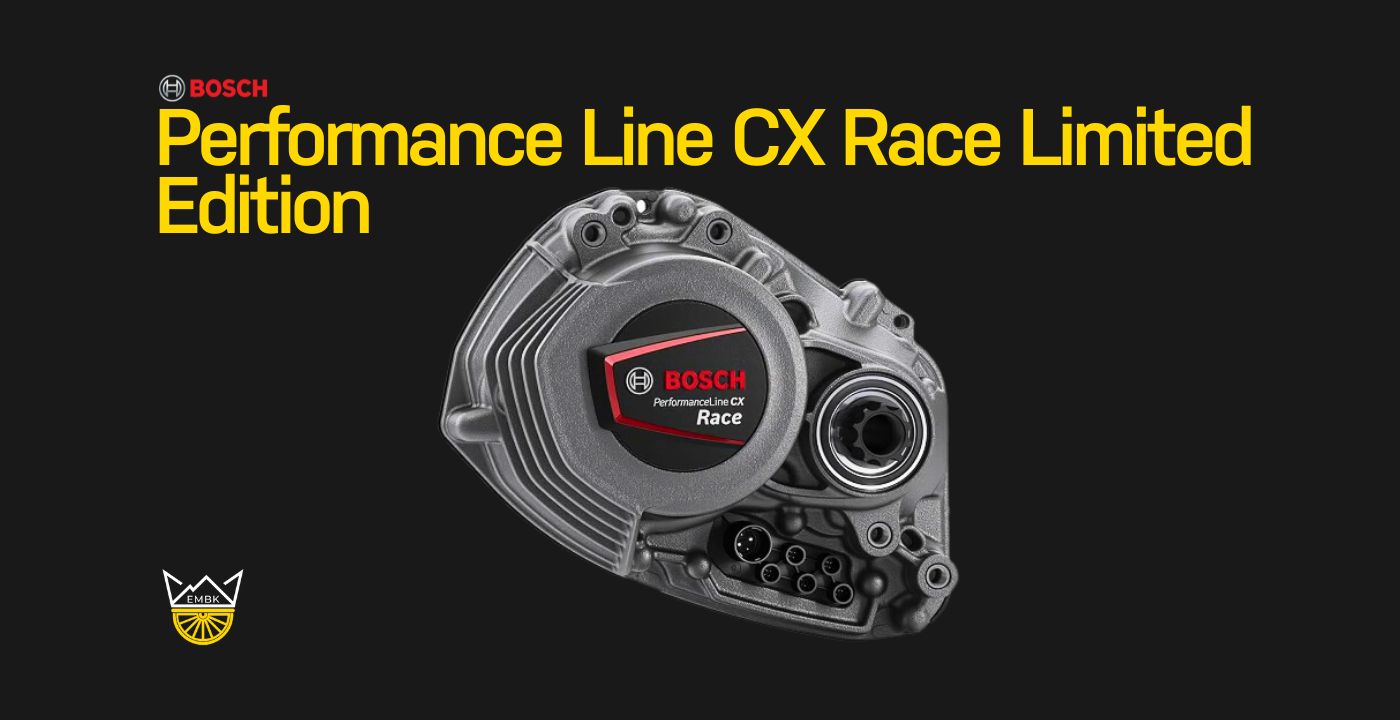 Price: $1,600 - $2,000 (depending on dealer)
Power and Battery Pairings
The Bosch Performance Line CX Race Limited Edition kicks out a whopping 85Nm of torque. It can offer a support level of 400%, which is a decent slice more than nearly all the competitors in the market.
It's geared up to be ridden hard and that shows with its maximum cadence capability – it can cope with up to 120rpm. The motor can be paired with Bosch batteries up to 625Wh, with the most common pairing being the PowerTube.
It isn't the largest battery on earth, but remember, this motor is for racing, not long, all-day adventures – it's designed to go hard and fast.
The Bosch Performance Line CX Race Limited Edition weighs in at 2.75kg. It's designed to be nimble and not add unnecessary weight to the bike, which makes it incredibly compact and powerful.
It's an attractive proposition for the top spec, race focused e-MTBs and can slot in easily to many top bike designs. It's the lightest e-MTB motor Bosch produces.
Handling and Power Delivery
That lightweight nature contributes to a beautiful handling experience. It feels light-footed and the Bosch Performance Line CX Race Limited Edition releases its power very intelligently.
It comes with the same four modes you get on the Bosch Performance Line CX – Eco, Tour, Sport and Turbo, however it also comes with an extra Race mode, too.
That Race mode makes all the difference. It gives you an immense punch and gets you up to top speed rapidly, so you can kick up the trickiest climbs and accelerate quickly off the line.
ℹ️ The Race mode would offer too much pull for many recreational riders. It needs intelligent and experienced riders to be able to harness it properly.
However, for top e-MTB riders it's a dream to ride.
The Bosch Performance Line CX Race Limited Edition comes with the company's Smart System Controller, which is situated on the bike's top tube.
It's highly customisable; you can switch between RPM, incline stats, kilometres clocked up, speed, gearing info and many other options to maximise performance.
You switch between the bike's five modes using a handlebar-mounted mini remote and there's also an extra new function called Hill Hold.
This is a nifty little addition, which prevents your bike rolling backwards on particularly tricky climbs and prevents you losing ground in race conditions.
As the name suggests this e-MTB motor is a limited-edition product from Bosch and the price can fluctuate, depending on the dealer and availability.
They usually come in between $1,600 and $2,000, however, there's a very real possibility that prices might increase if the motors become in short supply, when Bosch inevitably stops making them.
The price reflects both its limited availability and also the high level of craftsmanship. This is among the most advanced in the industry and it really is at the cutting edge of what's capable from an e-MTB motor.
Quite frankly, the Bosch Performance Line CX Race Limited Edition is an absolute beast. It's as fine-tuned as you can find on the market and is definitely worth the money if you're looking to compete at a high level.
Is it worth it for moderate ability riders and recreational riding? No, you can get the Bosch Performance Line CX for cheaper and it offers what you will need.
This is an absolute thoroughbred racing stallion of an e-MTB motor – powerful, intelligent, fast, light and absolutely at the top of its game. If that's what you're looking for, get out there quick before they're all snapped up.