The German bike manufacturer FOCUS has been in the industry for around 30 years. The FOCUS SAM² 6.9 was brought out to be its showstopper in the downhill market. On paper it reads well, big travel and some gnarly features, which the Germans say will take on the wildest of trails.
The downhill market is awash with top bikes, so turning heads in this sector of the e-MTB business is a real achievement. Does FOCUS manage to stun the crowd? Time to roll up our sleeves and bomb downhill in this FOCUS SAM² 6.9 review…
The FOCUS SAM² 6.9 excels with the pull of gravity and it's robust enough to take some of the gnarliest terrain out there.
However, you can't look past the overall weight of 26kg – it lets the bike down enormously. When things become super twisty and technical the bike really struggles – it simply doesn't have enough agility and it feels very sluggish uphill.
Otherwise, it's a good bike – get that weight down, FOCUS, and you might be onto a winner. 
Peaks:
Troughs: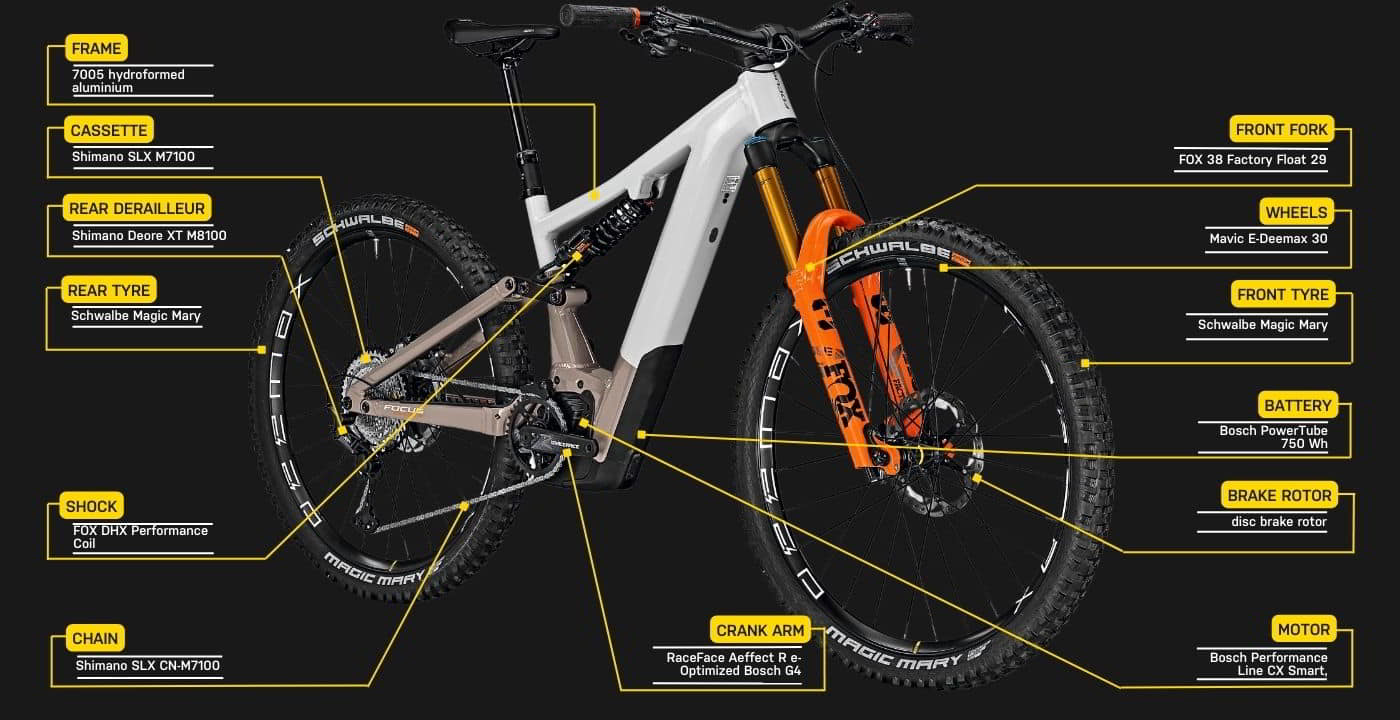 The FOCUS SAM² 6.9 has a heavy-weight 7005 hydroformed aluminium frame. Extra attention has been paid to all the connection points to make the bike as sturdy as possible, to ensure it can take the biggest impacts possible on the trail.
It provides a sleek looking finish, but all that extra work comes at a cost – the bike weighs in at a chunky 26.6kg. Heavy weight isn't uncommon in the downhill and jump bike market, but this is pretty cumbersome even by downhill standards.
All that weight certainly makes the bike tough, it can launch off absolutely anything and feel stable on impact – however, it can feel a bit of a beast to manipulate in the really twisty stuff. It comes with a slack head tube angle and a long old wheelbase to help with that stability and the battery is placed very low in the downtube to ensure you get a decent centre of gravity.
It's made for the big impacts and you feel composed while taking on some of the toughest terrain out there, however, the handling is pretty weighty, which means when things become narrower it can feel laboured. That weight also makes it a sluggish climber and not the most versatile.
The bike comes in 4 frame sizes, all with the same geometry – small, medium, large and extra-large.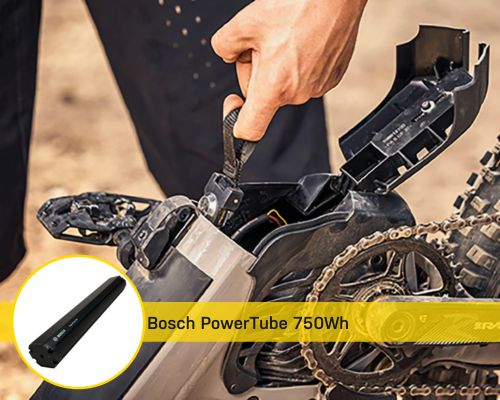 The FOCUS SAM² 6.9 comes with an excellent 750Wh Bosch PowerTube battery. We know what to expect from Bosch electrical components by now – reliability, great usability and an intelligent mode of power delivery.
That burly 750Wh battery certainly adds to the overall weight of the bike, but with it placed low in the downtube, it helps you feel planted on the trail. The Bosch PowerTube usually gives you enormous range, but due to the weight of the FOCUS SAM² 6.9 you don't get the usual huge figures you sometimes see.
We managed to pedal out around 2,000m of climbing in around 75km – it isn't astonishing, but it's fairly decent. You have a strong outer casing around the battery, to protect it from damage on those wild downhill routes, which is needed considering the gnarly capabilities of the bike.
It takes around two and a half hours to charge the 750Wh Bosch PowerTube up to 50% and around 6 hours to get back up to full charge.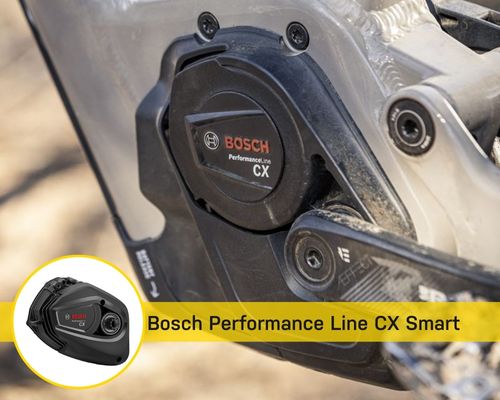 The FOCUS SAM² 6.9 comes fitted with a Bosch Performance CX Smart System motor – it's one of the best in the game and punches out up to 85Nm of torque. Due to the weight, you really need that amount of kick in the motor and it goes a long way to elevating the pain of the heavy frame.
The bike will never be the most adept climber, simply down to the weight and also the size – it's designed this way to excel on the descents and it does. However, on some of the steeper climbs, particularly when it's technical and twisty, the FOCUS SAM² 6.9 can struggle a bit.
But on a straighter route, the bike manages comfortably and you have enough gas in the tank to drag your heavy frame back up to the start of the next wild downhill run. The power is delivered in a natural way and you feel composed out on the trail – you need that because if you had any overshoot or jerk with that heavy frame, it could be pretty hard to handle.
You get various modes of assistance including – Eco, Tour, Tour+, e-MTB and Sport.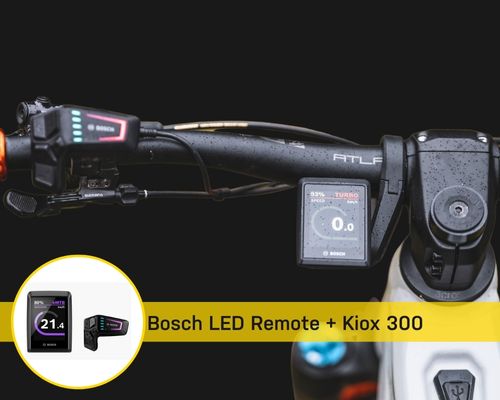 The FOCUS SAM² 6.9 comes with a Bosch Kiox 300 – it's a fantastically designed display. Not only do you get your battery health displayed as a percentage figure, but you can also switch up your viewing options with ease.
There is a range of data to choose from – including how far you've ridden, speed, RPM, mapping info, time and much more. It's a really handy device to have at your disposal, which actually improves a day out on the trails.
It's situated on the handlebars, for ease of view, and you have a little mini controller to flick between the modes of assist too. A really worthwhile display to have. 
The FOCUS SAM² 6.9 is made for the wild stuff and the suspension setup reflects that. You get a monster 180mm of travel at the front end and 170mm at the rear, with FOX 38 Factory Float forks and FOX DHX Performance Coil shocks.
This is absolutely singing to be taken to the rough stuff and it performs majestically out on the trail. The forks are highly adjustable, too, which helps you tweak the suspension setup for the day's riding requirements, or to the specifications of your body weight.
The shocks aren't quite as adjustable, which is a bit of an oversight, but they still did the trick for us while riding. The setup is capable of taking the wildest drops and the gnarliest impacts, without so much as a whimper.
It's absolutely geared up for the terrain the bike was made for and when you're heading downhill it's a complete shredder.
The FOCUS SAM² 6.9 comes with 29in wheels at the front and the rear, supplied by Mavic with the manufacturer's e-Deemax 30s. They're heavy-duty wheels, which have extra strengthening properties inside to take the big impacts that you are likely to throw this bike into.
They're encased in Schwalbe Magic Mary tyres, which are 2.6 inch wide – again, this is designed to offer stability out on the trail and you have a seriously toothy tread to grip firm into the dirt.
The FOCUS SAM² 6.9 comes with Shimano XT M8120 hydraulic disc brakes. These are burly ol' beasts, which are made to fight hard in the toughest situations. They're absolutely spot-on for this downhill beast.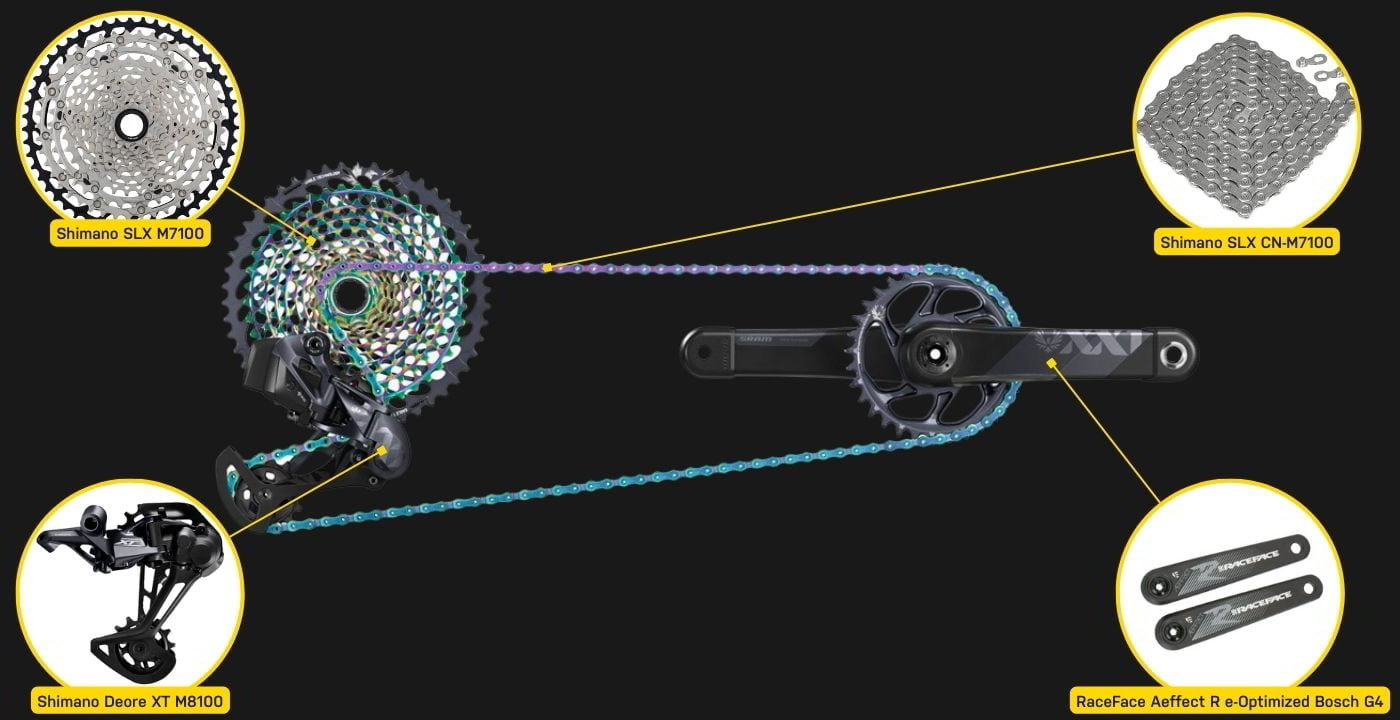 The FOCUS SAM² 6.9 comes with a 12-speed Shimano Deore XT M8100 drivetrain. We aren't blown away by the Shimano Deore XT, but most of this bike's work is done thanks to the pull of gravity, so realistically you don't need an all singing all dancing drivetrain. When you factor that in, we guess it does the trick.
It's not a bad price for an absolute shredder of a downhill bike. It certainly has areas to improve; we think it's too heavy and you can get lighter downhill bikes for your money. However, you're getting top electrical components, a belter of a suspension and it rides very comfortably.
ℹ️ If you're looking for an adept climber, you'll be seriously disappointed with the FOCUS SAM² 6.9 – it excels with the pull of gravity, but isn't a nimble bike by any stretches of the imagination. Keep that in mind.
FOCUS SAM² 6.9 Facts & Figures
GEOMETRY

S

M

L

XL

SIZE (mm)

390
420
440
460

HANDLEBAR WIDTH (mm)

820
820
820
820

STEM LENGTH

50
50
50
50

CRANKARM LENGTH (mm)

165
165
165
165

SEAT POST LENGTH

390
440
480
480

SEAT TUBE LENGTH

390
420
440
460

EFFECTIVE TOP TUBE

578
608
637
671

HEAD TUBE ANGLE (mm)

64.5
64.5
64.5
64.5

EFFECTIVE SEAT TUBE ANGLE (mm)

77.5
77.5
77.5
77.5

CHAINSTAY LENGTH

450
450
450
450

BOTTOM BRACKET DROP

20
20
20
20

HEAD TUBE LENGTH

100
100
120
100

WHEELBASE LENGTH

1229
1259
1293
1332

STACK

623
623
641
659

REACH

440
470
495
525
FRAMESET

Frame

Rear Shock

Suspension Fork

7005 hydroformed aluminium, 3D forging, 170 mm F.O.L.D. Gen2, 148×12 mm thru axle, internal cable routing, USB-C port, post mount 203 mm
Material: Aluminium (AL)
FOX DHX Performance Coil, 230/65 mm, hardware: 20,0 x 8.0 mm
Travel: 180 mm
FOX 38 Factory Float 29, Grip 2, E-Bike+, 110×15 mm, 44 mm rake

DRIVETRAIN

Motor

Battery

Rear Derailleur

Bosch Performance CX Smart, 85 Nm, 250 W
750 Wh
20.8 Ah
Shimano Deore XT M8100, 12-speed

Shift Lever

Cassette

Crank

Shimano Deore XT M8100, 12-speed
Shimano SLX M7100, 12-speed
RaceFace Aeffect R e-Optimized Bosch G4

Chain

Shimano SLX CN-M7100, 12-speed

BRAKES

Disc Brake

Brake Rotor

Shimano XT M8120, 4 piston

Shimano Deore XT M8000
Shimano SM-RT30 Center lock 203 mm
Size: 203 mm

Shimano RT-EM300 STEPS
Size: 203 mm

WHEELS

Wheel

Tyre

MAVIC E-DEEMAX 30, 622-30, 148×12 mm / 110×15 mm
Schwalbe Magic Mary, 2.6 Super Trail Soft, 65-622
Width: 2.6″

COCKPIT

Stem

Handlebar

Display

FOCUS C.I.S. 2.0 MTB integrated, 35 mm, aluminium
RaceFace Atlas 35, aluminium, 820 mm, rise: 35 mm, backsweep: 8°
Bosch LED Remote + Kiox 300

Headset

ACROS ZS56/ZS66 (ICR), FOCUS C.I.S. Integrated, 1.5/1.8″ angle headset

SEAT

Saddle

Fizik Terra Aidon
There are some truly tremendous downhill e-MTBs out there, so how does the FOCUS SAM² 6.9 compare? It's time to pit this bike against the Specialized Turbo Kenevo Expert.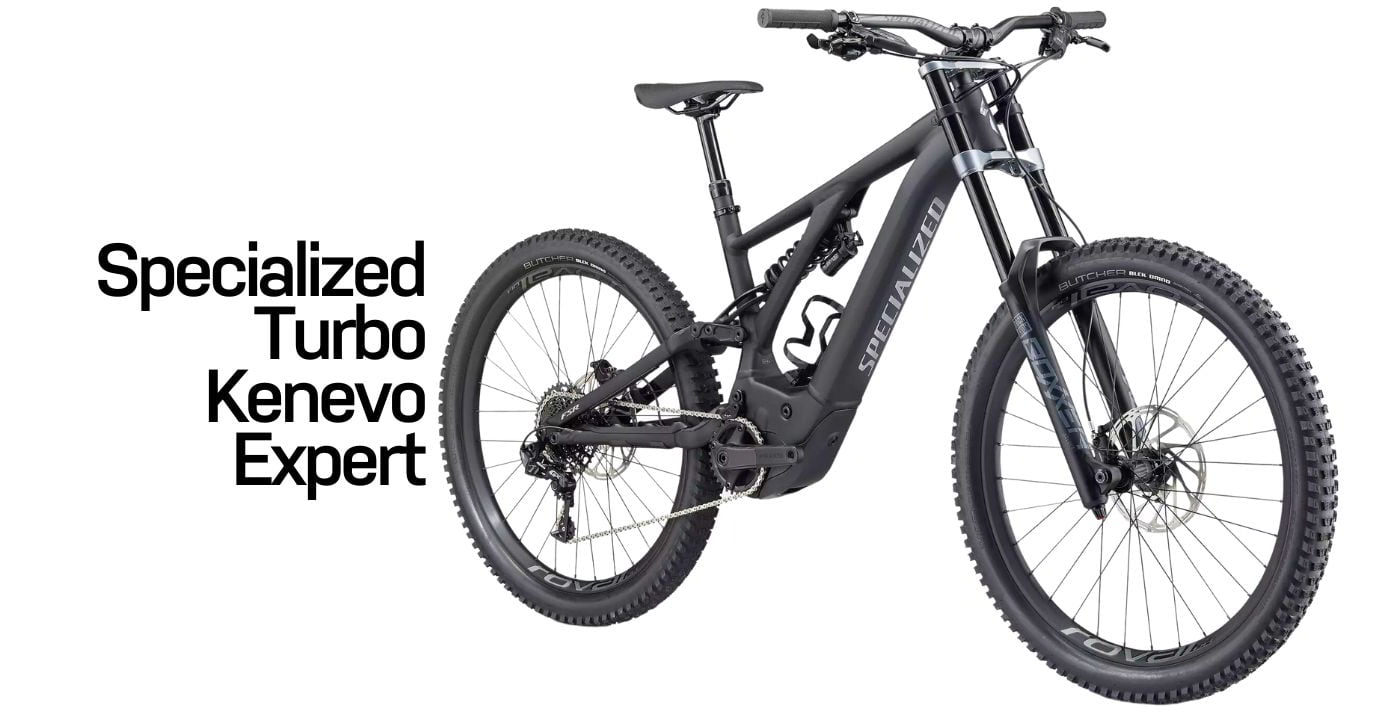 The first consideration is weight – the Turbo Kenevo Expert weighs 23.9kg, which is 2.7kg lighter than our FOCUS SAM² 6.9.
That makes a big difference to the handling quality of the bikes, the Turbo Kenevo Expert is far more nimble and can be thrown through the more technical stuff with greater ease.
The Specialized also climbs much better as a result and that makes it far more versatile than our FOCUS SAM².
However, our FOCUS SAM² e has a larger and a better battery – the Specialized comes with a custom 700Wh battery, but we have a 750Wh and it's produced by Bosch. We get a slightly improved range as a result.
The Specialized has a custom 2.2 motor, which can throw out a punchy 90Nm of torque – that's 5Nm more than our Bosch Performance Line CX, and when you factor in the lighter weight, it means the Specialized climbs much better indeed.
The Turbo Kenevo Expert's display is more advanced, too, but the suspension setups are on par  – both offer tremendous performance on the gnarly trails.
The Turbo Kenevo Expert also has far superior SRAM brakes and an SRAM drivetrain. Now down to price – the Specialized comes in at $9,000, $236 more than our FOCUS SAM² 6.9.
The FOCUS SAM² 6.9 has moments of brilliance, but it's let down by the bike's overall weight. The bike absolutely excels with the flow of gravity – you have a plush suspension setup, which is made for the really tough stuff, be that huge jump lines, big drops or fast singletracks.
However, the bike feels very sluggish uphill and if the terrain gets very twisty between the trees, you don't feel like the bike has the agility to comfortably dance through the obstacles. You have tremendous electrical components, which help with the climbing, but overall the whole bike just feels a bit too bulky for us.
Certainly a decent entry to the downhill market, but you can get much better for only a slice more cash. That's our thoughts on this FOCUS SAM 6.9. Now your chance to give this bike a dance downhill. 
If you enjoyed this electric bike FOCUS review then make sure to check out our other reviews