A new era of e-MTBing is upon us. At one stage, the longest-lasting battery and the most powerful motor equalled the biggest bragging rights in the industry.
But there are all sorts of rides now out on the market and the latest big development is the push to bring down the weight and create an e-MTB which rides like a conventional mountain bike.
Specialized has been pushing hard in this department and Trek is another big player making waves. The Fuel EXe 9.9 XTR is the latter's second-highest-spec bike in their lightweight range.
We've given it a hammering on the trails to see whether it cuts the mustard or whether it's way off the mark. Join us, then, as we speak all things Fuel EXe 9.9 XTR!
Trek has created a beautiful enduro/XC e-mountain bike, which rides almost like its non-electric counterparts.
It's lightweight, handles like a dream, is great fun to ride, and has high-spec components to cope with aggressive, smooth riding.
It gives you enough of a helping hand to get you up the hills when you really need it, but doesn't compensate lots on weight.
It's well-balanced and the only things that we'd change are the tyres and the price. Aside from that, it's a beauty.
Peaks:
Troughs:
The first thing on many people's mouths when it comes to this bike is how much does it weigh? The answer is that it has a fully-carbon and lightweight frame, weighing in at only 17.47kg in the medium size (which is the frame size we used in the review rides).
The bike comes in 4 frame sizes – small, medium, large and extra large – but there are eight different geometry options depending which bike you go for. Two distinct geometry settings for each of the different frame sizes, which offers up the opportunity to really nail your positioning.
We're very impressed with the frame's weight-saving and it creates a very playful ride experience out on the trail. It feels incredibly balanced and can be manipulated with ease through the twisty sections, which is complemented by the natural feel of the power delivery.
It also looks a beauty, too, with internally-routed cabling and a stylish finish which actually looks very much like a non-electric mountain bike. Both up and downhill the bike feels assured; the bike's lightweight nature means it dodges and weaves with ease on the descents and scampers on the ascents.
Trek has teamed up with TQ to produce the battery for this bike. The company are fairly new to the e-MTB industry and is usually instead found working in robotics and, more commonly, has its technology featured in airplanes – it's a head turner for sure.
The Fuel EXe 9.9 XTR has TQ's 360Wh battery, the same model found in the higher spec Fuel EXe 9.9 XX1 AXS.
❗NB:
Obviously, this isn't a particularly large battery for an e-MTB; it's only half the size of many you can find on some fully-juiced models.
But that's the whole point of these new-wave e-MTBs. They're designed to offer some level of assistance, without losing the feel of a conventional MTB too much.
They're meant to remain light, playful and easy to handle, which you wouldn't get it you had an enormous battery on there. It's key to be aware of this before taking the plunge on this type of e-MTB.
If you're happy with all of that, then this isn't a bad size to have on a bike which remains playful. On our review rides we managed to knock out close to 40km on one charge, with a decent slice of climbing involved as part of that.
The battery also fully charges in only two hours and there's the option of a 160Wh range extender if you want to stay out longer on the trails.
The Fuel EXe 9.9 XTR's motor is also supplied by TQ, with the company's HPR50 motor installed with the bike. It can produce a respectable 50Nm of torque, which we're fairly impressed by considering the weight of the bike.
❗NB:
Clearly, there are far punchier e-MTB motors out there, but as with the battery, this bike isn't designed to drag you up hills all day long with little human effort.
This bike is best suited to a fairly capable rider, who just wants a little extra nudge when times get really tough. It will extend your ride, but it certainly won't carry you all day.
That said, 50Nm isn't insignificant! It will still do a good job on the climbs, particularly when you factor in the weight of the bike. That 50Nm of torque is delivered in an incredibly natural way, too, you don't feel any odd lag or jerk when you engage the assistance – far from it, in fact.
It also runs nigh on silently, which gives the impression you're pedalling along on a normal MTB. There's a lot to admire with the TQ motor, with 3 modes of assist to choose from – Eco, Mid and High.
The display on the Fuel EXe 9.9 XTR is another cause for celebration. It's a serious piece of kit, offering up all sorts of customisable display options.
Not only does it show the percentage of battery left as an exact figure, which we are very happy to see, but you can also flick between all sorts of other data – including your RPM, the estimated range you have left in kilometres, climbing data and many other handy pieces of information.
It's a trusty partner to have out on your rides and it helps you dial in your effort and ride performance more accurately. There's also the opportunity to link the bike up to your smartphone using the company's Trek Central app.
You can get all your ride data onto your phone and play around with your ride trends and performance.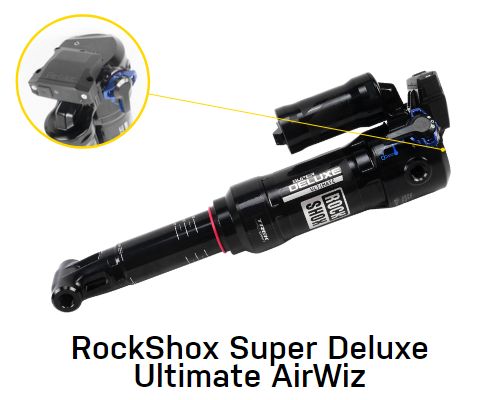 The Fuel EXe 9.9 XTR sits in the enduro and XC spectrum of e-MTBs, with 150mm of travel at the front and 140mm of travel at the rear. It comes with RockShox Lyrik Ultimate, AirWiz, Debon Air spring forks and RockShox Super Deluxe Ultimate AirWiz, RCT2 damper shocks.
This is exactly the same suspension setup as the more expensive Fuel EXe 9.9 XX1 AXS and, as we mentioned in our review of that bike, this isn't a bike to launch off the highest heights or be taken on the most gnarly downhill routes.
It feels comfortable bouncing around through some challenging and varied terrain, but it hasn't got the amount of travel to take on the biggest hits. It does feel well balanced overall, though, and the lightweight frame, along with the suspension, has a subtle ride feel. It dodges and weaves nicely through the twisty sections and you come out the other side feeling comfortable.
The bike also comes with an Active Braking Pivot, which separates how the suspension and brakes work with each other. In doing so, it reduces the feeling that you're losing traction on sharp corners and harsh braking. It gives a more flowy-feeling ride, and feels like you're in more control of the bike.
The Fuel EXe 9.9 XTR comes with 29in Bontrager Line Pro, OCLV Mountain Carbon wheels, which are fitted with Bontrager SE5 Team Issue tyres. The large wheel size helps you feel nice and stable on the trail and provides enough clearance to negotiate most obstacles in your way.
It dances through rock gardens, up and over roots and through crowded trail sections. There's a lot to admire on this XTR, but in our view, it's let down by the tyres. We found they aren't the most reliable and encountered quite a few punctures during our review rides. Definitely an aspect for Trek to review in future incarnations of this bike, because it really isn't far off from nailing it.
The Fuel EXe 9.9 XTR is fitted with Shimano XTR M9120, 4 piston hydraulic disc brakes. We're impressed with these and they manage to take on everything you can throw at them. They work well with the Active Braking Pivot and they feel calm and reliable when you throw the bike into corners or have to brake at serious pace.
Trek has partnered with Shimano on this bike, gearing it up with the company's lightest group set, the XTR. You have a Shimano XTR M9101 12 speed cassette and the Shimano XTR M9100, Shadow Plus rear derailleur on the bike.
It's a top piece of kit, which isn't only lightweight, but also performs really well on the trails, too, with smooth shifting and reliability. Just what you want from an enduro and XC bike.
We know this isn't cheap, but it is a very accomplished e-MTB. It's a heck of a lot of money and it isn't completely perfect; there are a few (relatively minor) grumbles we have with the bike. There are also other brands out there, which produce bikes in this sub-genre of lightweight e-MTBs, but they don't cost quite as much.
Fuel EXe 9.9 XTR Facts & Figures
SIZE

RIDER HEIGHT

INSEAM

S

155 – 165 cm
5'1″ – 5'5″
74 – 78 cm
29″ – 31″

M

165 – 176 cm
5'5″ – 5'9″
79 – 83 cm
31″ – 33″

L

177 – 188 cm
5'10" – 6'2″
84 – 89 cm
33″ – 35″

XL

188 – 195 cm
6'2″ – 6'5″
89 – 91 cm
35″ – 36″
SIZING TABLE

Frame size number

15.5″

15.5″

17.5″

17.5″

19.5″

19.5″

21.5″

21.5″

Frame size letter

S

S

M

M

L

L

XL

XL

Geometry position

High

Low

High

Low

High

Low

High

Low

Wheel size

29″

29″

29″

29″

29″

29″

29″

29″

A — Seat tube

38

38

41

41

43.5

43.5

47

47

B — Seat tube angle

69.3°

68.8°

69.8°

69.3°

70.8°

70.3°

71.3°

70.8°

Effective seat tube angle

77.3°

76.8°

77.3°

76.8°

77.3°

76.8°

77.3°

76.8°

C — Head tube length

10

10

11

11

11

11

12

12

D — Head angle

65.3°

64.8°

65.3°

64.8°

65.3°

64.8°

65.3°

64.8°

E — Effective top tube

57.2

57.3

59.9

60

62.9

63

65.6

65.8

F — Bottom bracket height

34.1

33.4

34.1

33.4

34.1

33.4

34.1

33.4

G — Bottom bracket drop

3.2

3.9

3.2

3.9

3.2

3.9

3.2

3.9

H — Chainstay length

43.8

44

43.8

44

43.8

44

43.8

44

I — Offset

4.4

4.4

4.4

4.4

4.4

4.4

4.4

4.4

J — Trail

12.4

12.7

12.4

12.7

12.4

12.7

12.4

12.7

K — Wheelbase

118.7

118.8

121.6

121.7

124.6

124.7

127.6

127.6

L — Standover

73.2

72.6

73.3

72.7

73.9

73.3

75.9

75.3

M — Frame reach

43.4

42.8

45.9

45.3

48.9

48.3

51.4

50.8

N — Frame stack

61.6

62

62.5

62.9

62.5

62.9

63.4

63.8
* Please note – spec applies to all sizes unless listed separately
FRAMESET

Frame

OCLV Mountain Carbon, removable battery, internal routing, alloy rocker link, 34.9 mm seat tube, upper chain guide mount, 55 mm chainline, Mino Link, ABP, Boost148, UDH, 140 mm travel

Fork

RockShox Lyrik Ultimate, AirWiz, DebonAir spring, Charger 3 RC2 damper, 44 mm offset, Boost110, Maxle Stealth, 150 mm travel

Shock

RockShox Super Deluxe Ultimate AirWiz, RCT2 damper, 205 mm x 60 mm

WHEELS

Wheel front

Bontrager Line Pro 30, OCLV Mountain Carbon, Tubeless-Ready, 6-bolt, Boost110, 15 mm thru-axle

Wheel rear

Bontrager Line Pro 30, OCLV Mountain Carbon, Tubeless Ready, Rapid Drive 108, 6-bolt, Shimano MicroSpline freehub, Boost 148, 12 mm thru axle

Tyre

Bontrager SE5 Team Issue, Tubeless Ready, Core Strength sidewalls, aramid bead, 120 tpi, 29×2.50″

Tyre part

Bontrager TLR sealant, 180 ml/6 oz

DRIVETRAIN

Shifter

Shimano XTR M9100, 12 speed

Rear derailleur

Shimano XTR M9100, Shadow Plus, long cage, 51-T max cog

Crank arm

E*thirteen E*spec Race carbon, 34T, 165 mm length

Chainring

E*thirteen E*spec, 32T alloy ring, 55 mm chainline

Cassette

Shimano XTR M9101, 10-51, 12-speed

Chain

Shimano Dura-Ace/XTR M9100, 12 speed

Max. chainring size

Max: 34T Min: 30T

COMPONENTS

Saddle

Bontrager Arvada Pro, carbon rails, 138 mm width

*Seatpost

Size: S


Bontrager Line Elite Dropper, 100 mm travel, MaxFlow, internal routing, 34.9 mm, 345 mm length

Size: M


Bontrager Line Elite Dropper, 150 mm travel, MaxFlow, internal routing, 34.9 mm, 440 mm length

Size: L


Bontrager Line Elite Dropper, 170 mm travel, MaxFlow, internal routing, 34.9 mm, 485 mm length

Size: XL


Bontrager Line Elite Dropper, 200 mm travel, MaxFlow, internal routing, 34.9 mm, 550 mm lengt

h

Handlebar/stem (integrated)

Bontrager RSL Integrated handlebar/stem, OCLV Carbon, 27.5 mm handlebar rise, 820 mm width, 0-degree stem rise, 45mm stem lengt

h

Grips

Bontrager XR Trail Elite, nylon lock-on

Brake

Shimano XTR M9120 4-piston hydraulic disc

*Brake rotor

Size: S, M, L, XL
Shimano RT86, 6-bolt, 180 mm
Size: S, M, L, XL
Shimano RT86, 6-bolt, 203 mm

ACCESSORIES

Battery

TQ 360Wh

Motor

TQ-HPR50, 50 Nm, 250 watt maximum continuous rated power, 300 watt peak power

Computer

TQ LED display with Bluetooth & ANT+ connectivity

Tool

Bontrager BITS integrated multi-tool

WEIGHT

Weight

M – 17.47 kg / 38.52 lbs (with TLR sealant, no tubes)

Weight limit

This bike has a maximum total weight limit (combined weight of bicycle, rider and cargo) of 136 kg (300 lb).
There aren't bucket loads of e-MTBs in this sector of the market – the half and half style bike.
One good comparison to make is with Specialized's SL Levo ranges, which tick similar boxes.
The S-Works Turbo Levo SL is the highest spec bike in the range.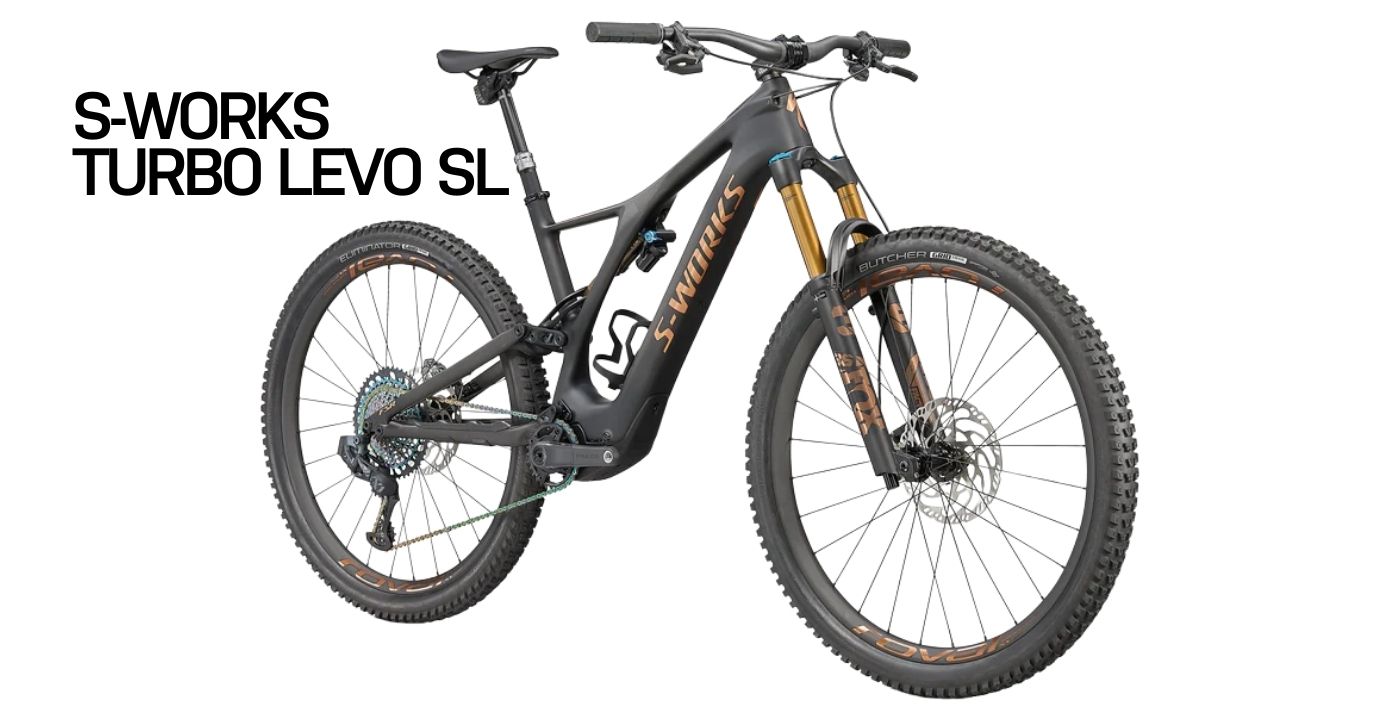 The S-Works weighs almost the identical weight as the Fuel EXe 9.9 XTR – only 0.03kg less. But it has a smaller battery by 40Wh and it kicks out 15Nm less in torque compared to the Fuel EXe.
Both have the same suspension offering and 29in wheel set-up. Both offer high spec components throughout, with the S-Works going for an SRAM drivetrain and Magura brakes. There isn't a great deal to put between these two, but the price is a big difference.
At the time of writing, the S-Works has been heavily discounted on the official Specialized website, now down to $10,800, which is $2,000 less than the Trek. We're placing this as a tie; there isn't a lot between them.
It depends whether you're prepared to pay more for more power in that Trek motor, or save some money with the Specialized.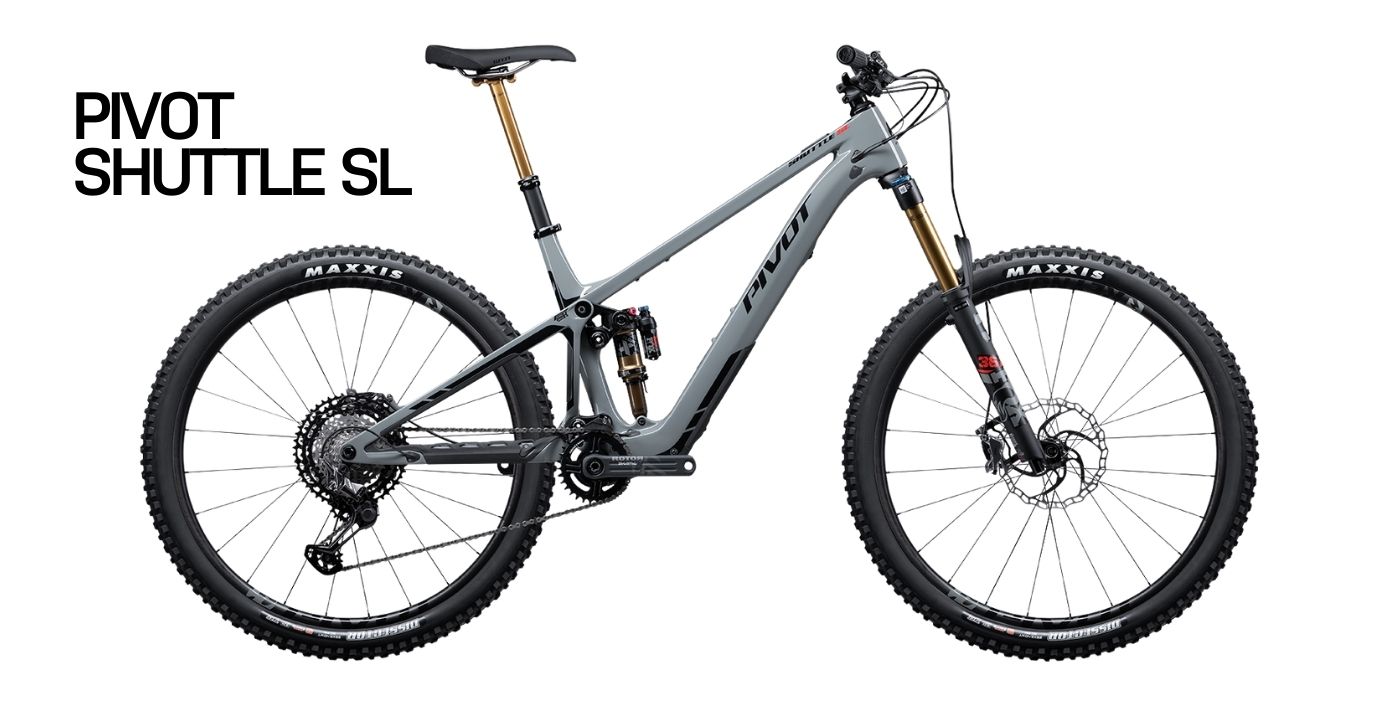 Pivot Cycles came a little later to the party, but they have come fully stocked. Their Pivot Shuttle SL, super lightweight bike, only comes in at 16.37kg – that's an incredible achievement for an e-MTB, and lighter than our Trek.
It comes with a Fauza Ride 60 drive unit, with a 430Wh battery and a motor which kicks out 60Nm of torque. That's larger than our Trek in both departments and it has plenty of travel and decent spec in other areas.
We're very impressed with the Pivot Shuttle SL, which comes in at $11,250, cheaper than our Trek. We'd go for the Pivot.
Trek has achieved a lot with the Fuel EXe 9.9 XTR.
It's an incredibly fun bike to ride, which achieves everything Trek set out to do – it's a beauty of lightweight enduro and XC e-MTB.
It bridges the gap between the two worlds of MTB and e-MTB well, by offering a decently-sized motor and reliable battery, without conceding too much on weight or playfulness.
You can throw the bike around thanks to its progressive geometry and lightweight frame, with a well-balanced suspension set-up and high spec drive-train and brakes.
We only have grumbles with the tyres – which are an oversight by Trek – and the price is uncomfortable, particularly when there are cheaper options in this sphere of the e-MTB market.
But it's a beautiful bike to ride and it looks just as appealing. It gets a big thumbs up from us, now get out there and give one a thrash for yourself.