We've made no secret about our admiration for Trek's Fuel EXe range. The company's series of lightweight e-MTBs are vying to lead the pack in a new sphere of electric mountain bike riding.
Unlike the first generation of e-MTBs, where manufacturers were just looking to build the most powerful bikes, today's brands are also now looking to recreate the feel of conventional mountain bikes, with a playful edge and natural handling, while also adding a little extra boost.
The Fuel EXe 9.7 is one of the lower-spec bikes in what is a very accomplished Fuel EXe range. So we've taken it to the mountains to see how it fairs compared to the rest of the pack, and how it stands up compared to the rest of the Fuel EXe rides.
Join us as, then, we get stuck into our review of the EXe 9.7…
A stripped-back version of the top Fuel EXe bikes, but by no means is that a criticism.
The bike rides beautifully, with excellent handling and is adept on both the climbs and descents.
Despite stripping back the quality of the drivetrain, brakes & suspension, Trek hasn't cut back on the quality of motor, battery and frame – and it's still fairly lightweight, too.
That means, overall, we're pretty pleased with the price tag.
Peaks:
Troughs:
The Fuel EXe 9.7 has a robust OCLV carbon frame, which is the same compound you will find in all the Fuel EXe range. Although lightweight, it's a sturdy partner out on the trails and it soaks up impacts incredibly well.
If you're wondering how much the Trek Fuel EXe 9.7 weighs? The answer is that the full bike, with the company's medium frame, comes in at a respectable 19.05kg. This is a little weightier than some of the higher spec Fuel EXe bikes, but not by too much.
It's still very easy to manipulate through the corners and demanding trails, with a progressive geometry which lends itself to being thrown around and is easy to control. You can get the frame in four sizes, with eight geometry set-ups in total, which gives the rider a decent opportunity to really hone in their ride to their body.
❗NB:
Take your time over which frame sizes and geometry set-up you go for, getting it wrong could be an expensive mistake to make and you wouldn't get the best out the bike.
The frame is a real beauty, too, with internally routed cables giving a clean and uncluttered look.
We've been immensely impressed with the battery and motor used in the Fuel EXe range. They're the same throughout the series of bikes, with Trek teaming up with TQ, an admittedly rather unknown quantity in bike circles – the company is usually found in the aviation and robotics sectors.
Don't let that put you off, though, because the company has created a hugely advanced and very impressive battery. The TQ 360Wh battery is integrated neatly into the bike's downtube and offers a decent amount of juice to give you a solid assisted ride out on the trails.
NB:
We've made this clear throughout our Fuel EXe range reviews. If you're grumbling about the battery size, then you've missed the point of these e-MTBs.
These bikes aren't going to give you assistance all day long, they're designed to mimic normal MTBs, with a lightweight and natural ride feel.
It's new territory for e-MTBs and if you're wanting a chunky battery to power you for hours on end, then this isn't the bike (or bike type) for you.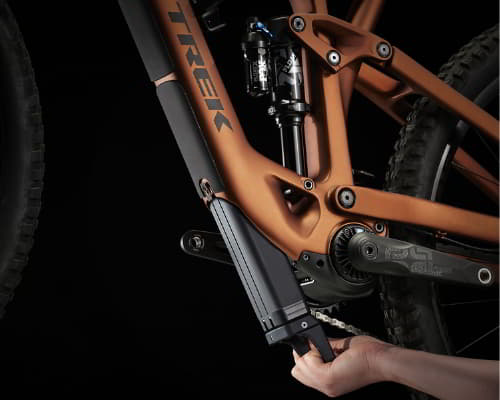 The battery works well with TQ's motor to release power steadily, conserving it when needed, and you can get a good 40km of assisted boost on one charge. It can also be recharged back up to full capacity in only two hours.
The motor is another real accomplishment by the folk at TQ. The Fuel EXe 9.7 is paired with TQ's HPR50 motor, which has a solid 50Nm of torque at its disposal. This is more than some other super lightweight e-MTBs on the market.
That's enough gas to help give you a good boost up some tricky terrain, but you haven't got it at your disposal for monumental rides.
It a clever piece of kit, though, which delivers its power in an incredibly natural way, kicking into life with your pedal stroke and dying off beautifully when you need it to.
There isn't any lag here and you never have the fear of overshooting a corner or failing to stop when you need to.
There aren't many e-MTB motor displays which can boast as much as this utter beauty. TQ and Trek have absolutely smashed it out the park with this display.
It's a seriously advanced piece of kit, which delivers a bucket full of customisable ride data options. It does the simple stuff, like highlighting the percentage of battery you have left, but you can also flick between lots more information.
You can delve into your RPM data, your elevation stats, an estimation of how many kilometres you still have left on the battery, and more.
It's a dream to have out on the trail and it really allows you to fine tune your ride performance levels, thanks to prompts which give you tips on when to increase or decrease your assistance.
You can also hook it all up to your smartphone through Trek's app, to look back at the stats for your day out. There are also three modes you can use with the assistance: Eco, Mid and High.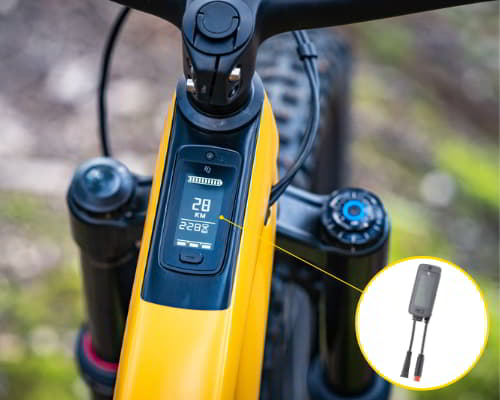 The Fuel EXe 9.7 comes with 150mm travel at the front and 140mm at the rear, which is the same amount of travel as seen throughout the Fuel EXe range. The bike is geared up for some solid enduro and XC riding, offering a decent level of comfort through lots of lumps and bumps, while also capable of taking on some steep descents.
The bike comes with Fox Rhythm 36, Float EVOL air spring, Grip damper forks and Fox Performance Float, 2-poisition damper rear shocks. Spec-wise, the suspension setup is a downgrade from the RockShox set-up on the Fuel 9.8 XT, but it's still a decent companion out on the trails.
It soaks up impacts fairly well, but it comes unstuck with the big drops and hang-time moments. It will satisfy most riders' needs, though, when it comes to standard days out riding, although you could do with a little less dampening at the rear end – it feels a little bouncy at times when you don't need it to be.
The Fuel EXe 9.7 comes with 29in Bontrager Line Comp 30 tyres, at both the front and the rear. This is a step down from some of the other models in the Fuel EXe range.
The Fuel 9.8 XT comes with the Carbon Bontrager Line Elite 30s, rather than the alloy comp tyres, and this adds a little extra weight to the bike overall.
They still offer a decent footing on the trail, though, and there isn't much difference you can notice while out riding.
It's a small change, but not life changing, and the same applies when it comes to the tyres – the Fuel EXe 9.7 comes with the Bontrager XR5 Team Issue tyres, rather than the SE5 Team Issue.
We weren't happy with the SE5 Team Issue tyres on the other Fuel EXe bikes, so we don't see this change as a bad thing, necessarily. They offer a teethy grip and a lot of traction out on the trails.
The Fuel EXe 9.7 is fitted with Shimano 4-piston hydraulic brakes. These are fairly basic compared to the higher-spec brakes on the more expensive Fuel EXe bikes.
They offer a fairly competent level of stopping power, but the heat management isn't ideal. We never came particularly unstuck as a result of the brakes, but a heavier rider might find it more of a battle to come to a stop while moving at pace, particularly downhill.
The brakes are no thrills, but no disaster either.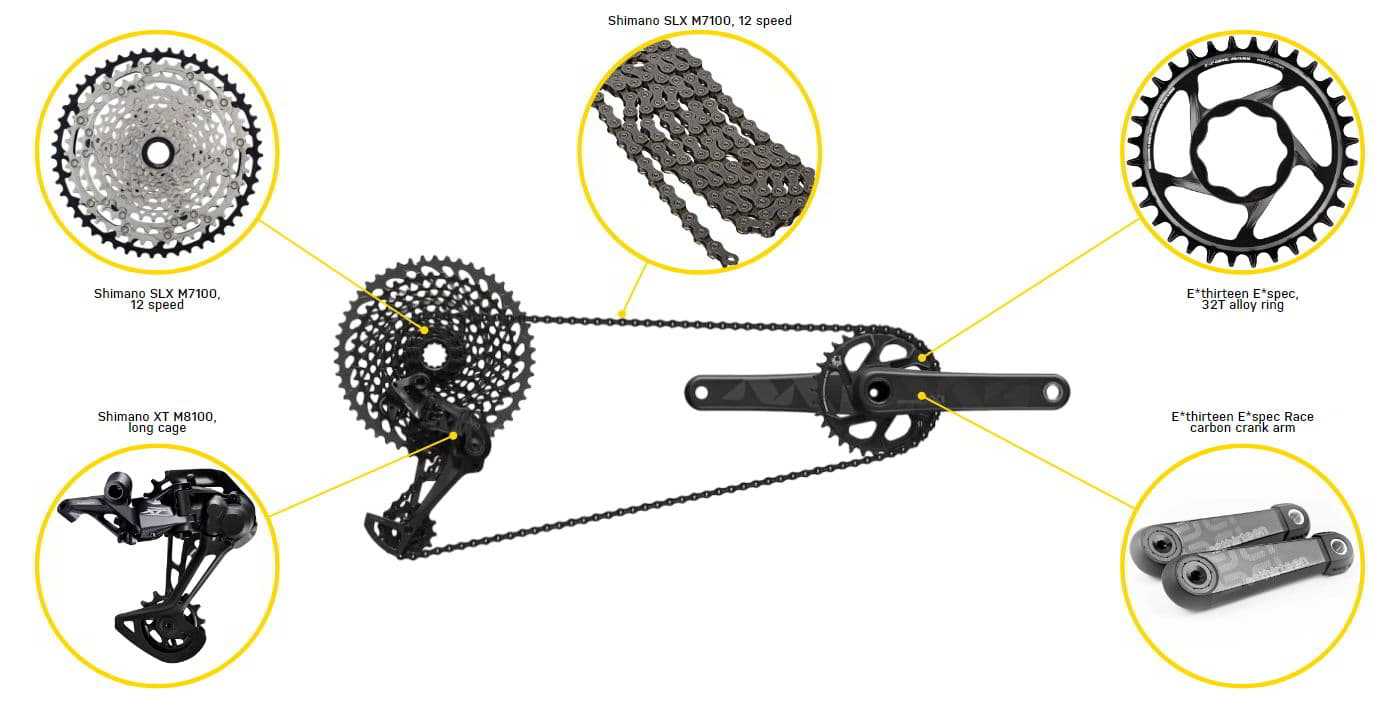 The Fuel EXe 9.7 comes with a Shimano drivetrain, with the company's SLX M7100, 12-speed cassette and Shimano XT M8100 rear derailleur.
It's a big step down from the highest-spec Fuel EXe ride, but it does the job fairly well. It offers responsive shifting, although it does carry a little extra weight.
This is a fair price for a decent amount of high-tech kit.
Despite being one of the lower spec bikes in the Fuel EXe range, Trek hasn't stripped the bike of the incredible TQ motor and battery, which we think is a huge selling point (quite possibly the biggest selling point).
The same applies to the frame – Trek has retained that brilliant OCLV carbon frame on the EXe 9.7. They've added a bit of extra weight by removing the carbon tyres and changing the drivetrain and brakes, but overall, it still rides nicely.
We might argue that the Trek 9.7 could be a little cheaper, but then we think of those excellent TQ components, and that has us thinking that it's probably a fair price, overall.
Fuel EXe 9.8 XT Facts & Figures
SIZE

RIDER HEIGHT

INSEAM

S

155 – 165 cm
5'1″ – 5'5″
74 – 78 cm
29″ – 31″

M

165 – 176 cm
5'5″ – 5'9″
79 – 83 cm
31″ – 33″

L

177 – 188 cm
5'10" – 6'2″
84 – 89 cm
33″ – 35″

XL

188 – 195 cm
6'2″ – 6'5″
89 – 91 cm
35″ – 36″
SIZING TABLE

Frame size number

15.5″

15.5″

17.5″

17.5″

19.5″

19.5″

21.5″

21.5″

Frame size letter

S

S

M

M

L

L

XL

XL

Geometry position

High

Low

High

Low

High

Low

High

Low

Wheel size

29″

29″

29″

29″

29″

29″

29″

29″

A — Seat tube

38

38

41

41

43.5

43.5

47

47

B — Seat tube angle

69.3°

68.8°

69.8°

69.3°

70.8°

70.3°

71.3°

70.8°

Effective seat tube angle

77.3°

76.8°

77.3°

76.8°

77.3°

76.8°

77.3°

76.8°

C — Head tube length

10

10

11

11

11

11

12

12

D — Head angle

65.3°

64.8°

65.3°

64.8°

65.3°

64.8°

65.3°

64.8°

E — Effective top tube

57.2

57.3

59.9

60

62.9

63

65.6

65.8

F — Bottom bracket height

34.1

33.4

34.1

33.4

34.1

33.4

34.1

33.4

G — Bottom bracket drop

3.2

3.9

3.2

3.9

3.2

3.9

3.2

3.9

H — Chainstay length

43.8

44

43.8

44

43.8

44

43.8

44

I — Offset

4.4

4.4

4.4

4.4

4.4

4.4

4.4

4.4

J — Trail

12.4

12.7

12.4

12.7

12.4

12.7

12.4

12.7

K — Wheelbase

118.7

118.8

121.6

121.7

124.6

124.7

127.6

127.6

L — Standover

73.2

72.6

73.3

72.7

73.9

73.3

75.9

75.3

M — Frame reach

43.4

42.8

45.9

45.3

48.9

48.3

51.4

50.8

N — Frame stack

61.6

62

62.5

62.9

62.5

62.9

63.4

63.8
* All measurements provided in cm unless otherwise noted.
FRAMESET

Frame

OCLV Mountain Carbon, removable battery, internal routing, alloy rocker link, 34.9 mm seat tube, upper chain guide mount, 55 mm chainline, Mino Link, ABP, Boost148, UDH, 140 mm travel

Fork

Fox Rhythm 36, Float EVOL air spring, GRIP damper, tapered steerer, 44mm offset, Boost110, 15mm Kabolt axle, 150mm travel

Shock

Fox Performance Float X, 2-position damper, 205mm x 60mm

WHEELS

Wheel front

Bontrager Line Comp 30, Tubeless Ready, 6-bolt, Boost110, 15mm thru axle

Wheel rear

Bontrager Line Comp 30, Tubeless Ready, Rapid Drive 108, 6-bolt, Boost148, 12mm thru axle

Skewer rear

Bontrager Switch thru axle, removable lever

Tyre

Bontrager XR5 Team Issue, Tubeless Ready, aramid bead, 120 tpi, 29×2.50"

Tyre part

Bontrager TLR sealant, 6oz

Rim strip

Bontrager TLR

DRIVETRAIN

Shifter

Shimano SLX M7100, 12 speed

Rear derailleur

Shimano XT M8100, long cage

Crank

E*thirteen E*spec Plus, 165mm length

Crank arm

E*thirteen E*spec Plus, 170mm length

Chainring

E*thirteen E*spec, 32T alloy ring, 55 mm chainline

Cassette

Shimano SLX M7100, 10-51, 12 speed

Chain

Shimano SLX M7100, 12 speed

Max. chainring size

Max: 34T Min: 30T

WHEELS

Saddle

Bontrager Arvada, austenite rails, 138mm width

*Seatpost

Size: S
TranzX JD-YSP39, 100mm travel, internal routing, 34.9mm
Size: M
TranzX JD-YSP39, 150mm travel, internal routing, 34.9mm
Size: L, XL
TranzX JD-YSP39, 170mm travel, internal routing, 34.9mm

Handlebar/stem (integrated)

Bontrager Line, alloy, 35mm, 27.5mm rise, 780mm width

Grips

Bontrager XR Trail Elite, nylon lock-on

Stem

Bontrager Elite, 35mm, 0 degree, 45mm length

Brake

Shimano 4-piston hydraulic disc, M6100 lever, M6120 caliper

Brake rotor

Size: S, M, L, XL
Shimano RT66, 6-bolt, 203mm
Size: S, M, L, XL
Shimano RT66, 6-bolt, 180mm

ACCESSORIES

Battery

TQ 360Wh

Motor

TQ-HPR50, 50 Nm, 250 watt maximum continuous rated power, 300 watt peak power

Computer

TQ LED display with Bluetooth & ANT+ connectivity

Electronics

TQ 4A charger

WEIGHT

Weight

M – 19.05 kg / 42 lbs (with TLR sealant, no tubes)

Weight limit

This bike has a maximum total weight limit (combined weight of bicycle, rider, and cargo) of 300 pounds (136 kg).
The Fuel EXe 9.7 certainly comes in at an attractive price point for a very well-designed e-MTB.
Let's have a look at what else is out there, though, to see how it compares.
Specialized is a big hitter in this super lightweight category of e-mountain bikes.
The company's Turbo Levo SL Comp comes in at $6,370, with a fully-carbon frame and 150mm of travel at both the front and the rear. It weighs in at 19.4kg, just a little more than the Trek, and it has a slightly smaller battery at 320Wh.
The motor is also less powerful, only kicking out 35Nm of torque. The Turbo Levo SL Comp handles like a dream, though, and it really does nail the natural ride feel. It's one of the most playful e-MTBs we've ever ridden due to its progressive geometry.
However, you've got less juice in the tank and it's weightier than our Fuel EXe 9.7.
We're going to stick with the Trek.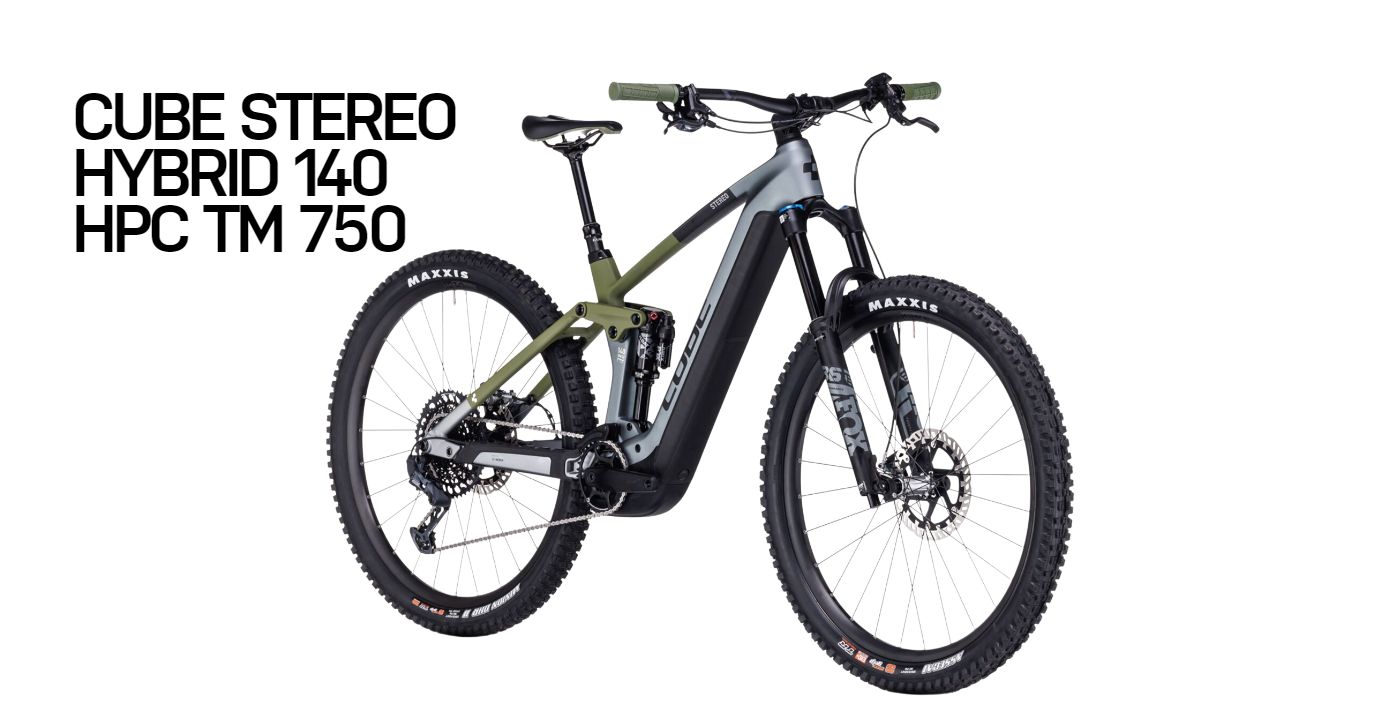 There aren't many others in this super lightweight sector, but we'll look at a chunkier battery bike so as to show you how they differ.
The Cube Stereo Hybrid 140 HPC TM 750 is another good e-MTB around the same price – $7,000.
It isn't in the same league handling-wise, though, it's more of a conventional e-MTB, with a 750Wh battery and uber-powerful Bosch motor, which kicks out 85Nm.
It will boost you up the hills all day long and offers a robust ride feel, capable of taking some big hits. But you compensate on weight because of that, with the bike coming in at 24.6kg.
If you want a beastly powerhouse of a bike, the Cube is your go to here, but we're looking for a super playful, lightweight e-MTB and the EXe 9.7 wipes the floor, here.
It isn't the highest-spec bike in Trek's Fuel EXe range by any stretch of the imagination, but does it still tick a lot of boxes? Yes, it certainly does.
It's light and manoeuvrable, while still offering a top-end TQ battery and motor.
Although it's a stripped-back version of the top Fuel EXe bikes, you don't end up adding on lots of weight and Trek's initial aims – to create a fun and lightweight e-MTB – have still been met more than well enough.
At $7,599, you're getting a very good e-MTB and we consider it decent value for money. Another round of applause from us here at EMBK to another of Trek's e-bikes.
Now, go and find out for yourselves!