Canyon brought out the Torque:ON 8 with the aim of creating a bike to monster the bike park and slay big jumps. A bike that could take on the big hits and big drops, while also providing enough gas to get up the other side.
There's a lot of competition in this area of the e-MTB bike world, with many manufacturers looking to provide the silkiest of smooth suspension setups, and the most robust frames. But the key with these sorts of rides is not to add too much weight when implementing those robust features.
So, has Canyon achieved their goals with the Torque:ON 8? Or are there better options out there? We've been up and over countless jumps, and down some pretty gnarly lines to get the answers just for you.
Join us, then, on our Torque:ON 8 journey!
We have a love-hate relationship with the Torque ON:8.
We love its immense abilities at the bike parks, the dirt jumps and on standard open expanse downhill trails. However, it can be a complete nightmare on technical, twisty routes.
There are certainly elements to get behind; it's fast, sturdy, has a powerful motor, good suspension and brakes. But there are also undoubtedly elements to hate; it's tricky to handle, heavy, has an atrocious motor display and it struggles big style up hill.
It's made for the bike parks and the jump trails and you can feel that in everything it does – both right and wrong. Be sure to know what you're getting yourself into before handing over your hard earned money.
Peaks:
Troughs:
For the Torque:ON 8 to cope with the amount of impacts it's likely to have in the world of bike parks and dirt jumps, it needs a robust frame. And that's exactly what Canyon has delivered – a strong aluminium frame which soaks up a lot of pressure on those big hits and drops.
As a result, though, it isn't light. The total bike weight is 23.7kg, which has both pros and cons. The weight means it flows nicely down through jump lines, but if you're descending at speed through twisty sections, it can be a battle to keep it in line.
If you're a strong rider, then this won't be a problem, but you certainly need some strength to keep it in check. The bike's pedals have a pretty low centre of gravity, which means when you're climbing you can frequently bash your feet on rocks, particularly if it's a lumpy trail.
We'll mention this more in our wheels section, and how you can mitigate it.
❗NB:
The bike achieves what you want from a jump bike, but it can be a bit of a nightmare in the twisty forested trails. It's not the easiest to dodge and weave.
The Torque:ON 8 comes with a Shimano BT-E8035 504Wh battery. There are much larger e-MTB batteries out there, but you've got to remember what style of riding this bike is made for.
It's a descent-focused bike, which means more often than not, you'll be flowing down rolling jumps and leaping over obstacles.
Many of these dedicated parks have an uplift service to get you back up and, if not, the route back up to the top isn't likely to be lengthy at many downhill or jump parks.
If you have that in mind, then the 504Wh is ideal for the bike's needs and the battery itself is tucked neatly away in the downtube.
It isn't the type of bike to be churning all day up endless climbs, though.
Canyon suggests that you will get 100km out of the battery and, in our review rides, it came just under that. Regardless, that's a heck of a lot of fun in on one charge.
The Canyon Torque:ON 8 comes with the Shimano EP8 motor, which can kick out a super punchy 85Nm of torque. Torque by name and torque by nature! That's a very lively motor to have at your disposal, and it will throw you up some very large climbs without any issue at all.
Given this is a descent-focused bike, getting back up to the top for the fun of the lumps and jumps is key, and the EP8 does this with ease. This is far from natural power delivery – this is full boost mode – so the bike is pretty naff when you're trying to negotiate tricky and technical climbs.
When you couple that with the pedal smash issue, it's a real nightmare on techy climbs. However, if it's a full gas motor you want, to get you back up the mountain quickly on a fairly easy route, then this is absolutely perfect.
Pros and cons for us here.
We have never been fans with the Shimano EP8 motor display.
Don't get us wrong, it doesn't look bad, it's concealed neatly next to the stem and looks the part.
However, and this is where our gripes begin, it doesn't offer a reliable range estimation, which is one of the key things you need from a display on an e-MTB.
Why invest so much money into the power of the motor, only not to give us some reliable information on how much longer the battery will work for?
It displays your battery left as 5 LED lights, which quite frankly, is pretty useless. Many other motor producers, like TQ, for instance, can offer exact percentage of battery left as a figure.
It's a major oversight from Shimano/Canyon, and we think it makes the motor display a really poor piece of kit.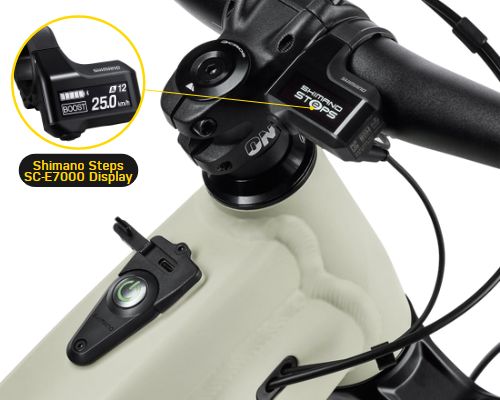 The Canyon Torque:ON 8 is made for jumping and flying around at high pace, so you would expect a plush suspension setup and Canyon has delivered.
You get a very playful 180mm of travel at the front and 175mm at the rear. Rockshox ZEB R forks are fitted at the front end and you have RockShox Super Deluxe Select rear shocks.
Those components are screaming to be put through some serious punishment on some wild terrain and can handle it with ease. 
The bike can handle a real bruising, with the ability to drop from big old heights and bounce off with a smile on its face. The setup is incredibly fun to ride and it can take a battering, leaving the rider feeling nice and comfortable at the helm.
This bike is made to fly and the suspension delivers exactly that.
It's a real winner.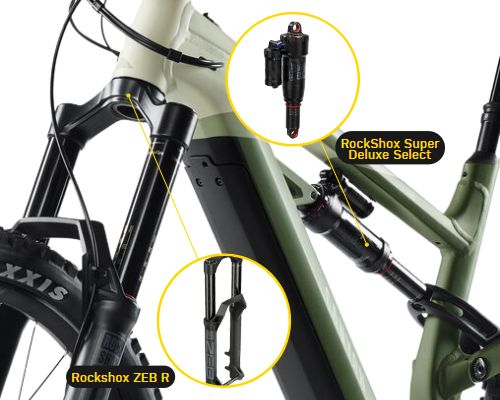 The Torque:ON 8 comes with 27.5in tyres at both the front and the rear. The sizing lends itself to being easy to throw about, and offers a playful edge to whip around the corners.
The wheels are DT Swiss H-1900, with a sturdy compound to cope with the impacts of the jumps and leaps that the bike is designed to make.
They're a fitting partner to the downhill-focused Canyon Torque:ON 8, and offer a sturdy footing on the trail, but are still light and nimble enough to catch some air time.
The tyres on those excellent wheels are Maxxis Minion DHFs, which offer a toothy bite into the dirt and hold on when you need them to into the corners.
It just the type of stuff you want to hear when looking for a bike which is slamming into the corners at pace after some hefty jumps.
Need more info?
Want to find out what pressure you should be running your e-MTB at? Check out our guide here.
The Canyon Torque:ON 8 is fitted with Shimano SLX 4-piston disc brakes, which offer excellent stopping power.
The pace you're likely to be going on on this puppy means you'll want to have faith that it will come to a halt when you need it, and fortunately, the Shimano SLXs do exactly what you need them to.
❗NB:
The heat management can be a little off at times if you really hold the brakes on for a long time, but we're talking a serious duration. Most of the time, they cope adequately.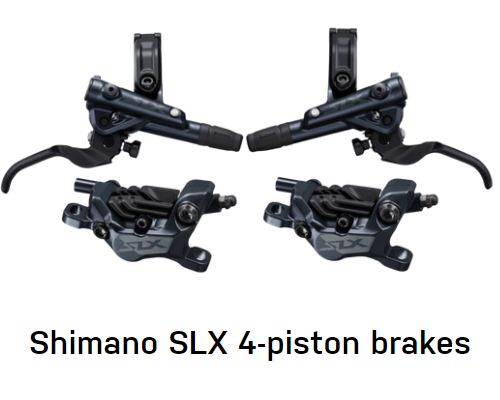 The Torque:ON 8 comes with a Shimano SLX, 12-speed cassette, rear derailleurs and shifters. It's a no-thrills setup, which shifts fairly smoothly and doesn't offer any reason to grumble.
Most of the time, gravity will be doing the work for you on this bike, so it doesn't necessarily need an all-singing, all-dancing, drivetrain.
In an era when you can pay a small mortgage for an e-MTB, we think Canyon has offered the Torque:ON 8 for a very fair price.
The bike isn't perfect, but it's a very fun piece of kit, which will demolish the bike parks and downhill trails.
You can pay nearly triple that figure for the top e-MTBs on the market, so overall, we say bravo to the folk at Canyon for getting this on the market at the lower end of the spectrum.
Despite its flaws, it's definitely worth considering at this price.
Torque:ON 8 Facts & Figures
BASIC GEOMETRY

S
M
L
XL

BODY HEIGHT IN CM

< 175
175 – 183
183 – 192
> 192

SEAT HEIGHT IN MM

667 – 776
693 – 823
713 – 843
753 – 883

SEAT TUBE LENGTH IN MM

440
440
460
500

TOP TUBE LENGTH IN MM

612
639
667
694

HEAD TUBE LENGTH IN MM

115
125
135
145

HEAD TUBE ANGLE

63,5°
63,5°
63,5°
63,5°

SEAT TUBE ANGLE

74°
74°
74°
74°

CHAINSTAY LENGTH IN MM

430
430
430
430

WHEEL BASE IN MM

1.214
1.244
1.273
1.302

STACK IN MM

616
625
634
643

REACH IN MM

435
460
485
510

STAND-OVER HEIGHT IN MM

777
780
786
790

BOTTOM BRACKET OFFSET IN MM

15
15
15
15
COMPONENT GEOMETRY

S

M

L

XL

Spacer in mm

15,0
15,0
15,0
15,0

Stem Length in mm

40
40
40
40

Handlebar Width in mm

760
780
780
780

Crank Length in mm

160,0
160,0
165,0
165,0

Seat Post Diameter in mm

30,9
30,9
30,9
30,9

Dropper post travel in mm

125
150
150
150

Seat Post Length in mm

378
425
425
425

Maximum Seat Post Insertion Depth in mm

199
220
220
220

Minimum Seat Post Insertion Depth in mm

90
90
90
90

Wheel Size

27.5″
27.5″
27.5″
27.5″

Disc Size in mm

203 / 203
203 / 203
203 / 203
203 / 203

Front Fork Travel in mm

180
180
180
180

Rear Suspension Travel in mm

175
175
175
175

Battery capacity

504 Wh
504 Wh
504 Wh
504 Wh

Fitting Length in mm

250X70
250X70
250X70
250X70
* All measurements provided in cm unless otherwise noted.
FRAME

Frame

Rear Shock

Suspension Fork

Canyon Torque:ON
Aluminium frame, 175mm of rear suspension, award-winning Triple Phase Suspension design, internal battery, Boost 148 rear spacing, post-style brake mount (203)
RockShox Super Deluxe Select, 250×70
175mm of rear suspension
Rockshox ZEB R, 180mm
180mm of front suspension, 27.5 fork, Boost 110 spacing, 38mm stanchions, DebonAir air spring, Charger R compression damping, rebound damping adjuster

DRIVETRAIN

Motor

Battery

Rear Derailleur

Shimano Steps EP8 Motor
High-torque motor. Maximum torque: 85 Nm. 3 app-tunable support modes: Eco, Trail, Boost.
Shimano BT-E8035
Shimano SLX, 12-speed
Fast, shockless shifting with HYPERGLIDE+ to deliver your power in all the right places.
Cage length: long

Shift Lever

Cassette

Crank

Shimano SLX, 12-speed
12 speed, tunable RAPIDFIRE PLUS shifting to make sure you never miss a beat.
Shimano SLX, 12-speed (10-51)
Cassette size: 10-51T. Gear range: 510%.
Shimano STEPS e-MTB crank arms

Chainring

Chain

Canyon EP1110-01 Chainring 34T
Durable 34-tooth e-MTB chainring.
Shimano M6100 12-speed
SIL-TEC treatment for extended offroad durability, HYPERGLIDE+ shift technology, quick link for easy connect and tool-free assembly

BRAKES

Disc Brake

Brake Rotor

Shimano SLX 4-piston front brake
Shimano SLX 4-piston rear brake
Shimano EM600 STEPS rear rotor, 203mm
Shimano SLX rotor, 203mm

WHEELS

Wheel

Tyre

Thru Axle

DT Swiss H-1900 Spline, 27.5″ rear wheel
DT Swiss H-1900 Spline, 27.5″ front wheel
Maxxis Minion DHF
27.5×2.5″, 3C MaxxTerra compound

Maxxis Minion DHR II, 2.6″
EXO+ casing, Tubeless Ready design, 3C MaxxTerra tread compound
Canyon Quixle Thru Axle
Axle dimension: 12×148 mm
The Canyon Quixle combines the stiffness of a through axle with the ease-of-use of a quick-release.

COCKPIT

Stem

Handlebar

Grips

Canyon:ON Stem
35mm clamp diameter, 40mm length
Canyon:ON HB0056 Riser bar
Aluminum, 780mm width, 35mm clamp diameter, 20mm rise
Canyon Lock-On

Display

Modeswitch

Shimano Steps SC-E7000 Display
Shimano STEPS power mode switch
Handlebar-mounted unit lets you quickly and easily change power modes or activate walk-assist mode

SEAT

Saddle

Seatpost

Canyon SD:ON
Iridium Dropper Post
Clamp diameter: 30,9 mm
Material: Aluminium (AL)

ACCESSORIES

Battery Charger

Trekking & City Pedals

Manuals and Accessories

Shimano STEPS – Battery Charger4A charger and cable. For charging Canyon e-MTB batteries, either in the bike or
when removed.
Iridium VP-536
Flat pedals made from robust polypropylene plastic.
Canyon Bag
Storage box for tools and replacement parts.
Wrench Tool 15mm
Quickstartguide Canyon eMTB
Canyon Smallbox
There are a lot of e-MTB manufacturers vying for trade in the downhill-focused market. It's a lucrative business when you consider the number of bike parks, jump sites and downhill trails you see cropping up throughout the world, these days. 
It's one of the hottest areas of the e-MTB and MTB market. So, if you don't go for the Torque ON:8, who would you go for? One bike definitely worth having a sniff at is the Decoy Core 2.
The Decoy Core 2 comes in at $6,353 – nearly $1,000 more than the Torque:ON 8. So, what do you get for your money? 
The Decoy weighs in at 23kg, a little under Canyon's offering, and comes with a 540Wh SMP YT Custom battery and a Shimano EP8 motor, which kicks out 85Nm of torque.
It's an almost identical setup to the Torque:ON 8 – you get 40Wh more in battery with the Decoy, but they ride very similarly. 
The Decoy comes with 170mm of travel at the front and 165mm at the rear, with RockShox Zeb Charger R forks and RockShox Super Deluxe Select rear shocks. It's another very similar setup, which gears you up well to take on everything you throw at it on those gnarly downhill trails, and at the bike parks.
Brake-wise, the Decoy comes with SRAM Code Rs; we think these are just a little superior to the Shimano setup on the Canyon. They're incredibly responsive and do the job perfectly as you fly into the corners hard and fast. 
The Decoy behaves in a similar manner as the Torque:ON 8 when going uphill, and it's definitely better heading flat-out downhill or at the bike park. Overall, we think they're very similar bikes, so why pay nearly an extra $1,000 for the Decoy? 
It doesn't make sense to us, so stick with the Torque:ON 8.
The Torque:ON 8 is a bike of two halves.
It's an incredible jumper, which comes alive downhill, on jumps and at bike parks. It's sturdy and can take a real beating, with a suspension that soaks up impacts with ease and a strong set of wheels. It's a powerhouse when riding flat-out, and has decent handling downhill despite its weight, with a progressive geometry.
However, that's where the good elements end. It's very clumsy going uphill due to its weight and low centre of gravity, which means the pedals smash off obstacles. It's also poor in the tight, twisting single-track trails, again due to its weight and cumbersome features.
It's made to launch off jumps, shred at bike parks and take on some downhill routes – it certainly isn't a nimble-footed single-track bike or enduro racer.
When it comes to jumps and bike parks, there aren't many better bikes, but it's pretty useless on singletracks and techy trails. It's fair to say we have a love-hate relationship with this Canyon Torque, but what do you think?
Go out and let it rip.
"If you enjoyed this review then make sure to check out our other Canyon reviews, like this Spectral:ON CF 9 review."