The Powerfly FS range is Trek's answer to the daily use all-rounder. It's designed to be a capable bike, which is comfortable on the urban routes, while also a fun ride on the trails. Getting that mix right is a real balancing act for a manufacturer because something has to give if it's to be adept in both areas.
The Powerfly FS 9 Equipped Gen 2 is the second-highest-spec bike in Trek's range, so how does it cope in the mountains? And are there any limitations? We've put hours into the pedals on this Trek Powerfly FS 9, to get all the answers for you.
A reliable bike to take on the daily commutes, but vastly overpriced compared with the competition.
The battery and motor pairing are areas to celebrate, offering great range and a strong amount of power to cart the bike's heavy bulk around.
However, the manoeuvrability is poor and the bike isn't suited to challenging, off-road terrain.
It's too cumbersome; it doesn't offer great handling, and the tyres just don't have enough bite.
But it's the price we can't get over. It's far more expensive than some strong competitors in the market.
Peaks:
Troughs:
Trek Powerfly FS 9 Equipped Gen 2
The Powerfly FS 9 Equipped Gen 2 has a heavy aluminium frame, which brings the sturdiness you need on a daily commute. It moves quickly when it picks up momentum, which is ideal when you're on concrete cycle lanes, but it does come at a big cost.
It weighs in at a very heavy 27.05kg, which means it isn't well-suited on twisty sections or for more challenging trail riding. It's adept on forest paths and wide single-tracks, but the minute you throw in some more challenging terrain, it starts to feel like you're trying to manoeuvre a tank.
Just how fast does the Trek Powerfly go with that weight, though? It can get up to 26km/h comfortably with the assist on, but faster with momentum.
It comes in five frame sizes, from XS up to XL, and has a few extra commuter friendly features, such as decent mudguard so you can keep your commuting clothes clean if you have an off-road section to tackle.
Plus it comes with a kick-stand, which is handy if you need to leave it outside a shop, especially considering its weight.
The Powerfly FS 9 Equipped Gen 2 comes with a sizable 625Wh Bosch PowerTube battery. The PowerTube is a strong selection by the folk at Trek, and gives you a decent range.
We found that we could push out around 90km on one charge, with around 1,000m of climbing, and still had a little bit left in the tank to go on the following day.
These are good numbers for a bike designed for daily use – the last thing you want is constant range anxiety with a bike you need to use on a daily basis.
The Powerfly FS 9 Equipped Gen 2 comes paired with the excellent Bosch Performance Line CX motor. We're big fans of the Performance Line CX, which can push out up to 85Nm of torque.
It's one of the best motors out on the market right now, offering intelligent power delivery, reliability and a very powerful kick.
It works smartly with the Bosch PowerTube battery to release the power conservatively and it helps add to that reliability with the range estimation.
Considering the heavy overall weight of the bike, you need a solid motor accompaniment to drag you up challenging climbs and the Performance Line CX is certainly armed for the task at hand.
You could be mistaken for thinking the bike is much lighter by the way it makes easy work of big inclines, particularly on the concrete or hard-packed terrain; it feels heavier-footed on bobbly ground, though.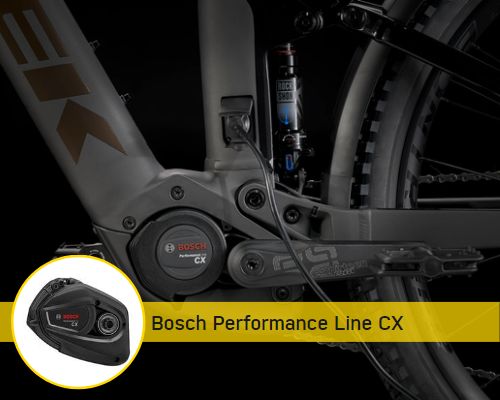 The Powerfly FS 9 Equipped Gen 2's display is another fantastic Bosch product. Not only does the motor itself bring reliability, but the display adds to that, offering many different customisable view options, depending on the demands of the day's ride.
You can switch between four modes of assistance easily using the handlebar-mounted smart controller: Eco, Tour, e-MTB and Turbo. This offers you more than enough options to take on the type of terrain and routes that you're likely to want to do on the bike.
You can also link all your data to your smartphone, with handy tools such as mapping data, RPM output, along with all the battery information you need to make sure you don't run out on a ride.
The Bosch Performance Line CX motor and its display are spot-on products.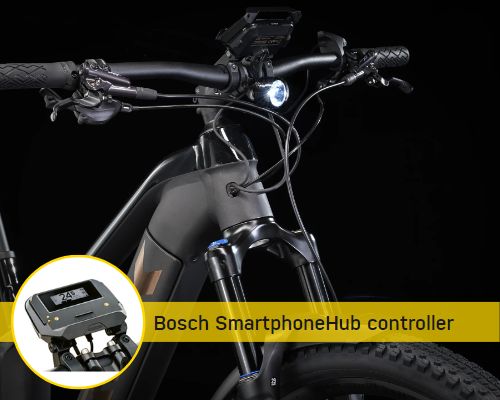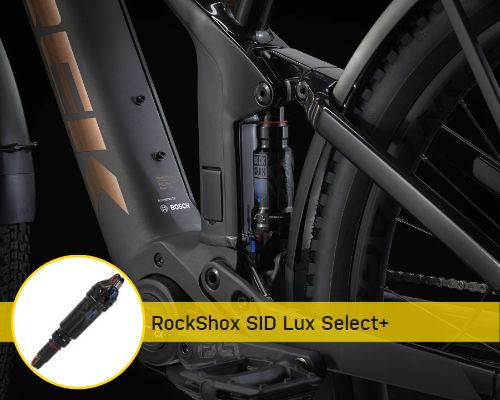 The Powerfly FS 9 Equipped Gen 2 comes with 120mm travel at the front and 100mm at the rear. It's set up with SR Suntour Zeron 35, air-sprung forks and RockShox SID Lux Select+ rear shocks.
We mentioned limitations earlier and this is certainly one to note. That suspension setup isn't made for wild trail riding or even moderate trail riding, to be honest, and it soon comes unstuck on anything more complex than a wide single-track or forest road.
It doesn't take lumps and bumps well and although it offers a small slice of cushioning, it really isn't designed for the mountains.
ℹ️ If you're wanting an off-road-focused bike, this really isn't the one for you. This offers aspects which can cope in the countryside, but it's also designed for paved streets. That compromise means that it loses out in certain areas. Suspension is one.
If you're just looking for some forest tracks or country paths, then this offers an adequate amount of travel to cope with those demands and you switch from road to off-road terrain feeling pretty comfortable. Comfort is what the bike is designed for, but within the parameters we mentioned above.
The wheel size on the Powerfly FS 9 Equipped Gen 2 depends on the frame size you go for. The XS and S frame sizes come with 27.5in wheels, whilst the larger models come with 29in wheels – both a Bontrager alloy setup, with Bontrager LT4 Expert tyres.
The alloy wheels add to that stability you feel while riding the bike – they're robust and give you a strong planted feel out on a ride. However, they are heavy and they contribute to the overall heavy bike weight.
The tyres offer you enough bite to cope with a slice of countryside, but also enough shedding ability so they can move quickly on the concrete, too – it's another balancing act from Trek to be able to straddle both the off-road and on-road worlds, however, it comes at a cost.
ℹ️ The tyres don't offer enough bite to be flying into technical corners or anything too steep, off-road. With the heavy weight of the bike, you could find yourself on the deck if you tried to push the bike in those settings.
The Powerfly FS 9 Equipped Gen 2 comes with Shimano XT M8120 4-piston brakes. They're a powerful setup, and do offer a strong bite to contend with that weight and the chunky motor.
We felt like they adequately coped with the job in hand and never gave you any cause for concern – a relief considering the tyre issues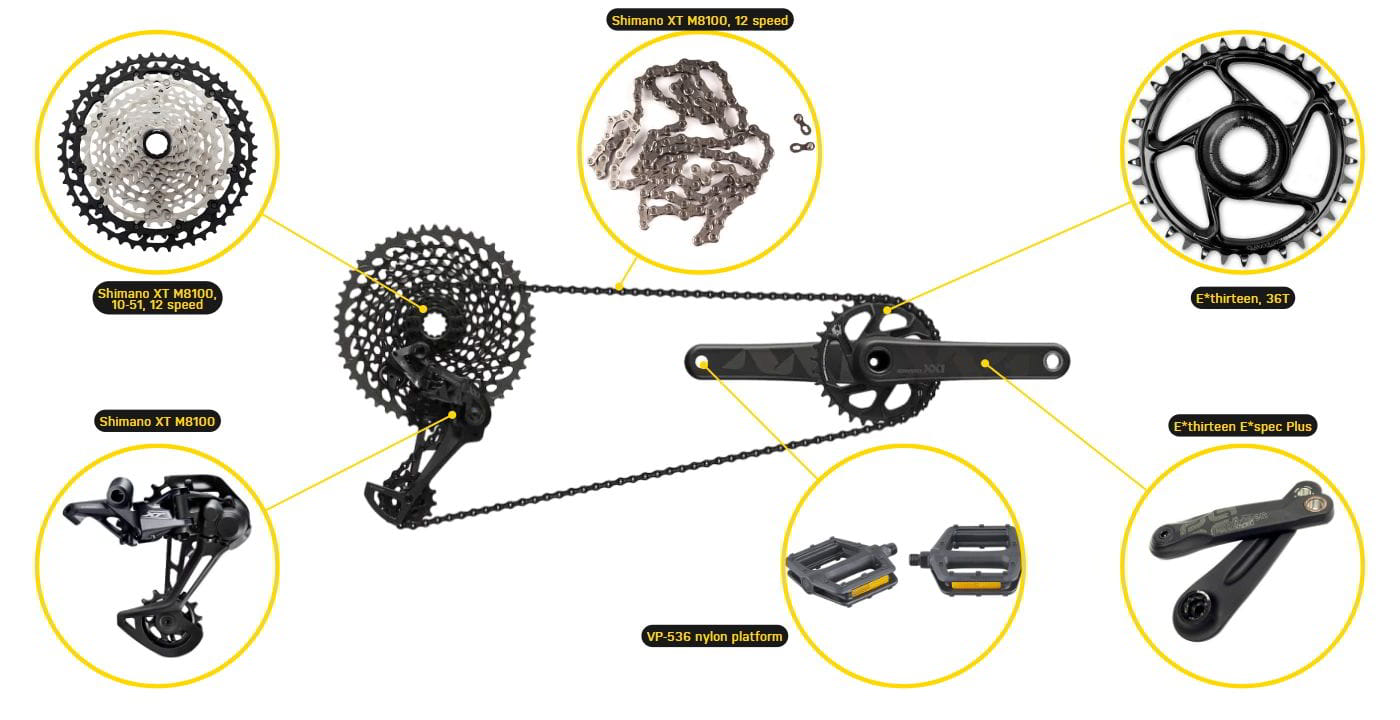 This Powerfly FS Equipped is fitted with a Shimano XT M8100 12-speed drivetrain. A very reliable partnering, a bit like the motor and battery – offering smooth shifting and an ease of use.
The price is upsetting considering the bike's limitations in quite a few areas. However, a decent chunk of that price is going towards the Bosch motor and battery, which are both extremely reliable and very good products to have at your disposal.
That eases the pain to a degree, but we still think it's vastly overpriced for what you're getting.
Powerfly FS 9 Equipped Gen 2 Facts & Figures
SIZE

RIDER HEIGHT

INSEAM

XS

137 – 155 cm




4'6″ – 5'1″

64 – 73 cm




25″ – 29″

S

153 – 167 cm




5'0″ – 5'6″

72 – 79 cm




28″ – 31″

M

161 – 175 cm




5'3″ – 5'9″

76 – 82 cm




30″ – 32″

L

174 – 188 cm




5'9″ – 6'2″

82 – 88 cm




32″ – 35″

XL

186 – 196 cm




6'1″ – 6'5″

87 – 92 cm




34″ – 36″
SIZING TABLE

FRAME SIZE NUMBER

14.5
15.5
17.5
19.5
21.5

FRAME SIZE LETTER

XS
S
M
L
XL

WHEEL SIZE

27.5″
27.5″
29″
29″
29″

SEAT TUBE

36.8
39.5
42
45
50

SEAT TUBE ANGLE

68.3°
68.3°
67.5°
67.5°
67.5°

EFFECTIVE SEAT TUBE ANGLE

76.0°
76.0°
76.0°
76.0°
76.0°

HEAD TUBE LENGTH

14
14
13
14
14

HEAD ANGLE

66.5°
66.5°
66.5°
66.5°
66.5°

EFFECTIVE TOP TUBE

55.4
56.4
58.9
62.1
64.6

BOTTOM BRACKET HEIGHT

33.2
33.2
33.5
33.5
33.5

BOTTOM BRACKET DROP

2.4
2.4
3.9
3.9
3.9

CHAINSTAY LENGTH

46.8
46.8
47
47
47

OFFSET

4.4
4.4
4.4
4.4
4.4

TRAIL

10.7
10.7
11.4
11.4
11.4

WHEELBASE

117
118
120.6
124
126.5

STANDOVER

69.1
69.1
71.2
71.6
71.3

FRAME REACH

40.5
41.5
43
46
48.5

FRAME STACK

59.9
59.9
63.7
64.6
64.6
* All measurements provided in cm unless otherwise stated.
FRAMESET
FRAME
Alpha Platinum Aluminium, Removable Integrated Battery (RIB), tapered head tube, internal routing, Motor Armour, magnesium rocker link, rack and mudguard mount, ABP, Boost148, 100 mm travel
FORK
SR Suntour Zeron 35, air spring, LO R damper, hydraulic lockout, tapered steerer, 44 mm offset, Boost110, 15 mm bolt-on thru axle, 120 mm travel
SHOCK
RockShox SID Lux Select+, 190 x 45 mm
MAXIMUM COMPATIBLE FORK TRAVEL
120mm (XS & S: 520mm axle-to-crown, M & up: 545mm axle-to-crown)
WHEELS
HUB FRONT
Bontrager alloy, sealed bearing, alloy axle, 6-bolt, Boost110, 15 mm thru axle
HUB REAR
Bontrager alloy, sealed bearing, 6-bolt, Rapid Drive 108, Shimano MicroSpline freehub, Boost148, 12 mm thru axle
SKEWER REAR
Bontrager Switch thru-axle, removable lever
RIM
Bontrager Line Comp 30, Tubeless-Ready, 28-hole, Presta valve
*TYRE

Size: XS , S


Bontrager LT4 Expert, reflective strip, wire bead, 60 tpi, 27.5×2.40″

Size: M , L , XL


Bontrager LT4 Expert, reflective strip, wire bead, 60 tpi, 29×2.40″
MAX TYRE SIZE
Frame: 29×2.40″ (XS & S: 27.5×2.60″) Fork: See manufacturer
DRIVETRAIN
SHIFTER
Shimano XT M8100, 12-speed
REAR DERAILLEUR
Shimano XT M8100, long cage
CRANK
E*thirteen E*spec Plus, 165 mm length
CHAINRING
E*thirteen, 36T, steel
CASSETTE
Shimano XT M8100, 10-51, 12-speed
CHAIN
Shimano XT M8100, 12-speed
PEDAL
VP-536 nylon platform
MAX. CHAINRING SIZE
Max: 46T, Min 34T
COMPONENTS
SADDLE
Bontrager Commuter Comp
*SEATPOST
Size: XS , S , M
Bontrager Line Dropper, 100 mm travel, internal routing, 31.6 mm, 345 mm length
Size: L , XL
Bontrager Line Dropper, 150mm travel, internal routing, 31.6 mm, 440mm length
HANDLEBAR
Bontrager alloy, 31.8 mm, 15 mm rise, 750 mm width
*GRIPS

Size: XS , S , M , L , XL


Bontrager XR Endurance Comp, lock-on

Size: XS , S , M , L , XL


Bontrager XR Endurance Comp
*STEM

Size: XS , S


Bontrager Elite, 31.8 mm, Blendr light mount, 7-degree rise, 60 mm length

Size: M , L , XL


Bontrager Elite, 31.8 mm, Blendr light mount, 7-degree rise, 70 mm length
HEAD SET
FSA IS-2
BRAKE
Shimano XT M8120 4-piston hydraulic disc
BRAKE ROTOR
Shimano RT76, 6-bolt, 203 mm
ACCESSORIES
BATTERY
Bosch PowerTube, 625 Wh
CHARGER
Bosch standard 4A, 220-240 V
CONTROLLER
Bosch SmartphoneHub
MOTOR
Bosch Performance CX, magnesium motor body, 250 watt, 85 Nm, 25 km/h max assist
*LIGHT

Size: XS , S , M , L , XL


Supernova E3 Mini-2 rear light, LED
Size: XS , S , M , L , XL
Supernova Mini 2, 5-21V LED headlight
KICKSTAND
Pletscher Comp Flex 18
CARGO RACK
MIK Compatible alloy rear rack
*MUDGUARD

Size: XS , S


Trek Powerfly 27.5″ custom fender
Size: XS , S , M , L , XL
Trek Powerfly FS custom mudguard

Size: M , L , XL


Trek Powerfly 29″ custom fender
WEIGHT
WEIGHT
M – 27.05 kg/59.64 lb
WEIGHT LIMIT
This bike has a maximum total weight limit (combined weight of bicycle, rider and cargo) of 136 kg (300 lb).
* Please note – spec applies to all sizes unless listed separately
There aren't a huge number of manufacturers targeting this area because of the compromises you have to make to try and make the bikes work well in both commuting and trail environments.
However, Canyon has tried to step-up to the mark with its Pathlite: ON 5 SUV, so how does it stack up to our Powerfly FS 9 Equipped Gen 2.
It comes with exactly the same battery and motor pairing, the 625Wh Bosch PowerTube battery and the Performance Line CX motor.
It also comes in slightly under the weight of our Trek, but only marginally at 26.86kg, due to its aluminium frame.
It has 100mm of travel at either end with a similar Suntour forks set-up and comes with 27.5 inch wheels, with Maxxis Crossmark II tyres, which offer a decent bite.
It's a very similar bike to our Trek, which has the same sort of limitations – good on hard-packed and simple trails, but comes unstuck on anything more technical.
That said, Canyon has managed to keep the price down at $3,605 – nearly $5,000 cheaper than our Trek Powerfly FS 9 Equipped.
It really makes you wonder how Trek are trying to justify that huge difference, considering that the bikes really are very similar.
It's a very overpriced bike, but it does the job it intends to – helping to bridge the gap between the daily commute, with a bit of trail riding.
It certainly has limitations, though.
It isn't meant for any real degree of serious trail riding and it would come seriously unstuck on anything technical or particularly challenging.
However, it offers a comfortable ride experience for the daily commutes, on simple single-tracks and on forest roads.
It has a top battery and motor pairing, which bring great reliability, a chunky amount of range and a powerful kick to heave its heavy weight around.
We're pained by the price, though. We just can't understand the justification for the high price, particularly when you compare it to some competitors operating in this same sphere of the e-MTB world.
There are definitely pros and cons with this one, but it does the job the bike is designed for – reliability being a key theme. If that's what you're looking for, then get out there and give it a whirl.