The Turbo Levo SL Comp is the entry-level bike in Specialized's SL series. The company needs little introduction, we know what to expect from them in the industry, and they're unquestionably among the best in the business.
The Turbo Levo SL Comp came out back in 2020 with the aim of creating an e-MTB which had the feel of a conventional MTB; lightweight and manoeuvrable, without too much power, whilst still offering elements of an electrical assisted bike.
Upon its release, the bike was ahead of its time in the sector, but has it stood the test of time? Or has it fallen behind other manufacturers? The company has brought out new versions of the bike, and we've taken the latest to the tails to see whether it stills hits the mark.
So, join us as we take on the climbs and negotiate the descents in our Specialized Turbo Levo SL Comp review!
This isn't an all-out e-MTB; it bridges the gap between the worlds of e-MTB and conventional MTBs. If that's what you're looking for: a natural ride feel, a lightweight frame, great manoeuvrability and only a little electrical assistance, then it's a wonderful choice.
It will provide you with endless fun, rip through the descents, fly through the corners and feel super playful. However, if you're looking for a powerful motor and lots of battery life, then this absolutely isn't  the bike for you. We'd recommend this bike for a fairly fit rider who just wants a little extra boost on those longer days out – it isn't for those who need a lot of assistance.
Peaks:
Troughs:
One of the big questions on most people's lips is how much does the Turbo Levo SL Comp weigh? And this is the big headline figure for the bike. Because it comes in at a very respectable 19.4kg, which really is light for an e-MTB (we reviewed the bike in a large size of frame).
This newer edition of the Turbo Levo SL Comp actually weighs a little more than previous incarnations. Adding a bit of weight has actually done the bike a favour, though, as it holds onto the trail better, and feels more stable.
It's designed to be very manoeuvrable and have the feel of a non-electrical assisted bike and it nails those ambitions well – it's incredibly playful. It's geared up for long days out, where it doesn't take a lot of physical effort to manipulate and it absolutely nails descents – you can throw it about with ease, with the bike feeling like a normal MTB.
That's helped by the bike's geometry, which lends itself to being thrown around – even more so thanks to the bike's short chainstays.
As with all our Specialized ebike reviews, battery size is a big consideration and although clearly the weight of the Specialized Levo SL Comp is a headline grabber, how do its e-bike credentials figure on the battery front?
The Turbo Levo SL Comp is fitted with the Specialized SL1-320Wh battery, which is very small compared to many e-MTBs. More than half the size in many cases, but it's like that for a reason. The chunkier the battery, the heavier the weight of the overall ride.
On our review runs we managed to push out 21km of assist on the standard battery. You can get a 160Wh range extender battery, though, which will take you a little further. The 320Wh standard battery takes around 2 hours and 35 minutes to recharge back up to 100%, so you're able to get back out on the trails quickly.
Importantly, the battery is neatly incorporated in the frame, with a sleek-looking finish and a strong casing to protect it from any damage out on the trails. We'll come to the motor shortly, but you can actually get a decent ride out of the Turbo Levo SL Comp, even in spite of the small battery size, because thanks to the lightweight frame and the type of riding you're likely to be doing, you don't need the electrical assist on all the time.
A really important aspect to note in this Turbo Levo SL review is the motor capabilities. Listen, it isn't a monstrous power machine, far from it. It's fitted with Specialized's SL 1.1 lightweight motor, which kicks out less than half the amount of torque as many e-MTBs out on the market (only 35Nm).
This isn't an oversight by the crew at Specialized, they're actually trying to create a ride which feels like a normal MTB, filling a middle ground in the market between an all out e-MTB and a traditional MTB. That small motor keeps the weight down, but also provides a little bit of power to get you up some sections when your legs need a break.
This isn't the bike for you if you want to smash up big, long climbs with minimal effort. This is for the rider, who just wants a little "pick me up" as they're gassing it up over some tricky terrain. It's designed for a fit rider, who just wants to go that little bit further, and that 35Nm of torque does exactly that.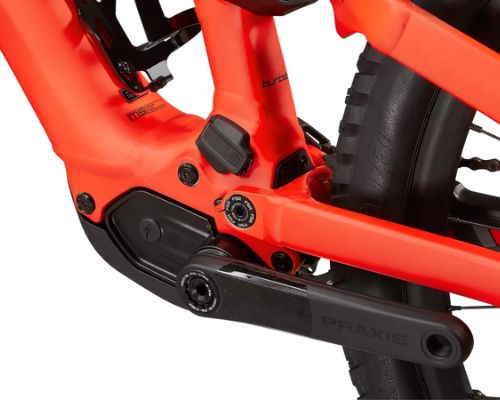 The bike does the job it's designed to, with a smooth feel to the power output, which again mimics a natural ride feel.
The Turbo Levo SL Comp comes with 3 modes of assist to choose from – Eco, Trail and Turbo – which you can switch between through Specialized's standard e-MTB shifter.
It's neatly concealed on the handlebars, protecting it from damage and also giving the bike a sleek finish. The handlebar display shows how much battery life you have left as a series of 10 LED lights, which is handy, essentially one light equates to 10% increment of battery life left.
! NB:
As with all recent Specialized e-MTBs, you can link your ride up to the company's Mission Control App, which turns your smartphone into a little onboard computer; this includes great mapping tools, an exact percentage of battery life left and many other cool features.
The bike is geared up with 150mm of travel and the front and the rear, which combined with the weight, once again makes this e-MTB feel super playful. As you can see, this is a common theme running through (or should that be riding through) our Specialized Turbo Levo SL review.
The bike feels balanced on the descents and the overall package allows you to really rip through the corners and twisty sections, while also being able to hit some air with ease. It's hard not to have fun on the bike and the FOX Rhythm 34 Float 29 forks and the FOX Float DPS Performance shocks are just another two features which make that possible.
The minimal overall weight means it's almost impossible to bottom out and instead you're left feeling super comfortable on even the trickiest sections.
The Turbo Levo SL Comp comes with 29in wheels at both the front and the back, with a Butcher GRID TRAIL front tyre and Eliminator GRID TRAIL at the rear. The tyres are another asset; they're thick and durable, which is exactly what you need with the aggressive riding you're likely to be doing on this e-MTB.
The Turbo Levo SL Comp comes with SRAM Guide R hydraulic disc brakes at both the front and the rear. We think they're a little bit of a let down and you could do with more in the braking department for the amount of gas you can get out of the bike.
For a playful bike like this, which will be thrown down the descents, twisting and turning at speed, you need to have absolute certainty in the brakes – and unfortunately we just didn't have that on our review runs. An area for Specialized to improve upon in the future, for sure.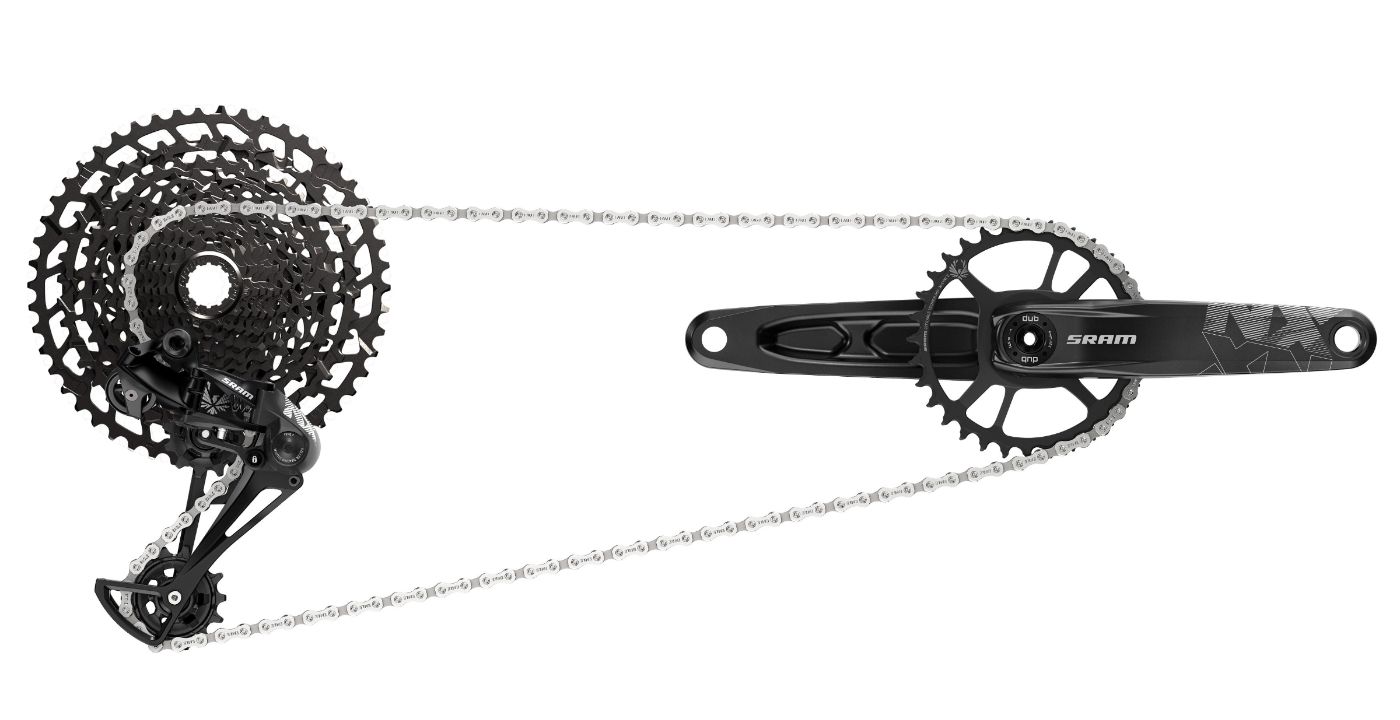 The Turbo Levo SL Comp is geared up with a 12-speed SRAM NX Eagle drivetrain. It's a decent setup, which performs well out on the trails, with plenty of range to get the job done and not leave you complaining.
We're pretty impressed with the price. Specialized is giving you more than a conventional MTB for around the same price as a standard MTB of this quality.
It's a really fun and playful bike to ride and you get a few added extra components of an e-MTB. There's certainly a lot to admire.
Specialized Turbo Levo SL Comp Facts & Figures
GEOMETRY
XS
S
M
L
XL
Crank Length
165mm
165mm
165mm
170mm
170mm
Handlebar Width
750mm
780mm
780mm
780mm
780mm
Stem Length
45mm
45mm
45mm
45mm
45mm
Saddle Width
143mm
155mm
143mm
143mm
143mm
Seatpost Length
325mm
375mm
438mm
438mm
478mm
Stack
579mm
606mm
606mm
633mm
647mm
Reach
395mm
415mm
435mm
455mm
481mm
Head Tube Length
95mm
95mm
95mm
125mm
140mm
Head Tube Angle
66°
66°
66°
66°
66°
BB Height
347mm
347mm
347mm
347mm
347mm
BB Drop
27mm
27mm
27mm
27mm
27mm
Trail
110mm
110mm
110mm
110mm
100mm
Fork Length, Full
560mm
560mm
560mm
560mm
560mm
Fork Rake/Offset
51mm
51mm
51mm
51mm
51mm
Front Center
709mm
729mm
749mm
781mm
813mm
Chainstay Length
437mm
437mm
437mm
437mm
437mm
Wheelbase
1145mm
1165mm
1185mm
1217mm
1249mm
Top Tube Length, Horizontal
551mm
573mm
595mm
628mm
664mm
Bike Standover Height
767mm
771mm
774mm
789mm
789mm
Seat Tube Length
380mm
390mm
410mm
455mm
505mm
Seat Tube Angle
75.6°
75.4°
75.2°
74.7°
74.2°
E-BIKE
Charger
Custom charger, 48V System w/ SL system charger plug
Motor
Specialized SL 1.1, custom lightweight motor
UI/Remote
Specialized TCU, 10-LED State of charge, 3-LED Ride Mode display, ANT+/Bluetooth®, w/Handlebar remote
Battery
Specialized SL1-320, fully integrated, 320Wh
Wiring Harness
Custom Specialized wiring harness w/ chargeport
WHEELS
Rear Hub
Specialized, sealed cartridge bearings, 12x148mm thru-axle, 32h
Rims
Specialized 29, hookless alloy, 30mm inner width, tubeless ready
Inner Tubes
Standard, Presta valve
Front Hub
Specialized, sealed cartridge bearings, 15x110mm spacing, 28h
Spokes
DT Swiss Industry
Front Tire
Butcher, GRID TRAIL casing, GRIPTON® compound, 29×2.3″
Rear Tire
Eliminator, GRID TRAIL casing, GRIPTON® compound, 2Bliss Ready, 29×2.3″
DRIVETRAIN
Cassette
SRAM NX Eagle, 12-speed, 11-50t
Chainrings
SRAM X-Sync Eagle, 94 BCD, 30T
Rear Derailleur
SRAM NX Eagle, 12-speed
Chain
SRAM NX Eagle, 12-speed
Shift Levers
SRAM NX Eagle, trigger, 12-speed
Crankset
Praxis, forged M30, custom offset
COCKPIT
Stem
Specialized Trail, 3D-forged alloy, 4-bolt, 6-degree rise
SeatPost
X-Fusion Manic, infinite adjustable, two-bolt head, bottom mount cable routing, remote SRL LE lever, 34.9mm, XS:100 mm, S: 125mm, M/L: 150mm, XL:170mm of travel
Tape
Specialized Trail Grips
Saddle
Bridge Comp, Hollow Cr-mo rails, 155/143mm
Handlebars
Specialized Trail, 6061 alloy, 8-degree backsweep, 6-degree upsweep, 27mm rise, 31.8mm clamp, S 720mm, M-XL 750mm
BRAKES
Front Brake
SRAM Guide R, hydraulic disc, 200mm
Rear Brake
SRAM Guide R, hydraulic disc, 180mm
FRAMESET
Seat Binder
Specialized bolt-type, alloy, 38.6mm
Fork
FOX RHYTHM 34 FLOAT 29, GRIP damper, 51mm offset, 2-position sweep adjust, 15x110mm, tapered alloy steerer, 150mm of travel
Frame
Specialized M5 Premium Aluminum, 29 Trail Geometry, integrated down tube battery, enclosed internal cable, Command Post routing, 148mm spacing, fully sealed cartridge bearings, 150mm of travel
SUSPENSION
Rear Shock
FOX FLOAT DPS Performance, 3-position adjustment, 52.5x210mm, Rx Trail Tune
ACCESSORIES
SWAT
Swat CC Multi Tool in steerer tube without Chaintool
* Specifications are subject to change without notice
The Turbo Levo SL Comp was at the forefront of the industry when it first came out with its super lightweight frame back in 2020, but other manufacturers have tried to play catch up. So, how does it compare?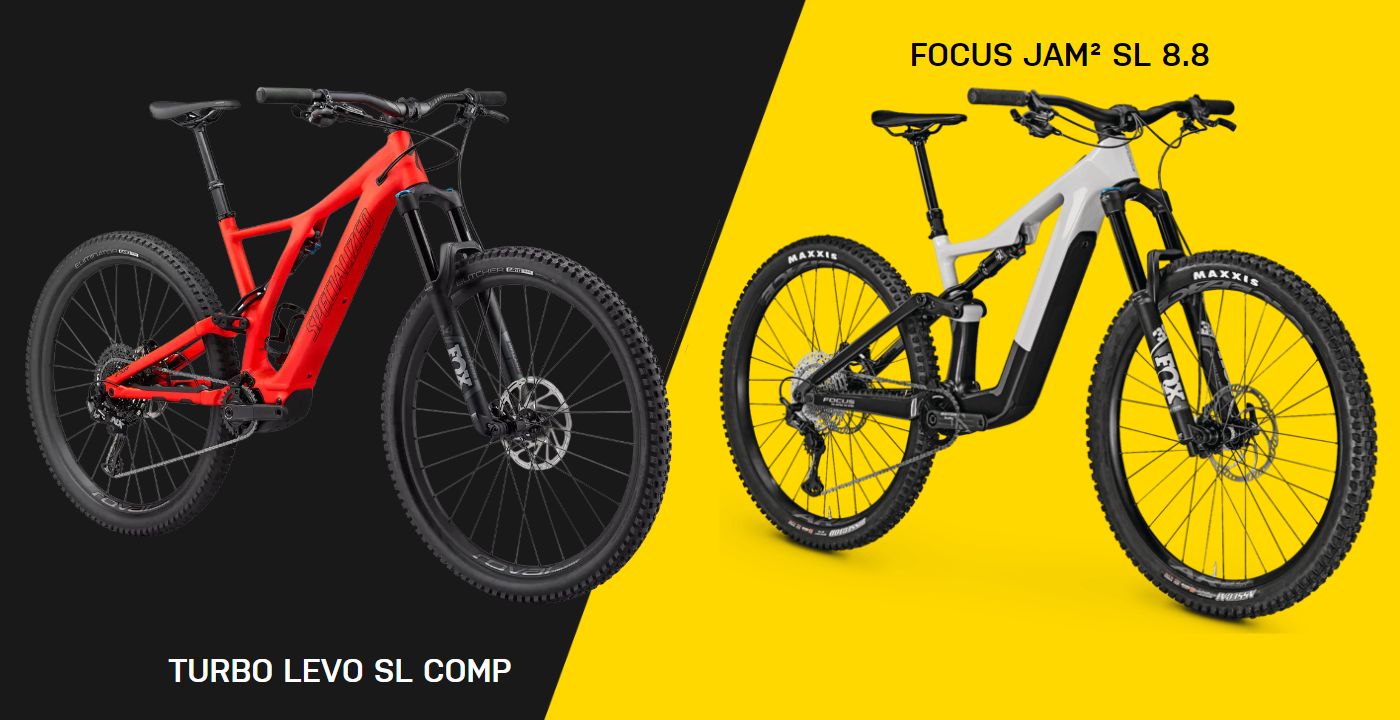 The Focus Jam² SL 8.8 is another decent option, but it feels a little more like a full e-MTB, rather than giving you the super lightweight and natural ride feel that the Turbo Levo SL Comp does.
The Focus comes with a 430Wh battery and a chunkier motor, producing 60Nm of torque, however, despite those larger e-MTB components, it still weighs only 0.3kg more than the Specialized.
That's an impressive weight saving, made possible by an ultra-lightweight frame, but that means that for a heavier rider, it might not cope well with super aggressive riding.
It's a very good bike, though, and handles the ups and downs well, but comes in nearly $500 more than the Specialized. We'd go for the Turbo Levo SL Comp.
Another good bike in the lightweight sector is the Orbea Rise M20, weighing in at 19kg. The battery is slightly larger (by 40Wh) and its Shimano EP8-RS motor kicks out nearly double the torque of the Turbo Levo SL Comp, with 60Nm at its disposal.
It's a seriously impressive e-MTB and incredibly fun to ride. It provides a really natural feel and it can be thrown around aggressively. That extra torque also gives you more power to gas up some really challenging climbs.
And the Orbea comes in at around the same price, only $80 more. It's a toss up between them, but the Orbea is definitely a very good option to consider.
If you're wondering whether the Turbo Levo SL is worth it? Then the answer is indisputably a yes. It's a very good, versatile and fun-to-ride e-MTB. However, it's important to be clear what you're looking for from an e-MTB.
It bridges the gap nicely between a conventional mountain bike and an e-MTB, offering a little extra kick for riders who want to go that little bit further, but without feeling the full weight of an e-MTB.
It certainly isn't the bike for you, though, if you need a large amount of electrical assistance and want to pump up chunky climbs with the help of technology. It's a great bike if you're looking for that in-between option, but a poor choice if you're looking for a full e-MTB.
It has areas to improve, but overall? It's a winner for us. But what do you think? Go out and give one a spin for yourself!