Specialized has a history of producing some of the best riding electric mountain bikes on the market. They've been at it for decades and each release seems to push the limits of what's possible with e-MTB design and technology.
The Turbo Levo Comp Carbon is regarded by many as one of the most accomplished e-MTBs you can get your hands on. But it isn't that cheap and other competitors have upped their game in recent years. The last thing you want to do is part with your hard-earned cash only to discover the bike's a dud – then you're really left stuck in the mud.
With that in mind, we've carried out this Turbo Levo Comp Carbon review to see whether this e-MTB really hits the mark, or whether it's worth looking elsewhere for your new ride instead. Join us, then, as we hit the trails and crunch the numbers in our Specialized Levo Comp Carbon review.
We think Specialized's Turbo Levo Comp Carbon is right up there among the best e-MTBs you can purchase right now.
It's an excellent e-MTB which features industry-leading aspects. The vastly adjustable geometry stands out, as does the incredibly powerful motor. It also has a chunky battery and a playful handling feel, something which is complemented by its lightweight nature.
There are elements which aren't completely perfect, but it will only take a little refinement from Specialized before they come up with the complete package.
It can take on everything you throw at it, from the gnarliest descents, to the chunkiest climbs and the most technical twisty trails you can find. 
All in all, the Turbo Levo Comp Carbon is an absolute winner for us.
Peaks:
Troughs:
Specialized Levo Comp Carbon
We know just how important bike weight is when it comes to throwing your puppy around the trails, and if you're wondering how much a Turbo Levo Comp carbon weighs, then the answer is 23.2kg, thanks to the bike's fully carbon lightweight frame.
What you notice straight away when you hop onto the bike is the generous cockpit; you feel very much in command and well centred, which enables fantastic cornering and offers great manoeuvrability. It makes carving down steep descents and negotiating tricky twisty trails a breeze.  
Another excellent feature included by Specialized is the six geometry settings you can choose from. This allows you to custom fit your set-up to match your riding style or the demands of the day's trails.
It's a game changer for the Levo, with an adjustable headtube angle of between 63 and 65.5 degrees and bottom bracket which can be adjusted up or down by 7mm in height. This opens you up to all sorts of terrain and styles of riding – from gnarly downhill trails, to more technical twisty sections, chunky climbing days and everything in between.
The Specialized Turbo Levo Comp Carbon comes with the company's M3-700Wh battery, which fuels some pretty chunky, long-distance rides.
When it comes to efficiency, this battery more than holds its own. On one of our review test rides we managed some long days out with bags of steep climbs, over 1,000 metres of climbing, in fact. In Eco mode, you can easily churn out around 80km on a flat route, less on a chunky climbing day, but still very respectable.
Other companies have upped their game recently, in terms of battery size, so you can get larger batteries than the 700Wh offering from Levo, but Turbo Levo Comp Carbon's battery is still very commendable. That said, if you want to go on rides of over 80km, then it would be safe to have a spare battery with you, just in case.
Specialized has really gone all out with the motor power on this one. The bike's geared up with the company's 565Wh, 2.2 Custom Rx Trail-Tuned Motor, which punches out a monstrous 90Nm of torque, reaching a top assisted speed of 25km/h.
That power output, combined with the bike's lightweight frame and well-centred geometry, makes climbing an absolute doddle. The bike scampers up even the steepest of trails and has the chunky battery size at its disposal to keep going and going.
It also has 3 different power modes to choose from – Turbo, Eco and Boost, so you can tweak your set-up depending on the severity of the terrain you're riding and the amount of battery you still have left to play with. 
The only downside we found is the noise that that powerful motor generates; it does kick out a bit of sound, which isn't ideal.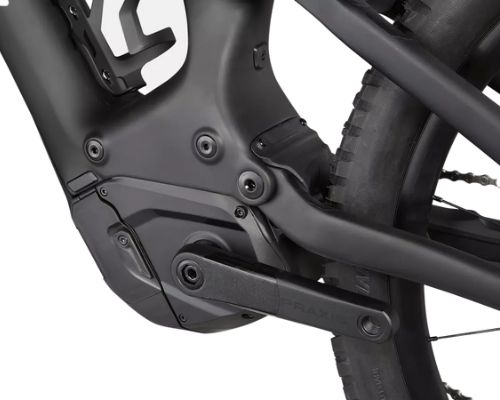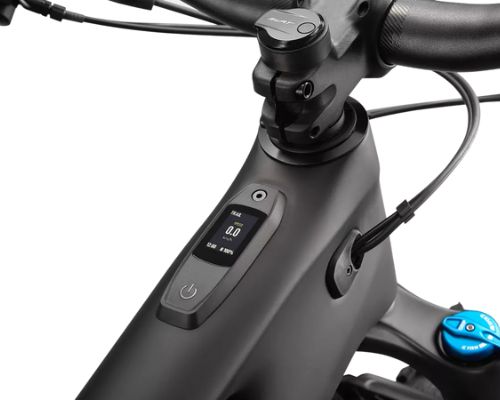 This is another real winner for the Turbo Levo Comp Carbon. Specialized has created a really neat display, which slips modestly onto the bike's cockpit. But it's the accompanying app which really excites us.
The Specialized Mission Control app is the best we've ever had the pleasure of using. It has everything you need; from exact battery percentage left, to thorough mapping tools and many other excellent features, which elevate your riding experience and also hone you in on your use of electrical assistance, meaning that you should be less likely to run out. It's definitely worth getting your hands on.
The Turbo Levo Comp Carbon is set up with 160mm travel at the front, thanks to its Fox 36 Rhythm forks and has 150mm travel at the rear, thanks to the Fox Float X Performance rear shocks.
It's a well-designed pairing which soaks up a lot of pressure and provides a comfortable ride out on the trail. Balance is a word we've used quite a lot in this review and the suspension set-up adds to that.
The chunky front travel means you can take some big hits on the gnarly descents without the suspension bottoming out. You're also provided with a strong set-up at the rear to bounce comfortably through twisty turns.
The suspension adds yet another tick on to this bike's increasingly impressive performance review.
This is another adjustment Specialized has made with the Levo Turbo Comp.
The company has configured the bike with a mullet set-up, which is where an e-MTB or MTB has a larger front wheel and a smaller rear wheel. In the case of the Turbo Levo Comp, it has a 29inch wheel at the front and 27.5inch wheel at the rear.
The large robust wheel at the front soaks up a great deal of pressure and gives you a planted feel on the trail, while also granting the ability to get up and over obstacles easily. Meanwhile, the smaller rear tyre retains that manoeuvrability and playfulness. It makes the bike's wheel set-up a genuine all-rounder.
The Specialized Comp Carbon is geared up with SRAM Code Rs, 4-piston calliper, hydraulic disk front brakes and the same at the rear, with 220mm and 200m of give, respectively. The brakes aren't the strongest aspect of the Turbo Levo Comp Carbon, and it's one area we feel Specialized has dropped the ball.
With large parts of the rest of the set-up purring, you really want to be able to trust the brakes. Unfortunately, though, they felt inconsistent, which isn't ideal when you're kicking out 90Nm of torque.
The Turbo Levo Comp Carbon is set-up with an SRAM GX Eagle, 12-speed derailleur and an SRAM XG-1275, 12-speed cassette. It's a decent set-up, providing a smooth pedal strike and giving you enough options to take on some very tricky terrain.
This is definitely a fair price for an e-MTB of this quality. It's crazy powerful, has a decent range, an excellent ride feel and a sleek design.
You can take on pretty much any terrain with the Turbo Levo Comp Carbon and it will come out glowing.
Specialized Turbo Levo Comp Carbon ON:CF 9 Facts & Figures
GEOMETRY
S1
S2
S3
S4
S5
S6
Crank Length
160mm
160mm
160mm
160mm
160mm
160mm
Stem Length
40mm
40mm
40mm
40mm
50mm
50mm
Handlebar Width
780mm
780mm
780mm
780mm
780mm
780mm
Seatpost Length
100mm
125mm
150mm
170mm
170mm
190mm
Saddle Width
155mm
155mm
143mm
143mm
143mm
143mm
Stack
605mm
617mm
626mm
635mm
644mm
653mm
Reach
412mm
432mm
452mm
477mm
502mm
532mm
Headtube Length
105mm
105mm
115mm
125mm
135mm
145mm
Headtube Angle
64.5°
64.5°
64.5°
64.5°
64.5°
64.5°
BB Height
352mm
350mm
350mm
350mm
350mm
350mm
BB Drop
25mm
27mm
27mm
27mm
27mm
27mm
Trail
130mm
130mm
130mm
130mm
130mm
130mm
Fork Length (full)
557mm
567mm
567mm
567mm
567mm
567mm
Fork Rake/Offset
44mm
44mm
44mm
44mm
44mm
44mm
Front Center
738mm
760mm
784mm
814mm
843mm
878mm
Chainstay Length
442mm
442mm
442mm
442mm
442mm
442mm
Wheelbase
1179mm
1200mm
1225mm
1255mm
1284mm
1318mm
Bike Standover Height
752mm
776mm
783mm
787mm
788mm
790mm
Seat Tube Length
380mm
390mm
405mm
425mm
445mm
465mm
Seat Tube Angle
78°
77.2°
76.7°
76.2°
76.2°
76.2°
Max Seatpost Insertion
210mm
220mm
240mm
255mm
275mm
295mm
Min Seatpost Insertion
80mm
80mm
80mm
80mm
80mm
80mm
COCKPIT

Stem

Alloy Trail Stem, 35mm bar bore

Saddle

Bridge Comp, Hollow Cr-mo rails, 155/143mm

Tape

Specialized Trail Grips

Handlebars

Specialized, 6061 alloy, 6-degree upsweep, 8-degree backsweep, 30mm rise, 780mm width

SeatPost

X-Fusion Manic, infinite adjustable, two-bolt head, bottom mount cable routing, remote SLR LE lever, 34.9, S1: 100mm, S2: 125mm, S3: 150mm, S4/S5: 175mm, S6: 190mm
FRAMESET
Seat Binder
Alloy, 38.6mm
Frame
FACT 11m full carbon, 29″ front wheel, 27.5″ rear wheel, full internal cable routing, 148mm spacing, fully sealed cartridge bearings, 150mm of travel, geo adjust head tube, geo adjust horst pivot
Fork
Fox 36 Rhythm, 29″, 44mm offset, Grip damper, S1: 150mm, S2-S6: 160mm travel
WHEELS
Rear Hub
Alloy, sealed cartridge bearings, 148mmx12mm thru-axle, 28h
Front Hub
Alloy, sealed cartridge bearings, 15x110mm thru-axle, 28h
Front Tire
Butcher, GRID TRAIL casing, GRIPTON® T9 compound, 2Bliss Ready, 29×2.6″
Spokes
DT Swiss Industry
Rear Tire
Eliminator, GRID TRAIL casing, GRIPTON® T7 compound, 2Bliss Ready, 27.5×2.6″
Rims
Specialized 29, hookless alloy, 30mm inner width, tubeless ready
Inner Tubes
Standard, Presta Valve
E-BIKE
Wiring Harness
Custom Specialized wiring harness
Charger
Custom charger, 42V4A w/ Rosenberger plug, 100-240V
Motor
Specialized 2.2 Custom Rx Trail Tuned Motor
Battery
Specialized M3-700, Integrated battery, 700Wh
UI/Remote
Specialized MasterMind TCU, percentage of remaining charge, 120 possible display configurations, MicroTune assist adjustment, over-the-air updates, ANT+/Bluetooth®, w/Handlebar remote
SUSPENSION
Rear Shock
FOX FLOAT X Performance, LSR, 2-position lever, 55x210mm
DRIVETRAIN
Crankset
Praxis forged M30, custom offset, 160mm
Shift Levers
SRAM GX, trigger, 12-speed
Rear Derailleur
SRAM GX Eagle, 12-speed
Chain
SRAM NX Eagle, 12-speed
Chainrings
SRAM X-Sync Eagle, 104 BCD, 34t, steel
Cassette
Sram XG-1275, 12-speed, 10-52t
BRAKES
Front Brake
SRAM Code R, 4-piston caliper, hydraulic disc, S1-S3: 200mm, S4-S6: 220mm
Rear Brake
SRAM Code R, 4-piston caliper, hydraulic disc, 200mm
ACCESSORIES
SWAT
SWAT CC steerer tube integrated tool with chain tool and link
* Specifications are subject to change without notice
The Turbo Levo Comp Carbon is an impressive e-MTB and it's high up there in terms of the all-round package, but there are other decent options on the market, too, and some come in cheaper.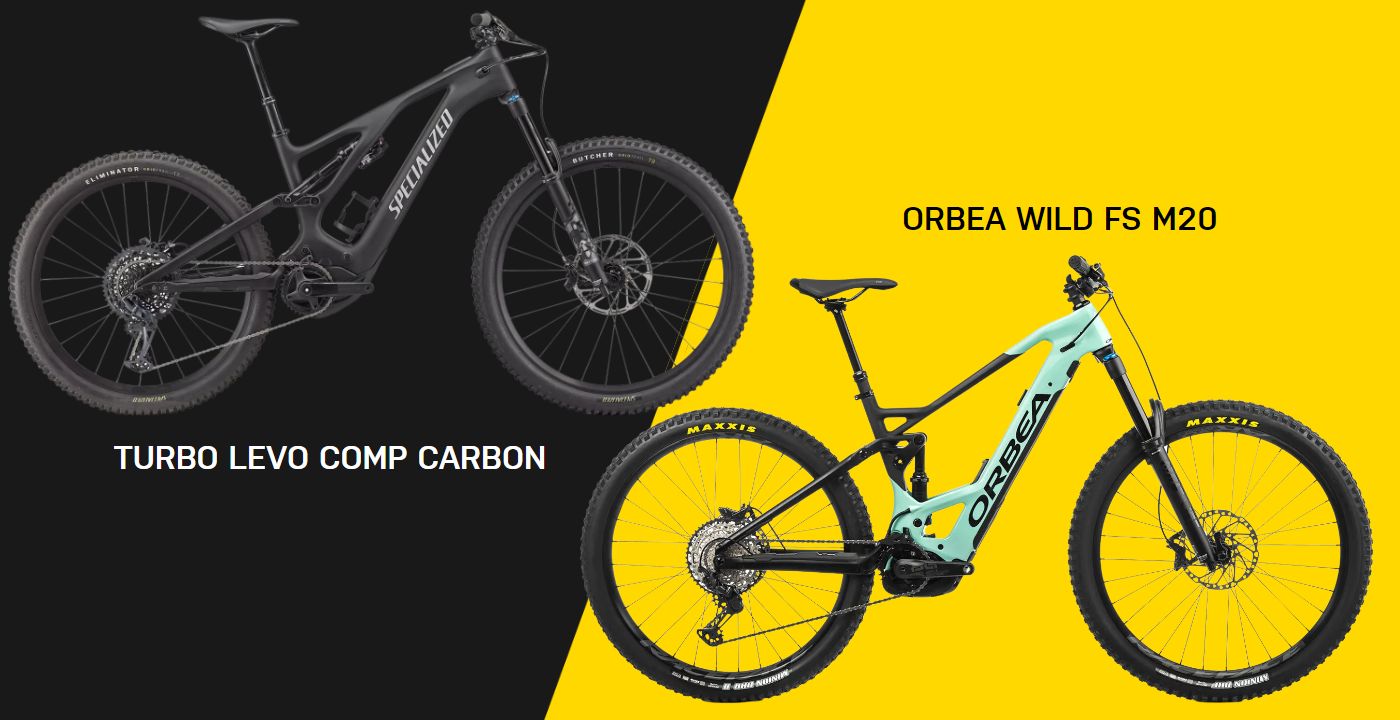 The Orbea Wild FS M20 is another strong contender in the market right now and has similar specs to the Turbo Levo Comp Carbon. In fact, it actually has a slightly larger battery, by 50 Watts, and has greater travel by 10mm at both the front and rear. 
Importantly, it's also lighter and more than $1,800 cheaper. It doesn't have the adjustable geometry range that the Turbo Levo Comp Carbon has, but it's still a very proficient e-MTB. We think the Orbea Wild FS M20 would be a great option if you have a lower budget.
Another fantastic option is the Nukeproof Mega Watt 297 Elite Alloy 202ONE. Now, the first thing to note is the frame is made out of alloy, which of course will make it heavier than the Turbo Levo Comp Carbon. 
The Nukeproof also has a slightly smaller battery, so your range isn't quite as long, and it isn't quite as punchy in the motor department, with 5Nm less torque. 
However, the Nukeproof has slightly more travel, with 170mm at each end, and that alloy frame makes it super robust to take some big punishment on the most gnarly downhill trails. It also comes in cheaper than the Turbo Levo Comp Carbon, too.
Both are great bikes, but it really depends on the type of riding you want to be doing. The Nukeproof Mega Watt 297 Elite Alloy is another great option on a smaller budget.
With Specialized you do pay a premium for their name, they're seen as one of the 'top dogs' in the business and have a solid reputation as a result.
This is an excellent and well-crafted e-MTB. It's incredibly versatile, ferociously powerful, has a brilliant range, playful handling and extra features which really elevate the riding experience.
From adjustable geometry, to progressive app features and the ability to take on the toughest descents, it's a dream to ride and leaves you with a smile on your face.
There are areas to improve, but it isn't far off being the absolute complete package and as we regularly see with Specialized, they're always improving and aren't far off perfecting this bike.
There aren't many better out there, so the Turbo Levo Comp Carbon gets a big thumbs up from us. But what do you think? Get out there and give this puppy a spin for yourself.