Canada is a country with endless dramatic scenery and wild, untamed nature, featuring big mountains, dense forests and rugged coastline. Naturally, that creates incredible mountain biking territory, with thousands of miles of routes all over the country – from single-track long-distance trails, to gnarly downhill courses and dedicated bike parks.
It's a nation which, quite rightly, features on many mountain biking bucket lists, with some of the most stunning mountain bike trails you can find anywhere on earth. There are so many incredible spots to mention, and in our best mountain bike trails Canada guide, we've picked out the ones which blew us away the most.
So, hop on and join us for the ride as we carve our way around the best MTB trails in Canada…
Grading System for the Best Mountain Biking in Canada
Before we get stuck into the vast array of epic Canadian trails, it's important to highlight the trail grading system that we'll be referencing in our guide. We'll be using the International Mountain Bicycling Association's grading system, which has 5 levels of difficulty:
1. Top of the World to Khyber Pass Epic
Where: Whistler, British Columbia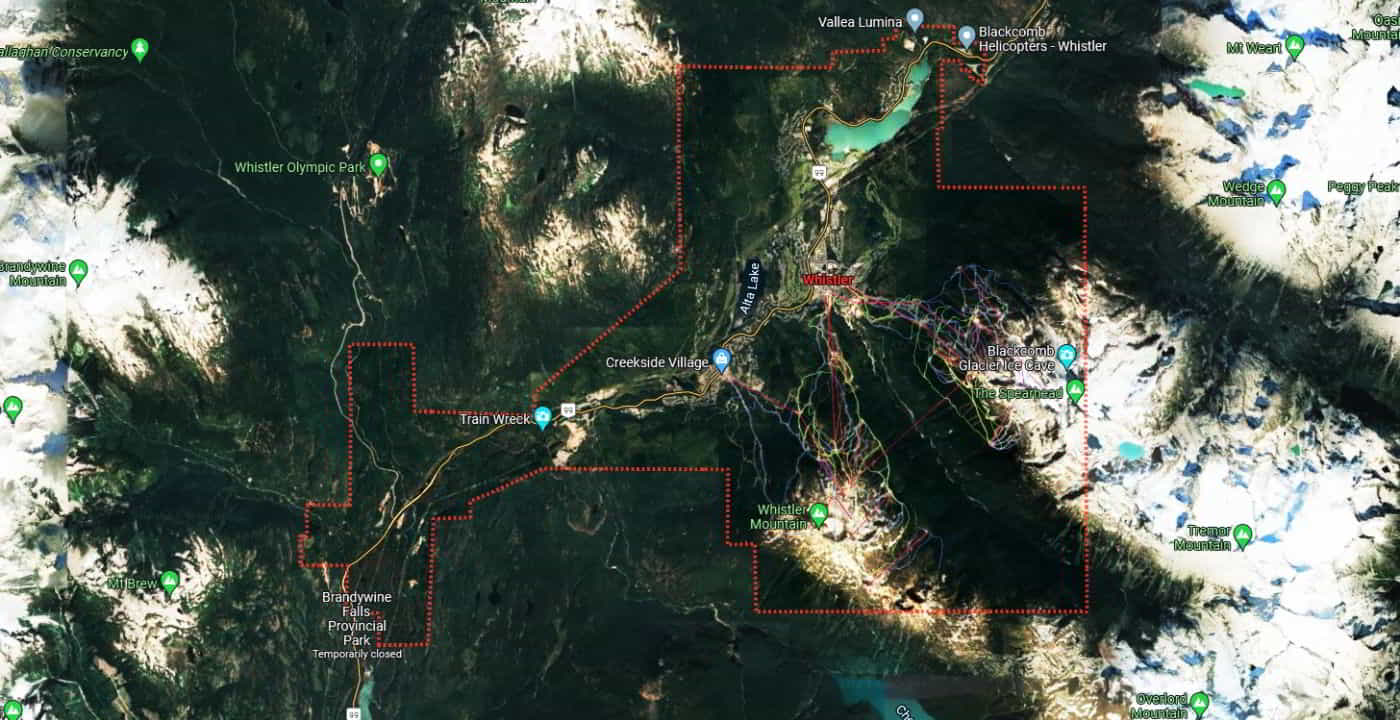 Distance: 12.55km
Max elevation: 2,176m
Climbing: 81m
Standard: Black Diamond
Put simply, this is one of the most jaw-dropping mountain bike rides on earth.
The route begins at the summit of the stunning Whistler Mountain, before you carve along a ridge line and then fly down steep descents all the way to Creekside Village at the mountain's base.
This is an immensely technical trail, with gnarly drops and technical turns – it's a backcountry rider's dream, with beautiful views over the surrounding high peaks. This route was the first lift-assisted high peak trail in North America and it draws people from far and wide as a result.
This is a serious trail for serious riders; it's tough, with bumpy rock gardens, tonnes of obstacles, seriously narrow sections, and some big old drops just to round it all out. It's a trail you'll always remember, though, and has quite rightly earned its legendary reputation.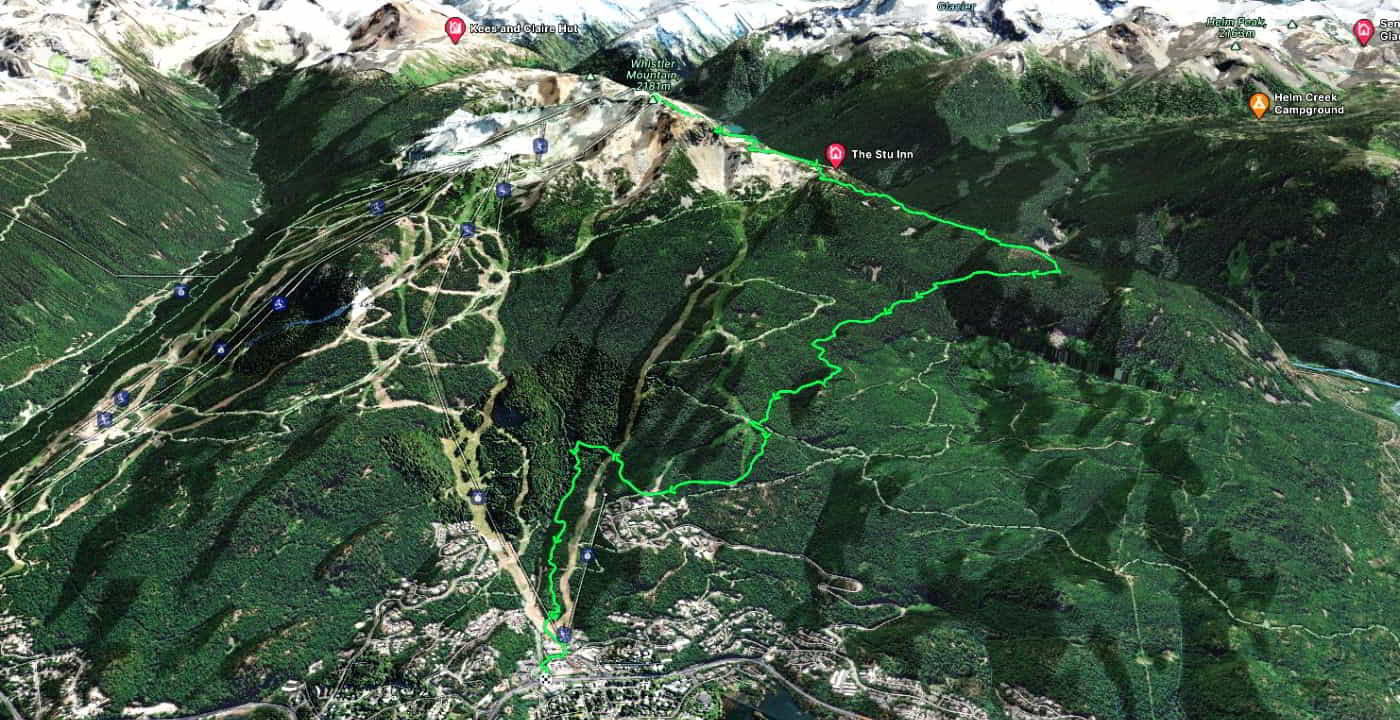 2. The Great Trans Canada Trail
Where: Cross-country, coast to coast trail (across the entire of Canada)
Distance: 24,000km
Max elevation: 2,185m
Climbing: Various
Standard: Double Black Diamond
If you're wondering if Canada is good for mountain biking? Then this should neatly answer the question. Quite frankly, this is a monster and it's the trail's sheer scale which makes it so impressive. This is a complete cross-Canada, coast to coast, trail linking the Pacific with the Atlantic – 24,000km in total.
Yep, you heard us correctly, it's a staggering distance and the longest unbroken trail network in the world. The route crosses all of Canada's 13 provinces and territories, making it indisputably one of the greatest mountain biking adventures on the planet.
You'll be treated to vast stretches of stunning Canada's wild landscapes: epic mountain ranges, dense forests, nature at almost every turn, along with a few urban sections just to mix things up. What better way to see Canada and give yourself the challenge of a life-time?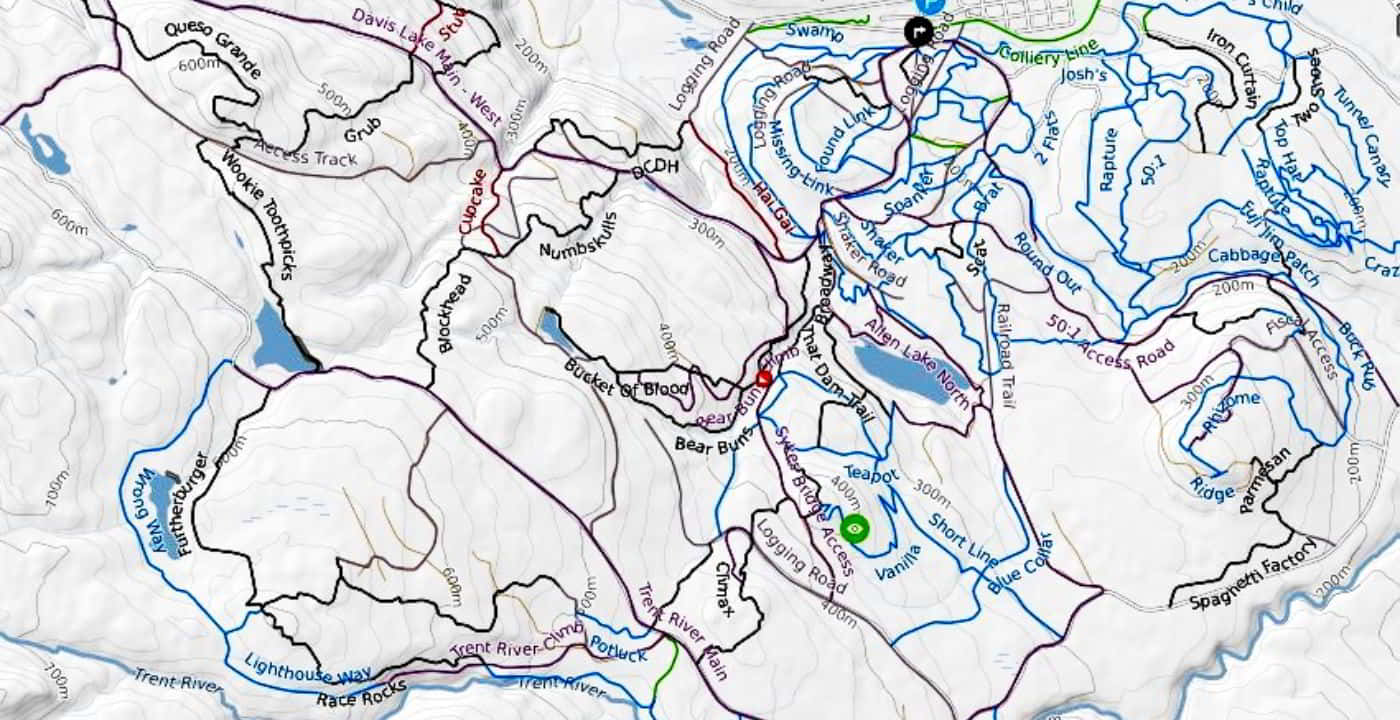 Distance: Various (265km in total)
Max elevation: 703m
Climbing: Various
Standard: White, Green, Blue, Black Diamond and Double Black Diamond
This is the epicentre of mountain biking on Vancouver Island and offers up some of the best mountain biking in the entire of BC. There's a little slice of everything in this stunning mountain biking location; 265km of trails, in total, of varying lengths and difficulty.
From all out gnarly downhill routes, to longer distance cross-country and enduro style trails, along with introductory level forest paths for less experienced riders.
When it comes to the best Vancouver mountain bike trails, Cumberland is quite rightly held up as having amongst the best. Along with excellent, all-year-round trails, there are numerous big mountain bike events held in the area, as well as high-quality competition races.
Where: Rossland, British Columbia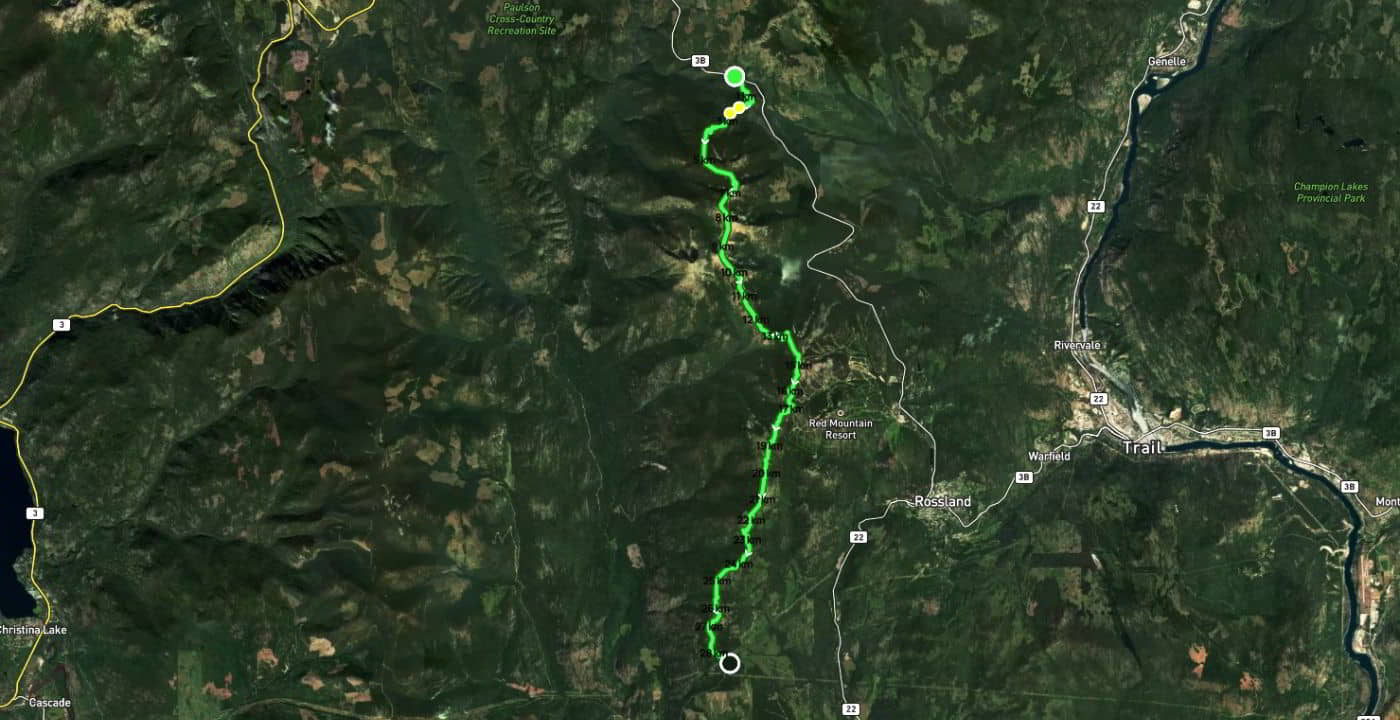 Distance: 28.9km
Max elevation: 2,204m
Climbing: 1,097m
Standard: Black Diamond
Rossland is another incredible mountain biking destination in Canada. The town has more than 280km of dedicated MTB trails (of varying distance and difficulty) and, as a result, the town calls itself the Mountain Biking Capital of Canada. The area certainly takes its mountain biking seriously, but it's one trail, in particular, which draws people in vast numbers – the Seven Summits Trail.
It's a truly epic point-to-point route that's just shy of 30km, in total. Not only is it a chunky route, but you've also got a sizable stretch of climbing to do, too, as well as nail biting descents and very tricky twisty sections just to keep you on your toes. The scenery is truly awe-inspiring, too, with breathtaking views over the imposing mountains which surround.
If there are three things we can take for certain in life, it's death, taxes, and the beauty of the Seven Summits Trail.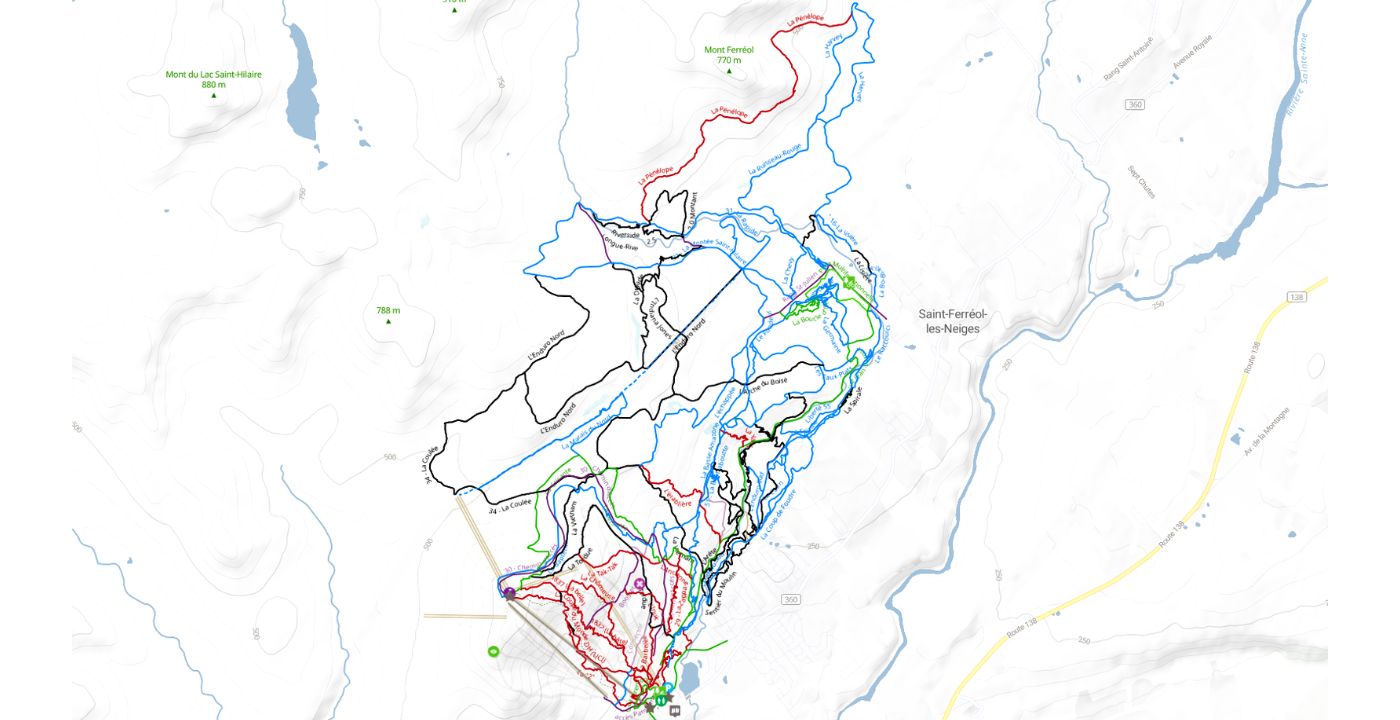 Distance: Various
Max elevation: 800m
Climbing: Various
Standard: Green, Blue, Black Diamond and Double Black Diamond
Mont-Sainte-Anne is legendary in the world of downhill mountain bike riding and a great Canadian MTB spot for other disciplines, too. The area has the largest trail network in the east of the country, with 130km of cross-country routes and 28km of downhill trails at a purpose-built downhill mountain bike park.
There are also other all-mountain routes and many other local bike services, including a lift service which takes you to the top of many of the routes, pretty handy hey? Mont-Sainte-Anne has such a strong reputation that it features as a stop on the mountain biking World Cup Tour, so that should give you an indication of the location's pedigree as an MTB spot.
Expect gnarly downhill routes, long winding cross country trails and a genuine hub of mountain biking culture.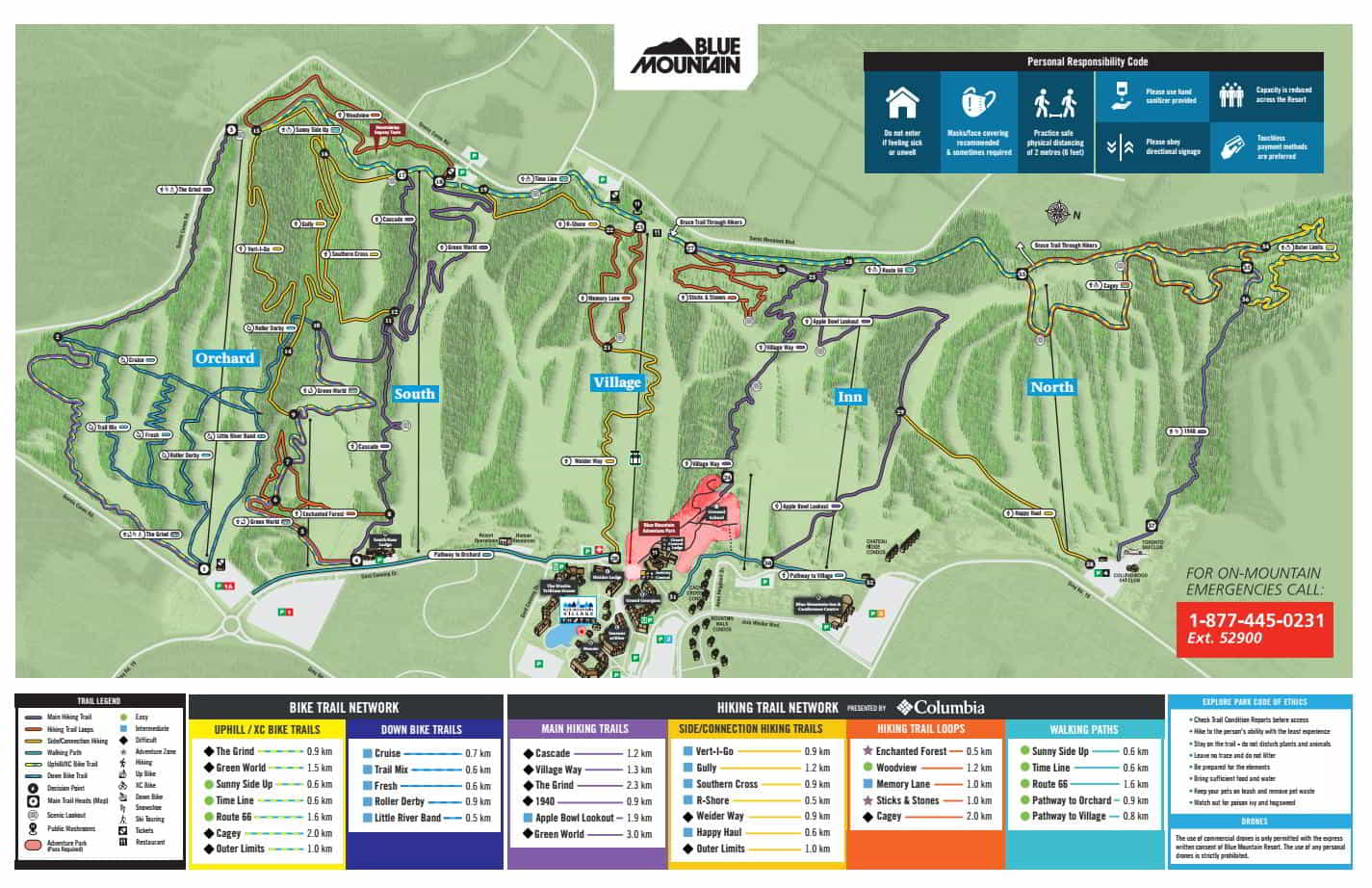 Distance: Various
Max elevation: 455m
Climbing: Various
Standard: Green, Blue and Black Diamond
Blue Mountain is a centre for mountain biking in Ontario. One of the big pluses about the trail network around this area is that it's an all-year-round destination.
Mountain biking at Blue Mountain is constantly evolving, with a new Explore Park offering 12 fantastic cross-country routes. There are also many kilometres of back-country routes and wild trails right out in the middle of nature.
The area once offered some great downhill trail riding facilities, including an uplift service, but that has been scaled back in recent years and the future of downhill riding in the area is still up for debate.
However, there are still many other awesome routes to get to grips with, suiting all standards of riding, from beginners, right up to challenging, expert-level trails.
Distance: Various
Max elevation: 1,940m
Climbing: Various
Standard: Green, Blue, Black Diamond and Double Black Diamond
If you're searching for the best mountain biking in Canada, then this is unquestionably a major contender. Jasper National Park offers some of the most stunning trail networks in the entire country.
Set in the staggering beauty of the Canadian Rockies, the Jasper National Park offers 608km of dedicated mountain bike trails, wending their way through jaw dropping mountain ranges, beautiful forests, around peaceful lakes, skirting past waterfalls, and through some truly wild terrain.
The area has been classified a UNESCO World Heritage site thanks to its beauty and scale. The area teems with wildlife and it's more than likely you'll encounter some on your rides in the area. There are a large number of routes dotted across the region, with long-distance cross-country routes and technical downhill trails, as well as some more relaxing routes unfurling along scenic forest paths, too.
There are quite a few mountain bike parks in Alberta, but it's here in the Jasper National Park where you'll truly feel alive on your mountain bike. This place really is hard to beat.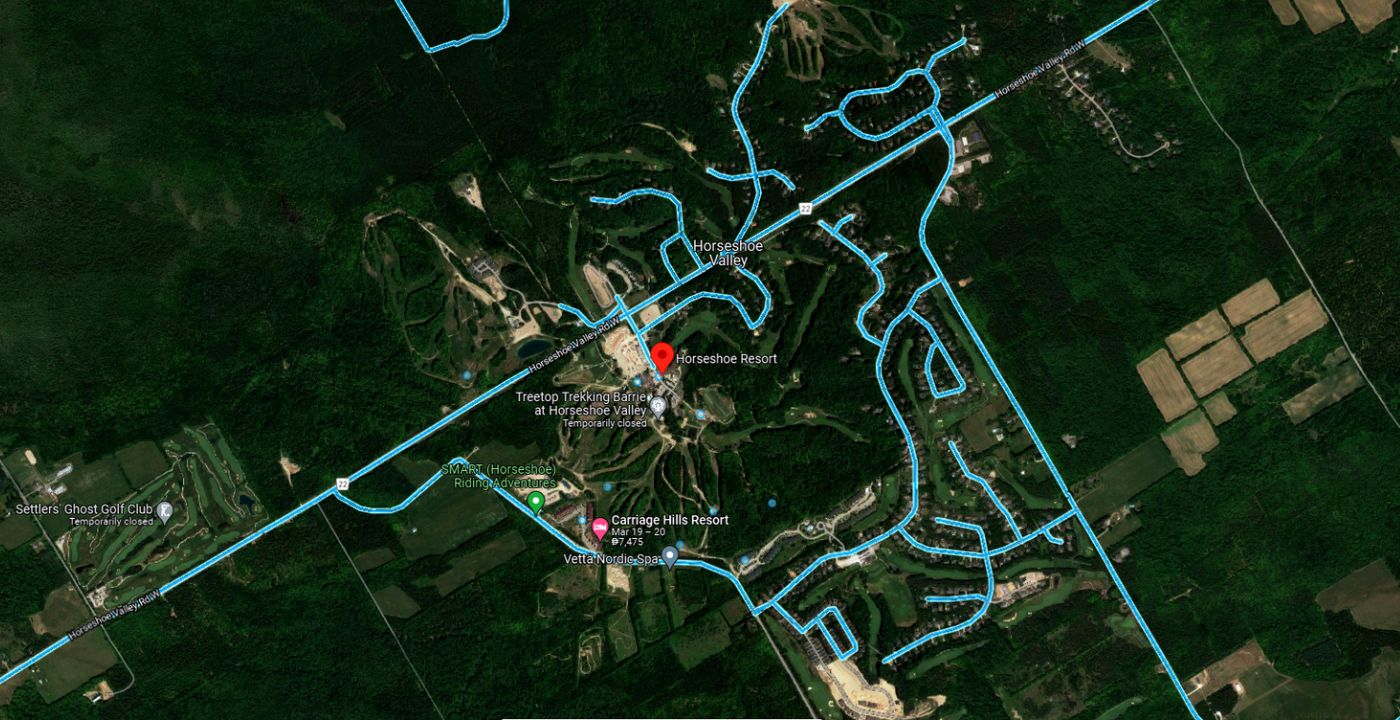 Distance: Various
Max elevation: N/A
Climbing: Various
Standard: Green, Blue, Black Diamond and Double Black Diamond
The Horseshoe Resort in Ontario is an excellent spot, which offers well-maintained trails, many on-site services and a full package for a mountain biking holiday, or just a nice day out.
There are 14 purpose-built downhill routes that are open all year, with large technical sections and gnarly drops. What makes the place even better is that they also have a lift service, so you can be taken up to the top again, and again, and again.
It makes for one of Ontario's best downhill mountain biking spots, and alongside the great downhill routes present, there are also a large number of great cross-country trails, which meander their way through the beautiful Copeland Forest.
There are also bike rental facilities on-site, eateries and places to put your head down at night. So, if you're looking for an easy-to-plan holiday, this resort might well be the option for you.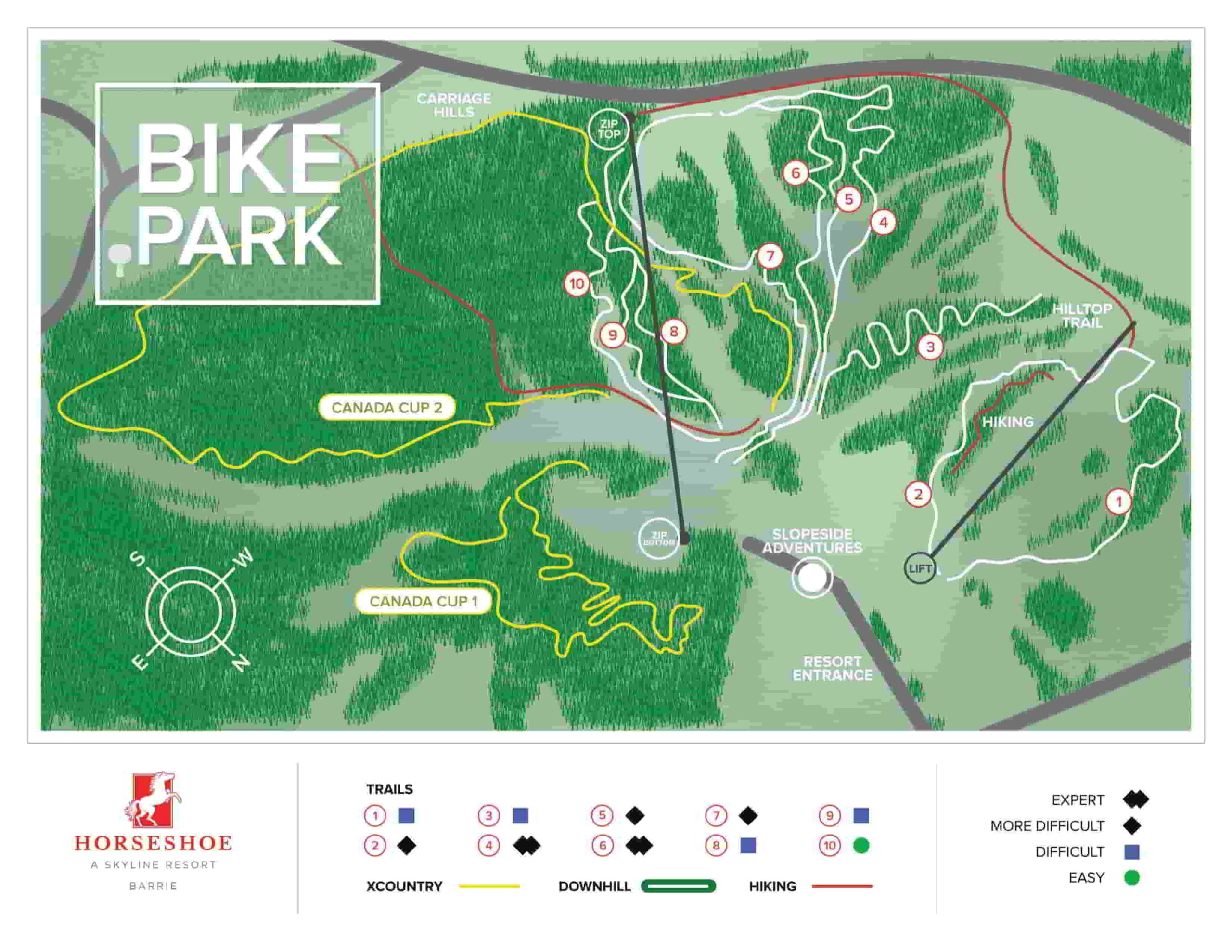 Distance: Various
Max elevation: 218m
Climbing: Various
Standard: Green, Blue, Black Diamond and Double Black Diamond
Nova Scotia might not have the same scale of dramatic scenery as British Columbia and Alberta, but it certainly shouldn't be overlooked for a good MTB ride.
Keppoch Mountain Bike Park offers some of the best riding out in the east, with an extensive network of 45 trails, with 10 full-gas downhill routes, fast-flowing single track routes and long distance cross-country routes, too.
The trails range in difficulty, with family-friendly relaxing routes, as well as all-out gnarly double black diamond routes. There's also a skills park, bike hire facilities and visitor centre, all of which operate the whole year round.
With stunning scenery alongside the wild and rugged Atlantic coast, what's not to like?
10. WinSport – Canada Olympic Bike Park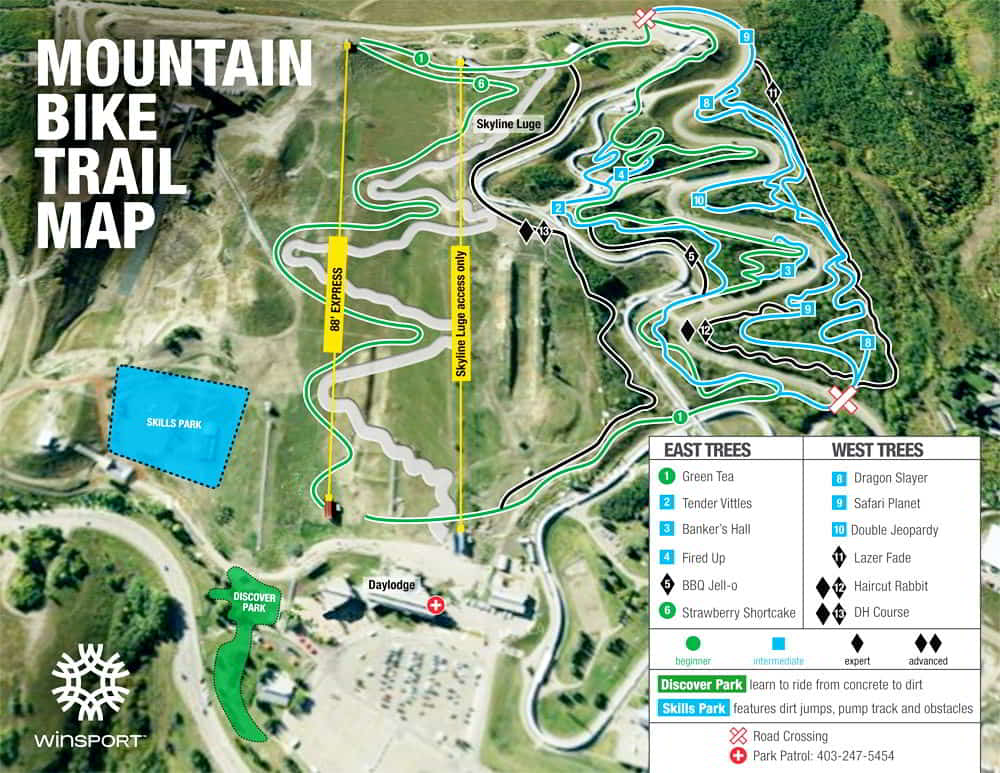 Distance: Various
Max elevation: 1,236m
Climbing: Various
Standard: Green, Blue and Black Diamond
At the Calgary Olympic Bike Park you'll be peddling near the heart of Calgary, the city which hosted the 1988 Winter Olympic Games; it's now a dedicated bike park, complete with lift services. It's rare to get this standard of bike park so close to the centre of a major city, so this is a blessing for the riders around Calgary.
The WinSport site has 14 excellent trails of varying length, which include aspects of chunky climbing, nail-biting descents, plenty of jumps and some very twisty technical sections thrown in for good measure. The site has hosted the Downhill and Cross Country World Cups in the past and has been doing so for around for 20 years now, so it's got some great Canadian MTB heritage.
If you're looking for a spot to hone your skills, then there are few places better.
Final Thoughts on the Best Canada MTB Trails
Canada is undoubtedly one of the most stunning places you can ride a mountain bike on earth. The country is teeming with incredible nature, imposing mountain ranges and thousands upon thousands of kilometres of wild forested terrain.
It's the country's natural beauty, as well as its population's love for the outdoors, which has enabled such a wonderful national mountain biking culture to flourish. Unlike some countries, Canada has incredible riding terrain in almost every corner – from the Pacific, to the Canadian Rockies, right up to the Atlantic Coast and even on the edge of major cities.
It's a nation which absolutely deserves its place on many of our MTB ride bucket lists. We've furnished you with the details so you know where the best mountain biking is in Canada. So, all that's left for you to do is to get out there and get shredding.
Whilst you're here, though, why not check out our US mountain bike trail guide, too?