Most people will know of France's world-famous road cycling race – the Tour de France – but it's also a heavy hitter in the mountain biking department. The country is criss-crossed with impressive trails, dedicated trail centres and some of the most impressive mountain biking setups in the world. So let's get stuck in!
On our search for the best mountain biking in France we scoured the country from top to bottom and east to west. The natural inclination is to be drawn towards the French Alps and its long history of mountain biking.
We certainly picked out some of our favourites from that part of the country, but there's much more on offer, elsewhere, too. Other areas of France are catching up and the wave of mountain biking enthusiasm has spread across the nation.
Where: Mont Blanc, French/Swiss Alps
Standard: Green, Blue, Red, Black, Purple Pro
Port du Soleil is the crème de la crème of mountain biking locations in Europe. A truly astonishing area to ride in, made up of 12 different resorts in the Alps, which run along the French/Swiss border.
There are more than 600km of trails in total and 22 dedicated mountain bike lifts. With one pass you can access the whole region, providing endless riding options amongst the Alpine high peaks.
Every discipline is catered for here. From seemingly endless gnarly downhill lines, to challenging enduro routes and longer distance cross country courses – along with dedicated jump parks, skills centres and many other trail setups.
There are trails for all abilities, from elite standard competition courses, all the way down to beginner and family routes.
The whole area is oriented around mountain biking and hiking (outside of the ski season), so there are dedicated cycle cafes, plenty of hotel and shower facilities, bike shops, along with many restaurants, bars and cafes dotted throughout the area.
Address: Rte de Vonnes, 74390 Châtel, France
ℹ️ Port du Soleil is a remarkable mountain biking destination, but it certainly isn't cheap. The French Alps can be pretty pricey. Be prepared.
Standard: Green, Blue, Red, Black, Purple Pro
The area around Valloire is another highly advanced mountain biking destination. The town, situated in the Auvergne-Rhone-Alpes, has 155km of trails snaking through nearby forests and down the side of the Col du Galibier.
Along with wild routes through the area's beautiful mountain scenery, there's also a dedicated bike park. It's another excellent site, which caters for all abilities and disciplines, with a particular focus on excellent downhill trails.
The downhill trails include one, which has featured in the Downhill World Cup and there are multiple lifts to get you back up to the top of the trail swiftly.
Address: Rue des Grandes Alpes, 73 450, Valloire
Where: Auron-Saint Étienne de Tinée, Alpes-Maritimes, France
Standard: Green, Blue, Red, Black
Auron-Saint Étienne de Tinée is in the south-east of France, near the Italian border, about an hour and a half from the city of Nice. The area is a well-established mountain biking France resort town, with a variety of routes available and a particular focus on downhill riding.
The area features 60km of downhill trails, in total, which carve through the local mountain scenery. There's also a cable car and multiple chair lifts available to get you back up to the top. The area has also played host to the French National Cross-Country Championships and has many excellent XC trails out into the vast wilderness of the surrounding forests.
The compact town has many facilities to help elevate your riding holiday, with trail guides available, bike shops, yoga studios and lots of tasty places to eat and drink. There's also a dedicated bike park and skills centre.
Address: Grange Cossa, Auron, France
Standard: Green, Blue, Red, Black
Cauterets is in the heart of the Pyrenees, in south-west France. It's the epicentre of mountain biking in the French Pyrenees, with an excellent bike park covering the Cirque du Lys ski area outside of the ski season – primarily from July to September.
The trail centre itself has five impressive downhill routes with an elevation drop of 1,500m – with green, blue and red standards available – and cable car facilities available to get you to the top.
There are also other red and black routes dotted throughout the surrounding mountains, with some seriously challenging routes amongst them. This is gravity-focused riding at its best, with nail biting descents and fast moving trails.
There are also some very well established XC routes in the area and great bike rental facilities, along with a lot of general amenities in the local town.
ℹ️ It can get pretty damn hot down in this part of France in summer, so make sure to stay well hydrated.
Address: Cirque du Lys, 65110 Cauterets
Where: Alpes de Haute Provence
Standard: Green, Blue, Red, Black
Val d'Allos offers a slice of Alpine life, but with a warmer climate, which makes it a beautiful destination to ride in. The area has more than 300km of trails which criss-cross the area's stunning landscape, with some of the best single-track trail riding available in the country.
There's a dedicated bike park, with some excellent jump loops and some decent downhill lines too, with lifts available to get you back up to the top. It's a great place for intermediate riders and families with some black trails in the mix, too.
However, there are nowhere near as many gnarly lines as some of our other destinations. It's a beautiful area of the world, though, and certainly worth a spin, with plenty of amenities nearby and better weather throughout the year.
ℹ️ Some of the mountain biking France destinations we've mentioned are seasonal (in summer). However, Val d'Allos is further south and can be ridden for large parts of the year.
Address: Office de Tourisme du Val d'Allos, 04260 Allos, France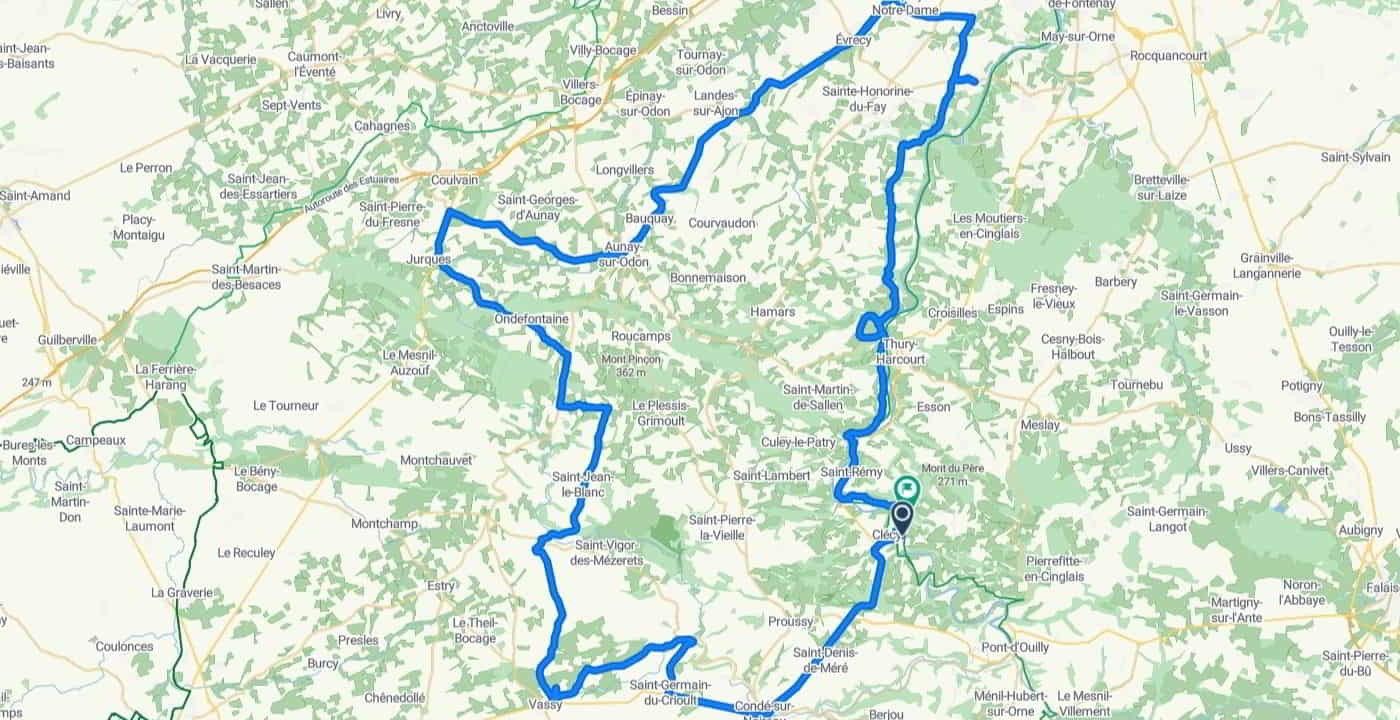 Where: Clécy, Normandy, Northern France
Northern France couldn't be more different to the mountainous Alps or Pyrenees and you certainly won't find those wild downhill routes. However, the area makes up for that with excellent point to point trails through stunning rolling countryside.
Our favourite is the 60km Suisse Normande route, which carves through the area's fields, forests and rolling hills, taking in ancient villages along the River Orne.
It's a great route to take on as part of a family holiday or for a more leisurely mountain biking experience, soaking in the stunning nature as you go. It's well-signposted, has many decent places to stop and offers a great A to B cycling experience, with the option of hopping on to other trails where the route officially finishes.
Address: Suisse Normande Tourisime, Pl. du Tripot, 14570, Clécy, France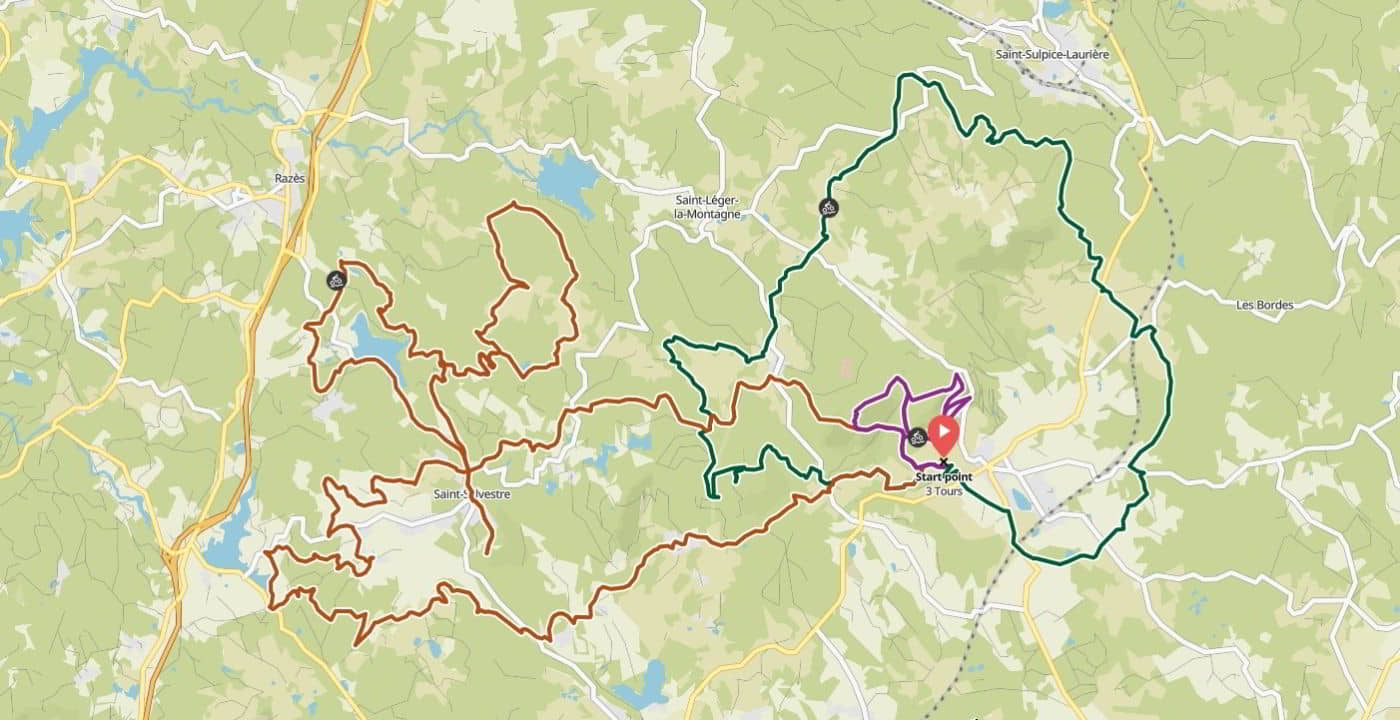 Where: Limoges, Central France
Standard: Green, blue, red, black, purple pro
Singletracks is without a doubt the best mountain bike facility in the centre of France. The specially-designed single-track centre offers beautiful and varied trails through dense forest.
The centre caters for all abilities, but has a particular focus on enduro riding, with the short sharp ups and downs in the local landscape making perfect enduro training trails.
In fact, the centre also has an Enduro World Cup standard trail, for the most advanced riders. There's a great café and bar on site, along with showers, bike rental facilities and coaching courses.
There are also many other cracking trails through the surrounding wilderness if you want more than just the bike park.
Address: Puy de Sauvagnac, La Jonchère-Saint-Maurice, France
A Note on Western France:
Western France isn't renowned for mountain biking; parts of the area are absolutely pan flat, which doesn't make great mountain biking territory.
Our best recommendation for mountain biking in western France is in the Landes de Gascogne Regional National Park, a huge 3,153km2 protected area.
The enormous pine forest has well set out (but flat) trails along with coastal sections and beautiful nature all around.
France is a truly remarkable country, with some of the most unspoilt and stunning scenery in Europe. It's a haven for mountain biking, with vast mountain ranges, huge expanses of beautiful nature and an advanced tourism sector, which really knows how to cater for adventure sports.
We love mountain biking in France and have aimed to give you options throughout the country in our guide. From the very gnarliest terrain, all the way down to family friend options, from east to west and north to south.
Now, get out there and see what all the fuss is about!