Forks are the piece of equipment which attaches your front wheel to your bike, however, they're much more than that. They offer cushioning when hitting lumps and bumps, help you take on gnarly terrain and the type of fork you have can completely change your riding experience.
E-MTBs which are geared up for downhill and enduro riding have longer forks and provide more travel (movement). Meanwhile, cross-country, general trail and touring bikes have smaller forks and less travel.
Let's dive head first into the world of e-bike forks
What's the Importance of a Quality e-MTB Fork?
The suspension setup on your e-MTB and particularly the forks dictate the type of riding your bike is capable of doing. Of course there are a few other factors, such as geometry, but a burly suspension is the component which makes your bike descent-focused, capable of taking the big drops and big impacts.
Without a decent fork setup your bike isn't capable of heading into some of the gnarlier terrain and it can lead to injury.
E-MTB riding takes you to all sorts of varied terrain, with many different obstacles in your way, such as rocks, drops, roots and bumpy surfaces. Forks help your suspension soak up those impacts and help prevent those vibrations being thrown through your arms. This creates a much smoother riding experience and prevents you getting quite as tired, quite as quickly.
A good set of forks not only brings comfort, but also raises your overall bike performance, particularly in the e-bike suspension. Your bike can cope better with the obstacles and move faster over them safely, without giving you big jolts or throwing you off the bike. A good set of forks will help you glide over obstacles and keep you moving at pace.
With the forks making you feel both more comfortable and helping the bike perform better, this helps improve handling. You feel more in control with a good set of forks and this is very useful on the most technical terrain. Without a good set of forks, you would be feeling big impacts and the bike struggling, which reduces handling and control.
The three factors above lead to a safer riding experience. If you feel more comfortable, your bike is performing better and your handling is improved, this leads to a safer ride. A good set of forks helps to reduce the chances of crashing on bobbly and challenging terrain.
The very best e-MTB forks allow you to tweak your setup to match the needs of the day's trails or change them to the needs of the rider. This allows you to have a bespoke riding experience, which will amplify all the points above.
RockShox Boxxer Ultimate – Best for Downhill
Wheel size compatibility –

27.5 inch & 29 inch
Type of riding –

Downhill
Peaks:
Troughs:
The RockShox Boxxer is among the burliest fork setups on the market; it offers big travel, at up to 200mm, and is known for its reliability. It's capable of taking on some of the wildest terrain and it's valued by many of the top elite downhill riders as the fork of choice.
It's been upgraded recently, with a new Charger 2.1 damper, which has ironed out a few kinks from past inceptions and it creates a much smoother riding experience. The fork's rebound is one of its biggest selling points, it recoils better than most out there and means you retain traction on the trails and keep moving at pace.
The price is a big downside, it's an expensive beast and it's tubing is narrower, which some riders feel makes it less robust, but we're content overall.
Links to product:
Fox 38 Factory Grip 2 – Best for Enduro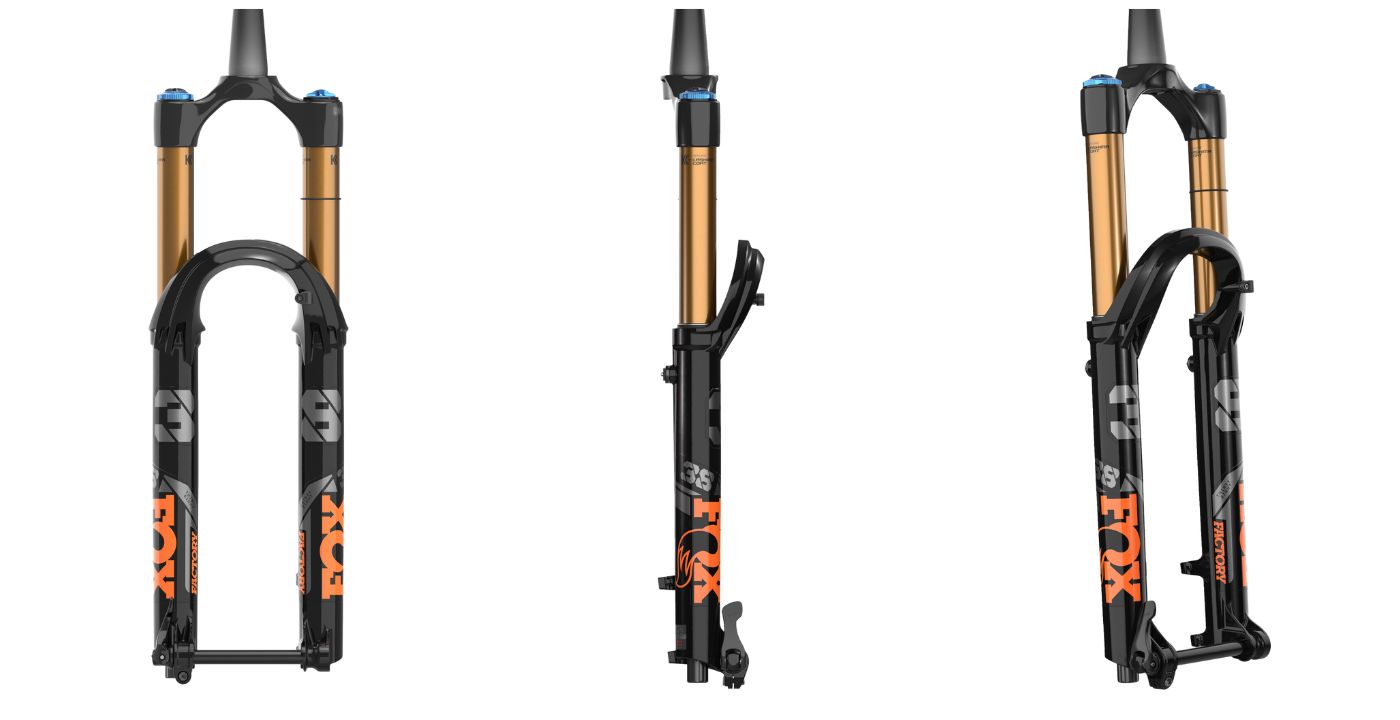 Wheel size compatibility –

29 inch
Peaks:
Troughs:
Performance-wise, it's hard to compete with the FOX 38 Factory forks. They can take on some gnarly terrain and often feel comfortable throughout – there is the perfect mix of dampening and recoil, which means you're often gliding over obstacles.
They're capable of taking on some of the toughest challenges you can throw at them, however, if you want to take on the biggest jump lines, then they won't offer you enough travel. Otherwise, they're as versatile as you can get, with excellent handling, tonnes of reliability and durability.
The price is steep, but you're getting an excellent enduro product, and they're often viewed as the best e-MTB fork for versatility.
RockShox Pike Ultimate – Best for Trail Riding
Wheel size compatibility –

29 inch
Peaks:
Troughs:
RockShox is undoubtedly one of the top companies on the market. The Pike Ultimate is a light setup, however it still has a stiffness that instills confidence out on the trails.
It's robust, with the company's best dampening technology and it has an ease of use to be able to tweak the setup – in terms of adjustability, this fork is right up there.
You can dial in the setup easily, which makes it very attractive to lots of different standards of rider. It's compatible across a range of bikes, with a top end travel ability of 160mm – this range of options places it among the best forks for e-MTB.
Overall, it's a beauty and RockShox manages to undercut some of the competition out there.
Fox Float 32 Factory Step-Cast – Best for XC
Price –

$829 (from $1,039)
Wheel size compatibility –

27.5inch and 29 inch
Type of riding –

XC and Touring
Peaks:
Troughs:
One of the major headlines here is the incredibly lightweight nature of these front forks for e-mountain bikes. A low overall bike weight is exactly what you need on a good XC ride and these help contribute to that.
At only 32 inches long and with 100mm of travel, they're clearly not made for the gnarly terrain, but they adequately do the job on an XC course and offer a pretty stiff ride, good for traction and speed.
They can still take a few lumps and bumps, but you would want to upgrade to a FOX 34 if you wanted anything more tricky than simply some undulating bobbles.
Marzocchi Bomber Z2 – Best Fork for Touring and Bikepacking
Wheel size compatibility –

27.5inch and 29 inch
Type of riding –  

Touring, Bikepacking, XC & Trail
Peaks:
Troughs:
The Marzocchi Bomber Z2 is one of the best options out there for longer distance riding. Although it doesn't carry FOX's name, it actually has very similar technology as some of FOX's top components, particularly in the air spring department.
The fork offers great stability, which is fantastic for longer distance riding, however, you can also adjust the setup if you need to take some on some more lumps and bumps.
Within its parameters it provides one of the smoothest riding experiences on moderate terrain, but it soon struggles in the descent-focused world as well as when things become more challenging.
It's also super lightweight, which makes it efficient and it comes in at a very reasonable price – a good e-MTB suspension fork for people who want to pedal for hours on end.
Forks e-MTB Frequently Asked Questions (FAQs)
How to Choose the Best e-MTB Forks for You
Think about the style of riding you're most likely to be doing and your own ability. Are you experienced and want to take on the technical descent lines? Or are you heading on regular bike packing trips? Or are you new to the e-MTB game?
All these factors dictate the type of e-MTB forks you need. If you're a beginner you don't need a long travel gnarly set-up, go for something simple, which will build confidence – low travel and stability. If you're gearing up for some wild terrain, you need long travel and playfulness.
How Much Travel Do I Need on My e-MTB Suspension Setup?
This isn't an exact science and some other factors come into play regarding frame geometry, but this is a good general rule:
Cross country: minimal travel (to build up traction & speed) – 100-120mm travel.
Bikepacking/touring: low travel depending on terrain of the route – 100-140mm travel.
Trail: medium travel – 120-150mm travel.
Enduro: long travel – 150-180mm travel.
Downhill: seriously long travel – 180mm-200mm travel.
Are e-MTB Forks Different?
Yes, e-MTB forks are different from regular forks. E-MTBs are heavier bikes than normal mountain bikes and you're often travelling at higher speeds. This puts a lot more pressure through the front of the bike and the forks need to be able to cope with that.
There are extra dampeners put in, to soak up the pressure and they often have air sprung components, to help with the recoil.
There you have it, our guide to the best e-MTB forks out on the market right now. Having the right set of forks on your bike for the style of riding you're doing is hugely important. Think long and hard about what type of trails you want to be hitting – downhill, enduro, XC, bikepacking or just beginner style singletracks.
All of this dictates what you need – long travel versus short travel, cushioning suspension versus stiffness, etc. We've highlighted which sort of forks suit which sort of riding – so now you have no excuse to get it wrong. Go outside, hit the trails and put these forks through their paces.