The Canyon Torque:ON 9 is the most advanced bike in the company's Torque:ON range. The gravity-focused series of bikes stand out for their sturdiness, range of travel and their ability to descend like beasts. They're made to take on the bike parks, the dirt jumps and some gnarly downhill routes, while also having something in the tank to climb.
We've been impressed by Canyon's ability to keep the price tag fairly low, but are they making compromises in areas to make that possible? In our Torque:ON 9 review, we've given them a real going over to give you a definitive verdict!
It's an absolutely epic bike going downhill, at bike parks and on the jumps.
There are few better when it comes to that style of full-gas riding, thanks to its brilliant suspension, responsive brakes, grippy tyres and the ease with which it handles for such a hefty bike.
However, it's a real pain on technical climbs and through the really twisty sections. The motor power doesn't feel natural, the display is poor and the bike can feel a bit clumsy at times.
But if you just want to launch off some big ol' jumps and then get a lift back up to the top of park/jump trails, or use it to head back up some fairly standard forest roads, then it's absolutely bang on.
Ultimately, with this bike, it comes to knowing what you want from your bike before committing to it. In short? Great downhill, poor uphill.
Peaks:
Troughs: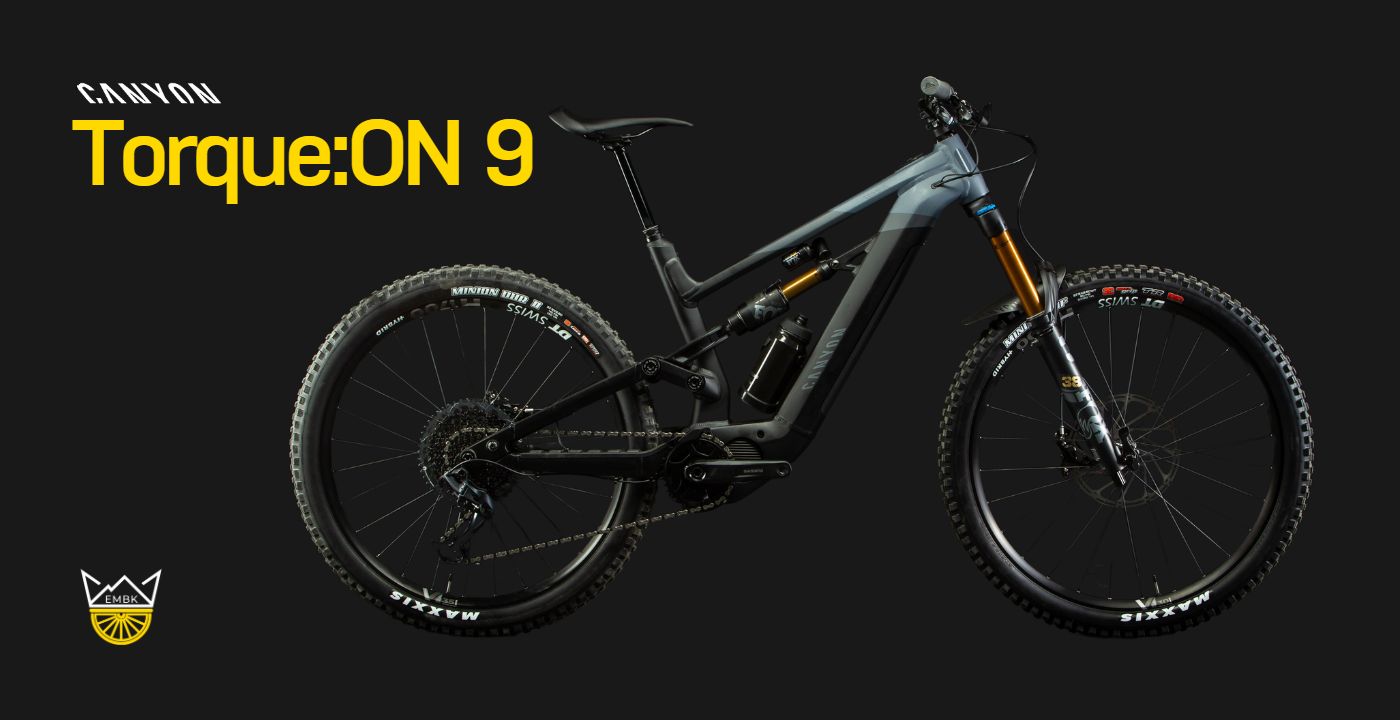 The Torque:ON 9 comes with a robust aluminum frame, which is designed to take a hell of a beating out on the trails. It's thick and sturdy to cope with the impacts of big jumps and drops.
As a result, though, there's a compromise with the weight. The bike has an overall weight of 23.81kg, which clearly isn't light.
However, if you're going for the Torque:ON 9, then you aren't looking for a bike that scampers up hills with a light-footed feel. You're looking for something stronger, to take the hits you throw at it and, this Canyon ride can certainly cope with a hammering.
It still feels comfortable in the handling, despite that weight, although a more lightweight rider, who doesn't have much strength in their arms, may find it a little more of a challenge to manage.
This Canyon Torque bike frame comes in four frame/geometry sizes: small, medium, large and extra large.
The Torque:ON 9 is kitted out with a Shimano BT-E8035 battery, which has 504Wh at its disposal. It isn't the biggest battery going, but it isn't tiny either.
Given the type of downhill-focused riding you will be doing on the Torque:ON 9, the size of the battery isn't the most important consideration.
It still offers you a decent amount of life to go on some sizeable rides and many bike parks/jump trails have plenty of uplift services, so you can keep going for much longer.
The battery is tucked neatly into the downtube and has an impressive overall finish.
❗NB:
If you're wanting to go out on longer-distance trail riding, without the use of an uplift service, then this bike really isn't for you. You would find it lacking in the battery department, and could even find yourself riding for less than 30km on one charge.
The Torque:ON 9 comes with the Shimano Steps EP8 motor, which we've never found to be our favourite. There are pros and cons with it, to be sure.
In the good bracket, we have 85Nm of torque, which really does give you a hearty kick up a mountain. However, the power delivery really isn't that smooth. It will certainly get you up some tricky climbs, but it isn't suited to technical trails – it's better suited to straight up climbs, without many obstacles and on fairly stable ground.
When it comes to riding down technical trails, it can be a bit like trying to tame a bull.
❗NB:
It's another one of those occasions where this bike is very much suited to a certain style of riding and terrain. The bike purrs when flying down gnarly jump routes and the motor would give you a solid drag back up to the top of a mountain, up a fairly easy route. But through technical sections and climbs? It's a bit of a nightmare.
The bike comes with a Shimano Steps SC-E7000 display, which we have problems with. If you like simplistic displays, then this certainly offers it, but we think a display could offer so much more.
It offers battery percentage as a series of 5 LED light bars, which really isn't much use to anyone, as they're 20% increments – you don't know if you've got 1 or 19% left and that can really catch you out.
It's small and unobtrusive, which is a positive of sorts, but it certainly isn't much of a friend out on the trails. You can switch between three modes of assist – Eco, Trail and Boost – but that's it. Many companies are offering so much more in the display department, such as TQ, so by comparison, this just seems a half-hearted attempt.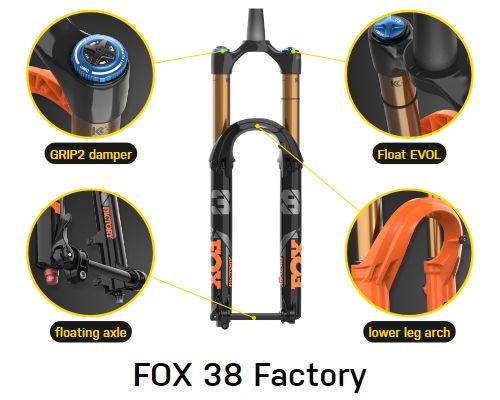 The suspension is one of the big highlights for the Torque:ON 9 and you would hope that was the case, given its downhill focus as an overall package.
So, how much travel does the Canyon Torque have? It comes with 180mm of travel at the front and 175mm at the rear, which gives you a lot of cushioning through some very wild terrain.
Given the bike is likely to take off a lot, you want to have some comfort on landing and the suspension setup certainly offers that.
It comes with Fox 38 Factory Grip 2 forks and Fox Float X2 Factory shocks – these solid components contribute to the bike's fairly heavy overall weight, but it's a serious setup for some gnarly riding.
You're left feeling comfortable through almost everything you launch off and it takes on all sorts of challenging trails like a champion. The bike can feel a little too bouncy on the flat and climbs, rather than having a pop to flick up and over things.
However, you're very glad for that forgivingness when you drop from a height. Overall, we think the suspension is a success.
The Torque:ON 9 comes with DT Swiss H-1700 Spline wheels at both the front and the rear, both at a size of 27.5in. The wheel size creates a playfulness that wants to be whipped about, and they're really very durable and, alongside the suspension and strong aluminium frame, help soak up pressure.
The tyres deserve a big commendation, too. The Maxxis Minion DHF at the front, with a MaxxTerra compound, really digs its teeth into the dirt, which fills you with enormous confidence. You can take corners at serious pace, without the bike feeling like it's ever going to let you down.
Meanwhile, at the rear you have a Maxxis Minion DHR II tyre, which has a little bit more give, so you can throw out the backend when needed. Overall, it's a fantastic pairing, which provides a heck of a lot of traction, and equally, a heck of a lot of fun.
This bike is in desperate need of some responsive, heavy-duty brakes to really give you the stopping power you need on the wild downhill trails.
And Canyon has made sure to deliver a fitting setup. The bike comes with SRAM Code 4-piston brakes at both the front and rear, which is SRAM's most powerful set-up, with more than 200mm of rotor at either end.
They're the real deal, and can take on everything you throw at them. They provide immense stopping power and fill you with confidence while hammering it into corners and the downhill.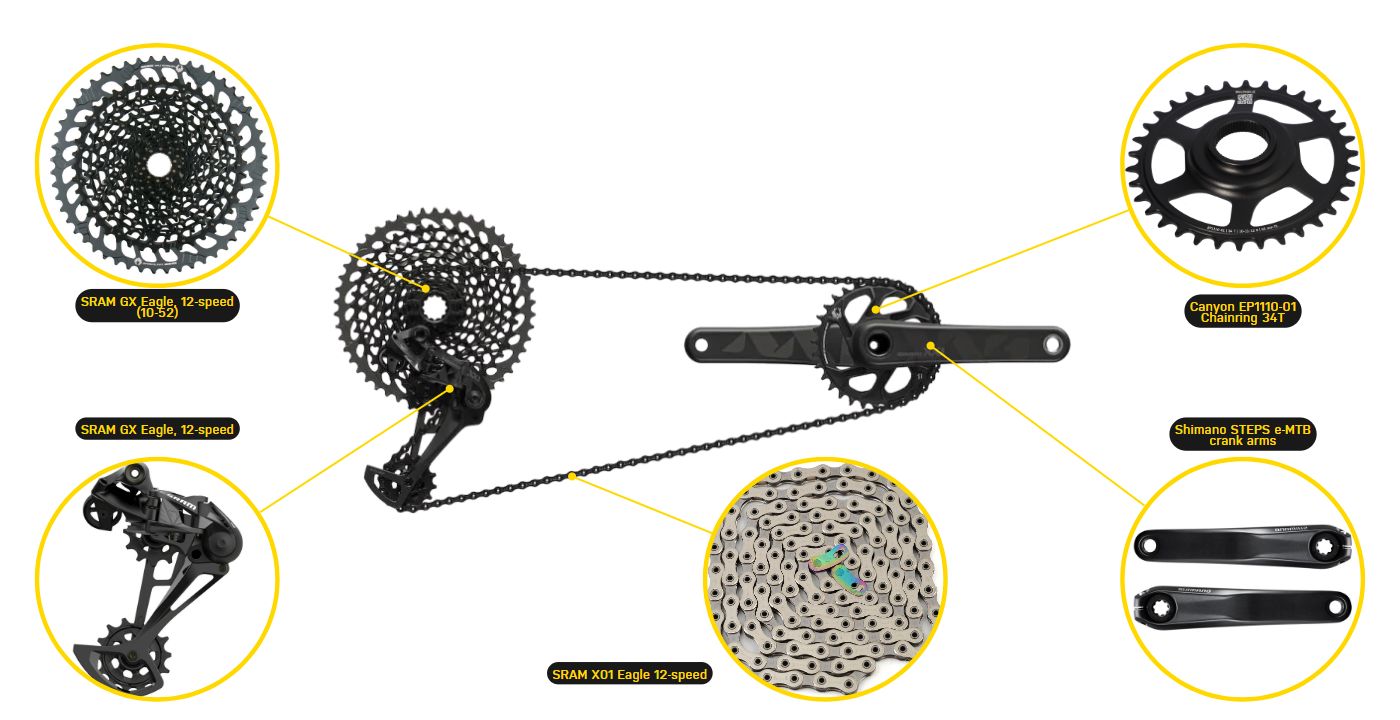 The Torque:ON 9 has a SRAM GX Eagle, 12-speed cassette and rear derailleur. It's a decent setup, which does everything we needed it to – responsive shifting with no lag or struggle through the gears. We needed no thrills, here, and it delivered that well.
If you're looking for a gnarly descender of a bike, then this is certainly value for money.
It has high-spec components in all the areas you would want from a gravity-focused bike; great suspension, fantastic brakes, a robust frame and it handles really well just to top it all off.
If you're looking for an all-rounder, though, then you would see it as poor value-for-money and there are far better bikes for climbing and for tackling technical trails.
Be sure to know what you want from an e-MTB before diving straight in to the Torque:ON 9.
Torque:ON 8 Facts & Figures
BASIC GEOMETRY

S
M
L
XL

BODY HEIGHT IN CM

< 175
175 – 183
183 – 192
> 192

SEAT HEIGHT IN MM

667 – 776
693 – 823
713 – 843
753 – 883

SEAT TUBE LENGTH IN MM

440
440
460
500

TOP TUBE LENGTH IN MM

612
639
667
694

HEAD TUBE LENGTH IN MM

115
125
135
145

HEAD TUBE ANGLE

63,5°
63,5°
63,5°
63,5°

SEAT TUBE ANGLE

74°
74°
74°
74°

CHAINSTAY LENGTH IN MM

430
430
430
430

WHEEL BASE IN MM

1.214
1.244
1.273
1.302

STACK IN MM

616
625
634
643

REACH IN MM

435
460
485
510

STAND-OVER HEIGHT IN MM

777
780
786
790

BOTTOM BRACKET OFFSET IN MM

15
15
15
15
COMPONENT GEOMETRY

S

M

L

XL

SPACER IN MM

15,0
15,0
15,0
15,0

STEM LENGTH IN MM

40
40
40
40

HANDLEBAR WIDTH IN MM

760
780
780
780

CRANK LENGTH IN MM

160,0
160,0
165,0
165,0

SEAT POST DIAMETER IN MM

30,9
30,9
30,9
30,9

DROPPER POST TRAVEL IN MM

125
150
150
150

SEAT POST LENGTH IN MM

378
425
425
425

MAXIMUM SEAT POST INSERTION DEPTH IN MM

199
220
220
220

MINIMUM SEAT POST INSERTION DEPTH IN MM

90
90
90
90

WHEEL SIZE

27.5″
27.5″
27.5″
27.5″

DISC SIZE IN MM

220 / 203
220 / 203
220 / 203
220 / 203

FRONT FORK TRAVEL IN MM

180
180
180
180

REAR SUSPENSION TRAVEL IN MM

175
175
175
175

BATTERY CAPACITY

504 Wh
504 Wh
504 Wh
504 Wh

FITTING LENGTH IN MM

250X70
250X70
250X70
250X70
FRAME

Frame

Rear Shock

Suspension Fork

Canyon Torque:ON
Aluminium frame, 175mm of rear suspension, award-winning Triple Phase Suspension design, internal battery, Boost 148 rear spacing, post-mount brakes (203 mm).
Fox Float X2 Factory
175 mm travel
FOX 38 Factory Grip2, 180mm
180mm of front suspension, 27.5 fork, Boost 110 spacing, 38mm stanchions, Kashima coat, air bleeders, floating axle, EVOL Float air spring, Grip2 high and low-speed compression damping adjuster, rebound damping adjuster

DRIVETRAIN

Motor

Battery

Rear Derailleur

Shimano Steps EP8 Motor
High-torque motor. Maximum torque: 85 Nm. 3 app-tunable support modes: Eco, Trail, Boost.
Shimano BT-E8035
SRAM GX Eagle, 12-speed
Max cassette size: 52T
Weight: 290 g

Shift Lever

Cassette

Crank

SRAM GX Eagle, 12-speed
Single-click, E-MTB specific rear deralleur shifter, 12-speed, MatchMaker X clamp,
SRAM GX Eagle, 12-speed (10-52)
Cassette size: 10-52T
Gear range: 520%
Shimano STEPS e-MTB crank arms

Chainring

Chain

Canyon EP1110-01 Chainring 34T
Durable 34-tooth e-MTB chainring.
SRAM X01 Eagle 12-speed

BRAKES

Disc Brake

Brake Rotor

SRAM Code RSC 4-piston front brake
SRAM Code RSC 4-piston rear brake
SRAM Centerline rear rotor, 203mm
SRAM Centerline front rotor, 220mm

WHEELS

Wheel

Tyre

Thru Axle

DT Swiss H-1700 Spline, 27.5″ rear wheel
DT Swiss H-1700 Spline, 27.5″" front wheel
Maxxis Minion DHF, front tyre
27.5×2.5″, 3C MaxxTerra compound

Maxxis Minion DHR II, 2.6″, rear tyre
EXO+ casing, Tubeless Ready design, 3C MaxxTerra tread compound
Canyon Quixle Thru Axle
Axle dimension: 12×148 mm
The Canyon Quixle combines the stiffness of a through axle with the ease-of-use of a quick-release.

COCKPIT

Stem

Handlebar

Grips

Canyon:ON Stem
35mm clamp diameter, 40mm length
Canyon:ON HB0056 Riser bar
Aluminum, 780mm width, 35mm clamp diameter, 20mm rise
Canyon Lock-On

Display

Modeswitch

Shimano Steps SC-E7000 Display
Shimano STEPS power mode switch
Handlebar-mounted unit lets you quickly and easily change power modes or activate walk-assist mode

SEAT

Saddle

Seatpost

Canyon SD:ON
Iridium Dropper Post
Clamp diameter: 30,9 mm
Material: Aluminium (AL)

ACCESSORIES

Battery Charger

Trekking & City Pedals

Manuals and Accessories

Shimano STEPS – Battery Charger
Iridium VP-536
Flat pedals made from robust polypropylene plastic.
Canyon Bag
Storage box for tools and replacement parts.
Wrench Tool 15mm
Quickstartguide Canyon eMTB
Canyon Smallbox
The gravity-focused e-MTB market is full of competition and there are a lot of manufacturers vying for the Torque:ON 9's customer base.
One head-turner is Nukeproof with its Megawatt 297 Elite.
It boasts quite a lot of similar components to the Torque:ON 9, with a sturdy aluminium frame, with 170mm of travel at the front and the rear.
It comes with Fox 38 Float Performance Elite Series forks, with Grip 2 Damper, and Fox Float X2 Performance Series, EVOL shocks – a similarly high-spec suspension setup.
In the battery department, the Nukeproof also comes out swinging, with a 630Wh Shimano E8036 at its disposal.
That's larger than the 504Wh battery on the Torque:ON 9 and, due to that, there's a little extra weight on the Nukepoorf, coming in at 24.6kg – 0.8kg heavier than the Canyon.
It has a similar Shimano Steps EP8 motor, which kicks out the same amount of torque at 85Nm. Brake-wise, the Nukeproof also has a little less in its armoury, and its Shimano setup has a little less response than Canyon's offering.
Both are good bikes, but we would go with the Torque:ON 9, particularly with it costing nearly $1,000 less.
Specialized's Kenevo Comp is another downhill shredder worth mentioning. Coming in at $6,000, it's cheaper than the Torque:ON 9, with the company's robust M5 Premium Aluminium frame.
It's made for some big impacts, with 180mm of travel at the front and the rear, with Fox Float X Performance Series shocks and Bomber Z1 forks. It's not far off the Torque:ON 9, but we prefer the Fox forks on the Canyon.
The Kenevo Comp has a 500Wh Specialized battery and its Full Turbo Power System 2.2 motor, which kicks out 90Nm of torque – more than the Canyon by 5Nm. The Kenevo Comp weighs in at 23.08kg, marginally lighter than the Canyon, and it handles a dream, thanks to its progressive geometry.
They're both very similar bikes and it depends whether you want to compensate on the suspension and brake setup, in exchange for a bigger motor and cheaper price. It all depends on budget, but both are solid downhill rides.
There are reasons to absolutely love the Canyon Torque:ON 9 – it's a majestic bike on the descents and bike parks. It's very robust, has a fantastic suspension, awesome brakes, brilliant tyres and it handles really well through some very challenging terrain.
But if you're wondering whether the Canyon Torque is good for climbing? The answer is no, it's a bit of a donkey uphill, and struggles a lot on technical climbs and very twisty singletracks. We think the battery is adequate for the job at hand, but the EP8 motor will never be our favourite.
If you want a bike that kills it downhill, then we found it smashed it in our Canyon bicycle review. However, if you want a bike that's able to be a bit more of an all-rounder, and take on every type of terrain, then this certainly isn't it.
Be clear about what you're getting yourself into, but if you just want to tear it downhill or at the bike parks, or launch it off some big jumps? It's a beauty. Now, go out there and try it out for yourself.
"If you enjoyed this review then make sure to check out our other Canyon reviews."