Canyon brought out the Spectral: ON CF 8 to create a punchy, well-rounded trail monster that didn't retail at elite e-MTB prices.
It's in the middle of the price spectrum for an electric mountain bike with such a chunky battery, light carbon feel, and seriously accomplished ride experience.
And quite rightly, on paper, the bike is claiming lots of plaudits. So we wanted to put it to the test ourselves – has Canyon nailed it with this ride? Or could the manufacturer be doing better? 
In our Spectral: ON CF 8 review, we'll get to grips with the bike, throw it down some trails, and assess whether it's the real deal.
Hop onboard, then, and join us for the ride…
There are undoubtedly a heck of a lot of things to like about this bike: it's a trusty companion for long days out on challenging terrain. It's lightweight, powerful, and has the legs to keep going and going thanks to its large battery and relatively quick recharge time. There are a couple of areas we think could be improved upon, in terms of the suspension and travel but all in all, it's a cracking job from the team at Canyon.
Peaks:
Troughs: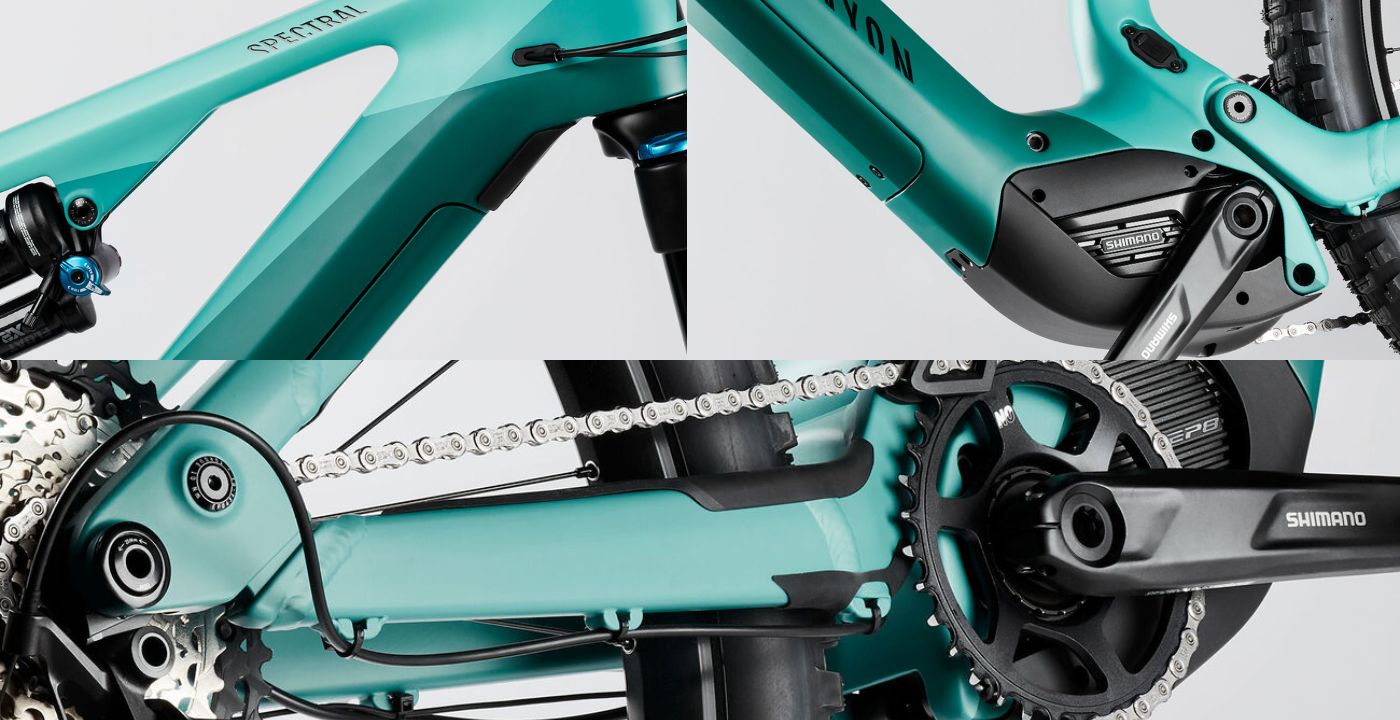 Price: $6,825 (720Wh battery), $7,181 (900Wh battery)
The Spectral: ON CF 8 weighs in at 23.04kg, with a lightweight carbon frame. When you consider how chunky the battery is, which we'll come to a little later, that's a respectable total weight and in keeping with the competition out there. 
Canyon has managed to shave off weight in other areas to keep the overall weight at a minimum. In fact, it's even lighter than the highly-regarded Cannondale Moterra Neo Carbon 1, the showcase e-MTB in the Cannondale range – that's some going.
The battery is concealed neatly into the frame to give it a sleek finish, too, so that it doesn't look cumbersome. Canyon has really thought about weight distribution here, and despite the large battery, the bike handles well.
The wires around the stem are also neatly hidden away, so it really does give a polished look overall. Canyon has also redesigned the frame geometry slightly, providing a longer reach and slacker head angle, which gives you more confidence on the steeper trails and a more planted stance.
There's also a short seat tube to increase the ability to move around the bike on the trail.
Now, this is where the Spectral: ON CF 8 is really turning heads. The bike comes with two different battery options and they really are sizable, to say the least. The company says the 900Wh battery (the larger of the two) has a stated assisted range of up to 97km, which is enough to satisfy most riders. There's also a 720Wh alternative, too.
Obviously, that range depends on a number of factors, including the amount of climbing you're doing and what mode you're using. But according to Canyon, you'll get around 2,300m of elevation (measured using standardised testing).
It's fair to say we were impressed. Not only are the batteries chunky enough to give you a long old range, but they also come with a very powerful 4A charger, so you can replenish the juice relatively quickly, too. It will take around 4 hours to get the battery charged up from fully drained to 80% and around 7.5 hours up to 100%.
The Spectral:ON CF 8 comes with a 250Wh Shimano Steps EP8 motor, which will give out a maximum torque of 85Nm, with a top speed of 25km/h (15.5mph). It also comes with 3 modes, which you can switch between on the display – Eco, Trail, and Boost. That chunky motor, combined with the sizable battery and lightweight carbon frame, means you have a lot of power at your disposal. With the E-TUBE app from Shimano, you can also tune your motor and tinker with it as you see fit.
In terms of torque output, there are few rides out there that offer more; the Specialized Turbo Full Power 2.2 is one of the exceptions, standing out with 90Nm. You have enough power to manage some of the trickiest climbs, while also reaching top speeds on the flats with ease, too. The transition between the various modes is seamless and there aren't any jolts or jerks when you move up through the assistance levels.
This is one of the areas where the bike is behind some of the uppermost e-MTBs. It comes with 150mm travel at the front, thanks to the Fox 36 Rhythm Grip forks, and 155mm of rear travel with the Fox Float DPS Performance Evolution shocks.
This is enough to take on a degree of punishment, but if you're throwing the bike down some seriously steep inclines and into some gnarly terrain, it can feel uncomfortable and you'll be left feeling strain through the arms.
The bike isn't made for next-level downhill punishment, though. With the large battery and range  (alongside its lightweight feel), it's made for long days out on some varied terrain, and it can certainly cope with that.
It has to be said, though, when it comes to value for money, you'd expect more from a bike costing close to $7,000. Instead, you're getting arguably mid-tier suspension components.
The Spectral:ON CF 8 comes with Shimano SLX M7120 4-piston brakes. They're responsive and reliable, with ICE Tech brake pads able to soak up a lot of pressure. Although decent, they aren't Shimano's top-end brakes, which is again surprising given the bike's price tag
The ON CF 8 comes with 29-inch wheels at the front and 27.5-inch wheels at the rear – what's known as a mullet bike in the trade.
In recent years, companies have begun making mullet bikes as stock, with the aim of creating more rolling resistance at the front with a 29-inch wheel, while still retaining the maneuverability and playfulness of a 27.5-inch at the rear.
The CF 8 comes with Maxxis Minion DHF/DHR II tyres, these are slightly wide to soak up pressure on those tricky trails and you do get a degree of comfort while riding.
The bike comes with a standard Shimano SLX 12-speed shifter and a Shimano EM600 34t, 165mm chainset.
Price: ($6,825 - $7,181, Depending on Battery)
This bike certainly isn't a bargain. It's sitting around mid-tier in the e-MTB market and if you're looking for long rides out in the mountains, you're getting decent enough bang for your buck here. It has an enormous battery, a lightweight carbon frame, a natural ride feel, and a seriously powerful motor.
But it does have its issues and if you're looking to throw it down some gnarly downhill routes, then you aren't getting great value for money and it would be the wrong bike for you. At a price tag close to $7,000, you'd expect more in the suspension and brake departments.
We'd recommend looking towards the Cannondale Moterra Neo Carbon 2, or a bike with similar specs if you're willing to pay out around $7,000.
Canyon Spectral ON:CF 8 Facts and Figures
| | S | M | L | XL |
| --- | --- | --- | --- | --- |
| Seat Tube | 420 mm | 440 mm | 460 mm | 480 mm |
| Top Tube | 589 mm | 613 mm | 637 mm | 663 mm |
| Head Tube | 115 mm | 125 mm | 135 mm | 145 mm |
| Head Angle | 65.5° | 65.5° | 65.5° | 65.5° |
| Sitzwinkel | 76.5° | 76.5° | 76.5° | 76.5° |
| Chainstays | 440 mm | 440 mm | 440 mm | 440 mm |
| BB Drop | 36 mm | 36 mm | 36 mm | 36 mm |
| Wheelbase | 1,194 mm | 1,223 mm | 1,252 mm | 1,281 mm |
| Reach | 435 mm | 460 mm | 485 mm | 510 mm |
| Stack | 634 mm | 643 mm | 652 mm | 661 mm |
FRAME

Frame

Rear Shock

Suspension Fork

Canyon Spectral:ON OF
Carbon frame with integrated battery. Category: 40.
Material: Carbon (CF)
Fox DPS Performance Evolution
Air-sprung shock with three modes (open, medium, firm). Dimensions: 230 x 60 mm.
Fox 36 Rhythm Grip
Air-sprung fork with 150 mm travel. Axle: 15 x 110 mm. Travel: 150 mm
Fork steer tube diameter: 1 1/8″ – 1.5″

DRIVETRAIN

Motor

Battery

Rear Derailleur

Shimano Steps EPB Motor
High-torque motor. Maximum torque: 85 Nm. 3 app-tunable support modes: Eco, Trail, Boost.
Depending on your selected configuration.
Shimano Deore XT M8100 12speed
Precise 1×12 drivetrain.

BRAKES

Disc Brake

Brake Rotor

Shimano SLX M7120
Rotor Hayes, 203 mm

WHEELS

Wheel

Tyre

Thru Axle

SunRingle Duroc SD37 Comp 15×110
Rotor mount: IS 6-bolt
Maxxis Assegal 29×2,5″
Maxxis Minion DHR II 27,5″ x 2.60WT Width: 2.6″
Canyon Quixle Thru Axle


COCKPIT

Stem

Handlebar

Grips

Canyon ON ST0031
Canyon E-MTB stem. Length: 45 mm. Fork
shaft diameter: 1 1/8″.
Clamping Diameter: 35,0 mm
Canyon:ON HB0057
Clamping Diameter: 35.0 mm
Width: 780 mm
Rise: 30 mm
Canyon Lock-O


Display

Modeswitch

ELPA SHIM SC-E7000 Display Set 35
Shimano STEPS power mode switch

SEAT

Saddle

Seatpost

Fizik Terra Aidon X5
Gender: Unisex
Iridium Dropper Post
Clamp diameter: 30,9 mm

ACCESSORIES

Battery Charger

Trekking & City Pedals

Manuals and Accessories

Canyon BC001
Iridium VP-536
Canyon Bag
Wrench Tool 15mm
Canyon Quick Start Guide Spectral:ON
Canyon Smallbox
What Sets the Canyon Spectral:ON Apart from the Torque:ON?
Canyon has two very distinct ON ranges – the Spectral:ON and the Torque:ON.
While the key focus for the Spectral:ON, including the Spectral:ON CF 8, is a chunky battery and a long range, made for big and long days out on a variety of trails, the Torque:ON is designed for serious downhill riding.
The Torque:ON has 180mm of travel at the front and 175mm at the rear, compared to the Spectral:ON CF 8's 150mm at the front and 155mm at the rear.
That large range of travel is made for descent-focused rides, with gnarly drops and intense switchbacks.
Two different bikes, made for two different purposes.
There's no question that the Spectral:ON CF 8 is a highly-accomplished e-MTB.
Its main selling point is the massive battery, which provides riders with the ability to churn out some serious kilometres. Not only that, but it's also lightweight and powerful, so you can take on some really challenging terrain, dance up some steep mountains and have peace of mind that it's unlikely to die on you.
It's made for long days out and it gives you a natural ride feel, so you don't feel like you're carting around a dead weight. It could do a little better in the suspension and brakes department – especially given the money you're paying, here. It means it isn't set up for the really challenging downhill routes and, if that's the type of riding you are looking to get to grips with, then this probably isn't the bike for you.
Overall, though, it's a seriously solid all-rounder when it comes to the e-MTB market, and if that's what you're looking for, then it's one of the better bikes out there. But what do you think? Get out and give one a spin.
Was this article helpful?