Preparing for a day out on the trails involves more than just hopping aboard your e-MTB and setting off for the countryside.
You could go out with just your bike, but the chance of being caught short is high, so having all the correct MTB gear is key to making sure you have a smooth day out in the wild.
In this guide we'll set out all the MTB essentials, so you can have a seamless day out on the trails. Get your shopping list at the ready…
Essential MTB Gear at a Glance
| Item | Essential MTB Gears | Item | Essential MTB Gears |
| --- | --- | --- | --- |
| 1. | Puncture repair kit | 8. | Backpack |
| 2. | Pump | 9. | Phone & GPS device |
| 3. | Inner tubes | 10. | Extra clothing layers |
| 4. | Tyre levers | 11. | Extra battery/charger |
| 5. | Food & water | 12. | Money |
| 6. | First aid kit | 13. | Lights |
| 7. | Suncream | 14. | Helmet & pads |
A puncture can swiftly bring a lovely day's riding to a grinding halt, so having a puncture repair kit at hand is high up there among MTB must haves.
Most e-MTBs and MTBs are tubeless, so having a tubeless repair kit is definitely an item of MTB gear you need.
The most effective is a tubeless plug, which blocks the hole in the tire, so you can pump it up and get out riding again.
You'll only be able to fix that puncture and get out back on the trails if you have a small handheld pump with you. A pump is another key piece of MTB gear, which is usually compact and can clip onto your e-MTB downtube or can go in a backpack. Without one, you'll be stuck there at the side of the trail, despite potentially repairing your puncture.
Even without a puncture a pump is important – the amount of impact the tyres go through on a ride can lead to the tyres deflating slightly over time – having them at the right pressure makes a world of difference.
Although many e-MTBs and MTBs now ride tubeless, there are still some riders who use inner tubes. Inner tubes are the inner casing tube, within the tyre, which you pump up.
If you're one of the inner tube users, make sure to take spare inner tubes out on a ride with you. If you get a puncture and don't have one, you won't be able to fix the puncture and get out riding again.
A tyre lever is a piece of MTB gear, which you use to help prise the tyre off the rim when you get a puncture. Without them, it can be a real struggle to get a tyre on and off easily – you're likely to end up with sore fingers if you try to do it by hand.
Having some tyre levers with you helps speed up the process and doesn't trash your hands in the process.
A multi-tool can be an absolute ride saver. A mountain bike and e-MTB are constructed using many different components – it just takes one of them to loosen or get damaged to cause you a real headache.
A little multi-tool kit, with various different heads, such as an Allen key, screw driver, wire cutters, chain ring, etc, can help get you back out riding swiftly.
You can invest in a general workman's multi-tool, which can do many of the potential tasks you might need, but we would recommend going for a cycling specific one – to cover all the potential areas you might need. It's one of the best MTB accessories to have.
For your e-MTB to run smoothly you need to make sure the chain has enough lube on it. It's good practice to lube up the chain before a ride, but in wet weather the lube can run off and it also uses up over time, so having a small lube set with you is a good piece of MTB gear to have.
The little bottles help grease up the chain and help it operate smoothly – preventing rattles, clunking and grinding noises.
Injuries are common in the world of mountain biking and there are many hazards out on the trails. Having a compact, but well-equipped first aid kit, is among the most important pieces of MTB equipment you can have.
We recommend having things such as plasters, bandages, freeze spray, paracetamol, some small scissors, an emergency blanket, antiseptic wipe/spray and small ice pack at a minimum. Often where we ride is out in the middle of the countryside, not close to amenities or help, so it's important to have some first aid essentials.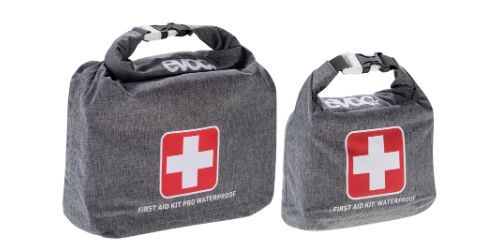 It's easy to forget how warm it can get while out riding, particularly if you're on a leisurely section or if there's a wind in the air.
The last thing you want is to have a great day on the trails, but come home looking like a lobster. Having a pocket suncream is another good piece of MTB gear to have, even in winter.
Many people are glued to their phones in this day in age and some people will get out into nature on their bike to avoid the trappings of smartphones. However, don't be tempted to leave your phone back at the house.
Phones are important pieces of MTB gear for many reasons – they offer you a way of seeking help in an emergency, are useful to check directions in case you get lost, offer the opportunity to capture your ride in photos/videos and many have apps to link to your e-MTB.
The apps have many customisable options, which help elevate a riding experience and help you hone in your performance.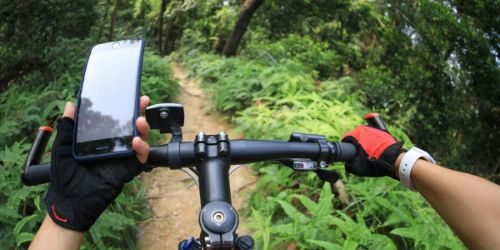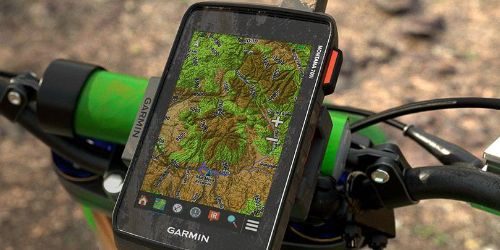 Knowing where you're going while out riding is very important. We've already mentioned having a phone is a good idea, but also having a dedicated GPS device is wise.
You can load up maps, which work offline – often on a ride it can be hard to get any mobile phone service due to the remote locations you might be riding in. A GPS device fixes this problem.
The nature of mountains and mountain biking means you can experience multiple weather conditions in one day. Having some warm layers to throw on and some waterproofs are important pieces of MTB gear to have so you don't get caught short and catch a chill out on a ride.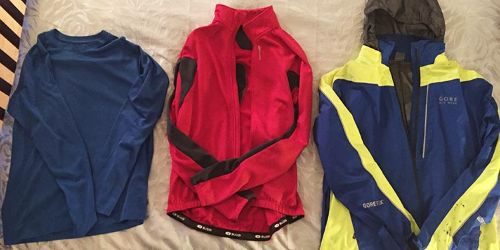 You may well be thinking – where the hell do I put all these items? So a small cycle backpack is a good investment to have, so you can carry all the MTB gear on the ride.
Buying a cycle specific one is better than just getting any old backpack, because they are shaped to the demands of riding, offer handy, easy access pockets and sometimes have inbuilt water bladders.
Making sure you have enough water with you is very important. We consider having bottles in cages on your bike mandatory, but also recommend having a hydration bladder in a rucksack for longer rides.
Running out of energy and not having enough food on a ride is miserable – it's called bonking – and can feel very unpleasant. Having some food with you to top up your reserves when needed is another good piece of MTB gear to have.
Ensuring you don't run out of battery on a ride can be an enormous headache and range anxiety can be very stressful. We recommend trying to go out riding on a full charge, but that isn't always possible and it may not last anyway. Having a spare battery and charger to hand is a way of covering your back and keeping you out on the trails if you do run out.
Having some cash with you out on a ride is useful to pick up emergency food supplies or water if you run out. You never know what you might need while out in nature and it's unlikely there will be ATMs in the tiny villages you will be riding through. Take your bank card, but also some cash with you, just in case.
You may only intend to be out riding during daylight hours, but a ride time can be extended for many reasons – be that a mechanical problem, a wrong turn, a crash, poor weather conditions or a miscalculation of how long it could take. Taking some extra lights, in case you have to ride in the dark, is a good way of making sure you can see where you're going and be seen on your ride home.
Having a helmet is a crucial piece of MTB gear and we also recommend having some pads and other protection too. Read our full review of the best e-MTB protective gear, here.
That all may sound like a lot, but having a large percentage of those items of MTB gear is hugely beneficial for a day out riding. You're not only planning for all eventualities, but also improving your riding experience in some cases.
Looking after your bike and yourself ensures you keep out on the trails for longer and don't have to cut your ride short early. You often end up in remote and wild locations on an e-MTB and help might not be nearby – you need to make sure you can get both you and the bike home safely.
You now have that all important shopping list, so get out there and put it to use!