The Canyon Grand Canyon:ON range is the company's hardtail electric mountain bike range. We've come to know what to expect with Canyon's e-MTBs – reliable and well-crafted rides; bikes which are good fun to ride but don't cost the earth.
The Grand Canyon:ON 7 is the entry-level bike in the hardtail range, which means it has a front suspension set-up, but a fixed rear end.
In this Canyon Grand Canyon:ON 7 review, we'll explore whether this hardtail is worth your hard-earned cash or if you should go for a full-suspension bike, instead, or another of the hardtails out there.
The Canyon Grand Canyon:ON 7 isn't perfect.
It's (at best) a decent entry level bike for an e-MTB rider who just wants to take on some fairly tame terrain and needs a hearty slice of electrical assistance on their way.
Anything more than that, though, and unfortunately, it comes unstuck. The tyres don't offer enough peace of mind, the motor display is primitive and it's only a 10-speed, which isn't great for climbing.
It does handle well, though, and has a firm frame which helps give you a planted feel on the trail. It's also set at a reasonable price point.
A decent electric hardtail mountain bike for forest loops, moderate single-track riding and a mix of urban and country riding.
Peaks:
Troughs:
The Grand Canyon:ON 7 has a strong aluminium frame, which gives you a planted feel on the trail, but it comes at a cost, with the bike weighing in at 23.8kg.
The bike has been designed to have a sporty feel and fortunately its powerful motor – which we'll come to in a bit – coupled with that weight, means it moves pretty fast out on the trails.
It has a large seat tube as well to add to the strength of the bike and a fairly modern geometry, but it's not groundbreaking by any stretch of the imagination.
You can manoeuvre the bike easily thanks to the angle of the top tube, which keeps it out the way, and it comes in 5 frame sizes from extra small, up to extra large.
You feel nicely in command of the bike thanks to the reach and wide handlebar setup, which makes it fun to ride and it's certainly responsive as weave through the trees.
It can be ridden nice and aggressively without coming unstuck, which is exactly what you want from a fast mover of a ride.
This Canyon Grand Canyon comes with a 504Wh Shimano Steps integrated battery, which is slotted nicely into that thick downtube. It's a decent size of battery, which will carry you on some decent length rides.
It won't carry you round all day long, but if used intelligently, you can get a good few hours out on the trails. We found that we could get a maximum of around 70km out on the trails, but that was with very conservative usage.
The battery is secured and protected by a thick outer casing, which prevents it from being damaged from knocks and bumps out on the trails.
The Canyon Grand Canyon:ON 7 comes with a Shimano Steps EP8 motor, which has a maximum torque output of 85Nm.
This is a punchy amount of kick to have at your disposal and it helps propel this ON 7 up some very challenging terrain, indeed.
It's enough gas to help compensate for that weighty aluminium frame, too, and overall, it balances out to mean you have a reasonably quick moving ride, even on the hills.
The motor has three modes to switch between: Eco, Trail and Boost – we recommend having a play around with these settings early on and locking in how much assistance you need, to help preserve that battery.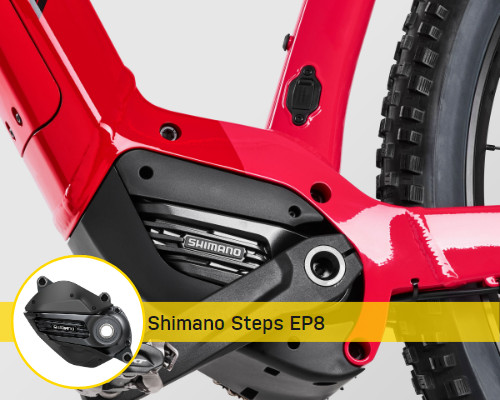 The Shimano Steps EP8 display has been a constant grumble for us in many of our reviews. We think it's very limited compared to some of its competitors.
If simplicity is what you want, then we guess it ticks that box, as it's easy to use, with a handlebar controller to move up and down through your different modes of assists.
However, that's where any positivity stops – the amount of battery you have left is displayed as 5 LED lights, which is essentially 20% increments of battery life.
We think that's pretty useless when it comes to predicting how much juice you have left and can leave you stuck out on the trails.
We recommend really using the electrical assist conservatively, to make sure you don't get halfway around a loop of your local trails or forest and find it conks out on you. The power of the battery is let down by the display.
Because it's a hardtail, this Canyon Grand Canyon only comes with front suspension – a Suntour XCM34 setup, which has 120mm of travel.
Clearly 120mm of travel isn't the most playful on earth and this bike certainly isn't meant to be launched off big heights or thrown down gnarly downhill routes. However, it has enough at its disposal to move through some more general, fast-moving trails.
The Suntour suspension setup is ok, but isn't the best around, which is reflected in the price. It's a base layer pairing, which is enough to get by, but which isn't made for wild challenging riding.
The Canyon Grand Canyon:ON 7 comes with a 29in pairing: the TRYP 30s with Schwalbe Nobby Nic Performance 2.6s.
The large wheel and the wide tyres add to that firm placement on the trail, which complements the other grounded features of the bike, such as the weighty frame. It means you can churn through some nasty terrain with ease, helped again by the punchy EP8 motor.
There are some cons, too, however. You need to be careful because the hard rubber tyres, which are perfect for climbing or getting through muddy sections, can be a bit flimsy when trying to brake sharply or while moving fast.
They don't cushion into the dirt enough, which can cause a bit of sliding out and you certainly don't want to go full gas into a sketchy spot with them.
This Canyon Grand Canyon comes with Shimano MT200 disc brakes, which are responsive and certainly needed due to the tyre issues we just mentioned.
They have a firm bite and decent heat management, which is a relief considering the weight of the bike, power of the motor and shakiness of the tyres.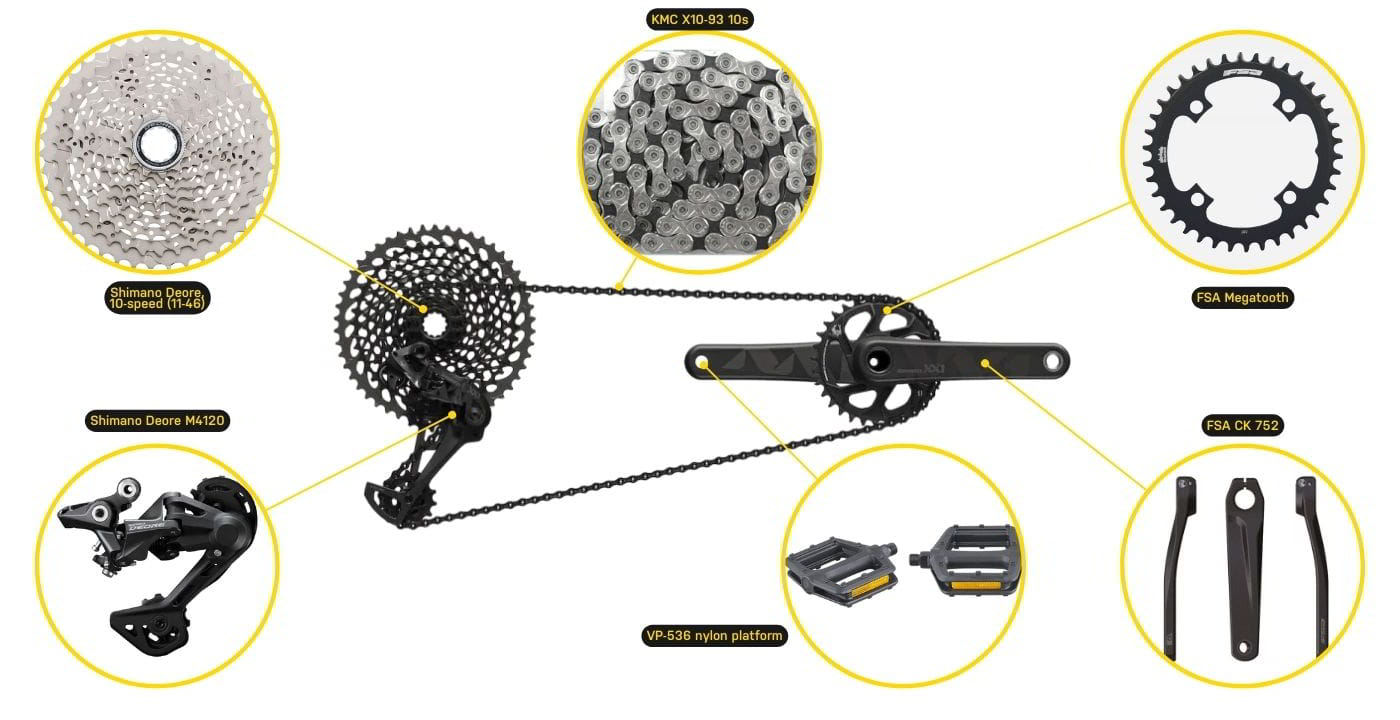 The Canyon Grand Canyon:ON 7 comes with a 10-speed Shimano Deore M4120 drivetrain, which we think is a slight let down.
The 10-speed setup does bring its limitations and means you can't get up some of the chunkier climbs, particularly when you factor in the weight of the bike.
It's a fair price for this Grand Canyon bike in our opinion. You have some decent features, such as the powerful Shimano EP8 motor, but without completely breaking the bank.
It isn't all singing, all dancing, but it isn't a let down either. A decent price point from the folk at Canyon.
Grand Canyon:ON 7 Facts & Figures
BASIC GEOMETRY

XS
S
M
L
XL
BODY HEIGHT IN CM

< 160

160 – 172

172 – 183

183 – 194

> 194

SEAT HEIGHT IN MM

558 – 658

608 – 708

648 – 798

688 – 838

748 – 898

SEAT TUBE LENGTH IN MM

350

400

440

480

540

TOP TUBE LENGTH IN MM

588

601

638

666

688

HEAD TUBE LENGTH IN MM

100

100

120

135

145

HEAD TUBE ANGLE

67°

67°

68°

68°

68°

SEAT TUBE ANGLE

74°

74°

74°

74°

74°

CHAINSTAY LENGTH IN MM

425

425

440

440

440

WHEEL BASE IN MM

1.091

1.109

1.157

1.188

1.211

STACK IN MM

584

602

651

665

675

REACH IN MM

395

405

430

455

475

STAND-OVER HEIGHT IN MM

717

752

797

814

844

BOTTOM BRACKET OFFSET IN MM

54

54

65

65

65
COMPONENT GEOMETRY

XS

S

M

L

XL

SPACER IN MM

20,0

20,0

20,0

20,0

20,0

STEM LENGTH IN MM

50

50

50

50

50

HANDLEBAR WIDTH IN MM

740

760

760

780

780

CRANK LENGTH IN MM

165,0

165,0

170,0

170,0

170,0

SEAT POST DIAMETER IN MM

30,9

30,9

30,9

30,9

30,9

SEAT POST LENGTH IN MM

350

350

400

400

400

MAXIMUM SEAT POST INSERTION DEPTH IN MM

190

190

240

240

240

MINIMUM SEAT POST INSERTION DEPTH IN MM

90

90

90

90

90

WHEEL SIZE

27.5″

27.5″

29″

29″

29″

DISC SIZE IN MM

180 / 180

180 / 180

180 / 180

180 / 180

180 / 180

FRONT FORK TRAVEL IN MM

100

120

120

120

120

BATTERY CAPACITY

504 Wh

504 Wh

630 Wh / 504 Wh

630 Wh / 504 Wh

630 Wh / 504 Wh
FRAME

Frame

Suspension Fork

Canyon Grand Canyon [ON]
Canyon Grand Canyon:ON aluminium frame.
Category: 3e.
Axle dimension: 12×148 mm
Material: Aluminium (AL)
Suntour XCM34, 120mm
120mm of front suspension, 29er fork, Boost 110 spacing, 34mm stanchions, coil spring with preload adjuster

DRIVETRAIN

Motor

Battery

Rear Derailleur

Shimano Steps EP8 Motor
High-torque motor. Maximum torque: 85 Nm. 3 app-tunable support modes: Eco, Trail, Boost.
Depending on your selected configuration.
Shimano Deore M4120, 10/11-speed
Cage length: long

Chainguard

Shift Lever

Cassette

Canyon Chainguide EP1001-02
Shimano Deore M4100, 10-speed
Shimano Deore, 10-speed (11-46)
All-steel cog design, Shimano HG freehub compatible, Gear range: 11-46T, weight: 360 g,

Crank

Chainring

Chain

FSA CK 752 E-MTB
Number of chainrings: 1
FSA Megatooth Chainring 104BCD
KMC X10-93 10s
Durable half nickel plated chain.

BRAKES

Disc Brake

Brake Rotor

Shimano MT200
Shimano RT30
Size: 180 mm

Shimano EM300
Disc Mount: Centerlock

WHEELS

Wheel

Tyre

Thru Axle

Rodi TRYP 30 | Shimano MT400
Shimano MT400 front hub with Boost 110 spacing, Iridium 30 aluminum rim, 30mm inner rim width

TRYP 30 | Shimano MT400
Shimano MT400 rear hub with Boost 148 spacing, TRYP 30 aluminum rim, 30mm inner rim width
Schwalbe Nobby Nic Performance 2.6
Width: 2,6″
Canyon GP0225-01 Thru Axle 148×12
Dimensions: 148 x 12 mm

COCKPIT

Stem

Handlebar

Grips

FSA Comet 35
Fork steer tube diameter: 1 1/8″
Clamping diameter: 35,0 mm
FSA Comet Alloy 35 Riser
Width: 760 mm
Rise: 25 mm
Canyon Lock-On Grips

Display

Modeswitch

Shimano SC-E7000
Shimano Steps E7000

SEAT

Saddle

Seatpost

Fizik Terra Alpaca X5
Iridium
Clamp diameter: 30,9 mm
Material: Aluminium (AL)

ACCESSORIES

Battery Charger

Trekking & City Pedals

Manuals and Accessories

Shimano STEPS – Battery Charger
Iridium VP-536
Canyon Bag
Wrench Tool 15mm
Quickstartguide Canyon eMTB
Canyon Smallbox
This area of the e-MTB industry isn't awash with fantastic options. However, one decent option instead of the Canyon Grand Canyon:ON 7 would be the Bulls Twenty9 EVO 1.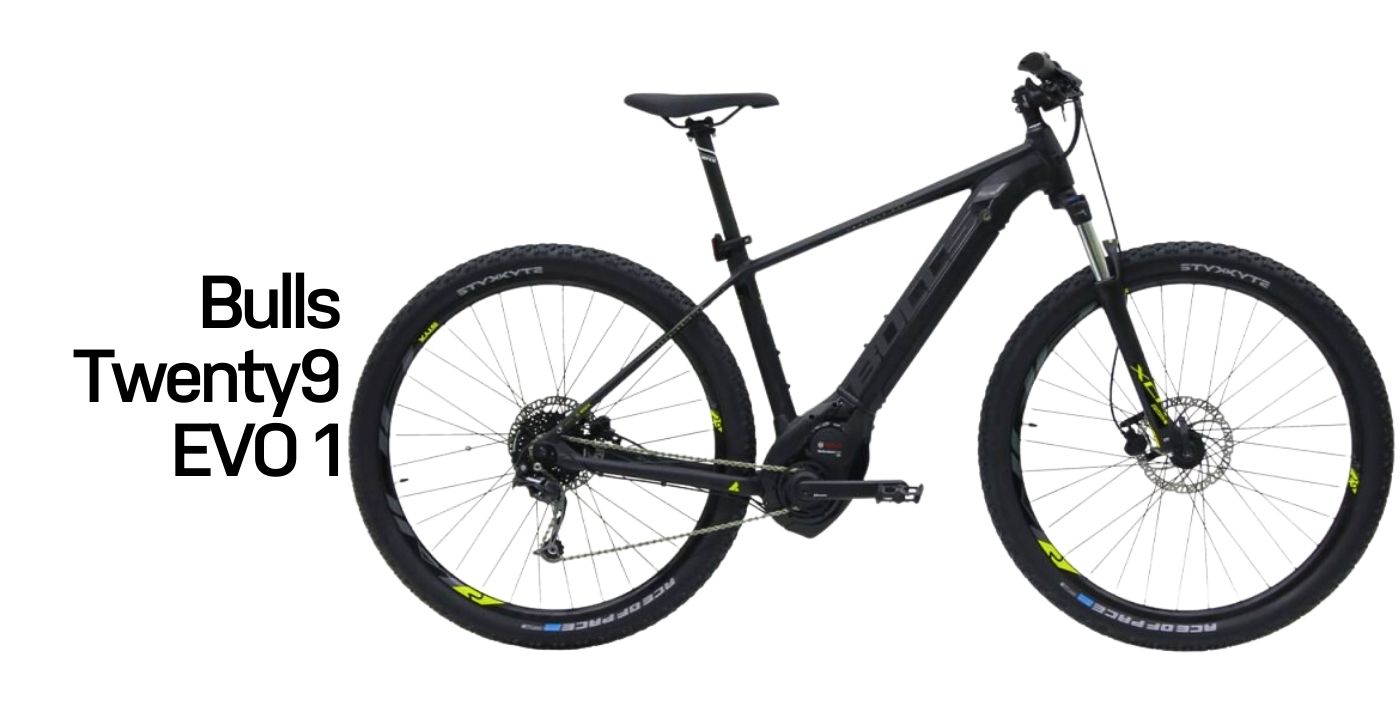 It's another robust and fast-moving hardtail e-MTB, which has a firm aluminium frame and responsive handling, which means it's on par in that sense with the ON 7.
It also has a similarly-sized battery, a 500Wh Bosch PowerTube.
However, it comes with a far superior motor – the Bosch Performance Line CX, which kicks out 85Nm of torque.
It's a far more intelligent motor than the EP8 on the Grand Canyon: ON 7 and the Bosch Purion display is a much better trail aid, with more customisable features, than the EP8's.
You only get 100mm of travel at the front end, though, with an SR Suntour XCM fork setup and it's only 9-speed, with a low spec Shimano drivetrain setup.
It rides fast on the trails and can get up some challenging climbs due to that decent motor, but it's very limited on the downhills and more challenging terrain.
There are pros and cons for both bikes, but we think the Grand Canyon:ON 7 just sneaks it due to being a better all-rounder.
It's also cheaper by $663 dollars.
There are things to admire on the Canyon Grand Canyon:ON 7, but there are also areas it really lacks in.
If you want a robust and reliable hardtail e-MTB, then this adequately ticks those boxes.
However, it isn't full of thrills and it isn't dripping in high-spec components, so it comes unstuck on particularly challenging terrain, and in truth, it's a bit of a nightmare downhill.
The tyres aren't good enough for the weight and power, which can put you into some uncompromising situations at times.
It's a decent option for people who just want to enjoy local single tracks and moderate forest trails at your local trail centre, it isn't cut out for wild terrain.
It's a fair price for a middle-of-the-road bike, which certainly has its positives, but it's not the most polished bike in the world, that's for sure. So, that's our thoughts on this Canyon hardtail MTB, now go out and give it a try yourselves.
"If you enjoyed this review then make sure to check out our other Canyon reviews."