Cannondale is aiming to tick a lot of boxes with their Moterra Neo Carbon LT range. The company claims it's a genuine all-rounder, which is geared up for the ups, the downs, the flats and the technical.
To pull that off would be pretty remarkable, but when a manufacturer like Cannondale makes a bold claim, you have to listen. Getting that all spot on isn't easy, though. Does Cannondale nail it with the Moterra Neo Carbon LT 2? Or is it a swing and a miss? Time to find out in another Cannondale e-bike review…
A bike which claims to be an all-rounder but certainly isn't. The weight is the main problem – it's a monster, which makes it poor at anything technical and it feels very laboured going up steep climbs and challenging descents.
It isn't a bad bike – there are certainly excellent aspects; the electrical components by Bosch, and it's comfortable to ride. However, overall, it feels more of a tourer with a big suspension, than it does an all-rounder.
Cannondale made a bold claim and, unfortunately, it doesn't live up to expectations.
Peaks:
Troughs:
Cannondale Moterra Neo Carbon LT 2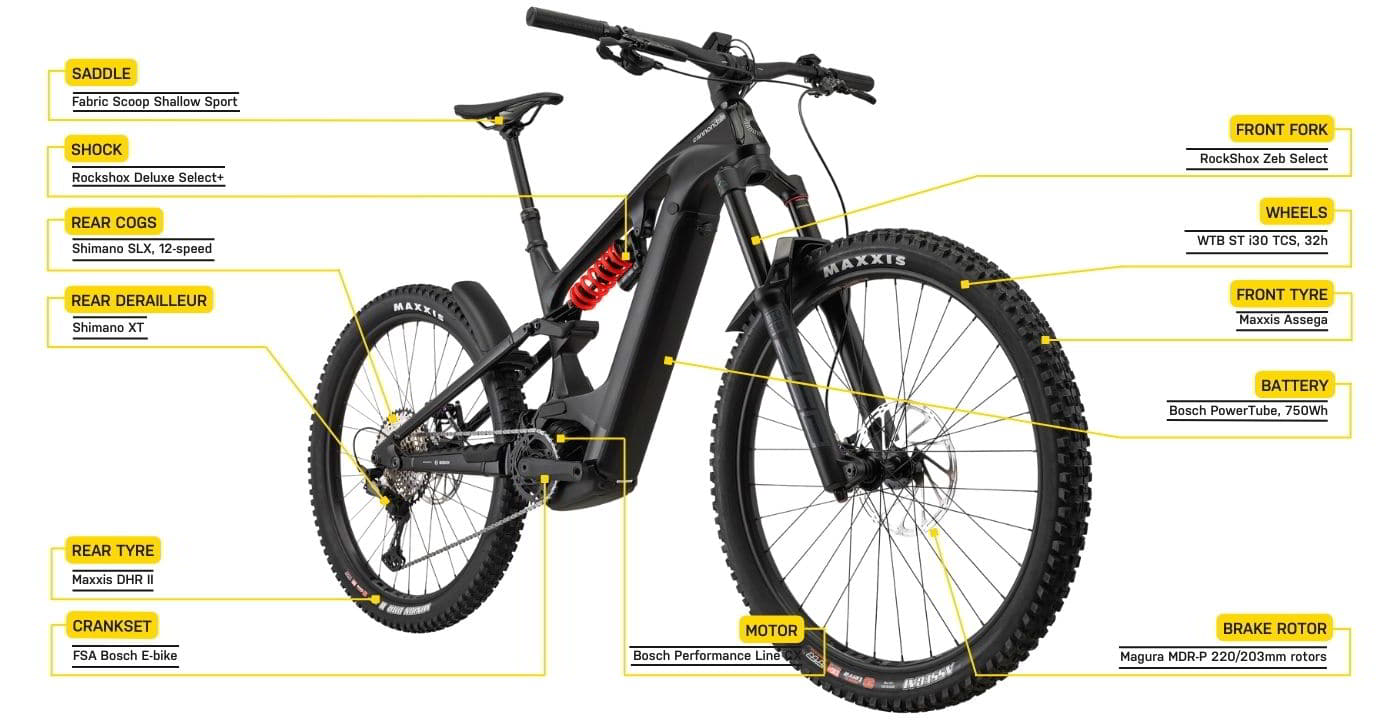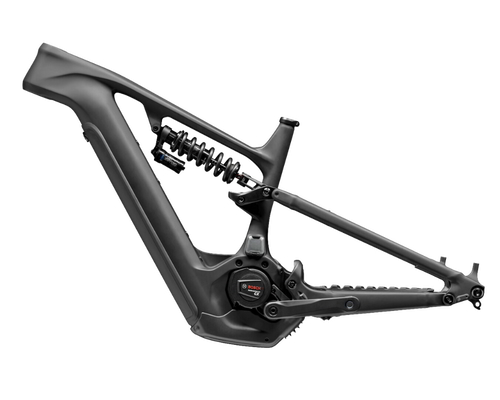 The Moterra Neo Carbon LT 2 has a carbon front triangle and a sturdy aluminium rear end. It's designed this way to be ultra robust and capable of taking some sizable hits on the trails.
However, that aluminium element, combined with other heavy areas of the bike, puts on a serious amount of weight. When we say weighty, we mean really weighty – we rode the medium frame size and the bike comes in at 26.2kg.
Now, that's a serious beast of an e-MTB and you really feel it out riding – the bike handles a bit like a bull, rather than a gazelle… For a bike claiming to be an all-rounder, that comes as a big surprise to us, because it can't manage the technical descents well, nor can it climb in a spritely way.
The positioning on the bike is comfortable and you certainly feel at ease riding on flatter and easier terrain, but when things get super twisty and tricky, the bike struggles. It comes in 4 frame sizes – small, medium, large and extra large.
The Moterra Neo Carbon LT 2 is paired up with a 750Wh Bosch PowerTube in the battery department. We love Bosch's electrical components and the PowerTube gives you a really healthy range, despite the bike's heavy weight.
That depends on the kind of terrain, though – the bike manages over 120km on flatter terrain, but when you put in a big stretch of climbing, the range really diminishes. We saw our range drop to 80km when you throw in 1,500m of climbing, because the battery is having to fight against that heavy weight.
The battery is secured firmly into the bike's downtube and there are some extra rubber elements over key battery joins to protect it from impacts on the trails. We're thankful that it's a Bosch battery because another battery may get sapped very quickly due to the weight.
On the plus side you can charge up your battery to 50% very easily – it only takes 2 and a half hours, but up to 6 to get up to 100% charge.
The Moterra Neo Carbon LT 2 is fitted with the excellent Bosch Performance Line CX motor, which can kick out 85Nm of torque. It's a very welcome motor pairing because you need a hearty kick to get you up the climbs with that 26.2kg weight.
It certainly makes a difference and the bike can make light work of a fairly standard, straight, incline. However, when you up the ante and throw in some technical climbs or switch back climbs, the bike feels very clumsy indeed.
It's purely down to the weight because a Bosch Performance Line CX motor on a lighter bike, makes easy work of even the most challenging climbs. On the plus side, the motor kicks in and out of assist very naturally, and at no point do you feel too jolty or stressed by the power output.
You get a good range of assistance modes too – Sport, e-MTB, Tour, Tour+ and Walk Assist – but if you use the Sport mode too liberally, you find the battery gets sapped quite quickly.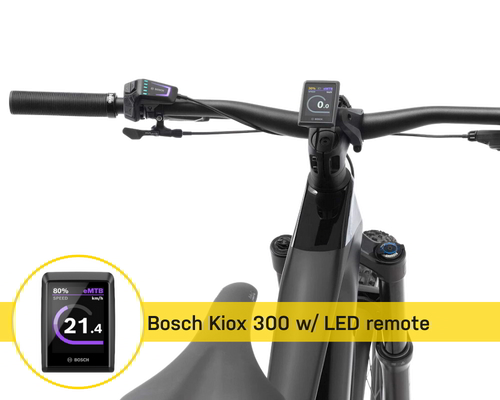 The Moterra Neo Carbon LT 2 is fitted with the excellent Bosch Kiox 300. It's a really useful ride aid, which has lots of different data options to customise on your handlebar mounted display screen.
You get the amount of battery life you have left displayed as an exact percentage, which is a big thumbs up from us and you can choose between many other data options, such as speed, ride time, distance, RPM and much more.
You can also pre-plan your riding route on your phone and Bluetooth link the map you created to the display – this is really handy, so you don't end up putting your smartphone at risk on the handlebars.
All your ride data can also be sent the other way via Bluetooth to your smartphone, so you can review your performance and look where to improve next time. All the modes of assist can be flicked between using a handlebar controller, which offers a real ease of use.
The Moterra Neo Carbon LT 2 has 170mm of travel at the front and 165mm at the rear end. Both components are supplied by RockShox, with the company's Zeb Select forks and Deluxe Select+ rear shocks.
This is just a very slight downgrade from the Moterra Neo Carbon LT 1, which comes with Zeb Select+ forks. With that heavy overall weight you need a decent suspension set-up and you certainly get it here, however, it does have its limitations.
It can certainly take some lumps, bumps and jumps and it manages the bike's weight well on the moderate descents. However, the more experienced riders amongst us would be calling for the ability to adjust the setup to the needs of the day's riding and, sadly, you can't. The lack of adjustable elements means the bike, although comfortable, feels limited.
The Moterra Neo Carbon LT 2 has differing wheel sizes at either end of the bike, with a larger front end and a smaller rear end. The mullet setup is designed to make the bike more playful out on the trails. You get a 29in WTB ST i30 TCS front wheel and a 27.5in rear one. The tyres are provided by Maxxis, with an Assegai at the front and a DHR II at the rear.
Although you have this, in theory at least, playful mullet setup, the end result isn't that playful at all; the bike continues to feel laboured on the technical descents and the technical climbs. What you do get is a stable wheel setup, though, and a reliable tyre partner which holds firm in the corners.
The brakes have been downgraded on the Moterra Neo Carbon LT 2 compared to the spec up version. It comes with Magura MT5s, which feel a little under gunned for the bike's heavy weight – if they wanted to go for a Magura brake set-up, we would have recommended the MT7s. To cope with the weight you need a seriously firm pair of brakes and these are just slightly off.
The Moterra Neo Carbon LT 2 comes with a 12-speed Shimano SLX drivetrain. This is also a set-up slightly downgraded compared to the Shimano XT drivetrain on the LT 1. It still does the trick, but doesn't feel quite as slick.
This Cannondale Moterra is around $1,500 cheaper than the LT 1, which we thought was overpriced. We're glad the price has dropped for Moterra Neo Carbon LT 2, which is remarkably similar to its higher spec sibling.
You're getting decent value for money in terms of spec to price, however, the claim that it's an all-rounder is a fallacy – so that raises serious questions about whether you're getting a good overall price to experience.
Cannondale Moterra Neo Carbon LT 2 Facts & Figures
GEOMETRY

S

M

L

XL

WHEEL SIZE

27.5″ R /




29.0″ F

27.5″ R /




29.0″ F

27.5″ R /




29.0″ F

27.5″ R /




29.0″ F

SEAT TUBE LENGTH (cm)

40.0

46.0

46.0

49.0

TOP TUBE HORIZONTAL (cm)

58.0

60.2

63.4

67.1

TOP TUBE ACTUAL (cm)

54.0

55.5

58.5

62.1

HEAD TUBE ANGLE

64.0°

64.0°

64.0°

64.0°

SEAT TUBE ANGLE EFFECTIVE

76.5°

76.5°

76.5°

76.5°

SEAT TUBE ANGLE

69.6°

69.2°

69.7°

70.2°

STANDOVER (cm)

76.3

76.3

76.7

77.7

HEAD TUBE LENGTH (cm)

10.5

11.5

12.5

13.5

WHEELBASE (cm)

121.7

124.2

127.6

131.5

FRONT CENTER (cm)

76.6

79.0

82.4

86.3

CHAIN STAY LENGTH (cm)

45.2

45.2

45.2

45.2

BOTTOM BRACKET DROP (cm)

1.1

1.1

1.1

1.1

BOTTOM BRACKET HEIGHT (cm)

35.6

35.6

35.6

35.6

FORK RAKE (cm)

4.4

4.4

4.4

4.4

TRAIL (cm)

13.5

13.5

13.5

13.5

STACK (cm)

62.3

63.3

64.2

65.1

REACH (cm)

42.6

44.6

47.6

51.1
DETAILS

Platform

Model Name

Model Code

Moterra Neo LT
Moterra Neo Carbon LT 2
C25552U

FRAMESET

Frame

Fork

Headset

Moterra Neo Carbon Front Triangle

SmartForm C1 Alloy Swingarm, 165mm travel, Proportional Response Tuned Suspension, removable downtube battery, alloy skid plate, 55mm chainline, internal cable routing, 148x12mm thru-axle, UDH hanger, post mount brake, 1.5" – 1.8" tapered headtube, 18mm two-bolt kickstand mount
RockShox Zeb Select

Charger RC, 170mm, DebonAir, 15x110mm, 44mm offset
Acros integrated sealed bearing, tapered

Rear Shock

RockShox Deluxe Select+

Coil, 2-Pos mode adjust, adjustable rebound

E-SYSTEM

Drive Unit

Battery

Charger

Bosch Performance Line CX 250W
Bosch PowerTube 750Wh
Bosch 4A

Display

Bosch Kiox 300 w/ LED remote

DRIVETRAIN

Rear Derailleur

Shifters

Chain

Shimano XT
Shimano SLX, 12-speed
Shimano SLX, 12-speed

Crank

Rear Cogs

FSA Bosch E-bike w/ 55mm chainline, 160mm, 34T
Shimano SLX, 10-51, 12-speed

BRAKES

Disc Brake

Brake Levers

Magura MT5 4-piston hydraulic disc

Magura MDR-P 220/203mm, 6-bolt rotors
Magura MT5 Trail HC hydraulic disc

WHEELS

Rims

Spokes

Tire Size

WTB ST i30 TCS, 32h, tubeless ready
Stainless Steel, 14g
2.6

Wheel Size

Hubs

Tires

29
(F) Formula 15x110mm thru-axle
(R) Shimano MT410, 12x148mm thru-axle
(F) Maxxis Assegai, 29 x 2.6″, 3C, EXO+, tubeless ready
(R) Maxxis DHR II, 27.5 x 2.6″, 3C, EXO+, tubeless ready

COMPONENTS

Handlebar

Stem

Grips

Cannondale 3 Riser

6061 Alloy, 25mm rise, 8° sweep, 5° rise, 800mm
Cannondale 2, 6061 Alloy, 35mm, 0°
Fabric FunGuy

Saddle

Seatpost

Fabric Scoop Shallow Sport, steel rails

Cannondale DownLow Dropper





internal routing, 31.6, 125mm (S), 150mm (M), 170mm (L-XL)
PLEASE NOTE THAT, BASED ON COMPONENT AVAILABILITY AND OTHER FACTORS, SPECIFICATIONS ARE SUBJECT TO CHANGE WITHOUT NOTICE.
We're going to compare the Moterra Neo Carbon LT 2 to another bike which states itself as an all-rounder. The Specialized Turbo Levo Carbon is one such bike
The Turbo Levo Carbon, as the name suggests, has a fully carbon frame and as a result, that brings the weight down – weighing 23kg, more than 3kg lighter than our Cannondale e-MTB.
You don't lose out much on battery either, with the Specialized having a 700Wh custom battery, compared to the 750Wh on our Cannondale electric mountain bike.
You also get a more powerful motor on the Turbo Levo Carbon, with 90Nm of torque at its disposal, which makes a massive difference when you take into the lighter weight. The bike climbs much better and has a lighter touch in the handling department.
It doesn't have quite as much travel as our Cannondale though – with only 160mm at the front and 150mm at the rear, with similar standard RockShox components. The lighter weight makes a difference, though, it doesn't feel anywhere near as clumsy as our Cannondale.
The Specialized has an excellent display, too, has SRAM Guide brakes and an SRAM NX Eagle drivetrain, which is on par with our Cannondale components. The Turbo Levo Carbon comes in at $7,063, which is $810 cheaper than our Cannondale – overall the Specialized is far superior.
The Moterra Neo Carbon LT 2 certainly isn't a bad bike and it actually has some excellent components. The electrical components in particular are excellent and you have a seriously sturdy and comfortable frame/geometry.
We're also pleased to see the price become more affordable to the very similar spec LT 1. However, the bike is far from the all-rounder it claims to be – it's simply down to the weight and that detracts from what, otherwise, could be a decent bike.
It doesn't climb as well as an all-rounder should, it handles clumsily and it certainly isn't made for super technical descents or twisty tight sections. It is better suited as a tourer, with a suspension capable of some bigger hits, but a ticker of all boxes, it certainly isn't.
Time for you guys to test it out for yourselves.
If you enjoyed this review then make sure to check out our other Cannondale Moterra reviews.