In the e-MTB world, history has typically taught us that big batteries equate to heavy bikes. There have been many bikes over the years which have offered endless range, but there's always been a cost associated with that.
They end up being hard to handle, slow on the trails, but a trusty partner when it comes to juice in the tank. To quote the great Bob Dylan, however, "the times they are a-changing".
A number of manufacturers are now looking to dispel the conventional wisdom that you need to compromise on weight to get better range, by creating lightweight bikes with enormous, all-day lasting batteries.
Canyon is a manufacturer among the group pushing hard, and its answer to this conundrum is the Spectral:ON CFR. Is this the Holy Grail? Or does the ambition to create a huge battery cause problems in other areas?
We've spent many hours on the Spectral:ON CFR and have all the answers to your questions. Hop aboard, then, as we get to grips with another Canyon electric mountain bike!
Unfortunately, we aren't impressed with Canyon on this one. It's littered with grumbles, which we don't feel is acceptable for the price point the manufacturer has set it at.
It's a very uncomfortable ride and not at all forgiving out on the trails. Although you get a monster battery, it doesn't work intelligently with the motor and it doesn't give you the endless range you might hope for.
We aren't fans of the EP8 motor, it gives an unnatural ride feel, has a poor display and is noisy – the tyres don't offer enough traction, either.
We like the Shimano XTR brakes and drivetrain and it's certainly lightweight, but overall, we recommend avoiding the Spectral:ON CFR.
Peaks:
Troughs:
One of the big headline figures here is the bike's weight to battery size ratio; the Spectral:ON CFR weighs in at 21.87kg (in the large frame size).
It's thanks to Canyon's custom carbon Spectral:ON CFR frame that this has been made possible. Don't for one second think light means flimsy, though. This frame is very robust, with a durable compound capable of taking big hits.
There are all sorts of features integrated into the frame, and wider bike, to protect components from impact, with a strong casing around the motor and battery, too. All the cabling is also protected by being routed internally, which gives very clean looking finish overall.
The bike comes in four sizes – small, medium, large and extra large – and if you're wondering whether the Canyon Spectral is a trail or enduro bike? That all becomes clear when you look at the geometry.
It's definitely configured for trail rather than enduro riding; Canyon says it has been designed this way to help make the bike as versatile as possible for all sorts of riding.
So, we took that literally and threw the bike down a variety of trails – from backcountry-style open routes, through some dedicated trail centres, and along some of our local enduro loops.
It climbs adeptly, despite that big battery, and feels fairly light-footed uphill and it descends fairly well, although the geometry isn't set up for full nose down thrashing – you feel uncomfortable if you're taking on a very steep descent.
❗NB:
The bike isn't the most forgiving on the arms and wrists. The frame is robust, but the rider feels a lot of the hits and on a bouncy and bobbly trail centre surface, we felt really rather uncomfortable.
The geometry options are limited, too. You don't have a vast amount of adjustable elements at your disposal, which means the bike copes well up to a point, but when it gets really wild – and when you're riding on black run territory, for instance – it struggles.
This is one of the big selling points for the Spectral:ON CFR. It comes with an absolutely huge Canyon BT002 900Wh battery, which is a real statement from the manufacturer. It's truly enormous and is designed to give the rider an all-day ride capability.
The actual results aren't utterly mind-blowing, though. Yes, it lasts a long time, but it wasn't the truly crazy range figures we expected from a battery with that much wattage. It has big capabilities if it's set to Eco mode, with the bike able to climb close to 3,000m on a single charge, which is undoubtedly very impressive.
However, when you flick into the other modes of assist, such as Boost or Trail, the battery drains quite quickly and doesn't give you that nigh on limitless range you would expect.
❗NB:
It's definitely worth being conscious about what mode of assistance you're using, as you would with any other e-MTB. Don't let that 900Wh figure mislead you into thinking you can crack on with the assistance level smacked up high all day.
It's still an impressive battery overall, though, and certainly will do a decent length's ride for most of us.
The Spectral: ON CFR comes with a Shimano EP8 motor, which can emit 85Nm of torque. Now, if you know us well, you'll be aware we aren't the biggest fans of the Shimano EP8, we think it has many issues.
You have a wonderfully big battery on this e-MTB, but the EP8 doesn't operate intelligently with the battery and it can drain quicker than it ever should. The EP8 does give you a powerful kick out on the trails and it will have no problem scampering up the climbs, but it isn't the most natural-feeling of motors.
The bike has a punch, but you would never mistake the bike for a conventional mountain bike, there's a bit of lag with the power delivery and it does feel a little too forceful on the technical trails.
It's a shame because the rest of the bike handles well. The motor does kick out a fair bit of noise, too, which doesn't sound great.
And we've already mentioned the poor relationship the battery and motor have – the motor sucks out a lot of juice from that big battery too quickly, rather than operating conservatively. We aren't impressed in this department, despite the punchy kick it will give you.
It's another grumble when it comes to the motor display on the Spectral:ON CFR. We've never been keen on the EP8 motor display – it's far behind some of its rivals in the market.
It's simple to use, which a small positive, but it's primitive and doesn't offer a rider anywhere near enough, particularly at the price point we're talking about here.
The battery percentage is displayed as 5 LED lights, which represent 20% of battery charge – that's not helpful when you're out on a ride.
We expect a percentage figure of at least 10 LED lights in 10% increments. A range of 20% is far too wide, which could catch you out on the trails.
It also doesn't offer any other customisable data options either. Put simply, it's just not good enough.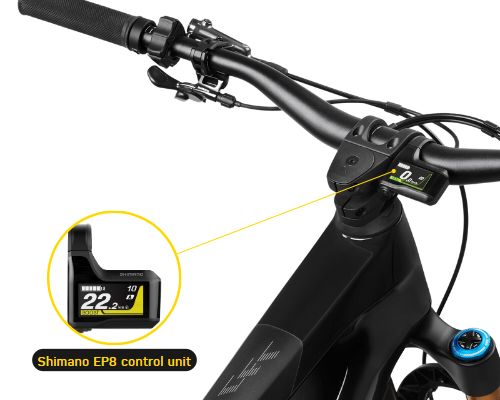 The Spectral ON:CFR comes with 150mm travel at the front and 155mm at the rear. The bike is kitted out with Fox Float X Factory EVOL, air-sprung premium shocks and Fox 36 Factory, premium air-sprung forks.
A decent set-up from Canyon, here. It climbs particularly well, with the suspension not offering too much bob as you go uphill, which gives you a lot of traction and firm footing on the trail. No sign of sag into the trail or feeling heavy, and the bike felt light-footed uphill.
When things become a bit more bobbly, though, the bike can feel really quite harsh. What you gain in traction on the climbs, you feel in shockwaves through your body on rougher terrain. The bike copes well on more flowy terrain, you get plenty of pop and pump into jumps and through undulating terrain, and it manages well enough downhill.
However, although the bike copes well, it doesn't necessarily mean a comfortable overall ride up top. It isn't very forgiving at all.
The Spectral:ON CFR comes with a mullet style setup, with a 29in wheel at the front and a 27.5in wheel at the rear. It's set up with a Reynolds TR 309 at the front end and Reynolds TR 367 at the rear, with a Maxxis Assegai tyre at the front and Maxxis Minion DHR II at the rear end.
We've already mentioned the stiffness of the ride quality and the strong carbon wheels are contributors to that – they aren't the most forgiving, either. The mullet setup is useful for retaining playful handling, though, and it's easy to pop up and over obstacles.
The tyre compound is designed to encourage speed and the bike really does move, particularly when paired with that chunky motor. Although there's a compromise because of that; you don't have the firmest footing into wet corners or in unstable terrain. We found ourselves slipping out from time to time.
Overall, though, the tyres are fairly durable.
The Spectral:ON CFR moves at quite a pace, so you need some sturdy brakes to give you confidence out on the trails and the bike comes with a Shimano XTR 4-piston setup.
We're really pleased with these, they're incredibly powerful and offer a fantastic bite to pull you up when needed out on the trails.
It's a shame the tyres force you to slip out because the brakes do the job and the tyres simply don't offer enough traction.
We're similarly impressed with the drivetrain setup on the Spectral:ON CFR. The Shimano XTR setup is just as impressive as the brakes, offering rapid shifting and never causing us any problems at all.
The Spectral:ON CFR isn't cheap and we aren't very impressed, overall. We think it's a lot of money for a bike that has its fair share of issues. You can get a lot better e-MTBs for this price – bikes which don't give you anywhere near the amount of cause for concern.
We don't think this Canyon Spectral e-bike offers great value for money.
Canyon Spectral:ON CFR Facts & Figures
BASIC GEOMETRY

S
M
L
XL

BODY HEIGHT IN MM

< 175
175 – 183
183 – 192
> 192

SEAT HEIGHT IN MM

654 – 774
699 – 844
771 – 933
791 – 953

SEAT TUBE LENGTH IN MM

420.0
440.0
460.0
480.0

TOP TUBE LENGTH IN MM

589.0
613.0
637.0
663.0

HEAD TUBE LENGTH IN MM

115.0
125.0
135.0
145.0

HEAD TUBE ANGLE

65,5°
65,5°
65,5°
65,5°

SEAT TUBE ANGLE

76,5°
76,5°
76,5°
76,5°

CHAINSTAY LENGTH IN MM

440.0
440.0
440.0
440.0

WHEEL BASE IN MM

1.2
1.2
1.3
1.3

STACK IN MM

634.0
643.0
652.0
661.0

REACH IN MM

435.0
460.0
485.0
510.0

STAND OVER HEIGHT IN MM

809.0
814.0
820.0
825.0

BOTTOM BRACKET OFFSET IN MM

36.0
36.0
36.0
36.0
COMPONENT GEOMETRY

S

M

L

XL

SPACER IN MM

15,0
15,0
15,0
15,0

STEM LENGTH IN MM

45.0
45.0
45.0
45.0

HANDLEBAR WIDTH IN MM

760.0
780.0
780.0
780.0

CRANK LENGTH IN MM

165,0
165,0
165,0
165,0

SEAT POST DIAMETER IN MM

30,9
30,9
30,9
30,9

DROPPER POST TRAVEL IN MM

125.0
150.0
175.0
175.0

SEAT POST LENGTH IN MM

406.0
456.0
525.0
525.0

MAXIMUM SEAT POST INSERTION DEPTH IN MM

220.0
245.0
262.0
262.0

MINIMUM SEAT POST INSERTION DEPTH IN MM

100.0
100.0
100.0
100.0

WHEEL SIZE

29″/27.5″
29″/27.5″
29″/27.5″
29″/27.5″

DISC SIZE IN MM

203 / 203
203 / 203
203 / 203
203 / 203

FRONT FORK TRAVEL IN MM

150.0
150.0
150.0
150.0

REAR SUSPENSION TRAVEL IN MM

155.0
155.0
155.0
155.0

BATTERY CAPACITY

720 Wh
900 Wh
900 Wh
900 Wh

FITTING LENGTH IN MM

230X60
230X60
230X60
230X60
FRAME

Frame

Rear Shock

Suspension Fork

Canyon Spectral:ON CFR
FOX Float X Factory EVOL
FOX 36 Factory 29″

DRIVETRAIN

Motor

Battery

Rear Derailleur

Shimano Steps EP8 Motor
Canyon BT002
Shimano XTR, 12-speed
High-end 12-speed shifting system

Shift Lever

Cassette

Crank

Shimano XTR, 12-speed
Rear derailleur shifter, 12-speed, Textured rubber lever pad, Multi-Release, 2-way release
Shimano XTR, 12-speed (10-51)
Lightweight cassette with a 10-51 gear range.
Shimano STEPS HOLLOWTECH e-MTB crank arms
Designed for the rigors of E-MTB riding and featuring Shimano's Hollowtech crank arm design, 24mm spindle, 165mm crank arms

Chainring

Chain

Canyon EP1110-01 Chainring 34T
Shimano M9100 XTR Chain
SIL-TEC treatment for extended offroad durability, HYPERGLIDE+ shift technology, quick link for easy connect and tool-free assembly

BRAKES

Disc Brake

Brake Rotor

Shimano XTR 4-piston front brake

Shimano XTR 4-piston rear brake
Shimano XTR front rotor, 203mm

Shimano XTR STEPS rear rotor, 203mm

WHEELS

Wheel

Tyre

Thru Axle

Reynolds TR 309 E, 29er
Front wheel made for the demands of E-MTBs

Reynolds TR 367 E, 27.5″
Rear wheel made for the demands of E-MTBs.
Maxxis Assegai 29×2,5″ front tyre

Maxxis Minion DHR II 27,5″ x 2.60WT rear tyre
Canyon Quixle Thru Axle

COCKPIT

Stem

Handlebar

Grips

Canyon ON ST0031
Canyon ON HB0057 Riser bar
Canyon Lock-On

SEAT

Saddle

Seatpost

Fizik Terra Aidon X5
Fox Transfer Factory

ACCESSORIES

Battery Charger

Trekking & City Pedals

Manuals and Accessories

Canyon BC001
Iridium VP-536
Canyon Bag
Wrench Tool 15mm
Canyon Smallbox
QSG 027-V02 M091/M129 SPTION
There aren't many e-MTB manufacturers who are offering that 1,000Wh battery size, so there are precious few to compare the Spectral:ON CFR to. One good option instead of our Canyon Spectral:ON, though, is Norco's Sight VLT C1 e-MTB.
The bike comes with a chunky 900Wh battery, the same as our Canyon, and it also has the same Shimano EP8 motor.
It's got a robust carbon frame too and has 160mm travel at the front and 150mm at the rear, so not too dissimilar to the Canyon. The Norco has a FOX suspension setup – FOX Factory Float 36 forks, the same as the Canyon, and Fox Factory Float X2 shocks.
The Norco has a SRAM GX Eagle drivetrain set-up and SRAM Code RSC, 4-piston brakes. Both the SRAM setup on the Norco, and the Shimano XTR setup on our Canyon, are great pairings, so there's not much between them there.
The Norco isn't light – it weighs 25.52kg (in the L frame size) and comes in just over $10,000, so quite a bit more than our Canyon, but it rides so much better than the latter, despite that extra weight.
It's a far more comfortable ride, the suspension setup is very forgiving, it's dripping in high-spec features and the only downside is the EP8 motor. We think it's a better bike than our Canyon, even in spite of the price.
We really aren't impressed with the Spectral:ON CFR, despite the headline figures of the big battery and overall lightweight nature of the bike.
We have issues with the bike in quite a few areas; for one, it's a very uncomfortable ride. Not only that, but the big battery doesn't quite give you limitless range as you might hope, the EP8 motor provides an unnatural ride feel, the display is limited and the tyres are poor. It doesn't come cheap for a bike with all these issues either.
There are some things we like, though; the brakes and drivetrain are of good quality, it's lightweight and handles fairly well at times. But overall, we would advise steering clear of this Canyon e-MTB.
Get out for a spin on the bike from Norco that we suggested, instead.
Was this article helpful?