An electric hardtail mountain bike aims to be a jack of all trades, an all-rounder, which can take on multiple different disciplines. From the off-road trails, to the urban environments and everything in between. In our guide to electric hardtail mountain bikes, we've set out everything you need to know about this popular type of e-MTB, so hop aboard and let's get stuck in…
Hardtail vs Full Suspension
The key difference between an electric hardtail bike and other e-MTBs is that they only have front suspension. The rear end of an electric hard trail mountain bike is fixed, to provide stability at the rear end, unlike a full suspension e-MTB, which has suspension at both the front and rear end.
A hardtail mountain bike is also likely to be lighter than its full suspension counterpart, as you don't have the extra elements which come with a full suspension bike, such as the rear shocks and other associated components to hold the shocks together.
What is a Hardtail Bike Good for?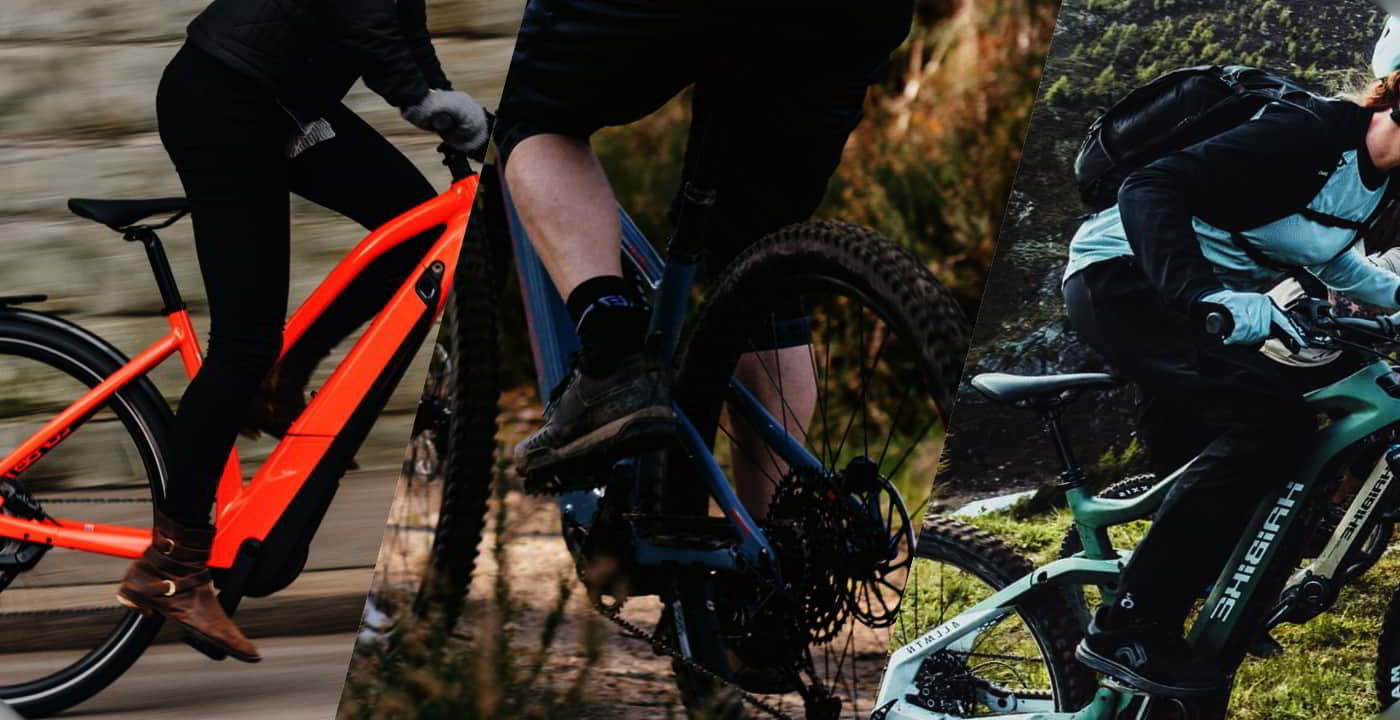 Having a fixed rear end makes the electric hardtail mountain bikes incredibly versatile, allowing them to transition easily between off-road and on road environments. Without suspension at the back end of the bike, a hardtail ebike can move incredibly quickly on solid ground, such as roads.
This allows electric hardtail bikes to be used easily for commuting during the working week, but also capable of taking on off-road trails at the weekend. The front suspension means that you can still take on a decent amount of trail riding, with enough give at the front end to soak up lumps and bumps out in the forests and at your local trail centre.
Having a bike which can take on multiple different disciplines is very attractive for some riders, who don't want to shell out money for two expensive bikes – one for commuting and one for weekend trail riding.
Having a fixed rear end on a hardtail mountain bike also can make riders feel more stable out on the trail and feel more ground underneath them. This is particularly beneficial for riders getting into the sport, who don't need the flowy full-suspension feeling. The fixed rear end also creates better balance, which can build confidence out on the trails.
A hardtail electric mountain bike also excels on long distance climbing sections because you have more stability on the trail and less bounce, which can be an issue with full suspension bikes. There are certainly a lot of attractive features with hardtail e-mountain bikes, but where do they struggle?
Limitations of an Electric Hardtail Mountain Bike
While electric hardtail mountain bikes tick a lot of boxes, trying to be good at many different disciplines does mean it can struggle in certain areas. When weighing up the benefits of full suspension vs hardtail e-MTBs it's important to consider the type of riding you're likely to be doing.
One key thing to think about is how much descending will you be doing? An electric hardtail mountain bike simply isn't as strong as a full suspension e-MTB going downhill. The lack of rear suspension means it feels far more uncomfortable taking on lumps, bumps and in some cases it makes certain sections of trail unrideable.
A full suspension bike creates cushioning at either end, which not only makes it a far more comfortable riding experience, but also provides more traction out on the trail to take on challenging trail sections.
ℹ️
If you're looking to take on wild downhill sections, then a hardtail downhill bike isn't the best option, we would recommend a full suspension bike. If you're taking on longer climbs, less complex lines, and a flatter style of riding, then a hardtail trail bike is a good option. Be clear about the type of riding you're likely to be focusing on before taking the plunge on a MTB hardtail.
Is a Hardtail Harder to Ride?
An electric hardtail mountain bike can be harder to ride on certain terrain and far easier on others. One of the most important things to be aware of before you pull the trigger on a hardtail mountain bike purchase is – what sort of riding will be your main focus?
A hardtail is far harder and more uncomfortable to ride on gravity focused trails, where descending is the main feature. It's also far harder to ride on seriously lumpy trails, with seriously challenging lines, lots of obstacles, lumps and bumps, roots and other things to negotiate. You simply don't have the cushioning to take on challenging sections comfortably.
However, if you want to fly down forest roads at pace, take on long flat climbs and have a bike that can speed through city streets, then a hardtail is far more economical, energy-wise. Hardtail e mountain bikes move much faster on flat and hard packed conditions, which make them easier to ride than their full-suspension counterparts.
A full suspension bike offers more traction on hard packed terrain, which saps your energy and moves slower. This also means you use up less battery on flat terrain while riding an electric hardtail mountain bike, because it moves much more quickly and it's less taxing on the body.
An electric hardtail mountain bike is a very good option for people starting out in the electric mountain biking world. We've already mentioned that the bikes offer more stability out on the trail and can help you feel more balanced – which helps build confidence.
But there are other benefits, too. Because they're more versatile and can be ridden on a wide variety of terrain, they're useful as a starting point while you figure out which style of electric mountain biking you enjoy most.
A full suspension downhill e-MTB for example is really targeting only a select group of riders who want to take on gnarly downhill routes – it means they're not the best on urban routes, hardpack trail sections and long climbs.
So, if you go for a specialist e-MTB straight from the start it can be an expensive mistake if you find you don't like the specific type of riding it's designed for. An electric hardtail mountain bike can be ridden in many different places, which makes it ideal for finding your feet in the wonderful world of electric mountain biking.
And there's one more big benefit to electric hardtails, too…
Price Comparison – Electric Hardtail Mountain Bike Vs Full Suspension
One big benefit of electric hardtail mountain bikes is the price. They're usually much cheaper than their full suspension counterparts. The components that go into creating a suspension are expensive, and therefore without a rear end suspension, electric hardtail mountain bikes have a huge cost saving. This is an extremely attractive feature, particularly for people starting out or those who are shopping for an e-MTB on a budget.
Electric hardtail mountain bikes have many benefits – they're versatile, fast, easy to ride and often cheaper than full suspension bikes.
They're an attractive proposition for people just getting into the electric mountain biking world, people on a budget or those who want to ride across multiple different types of terrain, particularly crossing from urban streets to forest trails.
They do have limitations, though. They can be more uncomfortable to ride and less forgiving on lumpy and bumpy trails. They're also not made for gnarly downhill riding, big impacts or routes with tonnes of obstacles.
It's important to be absolutely clear what you're looking for from an e-MTB before jumping straight in and buying an electric hardtail mountain bike. Hopefully, our guide to electric hardtails has made your job easier and you can now get out there and take one for a spin with confidence, knowing what you're getting yourself into.
So, what are you waiting for?
Make sure to check out our reviews of some of the electric hardtail mountain bikes out now: