Jumping into the e-MTB bike market can often be costly. The Specialized Turbo Tero 3.0 is Specialized's answer to that expensive predicament. The Turbo Tero 3.0 is an entry level hardtail, which aims to offer versatility across a range of disciplines, from trail riding, to urban spinning and the general "keep fit" sector.
The company aimed to make sure the bike doesn't cost the world, while also appealing to a large variety of riders. So does the company achieve those goals? Or has cost saving left gaping holes in the bike's quality? We've spent hours aboard it and left no stones on the trails unturned. Join us, then, for our Turbo Tero 3.0 review!
Uncharacteristically, Specialized has missed the mark with the Turbo Tero 3.0 – unfortunately, it's littered with problems.
The motor is seriously lacklustre. It's loud, unreliable and won't offer enough for many riders. The 9-speed drivetrain suffers from the same fate and the suspension is limiting.
It's not all bad, though. The motor display is brilliant, the bike is light, handles well and the battery offers a decent range, but really we expect more than that from a company like Specialized.
All in all, we'd say that the Turbo Tero 3.0 is a let-down.
Peaks:
Troughs:
Specialized Turbo Tero 3.0
The Turbo Tero 3.0 comes with a sturdy E5 aluminium frame, which weighs a respectable 21.6kg. For an aluminium-framed e-MTB, with a sizable battery (which we'll discuss more later), that's a decent achievement.
The bike is available in four frame sizes – small, medium, large and extra large – we tested the bike in the large size and although the geometry is fairly basic, it does handle very well.
There's a simplicity and ease to the bike, which means you can hop aboard and get used to the handling quickly – a really attractive feature in the entry-level market, where riders may not have advanced knowledge onboard an e-MTB.
You're positioned centrally, which adds to the planted feel on the trail and the stability, but also means the bike lends itself to being ridden on a variety of terrain. We found the Turbo Tero 3.0 a decent companion off-road, winding through the trees, but also a solid and fast moving commuter in an urban environment.
It's a balancing act, but Specialized has managed to pull it off in this area.
The Turbo Tero 3.0 comes with Specialized's own, custom-built, U2-530Wh battery. It isn't the largest battery out there, but it does offer a decent range, which is helped by the bike's light(ish) weight.
Now to the question on everybody's lips. What is the range of the Specialized Turbo Tero? We found the bike could eke out around 80km to 110km, depending on which mode of assistance you're using.
That's a decent day out riding and the battery only takes approximately four hours to charge up fully from completely dead, so you can get back out spinning promptly. We're impressed with the bike's overall weight considering its sizable battery, which is secured firmly into the downtube with a strong casing.
The battery is certainly a positive on the Turbo Tero 3.0, but there are issues elsewhere.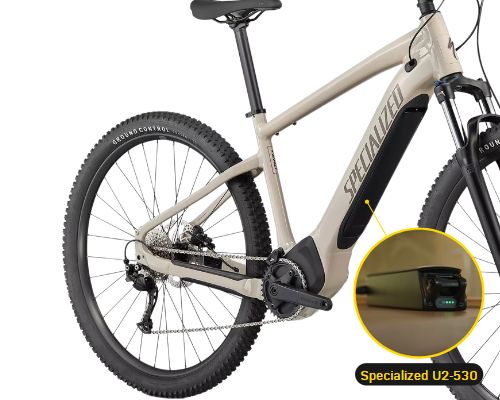 The battery is certainly a positive on the Turbo Tero 3.0, but there are issues elsewhere.
The Turbo Tero 3.0 comes with Specialized's 2.0E custom motor, which produces 50Nm of torque. That isn't the punchiest out there and it only really offers enough if you're a fairly light rider – the motor struggles if the bike has too much weight pressure on it, from a rider or from extra kit onboard.
It comes with 3 modes of assist – Eco, Sport and Turbo – and depending which one you're using, it could really impact your battery's life on a ride. Turbo mode really nails the battery, halving its overall life – so we advise being cautious with its usage.
One of the biggest issues with the motor is the incredible amount of noise it emits. It rattles loudly and consistently, almost sounding like it's bouncing around inside the downtube. It's not the most intelligent or responsive motor, either. It can feel clunky and jerky to get off the line or to move up through the gears, which can leave you in a pickle on a steep incline.
ℹ️ Quite frankly, we think the motor is poor from Specialized, which is out of character for a company which usually gets these sorts of things spot on.
It isn't all bad news when it comes to motor-related kit on the Turbo Tero 3.0. The bike's MasterMind display is a real beauty, which offers a whole host of customisable options and an easy to use interface.
You can increase or reduce your amount of assistance in 10% increments, a huge help when trying to conserve the battery.
You can choose between 16 different viewable options – including things like RPM and climbing data, and link it all up to your smartphone by downloading Specialized's Mission Control app.
Overall, the Specialized Tero display is easy to use, highly customisable and a real asset when out on a ride.
The Turbo Tero 3.0 is a hardtail, which means you're only getting front-end suspension.
It comes with SR Suntour XCM32 forks, which only offer 110mm of travel and definitely rule the bike out of gnarly downhill lines, the off-road jump spots or bike parks.
You need to be very aware of that because this bike becomes seriously unstuck in anything which is too bobbly or bouncy.
If you're only taking the bike along some small local trails, it can handle the bumps well enough, but it gets lost if things become more complex and it feels very uncomfortable on the arms.
It does, however, transition well from smaller trails to an urban environment or hard-packed terrain. The suspension is okay, but don't expect the most comfortable or forgiving setup, because you do feel a lot through the upper body.
The Turbo Tero 3.0 comes with 29in Stout XC 29 wheels, which are fitted with Ground Control 2Bliss ready tyres. The wheels are another sturdy aspect of the bike and the larger size means that the bike feels balanced on the trail.
The tyres also feel well-suited to the versatile terrain that the bike's designed for; they offer enough bite on the dirt, but also don't offer too much friction on concrete or a harder-packed environment.
The tyres feel trustworthy and offer you confidence going into corners at speed in the mud or to move fast through city streets, without too much resistance. They operate well for the versatile types of riding the bike is intended to do.
The Turbo Tero 3.0 comes with Shimano BR-MT200 hydraulic disc brakes. They do the trick nicely, offering strong stopping power out on the trails, particularly when coupled with the decent tread on the tyres.
Their heat management is strong, too, but they aren't the most durable – over a short amount of time we found there was some wear and tear already and you might find you need to replace them far earlier than you would expect.
The Turbo Tero 3.0 comes with a Shimano drivetrain setup, with a Shimano CS-HG400 9-speed Cassette and Shimano Alivio 9-speed derailleur.
We don't think the 9-speed offers enough and unfit riders or heavier cyclists might find they are struggling on the climbs. They don't offer the smoothest shifting, either, and when you take into account the failures of the motor, you can get quite an unpleasant riding experience.
Although the bike is priced at the entry level market, it actually takes some quite advanced riding abilities to make sure you get the most out of the drivetrain and motor. If you live in a flat area, and are likely to just be riding the bike locally, then these issues are less of a worry.
It's very much at the lower end of the e-MTB price spectrum, but there are clear indications why it's priced at that level.
You've got a rudimentary (and issue-riddled) motor setup and a 9-speed drivetrain, which doesn't offer enough to get you up the hills. The Tero price is attractive, but you need to consider whether it may be worth paying a little more.
Turbo Tero 3.0 Facts & Figures
GEOMETRY

S

M

L

XL

Crank Length

170mm

170mm

170mm

170mm

Seatpost Length

300mm

400mm

400mm

400mm

Handlebar Width

720mm

750mm

750mm

750mm

Stem Length

60mm

60mm

70mm

70mm

Saddle Width

155mm

155mm

155mm

155mm

Stack

637mm

651mm

664mm

687mm

Headtube Length

405mm

426mm

446mm

462mm

135mm

150mm

165mm

190mm

Headtube Angle

66.4°

66.4°

66.4°

66.4°

BB Height

313mm

313mm

313mm

313mm

BB Drop

57mm

57mm

57mm

57mm

Trail

114mm

114mm

114mm

114mm

Fork Length (full)

516mm

516mm

516mm

516mm

Fork Rake/Offset

44mm

44mm

44mm

44mm

Front Center

709mm

736mm

761mm

787mm

Chainstay Length

470.4mm

470.4mm

470.4mm

470.4mm

Wheelbase

1173mm

1200mm

1226mm

1252mm

Toptube Length (horizontal)

589mm

620mm

650mm

680mm

Bike Standover Height

773mm

807mm

807mm

835mm

Seat Tube Length

400mm

450mm

460mm

500mm

Seat Tube Angle (Virtual)

73.9°

73.4°

72.9°

72.4°
FRAMESET

Frame

E5 Aluminum, bottom bracket motor mount, fully integrated &lockable downtube battery, internal cable routing, lock and front rack mount

Fork

SR Suntour XCM32, 110mm travel, lockout

Seat Binder

Alloy, bolt-type, 34.9mm

COCKPIT

Stem

Stout 3D-forged alloy, 31.8mm, 6-degree rise

Handlebars

Specialized Trail, 6061 alloy, 8-degree backsweep, 6-degree upsweep, 27mm rise, 31.8mm clamp, S 720mm, M-XL 750mm

Tape

Specialized Trail Grips, Lock-on

Saddle

Rivo Sport, steel rails, 155mm

SeatPost

Specialized, 6061 alloy, 2-bolt clamp, 0mm setback, 30.9mm

BRAKES

Front Brake

Shimano BR-MT200, hydraulic disc, 180mm

Rear Brake

Shimano BR-MT200, hydraulic disc, 180mm

DRIVETRAIN

Rear Derailleur

Shimano Alivio, SGS, 9-speed

Shift Levers

Shimano Alivio, 9-speed w/ Optical Gear Display

Cassette

Shimano CS-HG400, 9-speed, 11-36t

Chain

KMC e9T, 9-speed w/ Missing Link™

Crankset

Custom alloy forged crankarms

Chainrings

Praxis, 36T, 104BCD

ACCESSORIES

Pedals

Specialized platform pedal

Bell

Simple bell

WHEELS

Rims

Stout XC 29, 25mm internal width, disc-specific

Front Hub

Shimano MT400, Centerlock, 15x100mm, 32h

Rear Hub

Shimano MT400-B, Centerlock, 12×148 Boost, 32h

Spokes

DT Swiss Industry

Front Tire

Ground Control, 2Bliss Ready, 29×2.35″

Rear Tire

Ground Control, 2Bliss Ready, 29×2.35″

Inner Tubes

Presta, 48mm valve

E-BIKE

Motor

Specialized 2.0E, 50Nm torque, custom tuned motor, 250W nominal

UI/Remote

MasterMind TCD, w/handlebar remote, built-in anti-theft feature, Bluetooth® connectivity, customizable display pages

Battery

Specialized U2-530, alloy casing, state of charge display, 530Wh

Charger

Custom charger, 42V4A w/ Rosenberger plug, 100-240V

Wiring Harness

Custom wire harness
Getting it right in the entry level hardtail market is a tough task. You're trying to tick a lot of boxes and make the bike suitable for a variety of different terrain, but without breaking the bank.
A good bike to look at is the Canyon Grand Canyon:ON 7, which is another hardtail, and costs $3,236.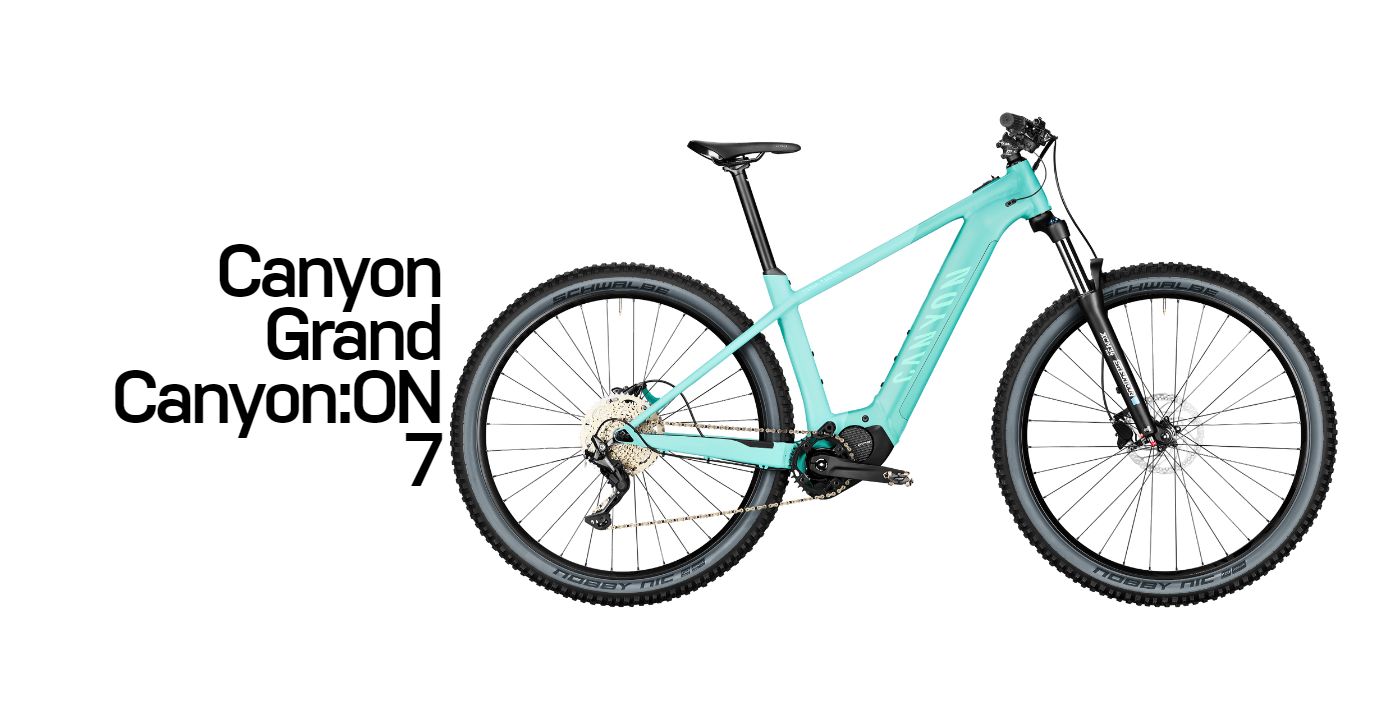 It weighs more than our Specialized, at 23.8kg and has a slightly smaller battery at 504Wh, but it's reliable and works fairly intelligently to conserve battery well.
It's fitted with a Shimano EP8 motor, which kicks out 85Nm of torque, which is far superior to the problematic motor on our Turbo Tero 3.0 – however, the display is a real issue (a role reversal compared with our offering from Specialized).
It offers 120mm of travel in its front forks, has a good brake setup and a 10-speed drivetrain. Overall, it rides well and is more reliable than our Specialized, with fewer problems and whilst also costing less.
We're surprised by Specialized here.
The company, which is often so reliable, has created a problematic bike, which leaves you feeling let down.
The motor is a real issue for us, as is the 9-speed drivetrain, which doesn't offer you enough on challenging terrain.
The manufacturer has kept the price down, but at a cost, with a lacklustre suspension and other components which don't blow you away.
If you're going to be riding the Turbo Tero 3.0 on simple terrain, with a few hills or lump and bumps, then it will do nicely. However, take it to anything more challenging and you'll feel very let down.
Not what we expect from Specialized, but does it do it for you? Only one way to find out – go and give this Tero a ride
"If you enjoyed this review then make sure to check out our other Specialized reviews."