Weight is the primary focus here for Specialized's Turbo Kenevo SL Expert. The company brought out the bike with the aim of creating a super playful and easy-to-handle eMTB, which has the feel of a conventional MTB, but without weighing heavy on the trail.
The bike has recently been heavily discounted by Specialized, with more than $3,400 off the original release price at the time of writing. That's a chunky saving, so it's definitely worth delving deeper and giving the bike a good going over on the trails.
We've done that for you, to judge whether it's the bargain it appears on paper or whether it's lost some ground behind its rivals. Having ragged it all over our local trails, we've got all the answers to your questions.
So jump in with us and drink in our Turbo Kenevo SL Expert review…
We're ever so slightly in love with the Turbo Kenevo SL Expert.
It's a complete and utter beauty of an eMTB, and one that's comfortably at home on even the gnarliest of downhill terrain. It's lightweight, handles majestically and feels very similar to a non-assisted eMTB.
It can take on the toughest terrain and has the components to manage a beating effortlessly, with super responsive brakes and a plush suspension to soak up the biggest drops.
It's important to note at the start that, if you're looking for a full e-MTB with a chunky battery and monster motor, then this isn't the bike for you.
This is a bike which bridges the gap between electric and normal mountain bikes, and it achieves that goal in a manner that's nothing short of outstanding.
Peaks:
Troughs:
Specialized Turbo Kenevo SL Expert
The Turbo Kenevo SL Expert is a fully carbon-framed, super lightweight eMTB that comes in at only 19.2kg for the S4 size (the size we reviewed it at).
That's a really impressive weight for an eMTB, despite it only being the mid-range model in the Kenevo series. The slender weight lends itself to being playful and fast, which is exactly how the bike rides out on the trails.
The bike's progressive geometry adds to that playfulness, with a particular focus on the downhill – it's made to go fast and the reach angle creates a level of stability that ensures you feel planted on the trail.
This eMTB can absolutely fly and the low weight makes it feel almost like a non-powered MTB, with fantastic manoeuvrability. That's complemented by the low sense of gravity, which helps retain traction as you're flinging it into the corners. This puppy is a downhill beast, yet light enough to dance up the other side, too.
A very strong start.
The Turbo Kenevo SL Expert comes with the company's 320Wh SL1 battery, which is modestly incorporated into the down tube. It isn't a big battery for an eMTB, but that's the whole point here.
The Turbo Kenevo Expert is meant to be a halfway house between the feel of a conventional, lightweight MTB and the assisted capabilities of an eMTB. If the battery were bigger, it would be weightier and you would lose that playfulness, which is one of the main features that makes this bike such a pleasure to ride.
That said, the battery still lasts a decent amount of time; on our review rides we managed between two and three hours of mixed riding, with lots of descending, followed by the climbs back up to the top.
That's a solid amount of time out on the bike, and there's the option of a range extender if you really need more. We're happy with how the battery performs and how, despite its reasonable size, you don't end up with a lot of extra weight.
The Specialized Turbo Kenevo Expert comes with the company's SL 1.1 motor, which kicks out 35Nm of torque.
This isn't a huge amount but, again, this isn't made for all day assisted use, powering up impossibly steep climbs. This eMTB (along with its motor) is meant to provide a little extra assistance to reasonably fit riders, who want to keep thrashing on the trails longer and longer.
! NB:
This bike really wouldn't suit riders who need a lot of extra assistance out on the trails. It would soon falter and you would run out of battery quickly or struggle to make it up the more seriously steep ascents.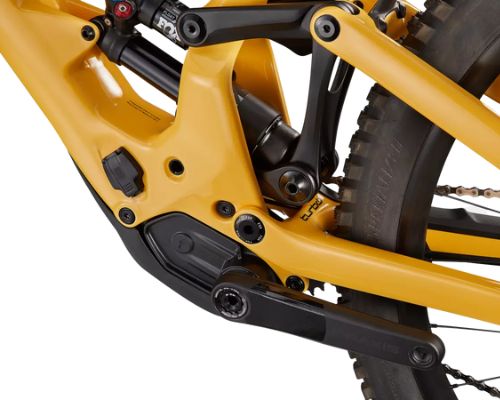 If you understand its uses, then this eMTB delivers exactly as it should, offering that helping hand as and when you need it. The power delivery is also very natural, which again gives the impression of riding a conventional, non-assisted bike and it means you don't get any unusual lag or jerkiness.
The Turbo Kenevo SL Expert comes with Specialized's brilliant Mastermind display. We've always been really impressed with this Specialized addition, which firstly helps create an accurate understanding of how much battery life you have left.
The display has 10 LED lights, with each representing 10% of battery life, which helps makes range estimation easy, something which can't be said of all eMTB displays.
It also offers many other customizable options, including elevation, heart rate stats and many other options. It's a brilliant piece of kit, which can be hooked up to the company's Mission Control smartphone app.
The app allows you to upload ride data on to it and can become a proper onboard ride computer, complete with mapping tools and other features. This is a big win for the Kenevo SL Expert.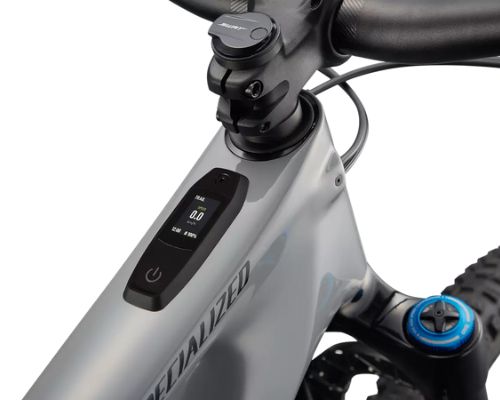 The Turbo Kenevo SL Expert comes with a chunky 170mm of travel at both the front and the rear. We've mentioned the bike's downhill prowess, already, and the suspension adds to that immense playfulness.
It's set-up with Fox Float 38 Performance Elite forks and Fox Float X2 Performance shocks. That's a punchy set-up, which gives you an immense amount of descending capability; it softens beautifully into the corners and on the big drops.
If we're completely honest, this Specialized Kenevo isn't far off riding like an all-out, non-electrical, downhill MTB. That's some achievement – we're incredibly impressed with its performance and really, it's a pleasure to ride.
The Turbo Kenevo SL Expert comes with 29in Traverse wheels at both the front and the rear. This keeps you nice and planted on the trail and creates a decent level of clearance to hop over roots, rocks and other obstacles.
When you couple the clearance with the bike's light-weight, it once again adds to that that playful nature. The bike is fitted with Butcher Grid Trail tyres at both the front and the rear. It's a seriously grippy compound, which digs firmly on the trail – exactly what you need when you're moving at serious pace out there on the trails.
It also helps a lot on the climbs, too, helping you to dance up the inclines.
The Turbo Kenevo SL Expert comes with SRAM Code RS, 4 piston caliper, hydraulic disc brakes at both the front and the rear.
We've always been fans of these puppies and they give you immense stopping power, and the peace of mind you need with the aggressive spinning you're likely to be doing on this bike. Specialized hasn't scrimped on spec here, which is reassuring to see.
The Kenevo SL Expert comes with an SRAM XG-1295 Eagle Cassette and 12-speed SRAM X01 Eagle Rear Derailleur and shifters. Once again, Specialized hasn't held back with their drivetime pairing and it complements the rest of the bike admirably.
The bike usually costs just short of $11,500, but Specialized recently heavily discounted the bike on its official website. It's a huge saving and, in our opinion, we think it's now an absolute steal. The company hasn't held back in any area and it rides like an absolute beauty.
! NB:
It's important to think about what you want from a bike before taking the plunge, remembering that this isn't an all out eMTB powerhouse.
Specialized Turbo Kenevo SL Expert Facts & Figures
GEOMETRY

S2

S3

S4

S5

Crank Length

165mm

165mm

170mm

170mm

Handlebar Width

800mm

800mm

800mm

800mm

Stem Length

40mm

50mm

50mm

50mm

Saddle Width

155mm

143mm

143mm

143mm

Seatpost Length

125mm

150mm

170mm

170mm

Stack

618mm

626mm

635mm

644mm

Reach

435mm

460mm

485mm

510mm

Headtube Length

105mm

115mm

125mm

135mm

Headtube Angle

63.5°

63.5°

63.5°

63.5°

BB Height

350mm

350mm

350mm

350mm

BB Drop

25mm

25mm

25mm

25mm

Trail

136mm

136mm

136mm

136mm

Fork Length (full)

579mm

579mm

579mm

579mm

Fork Rake/Offset

46mm

46mm

46mm

46mm

Front Center

782mm

812mm

841mm

871mm

Chainstay Length

447mm

447.3mm

447mm

447mm

Wheelbase

1228mm

1258mm

1287mm

1316mm

Bike Standover Height

779mm

779mm

792mm

802mm

Seat Tube Length

400mm

420mm

440mm

465mm

Seat Tube Angle

76°

76°

76°

76°

Max Seatpost Insertion

0mm

0mm

0mm

0mm

Min Seatpost Insertion

80mm

80mm

80mm

80mm
COCKPIT
Stem
Alloy Trail Stem, 35mm bar bore
Handlebars
Specialized Trail, 7050 alloy, 8-degree backsweep, 6-degree upsweep, 30mm rise, 800mm, 35mm clamp
Grips
Deity, Knuckleduster, Black
Saddle
Bridge Comp, Hollow Cr-mo rails, 155/143mm
SeatPost
X-Fusion Manic, infinite adjustable, two-bolt head, bottom mount cable routing, remote SLR LE lever, 34.9mm, S2: 125mm, S3: 150mm, S4/S5: 170mm
BRAKES
Front Brake
SRAM Code RS, 4-piston caliper, hydraulic disc, 220mm
Rear Brake
SRAM Code RS, 4-piston caliper, hydraulic disc, 200mm
DRIVETRAIN
Rear Derailleur
Sram X01 Eagle, 12-speed
Shift Levers
SRAM XO1 Eagle trigger, 12-speed
Cassette
SRAM XG-1295 Eagle, 10-52t
Chain
SRAM GX Eagle, 12-speed
Crankset
Praxis, forged M30, custom offset
Chainrings
SRAM X-Sync Eagle, 94 BCD, 32T, alloy
WHEELS
Front Tire
Butcher, GRID TRAIL casing, GRIPTON® T9 compound, 2Bliss Ready, 29×2.3″
Inner Tubes
Standard, Presta valve
Front Wheel
Traverse 29
Rear Wheel
Traverse 29
Rims
Roval Traverse 29 Alloy, 30mm inner width, hand-built, 2Bliss Ready
Front Hub
Roval, sealed cartridge bearings, 15x110mm spacing, 28h
Rear Hub
Roval DT Swiss 370, Ratchet LN, SRAM XD driver body, 12mm thru-axle, 148mm spacing, 28h
Spokes
DT Swiss Competition Race
Rear Tire
Butcher, GRID TRAIL casing, GRIPTON® T7 compound, 2Bliss Ready, 29×2.3″
FRAMESET
Seat Binder
Alloy, 38.6mm
Frame
FACT 11m full carbon, 29″, full internal cable routing, 148mm spacing, fully sealed cartridge bearings, 170mm rear travel, geo adjust head tube, geo adjust horst pivot
Fork
FOX FLOAT 38 Performance Elite 29, Grip2 damper, 44mm offset, HSC, LSC, HSR, LSR, 110x15mm, 1.5″ tapered steerer, 170mm travel
E-BIKE
Motor
Specialized SL 1.1, custom lightweight motor
Battery
Specialized SL1-320, fully integrated, 320Wh
Charger
Custom charger, 48V System w/ SL system charger plug
UI/Remote
Specialized MasterMind TCU, ANT+/Bluetooth®, w/Handlebar remote
Wiring Harness
Custom Specialized wiring harness
SUSPENSION
Rear Shock
FOX FLOAT X2 Performance, 2-position lever, 62.5x230mm
ACCESSORIES
SWAT
SWAT CC, integrated tool and chain tool with spare link in steerer tube
* Specifications are subject to change without notice
Specialized Levo v Kenevo
Many people have asked us what's the difference between the Specialized Levo and Kenevo eMTBs?
Firstly, before going into the differences between the bikes, it's worth noting that they're both beauties; we love both ranges, but for different reasons, and it's important to know what you want before pulling the trigger. Both are very well-balanced, with progressive geometry and high-spec features, but the crux of it is this:
The Kenevo is your aggressive downhill slayer, while the Levo is a little more of an all-rounder.
That's not to say the Kenevo can't cope with the climbs or a varied day out, but it really comes alive on those steep descents, the bike parks and the gnarly riding. The Levo isn't quite as good in those situations.
Compared to the Competitors?
We've now explained the difference between the Levo and Kenevo, but is there anything else out there on the market which ticks all the right boxes?
It's hard to compare anything with the Turbo Kenevo SL Expert because the bike is in a world of its own. Its super lightweight, half-way house feel, merging something between an eMTB and a conventional MTB, makes it truly special.
The Scott Ransom eRide 910 is one good bike to potentially look at in comparison, though, coming in at a price of $8,420, which makes it just a little bit more expensive than the Turbo Kenevo SL Expert. It is, however, a far weightier bike, coming in at 24.6kg.
That extra weight is due to the chunky battery; a 625Wh Bosch CX Powertube, which is double the size of the Turbo Kenevo SL Expert.
It's also got one of our favourite motors, the Bosch Performance Line CX, which kicks out 85Nm of torque. As a result, it climbs like a beast and is a powerhouse on the trails, with 180mm travel at the front and the rear end.
It's a very good bike, there's no question about that. But to be honest, we're comparing apples and oranges here, because it really depends what you're wanting from a bike. The beauty of the Turbo Kenevo SL Expert is that it's so unique, with its super lightweight, natural ride feel.
If that's the style of ride you want then we'd always go for the Turbo Kenevo SL Expert, but if you want a chunky e-MTB, with powerful assist capabilities, we would go for the Scott.
Quite frankly, we love this bike.
The Turbo Kenevo SL Expert is an utter beauty to ride; it is a downhill destroyer, with a plush suspension, super lightweight frame, outstanding handling and other components to match those excellent qualities.
Not only does it fly downhill, but it also climbs well, too. Now listen, it has a small battery and motor, so if you're looking for a monster of an assisted bike, then this isn't for you.
But if you're looking for something to bridge the gap between a conventional MTB and an eMTB, then it's perfect. You get a small level of assistance to help you up in real times of need, but it won't climb and climb with the assistance on all day.
It's important to think about what you want from a bike, because this is made to be super playful and ride like a normal MTB, which it does. Majestically. We love the Turbo Kenevo SL Expert and it was an utter pleasure to ride the bike in our Kenevo SL review.
But what do you think? Get out there and give it a whirl.