The SL versions of Specialized's popular models, including the Levo and Kenevo, have created a new sub-genre of e-MTBs. Not quite conventional, non-assisted mountain bikes, and not quite fully-juiced e-MTBs, either.
This "in between" sector is an exciting development in the industry, offering super playful, natural-feeling bikes, while also providing a little electrical assistance when you really need it.
The Kenevo Comp is the company's entry-level bike in the highly-sought-after Kenevo range and the Turbo Kenevo SL Comp is the lightweight version. So, how does it match up to its heavier weight and more powerful e-MTBs, and who would it suit?
We've put hours into the bike on the trails to find the answer to your questions. Join us, then, as we immerse ourselves into the Turbo Kenevo SL Comp…
With the current discount on Specialized's official website at the time of writing, we think this is a bit of a steal.
It's ultra-lightweight, handles like a dream, has a fantastic suspension setup and the brakes to match.
It's a beast downhill, yet also proficient at climbing, with a strong tyre setup and lightweight frame.
If you're looking for an e-MTB which rides like a conventional MTB, then this is a great option for you.
If you're looking for an electrical work horse, though, this is a terrible option. It doesn't have the power capability or battery capacity of many e-MTBs.
But it's designed to be that way. It's designed to bridge the gap between the MTB and full e-MTB worlds and it does that amazingly.
Peaks:
Troughs:
Specialized Turbo Kenevo SL Comp
The bike has an aluminium frame and if you're wondering how much the Turbo Kenevo SL Comp weighs in at, the answer is a very light 19kg (in S4 size).
The incredible weight saving is one of the major draws for people who choose to go for the Turbo Kenevo SL Comp.
However, it's more than just lightweight, it also has a very advanced geometry setup, with six settings to choose between.
Adjusting between a degree range of 63 and 65.5 allows you to get your setup bang on and tweak it depending on the demands of the day's riding.
As a result, the bike handles a dream out on the trails, you feel fully in charge and that lightweight feel, coupled with the progressive geometry, makes it an incredibly fun bike to ride.
❗NB:
The bike comes in four distinct sizes, ranging from S2 to S5, and we reviewed the bike in the S4 sizing. Making sure you choose the right size for your body is important to ensure you get the most out of the bike.
Specialized manufactures some of the best-looking e-MTBs on the market and the Turbo Kenevo SL Comp doesn't disappoint. It's a beauty, with a very well-designed finish.
The Turbo Kenevo SL Comp comes with Specialized's SL1 320Wh battery, which is fully-integrated into the downtube.
Clearly, if we're judging the bike only on figures, that is a small e-MTB battery and there are far larger. This is where you have to think a bit more clearly.
❗NB:
This bike isn't designed to be a fully juiced up donkey of an e-MTB. It isn't meant to cart you up hills all day all long, with minimal human effort. If it was, then the battery would be more than double that size and you would carry a lot more weight as a result.
The Turbo Kenevo SL Comp sits somewhere in between a conventional MTB and an e-MTB. It's meant to bridge the gap and doesn't have a huge battery as a result.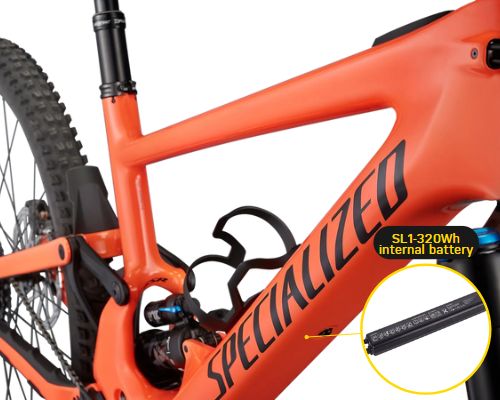 Realistically, this bike is made to offer a little extra assistance to riders who just want a bit of a helping hand out on the trails. If you need a lot of electrical help, then this isn't the bike for you. You would find the battery being out of juice very quickly.
The Turbo Kenevo SL Comp comes with the company's SL 1.1 lightweight motor. It only punches out 35Nm of torque, which like the battery, doesn't sound a lot at all.
But remember what we've mentioned – this is a bike straddling the gap between a MTB and an e-MTB. It offers a level of assisted power to help you at real times of need and the amount of torque it produces, coupled with that light frame, is enough to help ease the pressure out on the trails.
It isn't going to kick you up the steep climbs all day, and it would really struggle to do so.
❗NB:
We suggest this bike being appropriate for riders with a decent level of fitness. If you haven't got a decent set of lungs and legs on you, this bike might not be enough for you out on the trails, and you could find yourself running out of juice.
The motor does what it's designed to and delivers its low level of power naturally, which adds to that impression that you're riding a normal MTB. It does kick out quite a bit of noise, though, which obviously isn't ideal.
The Turbo Kenevo SL Comp comes with the company's Mastermind TCU2 display. It's right at the top of the game in the e-MTB market and delivers far more than many displays produced by most competitors.
Not only does it show an exact percentage of the amount of battery you have left, which helps with your range estimation, but it also offers many more customisable features, including power output data, prompts to engage the assistance, mapping information and lots more.
It's a seriously advanced piece of kit and you can flick between 3 modes of assistance on the display – Eco, Trail and Turbo.
There aren't many displays which offer anywhere near as much at this price point and it's a real asset for the Kenevo SL Comp.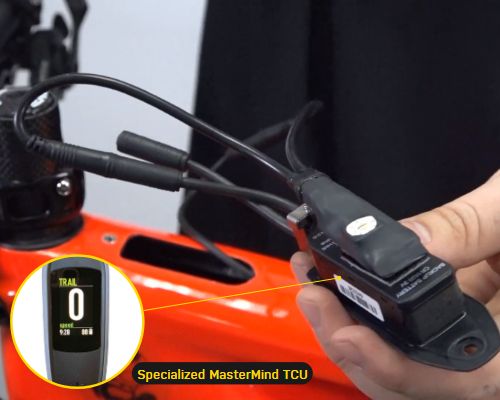 The Turbo Kenevo SL Comp comes with 170mm of travel at the front and the rear, with FOX Float 36 Rhythm forks and FOX Float X Performance shocks. It's a decent setup, which is made to cope with some serious punishment on the downhill sections.
It can take on some serious drops, as well as lots of steep descending, and come out the other side glowingly. It's what you want from a lightweight, playful e-MTB and it complements the bike's other descent-focused features.
It's a pleasure to ride, and due to its lightweight nature, you don't have any fears of bottoming out when launching off heights.
The Turbo Kenevo SL Comp comes with the company's 29in alloy wheels, fitted with Butcher Grid Trail tyres at both the front and the rear.
We've spoken a lot in our other reviews about the benefits of the Butcher Grid Trails, they dig hard into the dirt and give you a lot of confidence when moving at pace. Their chunky teeth also help on the climbs, providing a lot of traction to hold on tight as you're churning uphill.
We're fond of a mullet style wheel setup, with differing front and rear sizes, but we don't think it's necessary with the Turbo Kenevo SL Comp.
The wheel setup, coupled with the lightweight frame and suspension, creates a decent all-rounder; it's adept on the climbs, has plenty of clearance and is decent at descending, too.
The Turbo Kenevo SL Comp is fitted with SRAM Code, 4-piston, hydraulic disc brakes.
We've had a few grumbles about the SRAM Codes in some of our other Specialized reviews, but that was largely due to the weight of some of the bikes and the inability to match with braking power.
We don't have those same concerns here. The lightweight bike and reduction in power from the small motor means the brakes adequately deal with the demands of the Specialized Kenevo SL Comp.
The Turbo Kenevo SL Comp comes with the SRAM GX Eagle, 12-speed rear derailleur and SRAM XG-1275 cassette. No complaints or thrills here; it's a well-suited pairing for the bike.
The bike has been heavily discounted on the Specialized website, with close to $3,000 shaved off of the usual official price (at the time of writing). That makes this an absolute steal, particularly with its ride quality, progressive geometry and performance on the trails.
Turbo Kenevo SL Comp Facts & Figures
| GEOMETRY | | | | |
| --- | --- | --- | --- | --- |
| | S2 | S3 | S4 | S5 |
| CRANK LENGTH | 165mm | 165mm | 170mm | 170mm |
| HANDLEBAR WIDTH | 800mm | 800mm | 800mm | 800mm |
| STEM LENGTH | 40mm | 50mm | 50mm | 50mm |
| SADDLE WIDTH | 155mm | 143mm | 143mm | 143mm |
| SEATPOST LENGTH | 125 mm | 150 mm | 170 mm | 170 mm |
| STACK | 618mm | 626mm | 635mm | 644mm |
| REACH | 435mm | 460mm | 485mm | 510mm |
| HEADTUBE LENGTH | 105mm | 115mm | 125mm | 135mm |
| HEADTUBE ANGLE | 63.5° | 63.5° | 63.5° | 63.5° |
| BB HEIGHT | 350mm | 350mm | 350mm | 350mm |
| BB DROP | 25mm | 25mm | 25mm | 25mm |
| TRAIL | 136mm | 136mm | 136mm | 136mm |
| FORK LENGTH (FULL) | 579mm | 579mm | 579mm | 579mm |
| FORK RAKE/OFFSET | 46mm | 46mm | 46mm | 46mm |
| FRONT CENTER | 782mm | 812mm | 841mm | 871mm |
| CHAINSTAY LENGTH | 447mm | 447.3mm | 447mm | 447mm |
| WHEELBASE | 1228mm | 1258mm | 1287mm | 1316mm |
| BIKE STANDOVER HEIGHT | 779mm | 779mm | 792mm | 802mm |
| SEAT TUBE LENGTH | 400mm | 420mm | 440mm | 465mm |
| SEAT TUBE ANGLE | 76° | 76° | 76° | 76° |
| MAX SEATPOST INSERTION | 0mm | 0mm | 0mm | 0mm |
| MIN SEATPOST INSERTION | 80mm | 80mm | 80mm | 80mm |
COCKPIT

Stem

Alloy Trail Stem, 35mm bar bore

Handlebars

Specialized, 6061 alloy, 6-degree upsweep, 8-degree backsweep, 30mm rise, 800mm width

Tape

Specialized Trail Grips

Saddle

Bridge Comp, Hollow Cr-mo rails, 155/143mm

SeatPost

X-Fusion Manic, infinite adjustable, two-bolt head, bottom mount cable routing, remote SLR LE lever, 34.9mm, S2: 125mm, S3/S4: 150mm, S5: 170mm

BRAKES

Front Brake

SRAM Code R, 4-piston caliper, hydraulic disc, 220mm

Rear Brake

SRAM Code R, 4-piston caliper, hydraulic disc, 200mm

DRIVETRAIN

Rear Derailleur

SRAM GX Eagle, 12-speed

Shift Levers

SRAM GX, trigger, 12-speed

Cassette

Sram XG-1275, 12-speed, 10-52t

Chain

SRAM NX Eagle, 12-speed

Crankset

Praxis Forged/M30 Spindle Interface

Chainrings

SRAM X-Sync Eagle, 94 BCD, 32T, alloy

WHEELS

Rims

Specialized 29, hookless alloy, 30mm inner width, tubeless ready

Front Hub

Alloy, sealed cartridge bearings, 15x110mm thru-axle, 28h

Spokes

DT Swiss Industry

Front Tire

Butcher, GRID TRAIL casing, GRIPTON® T9 compound, 2Bliss Ready, 29×2.3″

Inner Tubes

Standard, Presta valve

Rear Hub

Alloy, sealed cartridge bearings, 148mmx12mm thru-axle, 28h

Rear Tire

Butcher, GRID TRAIL casing, GRIPTON® T7 compound, 2Bliss Ready, 29×2.3″

FRAMESET

Seat Binder

Alloy, 38.6mm

Frame

FACT 11m full carbon, 29″, full internal cable routing, 148mm spacing, fully sealed cartridge bearings, 170mm rear travel, geo adjust head tube, geo adjust horst pivot

Fork

FOX FLOAT 36 RHYTHM 29, GRIP damper, 44mm offset, 2-position sweep adjust, 15x110mm, 1.5″ tapered steerer, 170mm travel

E-BIKE

Motor

Specialized SL 1.1, custom lightweight motor

Battery

Specialized SL1-320, fully integrated, 320Wh

Charger

Custom charger, 48V System w/ SL system charger plug

UI/Remote

Specialized MasterMind TCU, ANT+/Bluetooth®, w/Handlebar remote

Wiring Harness

Custom Specialized wiring harness

SUSPENSION

Rear Shock

FOX FLOAT X Performance, LSR, 2-position lever, 62.5x230mm

ACCESSORIES

SWAT

SWAT CC, integrated tool and chain tool with spare link in steerer tube
* Specifications are subject to change without notice
The Turbo Kenevo SL Comp is certainly a heavy-hitter in the market and there aren't many super-light, downhill-focused e-MTBs out there at the moment. We've tried to line up a few, though, which might give the Turbo Kenevo SL Comp a little rivalry.
The Scott Ransom eRIDE 920 is one potential option, coming in at $6,499.
It's certainly a beast downhill and packs quite a punch in the electrics department, with a 625Wh Bosch PowerTube Battery and Bosch CX performance line motor, which can produce 85Nm of torque.
Those are enormous compared to our Turbo Kenevo SL Comp, but because of the power in those components you compromise on weight, with the bike coming in at 24.8kg.
It handles very clumsily as a result and, really, you end up comparing apples and oranges here.
That's part of the beauty of the Turbo Kenevo SL Comp – Specialized has managed to carve their own path and create a sub-section of the e-MTB world, which other manufacturers are still trying to play catch up with, particularly with downhill-focused bikes.
The eRide 920 is a good bike, but it doesn't have that playfulness or natural ride feel. If you wanted a powerhouse of a bike, it's still a good option, though.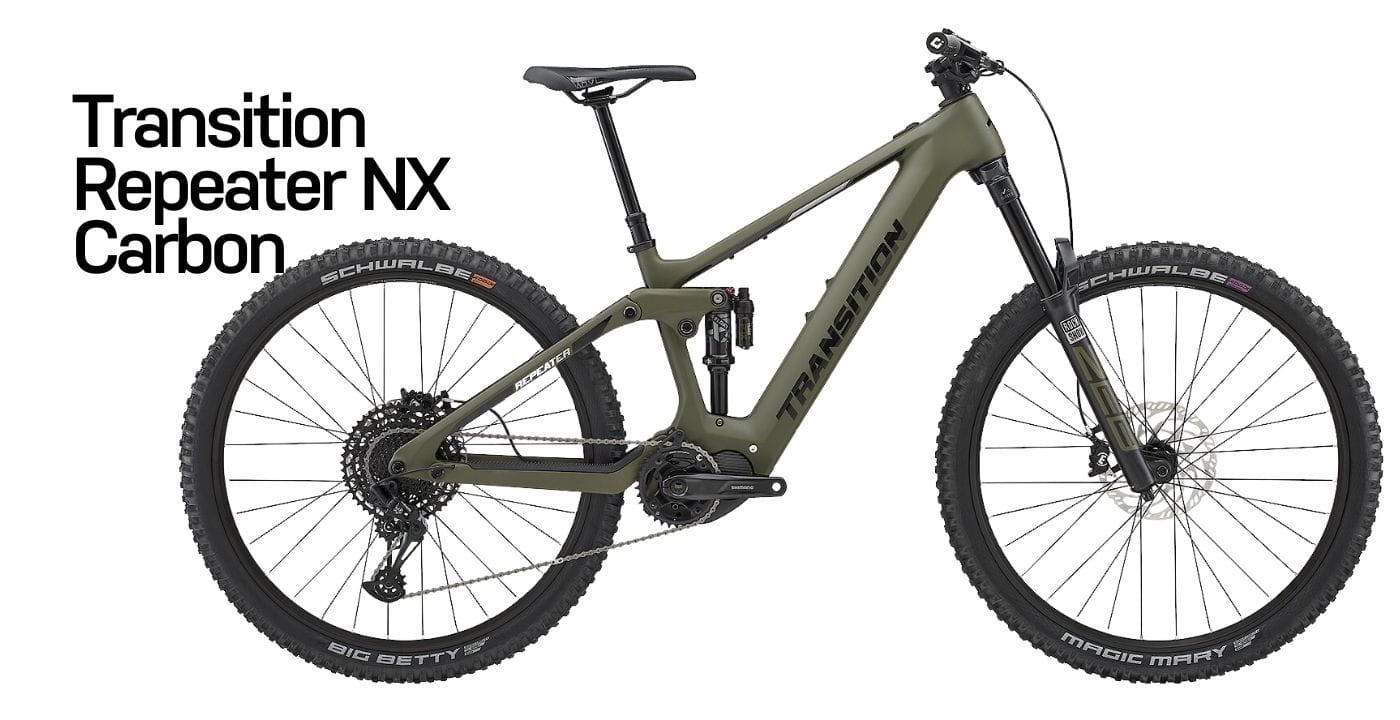 Another very good downhill focused e-MTB is the Transition Repeater NX Carbon, which comes in at $7,128, which is more expensive than our Specialized bike.
Again, it's more about power here than it is about mimicking a conventional e-MTB.
It weighs in at 23.1kg, with a Shimano BT-E8036, 630WH battery, and a motor which kicks out 85Nm of torque.
It's another all-day climbing beast and although it's decent downhill, with 160mm travel at the front and the rear, it doesn't quite dance and weave like the Turbo Kenevo SL Comp does.
The Specialized wins hands down here.
It's key you know what you're signing up to when going for the Turbo Kenevo SL Comp, and that all depends on the type of riding you're wanting to do and the type of bike you're looking for.
If you're looking to churn up endless climbs day after day, this bike won't offer you a huge amount of electrical assistance.
If you smash the electrical assistance on it will run out fairly quickly and it won't offer a great deal of torque either.
It's designed to be an e-MTB which hits that midpoint between MTB and e-MTB, with a really playful, natural ride feel, a plush suspension and super lightweight frame.
It's a solid e-MTB for a fit rider who is looking for a little spring board at times of real struggle, so we recommend it for riders who already have a solid base of fitness.
It's an all-rounder which descends incredibly well, is brilliant in the twisty complex sections and can climb well with a fit pair of lungs and legs, too.
If that's what you're looking for, then it's a very good option.
So, those are our thoughts, and if it ticks the boxes for you on paper, then get out and give the Turbo Kenevo SL Comp a spin.
Was this article helpful?