We've eulogised a lot about the merits of Specialized's Turbo Levo range. When the series of e-MTBs first came out they were among the most advanced on the market for their time.
The Turbo Levo Pro is the second-highest spec bike in the range, just one down from the S-Works Turbo Levo, which we reviewed and gave a resounding 5 stars. So how does its junior counterpart compare? And is it worth paying the extra money for the top spec S-Works?
The Turbo Levo Pro is now in its third incarnation, so does it still tick the boxes or have competitors moved ahead with the times? In our Turbo Levo Pro review we've given it a hammering on the trails, thrashed it down the hills and given it a good ol' grinding up the climbs, to answer all the questions for you.
Join us, then, as we delve into all things Turbo Levo Pro…
Specialized has manufactured another absolute beauty.
The Turbo Levo Pro is an all-out trail shredder; it's lightweight, powerful, has incredible handling, and has the technical specs to cope with the style of gnarly riding you want to do on a bike like this.
Not only that, but it has a battery which will last pretty much all day, and you'll feel comfortable up there throughout.
We have a few minor grumbles, but they aren't significant factors to hold against the Turbo Levo Pro.
All in all, it's a beauty of an e-MTB and we highly recommend it.
Peaks:
Troughs:
Specialized Turbo Levo Pro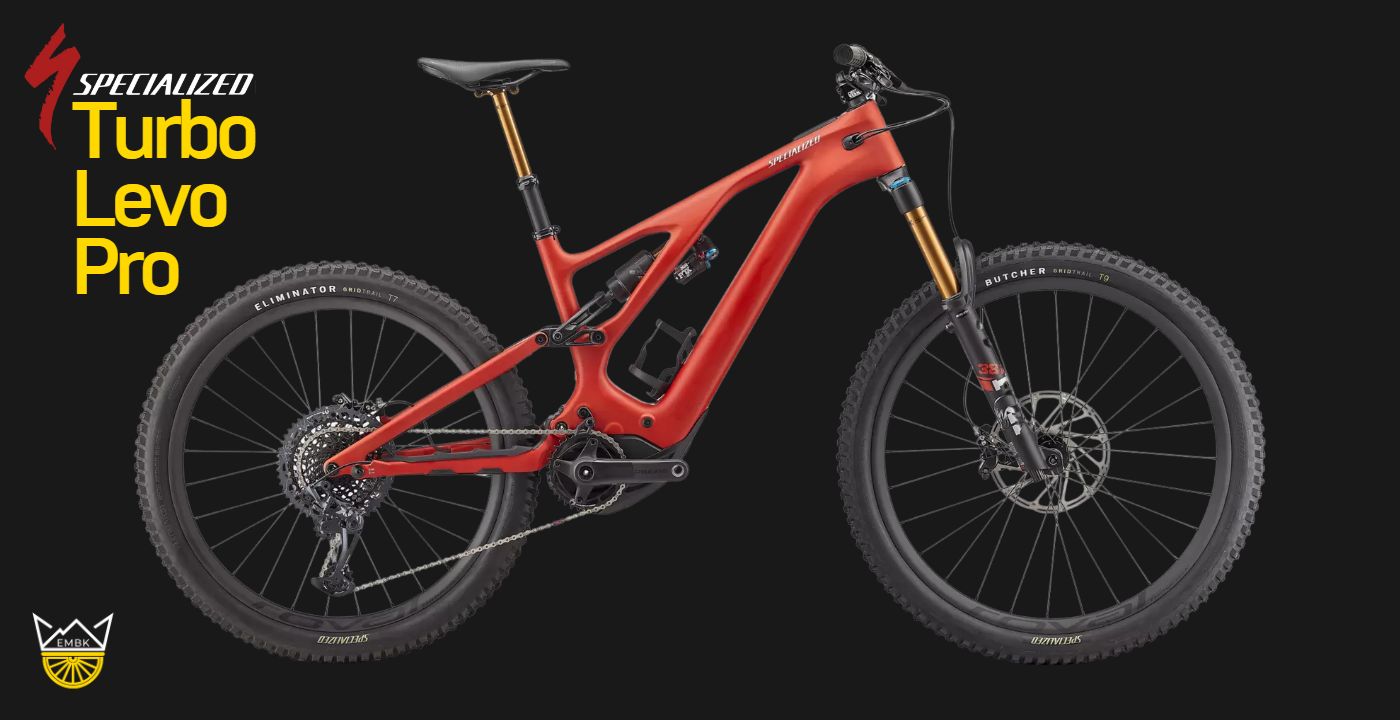 The Specialized Levo Pro has a fully carbon frame, which gives the bike a total weight of 22.06kg.
One aspect we've always loved about the Turbo Levo range is the adjustable geometry, which allows you to tailor your ride to the needs of your body or the needs of the trail.
You get six geometry settings to choose from and a head tube angle which can be adjusted between 63 and 65.5 degrees. This allows you to really nail down your positioning on the bike.
You can choose between six distinct frame sizes when buying your bike, too, allowing you to go longer or shorter, depending on your reach. As a result, you have a very playful e-MTB, which is easy to manipulate through the trails.
Getting your geometry set-up spot on is key, but when you get it right? You absolutely fly.
The Specialized Levo Pro comes with the company's M3-700Wh battery, which is integrated neatly into the bike's downtube, again adding to that neat finish. The company has coined the battery as a "ride anywhere" battery and we struggled to use all the juice on any of our review rides.
The battery coped admirably with rides of over 50km and with over 1,000m of climbing. In fact, we still had around 25% left after a number of rides of a similar length. Range always depends on a lot of factors, of course, including a rider's weight, the weather conditions and the fitness of the rider, but we were really impressed with the Turbo Levo Pro's overall range capabilities.
It's a chunky battery that should satisfy most people's needs on rides out, unless you're going for truly monster days out.
! NB:
This is going to appear a very harsh grumble, but we think you could actually afford a smaller battery on the Turbo Levo pro. The battery's size and its conservative relationship with the motor means the battery always seems to have juice left in it and it outlasts most rider's needs on a ride out. You could shave off some weight by providing the option for a smaller battery.
The Specialized Turbo Levo Pro comes with the company's Turbo Full Power 2.2 motor, which is powered by Brose. That motor kicks out a punchy 90Nm of torque, which is a serious amount of kick to get you up the trickiest climbs.
We've very impressed with the motor on the Turbo Levo Pro, particularly the natural ride feel the power output produces. Unlike some motors, it doesn't feel jerky, far from it in fact – the power delivery seems super smooth.
The lightweight feel and that natural power output adds to the playful feel of the bike and it dances up the climbs effortlessly. It's also pretty much silent, with no nasty hum or buzz when we tested it.
Specialized has absolutely upped its game when it comes to the display on the Turbo Levo Pro. The company's Mastermind Turbo Control Unit (TCU) comes raring to go on the bike and it's a pretty advanced piece of kit.
The TCU is a trusty friend out there on the trails; it's mounted cleverly into the handlebars and delivers 10 bars showing you how much battery you have left (one light equalling 10% of battery left).
It's more than that, though, as it also prompts you on when to use your electrical assistance and in what way. This offers a very useful way of knowing how to conserve battery, when you could give your body a bit of a break or when you're pushing the motor too hard.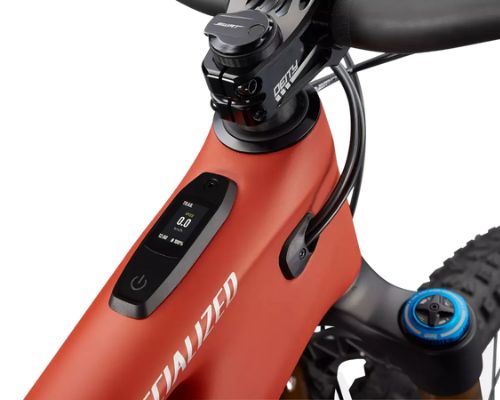 You can also customise your display to include climbing data, and you can get real-time info on your heart rate if you link up an HR monitor. All of the above can also be linked up to your smartphone so you can review all your ride data.
It's safe to say that we're big fans of the display on the Turbo Levo Pro!
The Turbo Levo Pro comes with 160mm travel at the front and 150mm at the rear.
It's fitted with Fox 38 Factory forks and Fox Float X2 Factory rear shocks, which is the type of serious set-up you need to cope with the style of aggressive riding you're likely going to be doing on the Turbo Levo Pro.
The suspension provides a balanced feel to the e-MTB; it rarely bottoms out and provides a smooth feel as you negotiate through those twisty sections or launch yourself off a height. The tuned suspension really adds to the playfulness of the bike, which is an ongoing theme in our review of the Turbo Levo Pro.
You can give the bike an absolute hammering on the trails and still come out the other side without feeling like you've had a punishment yourself.
The Levo Pro comes with a mullet style wheel set up, with a large 29in wheel at the front and a 27.5in wheel at the rear – both Traverse carbon numbers. We're seeing this more and more on top e-MTBs and we love the set-up; the large front wheel gives you a firm planted feel out on the trail, providing you with lots of traction.
It means you can grind up the hills with ease and feel secure into the harshest corners, while also still giving you the clearance to hop up and over roots and rocks. But the smaller rear wheel ensures you retain that playfulness, allowing you to throw it about, while also providing fantastic manoeuvrability. The front tyre is a Butcher Grid Trail, with an Eliminator Grid Trail at the rear.
! NB:
We aren't the biggest fans of the tyres. It isn't the worst set-up on earth, but they aren't the sturdiest and the tyres can be prone to puncture. It's not ideal when you consider the style of all-out riding this e-MTB is capable of. We'd recommend a sturdier tyre casing.
The Turbo Levo Pro comes with 200mm SRAM Code RSC, 4-piston caliper, hydraulic disc brakes at both the front and the rear. They're a sturdy accompaniment to the rest of the bike and can take a real beating out on the trails.
They're very responsive and Specialized has worked hard to upgrade the heat management properties, which has reduced the chance of brake fading.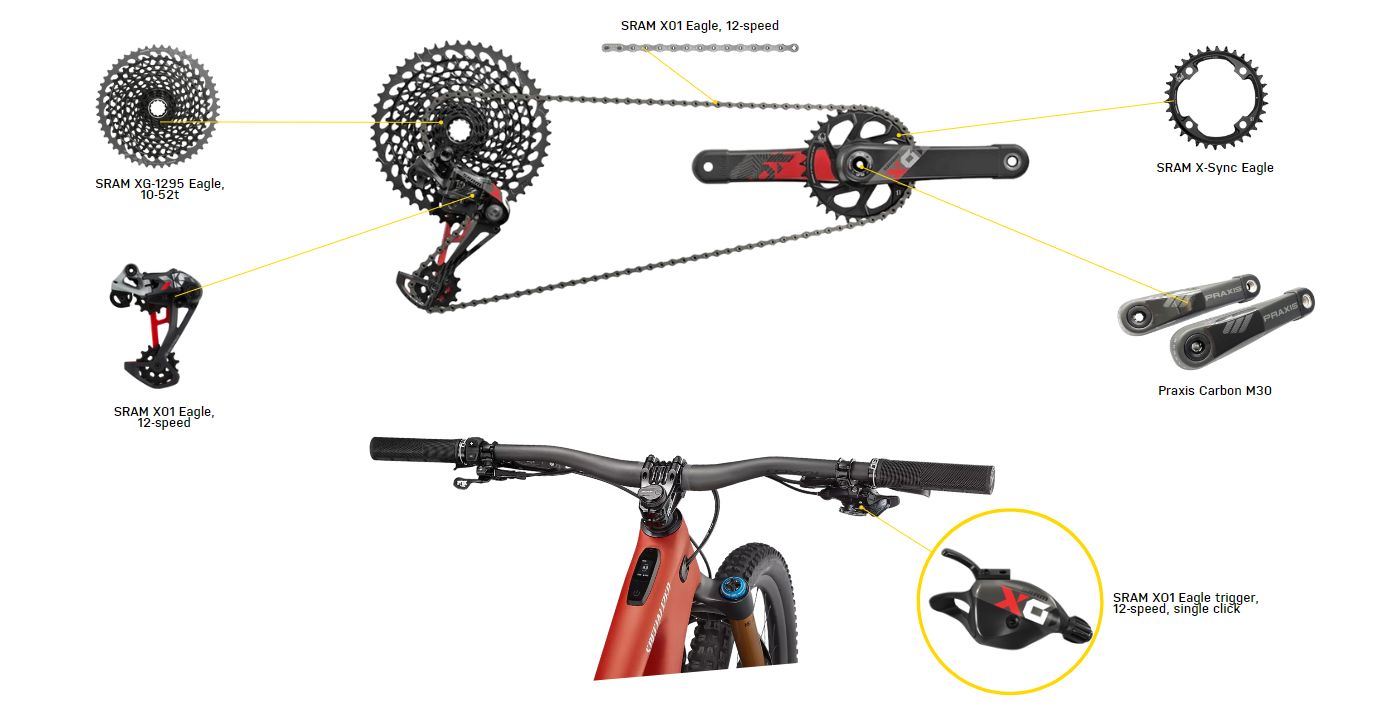 The Turbo Levo Pro comes with a SRAM XG-1295 Eagle Cassette and SRAM X01 Eagle, 12 speed rear derailleur and shift levers. It's a high spec set-up, which you'd expect for a bike of this price. The set-up providers smooth shifting and complements the bike's other features well.
There's no question that $13,000 is a heck of a lot of money, but Specialized has delivered in many areas here, so you certainly don't feel as though you've been ripped off, even at that high price point. The bike is balanced throughout and it has immense playfulness, with components that can comfortably cope with the aggressive riding the bike's capable of.
Specialized Turbo Levo SL Comp Facts & Figures
GEOMETRY

S2

S3

S4

S5

S6

Crank Length

160mm

160mm

160mm

160mm

160mm

Handlebar Width

780mm

780mm

780mm

780mm

780mm

Stem Length

35mm

50mm

50mm

50mm

50mm

Saddle Width

155mm

143mm

143mm

143mm

143mm

Seatpost Length

125mm

150mm

175mm

175mm

200mm

Stack

617mm

626mm

635mm

644mm

653mm

Reach

432mm

452mm

477mm

502mm

532mm

Headtube Length

105mm

115mm

125mm

135mm

145mm

Headtube Angle

64.5°

64.5°

64.5°

64.5°

64.5°

BB Height

350mm

350mm

350mm

350mm

350mm

BB Drop

27mm

27mm

27mm

27mm

27mm

Trail

130mm

130mm

130mm

130mm

130mm

Fork Length (full)

567mm

567mm

567mm

567mm

567mm

Fork Rake/Offset

44mm

44mm

44mm

44mm

44mm

Front Center

760mm

784mm

814mm

843mm

878mm

Chainstay Length

442mm

442mm

442mm

442mm

442mm

Wheelbase

1200mm

1225mm

1255mm

1284mm

1318mm

Bike Standover Height

776mm

783mm

787mm

788mm

790mm

Seat Tube Length

390mm

405mm

425mm

445mm

465mm

Seat Tube Angle

77.2°

76.7°

76.2°

76.2°

76.2°

Max Seatpost Insertion

220mm

240mm

255mm

275mm

295mm

Min Seatpost Insertion

80mm

80mm

80mm

80mm

80mm
COCKPIT

Stem

Deity, 35.0mm

Handlebars

Roval Traverse SL Carbon, riser bar, 6-degree upsweep, 8-degree backsweep, 30mm rise, 780mm, 35.0mm

Grips

Deity, Knuckleduster, Black

Saddle

Bridge, 155/143mm, Hollow Ti-rails

SeatPost

FOX Transfer, 30.9, S1: 100mm, S2: 125mm, S3: 150mm, S4/S5: 175mm, S6: 200mm
BRAKES

Rear Brake

SRAM Code RSC, 4-piston caliper, hydraulic disc, 200mm

Front Brake

SRAM Code RSC, 4-piston caliper, hydraulic disc, S1-S3: 200mm, S4-S6: 220mm

DRIVETRAIN

Rear Derailleur

Sram X01 Eagle, 12-speed

Shift Levers

SRAM XO1 Eagle trigger, 12-speed, single click

Cassette

SRAM XG-1295 Eagle, 10-52t

Chain

SRAM X01 Eagle, 12-speed

Crankset

Praxis Carbon M30, custom offset, 160mm

Chainrings

SRAM X-Sync Eagle, 104 BCD, 34T, steel

WHEELS

Inner Tubes

Standard, Presta Valve

Front Wheel

Traverse Carbon 29

Rear Wheel

Traverse Carbon 27.5

Front Tire

Butcher, GRID TRAIL casing, GRIPTON® T9 compound, 2Bliss Ready, 29×2.6″

Rear Tire

Eliminator, GRID TRAIL casing, GRIPTON® T7 compound, 2Bliss Ready, 27.5×2.6″

FRAMESET

Seat Binder

Alloy, 38.6mm

Frame

FACT 11m full carbon, 29″ front wheel, 27.5″ rear wheel, full internal cable routing, 148mm spacing, fully sealed cartridge bearings, 150mm of travel, geo adjust head tube, geo adjust horst pivot

Fork

FOX FLOAT 38 Factory 29, Grip2 damper, 44mm offset, HSC, LSC, HSR, LSR, 110x15mm, 1.5″ tapered steerer, 160mm travel, Kashima
E-BIKE

Motor

Specialized Turbo Full Power System 2.2 Motor

Charger

Custom charger, 42V4A w/ Rosenberger plug, 100-240V

UI/Remote

Specialized MasterMind TCU, percentage of remaining charge, 120 possible display configurations, MicroTune assist adjustment, over-the-air updates, ANT+/Bluetooth®, w/Handlebar remote

Battery

Specialized M3-700, Integrated battery, 700Wh

Wiring Harness

Custom Specialized wiring harness
SUSPENSION

Rear Shock

FOX FLOAT X2 Factory, LSC, LSR, 2-position lever, 55x210mm, Kashima
ACCESSORIES

SWAT

SWAT CC steerer tube integrated tool with chain tool and link
* Specifications are subject to change without notice
There aren't many areas we can fault the Turbo Levo Pro – it's a seriously well-crafted e-MTB bike.
But there are many other decent e-MTB bikes out there, these days, and you do tend to pay a premium for the Specialized name.
Another good option in the market is the Pivot Shuttle LT – their name doesn't carry the same weight as Specialized, but they've been quietly upping their game in recent times.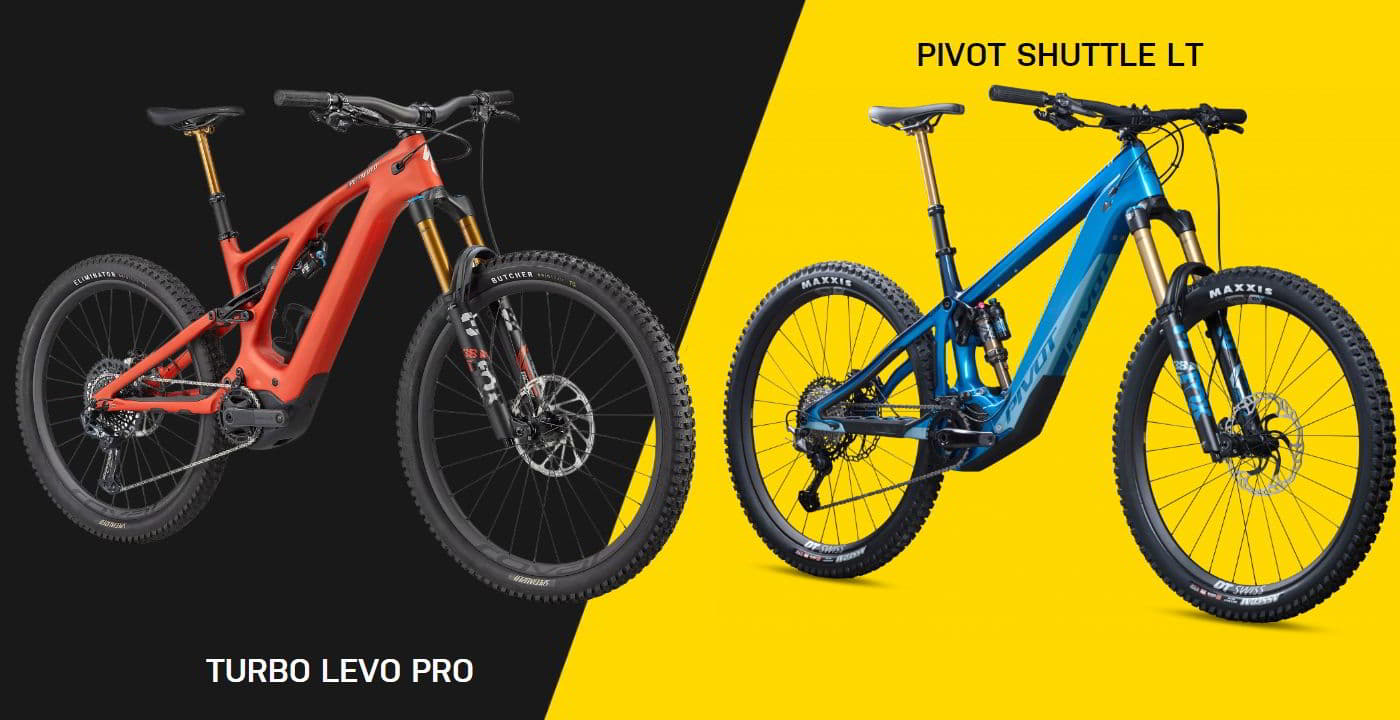 The Pivot Shuttle LT comes with a chunky old 756Wh battery and a Shimano EP8 motor, which kicks out 85Nm of torque. It also comes with 170mm travel at the front and 160mm at the rear; that's a fairly long reach, and the bike certainly looks the part with a sleek design to boot.
It comes in at a price of $11,999, making it slightly cheaper than the Turbo Levo Pro, but there are many areas we think it falters. First and foremost, we aren't the biggest fans of the Shimano EP8 motor, particularly its paired display, because the range estimation is always very vague.
It also has a set 29in wheel set-up for both front and rear wheels, not the mullet set-up of the Turbo Levo Pro, which adds to the playfulness for the Specialized ride. However, the Pivot Shuttle LT's suspension set up is very forgiving and allows you to give it a beating.
Overall, though, if your budget allows, we'd suggest you stick with the Turbo Levo Pro.
Rocky Mountain Altitude Powerplay Carbon 90
Another good option is the Rocky Mountain Altitude Powerplay Carbon 90.
The Rocky Mountain comes with a 722Wh battery and Dyname 4.0 motor, which kicks out a monstrous 108Nm of torque.
We'll admit that torque figure is a real headline grabber, and you don't get many e-MTBs which are playing with that level of torque.
You do compensate on weight because of that extra power, though, with the Rocky Mountain weighing 2kg more than the Turbo Levo Pro.
The Rocky Mountain has an 8-way adjustable geometry, which adds to its playfulness and bespoke ride feel and a chunky amount of travel, with 170mm at the front and 160mm at the rear.
The Rocky Mountain comes in at a price of $10,500 on the company's official website at the time of writing, making it significantly cheaper than the Turbo Levo Pro. We think it's a really good option and certainly a rival to the Turbo Levo Pro, but we do worry about that amount of weight.
It's a toss up between them, but on the whole we still prefer the Turbo Levo Pro.
The Turbo Levo Pro is an incredible e-MTB. It's powerful, has a long-lasting battery, is super playful and has the quality of spec, which can cope with some gnarly riding.
The bike's lightweight frame, coupled with its advanced geometry, responsive brakes, mullet wheel set-up and forgiving suspension, makes it one of the most fun bikes we've ridden in quite a while, and we've ridden some great bikes!
It's a super fast and super responsive e-MTB, which can last on the trails almost all day. We feel a bit cheeky not giving it 5 stars if we're honest, but we don't give those out liberally and the S-Works Turbo Levo is just marginally better. Overall, though, there's no question that the Levo Pro is a wonderful, highly versatile e-MTB.
That's what we think, but how would you rate it? Get out there and give it a spin for yourself!