Previously, the biggest batteries and most powerful motors were the only areas in which e-MTB manufacturers were looking to one up one another. That isn't the case anymore. In today's era of e-MTBs, creating super lightweight bikes is now just as important for the top companies.
Specialized, Orbea and Trek are among the big manufacturers making great strides in this area. The Turbo Levo SL range is Specialized's range of "all-rounder" bikes when it comes to lightweight e-MTBs, as opposed to the Turbo Kenevo SL range, which is descent-focused.
The Turbo Levo SL Comp Carbon is the second-lowest spec bike in the range and we've taken it to the trails to see how it rides, as well as how it compares to its higher-spec counterparts and the other competition on the market.
So, is it a definitive purchase? Or one to avoid? Join us as we get to grips with the Turbo Levo SL Comp carbon!
Specialized has certainly created a very fun bike to ride with the Turbo Levo SL Comp Carbon. It has a light-footed feel out on the trails, is easy to manipulate and feels very playful.
It's an all-rounder which can climb, take on the technical single-tracks, and do a bit of descending just for good measure. It certainly isn't an all-out downhill thrasher, though, and if you want a bike to take on the wildest gravity-focused sections, then this isn't the bike for you.
Similarly, it isn't for you if you want an e-MTB that'll power you all day long, with little human effort. But if you want a playful, natural-feeling e-MTB – one that has some juice at its disposal and is fun to throw about – then this bike does the job nicely.
It isn't perfect, but it's certainly a bike worth considering.
Peaks:
Troughs:
Specialized Turbo Levo SL Comp Carbon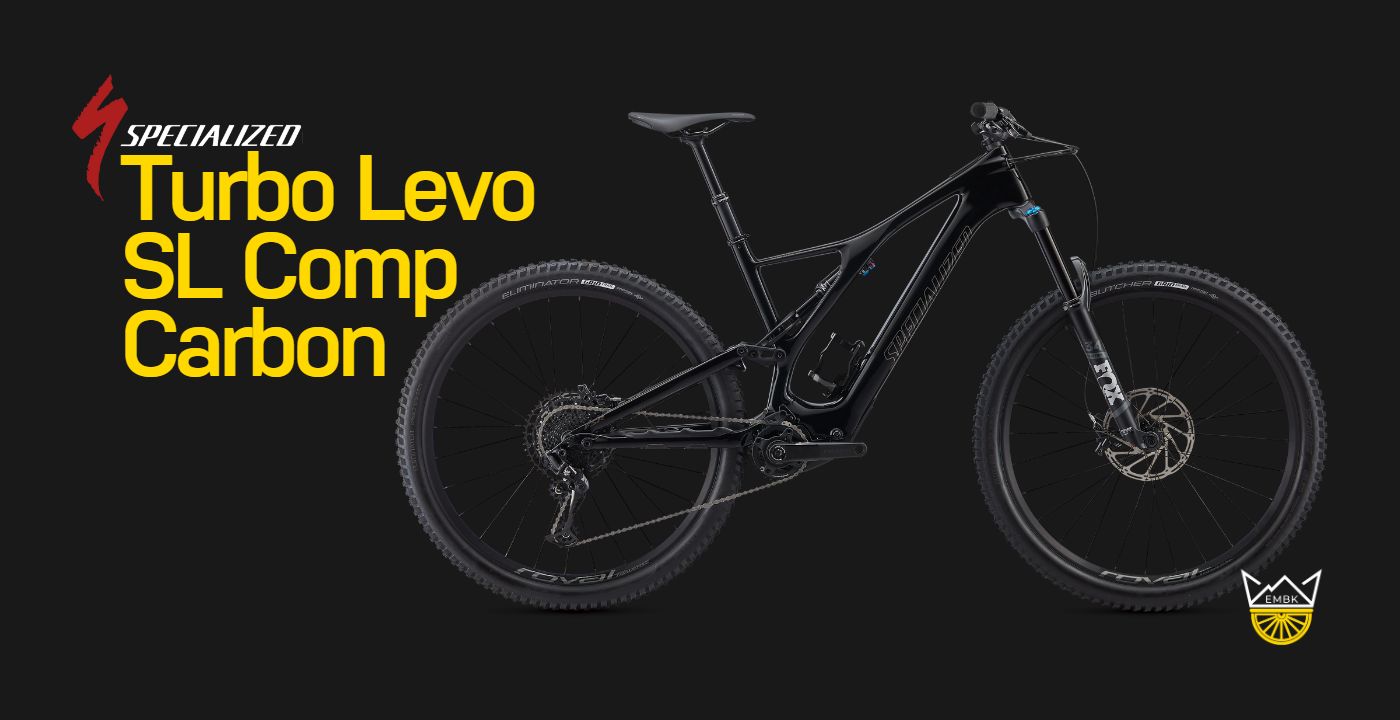 One of Specialized's main aims with the Turbo Levo SL range was to create lightweight bikes, so you would be pretty shocked if it didn't have a lightweight frame.
But just how much does the Turbo Levo SL Comp Carbon weigh? The bike has a total weight of 19kg, with a fully-carbon FACT 11m frame. Specialized has also considered your positioning on the bike, with the company having created a progressive geometry to give you maximum control out on the trails.
The bike handles a dream, with a low centre-of-gravity and a battery tucked down into the downtube. The Stumpjumper-style frame has been designed so that the bike can take on every style of trail riding; from the long climbs and an element of descending, to the most technical twisting sections.
It just feels like a normal mountain bike, if we're honest – it feels light, poppy and responsive. That's until you flick a few switches and bomb up the side of the mountain, which we'll come on to right now.
The Turbo Levo SL Comp Carbon is fitted with Specialized's SL1-320Wh battery. Clearly, that isn't an enormous battery, but just remember what we said at the top – this isn't a fully juiced e-mountain bike, this is a "somewhere in between" bike.
That smaller battery manages to keep the overall weight down, but it still offers you a decent amount of assistance when you need it.
On our review rides, we managed to get more than 30km done, with more than 1,100m of climbing, which is certainly more than we'd expected going in.
ℹ️ Our review rider has a body weight of 75kg. We think a heavier rider might feel a little short-changed by the battery, without a battery extender. It might be that this bike isn't for you if you're a heavier rider.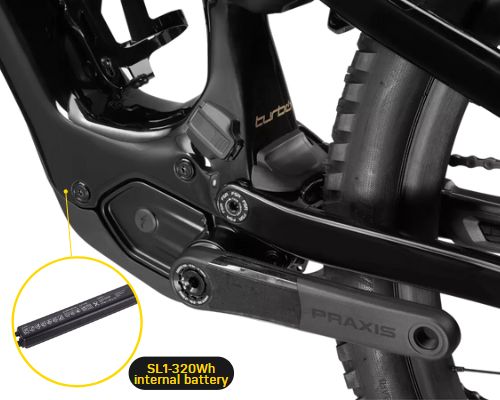 The battery is concealed firmly into the downtube, with a strong outer casing, to be protected from whatever you throw at it out on the trails. We're impressed, overall, but just bear in mind what we've said about the weight.
The Turbo Levo SL Comp Carbon comes with the company's SL 1.1 lightweight motor, which only emits 35Nm of torque. That isn't a lot of torque, at all, when you look at it on paper, but it actually does a sterling job when out on the trails, and it surprised us again.
It works well with the bike's battery, to release the power conservatively, and it manages to get you up some pretty tricky climbs – thanks to the lightweight frame, too.
Key to making this e-MTB feel like a normal mountain bike is its natural power delivery. The motor kicks out its power in gentle way and feels more like a helping hand than a strong punch, which helps you stay in control of the bike at all times.
ℹ️ This bike is better-suited to a fairly fit rider, rather than someone who needs the assistance on all day long. It won't offer that, but it will offer a little nudge when you need it from time to time. Think hard about what you need before taking the plunge.
The natural power delivery makes it fun to ride and you have three modes of assistance to choose from – Eco, Trail and Turbo.
There's also a walk assist function, so you can wheel the bike up with a little assistance in areas you're unable to cycle.
The Turbo Levo SL Comp Carbon's display is the same as you'll find on all of Specialized's e-MTBs.
There's a small shifter on the handlebar, for you to flick between the assistance modes, and a more advanced Turbo Connect Unit (TCU) on the frame's top tube. We've always been fans of the TCU system, with the amount of juice you have left in the battery displayed as 10 LED lights, each representing 10% of battery.
You can also hook up the TCU system to the company's Mission Control Smartphone App, which gives you many more options to nail down your ride performance, including RPM data, climbing information, and you can even link up a heart rate monitor, too.
It's a decent piece of kit, overall, and it really helps you hone your performance when out on the trails.
The Turbo Levo SL Comp Carbon isn't an all-out downhill thrasher, so it doesn't have the same amount of travel as the wild descender in Specialized's armoury, the Turbo Kenevo SL.
However, you still get 150mm travel at both the front and rear. The company has geared the bike up with Fox Rhythm 34 Float forks and Fox Float DPS Performance Shocks.
The forks aren't the best pairing in our opinion; they limit the bike on the wilder downhill trails and the chunkier drops. The bike feels comfortable and rides well on the more standard of trails, but when you want to get a bit more gnarly, the forks don't feel comfortable at all.
It doesn't completely stop you taking on the wilder routes, but you certainly won't be going at top gas and it feels pretty sore on the arms on the way down.
ℹ️ Think again about what you're wanting from a bike. If you want to be taking on the biggest drops and the gnarliest downhill routes, the Turbo Levo SL Comp Carbon isn't for you. You'll find the forks aren't offering enough.
The Turbo Levo SL Comp Carbon has 29in wheels at both the front and the rear, both alloy-based wheels supplied by Specialized. If you like to mix up your wheels a bit, then check out our guide on the best e-MTB wheels, here.
The tyre on the front end is a Butcher with Grid Trail casing, whilst at the rear there's an Eliminator with Grid Trail casing. We don't think the wheels are sturdy enough.
The bike is meant to be versatile and take on some challenging riding, but we're not sure that these tyres offer you that kind of peace of mind. We encountered quite a few punctures out on our review rides, which is frustrating to say the least.
On the positive side, however, they do have girthy teeth, which dig hard into the dirt and allow you to push it on the corners.
The Turbo Levo SL Comp is fitted with SRAM Guide R hydraulic disc brakes at both the front and rear. Again, we feel like Specialized could have offered more in this department. The bike moves at a decent pace with great handling, which means you naturally want to push things a bit.
However, the brakes don't offer quite enough stopping power for you to really give it everything you've got. Another feature which, like the forks, means you hold back on some of the wildest downhill routes.
The Turbo Levo SL Comp Carbon comes with an SRAM NX Eagle, 12-speed cassette and rear derailleur.
There's absolutely nothing negative to report here; they do the job nicely and we never encountered any issues. A solid accompaniment to the bike.
At the time of writing, the Turbo Levo SL Comp Carbon is currently heavily discounted on Specialized's website – down from $8,500 to $6,374.
We would feel pretty aggrieved if we were having to pay the original price tag, so the current, discounted price tag feels much fairer.
Neither the forks nor brakes are great, and there are smaller issues in other areas, too (like the tyres).
Specialized Turbo Levo SL Comp Carbon Facts & Figures
GEOMETRY

S

M

L

XL

CRANK LENGTH

165mm

165mm

170mm

170mm

HANDLEBAR WIDTH

780mm

780mm

780mm

780mm

STEM LENGTH

45mm

45mm

45mm

45mm

SADDLE WIDTH

155mm

143mm

143mm

143mm

SEATPOST LENGTH

375mm

438mm

438mm

478mm

STACK

606mm

606mm

633mm

647mm

REACH

415mm

435mm

455mm

480mm

HEAD-TUBE LENGTH

95mm

95mm

125mm

140mm

HEAD-TUBE ANGLE

66°

66°

66°

66°

B-B HEIGHT

348mm

348mm

348mm

348mm

B-B DROP

27mm

27mm

27mm

27mm

TRAIL

111mm

111mm

111mm

111mm

FORK LENGTH (FULL)

560mm

560mm

560mm

560mm

FORK RAKE/OFFSET

51mm

51mm

51mm

51mm

FRONT-CENTER

729mm

749mm

781mm

812mm

CHAIN-STAY LENGTH

437mm

437mm

437mm

437mm

WHEELBASE

1165mm

1185mm

1217mm

1248mm

TOP-TUBE LENGTH (HORIZONTAL)

574mm

597mm

629mm

663mm

BIKE STAND-OVER HEIGHT

787mm

790mm

807mm

814mm

SEAT-TUBE LENGTH

390mm

410mm

455mm

505mm

SEAT-TUBE ANGLE

75.3°

75°

74.6°

74.2°
E-BIKE

UI/Remote

Specialized TCU, 10-LED State of charge, 3-LED Ride Mode display, ANT+/Bluetooth®, w/Handlebar remote

Wiring Harness

Custom Specialized wiring harness w/ chargeport

Battery

Specialized SL1-320, fully integrated, 320Wh

Charger

Custom charger, 48V System w/ SL system charger plug

Motor

Specialized SL 1.1, custom lightweight motor

WHEELS

Rear Hub

Specialized, sealed cartridge bearings, 12x148mm thru-axle, 32h

Front Tire

Butcher, GRID TRAIL casing, GRIPTON® compound, 29×2.3″

Inner Tubes

Standard, Presta valve

Front Hub

Specialized, sealed cartridge bearings, 15x110mm spacing, 28h

Spokes

DT Swiss Industry

Rims

Specialized 29, hookless alloy, 30mm inner width, tubeless ready

Rear Tire

Eliminator, GRID TRAIL casing, GRIPTON® compound, 2Bliss Ready, 29×2.3″

DRIVETRAIN

Cassette

SRAM NX Eagle, 12-speed, 11-50t

Crankset

Praxis Forged/M30 Spindle Interface

Chainrings

SRAM X-Sync Eagle, 94 BCD, 30T

Chain

SRAM NX Eagle, 12-speed

Shift Levers

SRAM NX Eagle, trigger, 12-speed

Rear Derailleur

SRAM NX Eagle, 12-speed

COCKPIT

SeatPost

X-Fusion Manic, infinite adjustable, two-bolt head, bottom mount cable routing, remote SRL LE lever, 34.9mm, S: 125mm, M/L: 150mm, XL: 170mm

Handlebars

Specialized Trail, 6061 alloy, 8-degree backsweep, 6-degree upsweep, 27mm rise, 31.8mm clamp, S 720mm, M-XL 750mm

Tape

Specialized Trail Grips

Stem

Specialized Trail, 3D-forged alloy, 4-bolt, 6-degree rise

Saddle

Bridge Comp, Hollow Cr-mo rails, 155/143mm

FRAMESET

Frame

FACT 11m full carbon, 29 Trail Geometry, Integrated down tube battery, enclosed internal cable, Command Post routing, 148mm spacing, fully sealed cartridge bearings, 150mm of travel

Seat Binder

Specialized bolt-type, alloy, 38.6mm

Fork

FOX RHYTHM 34 FLOAT 29, GRIP damper, 51mm offset, 2-position sweep adjust, 15x110mm, tapered alloy steerer, 150mm of travel

BRAKES

Rear Brake

SRAM Guide R, hydraulic disc, 180mm

Front Brake

SRAM Guide R, hydraulic disc, 200mm

SUSPENSION

Rear Shock

FOX FLOAT DPS Performance, 3-position adjustment, 52.5x210mm, Rx Trail Tune
* Specifications are subject to change without notice
Ok, so we've identified some areas we don't find ideal with the Turbo Levo SL Comp Carbon, but what else is out there in terms of the competition?
Well, the Orbea Rise H10 is certainly a serious contender.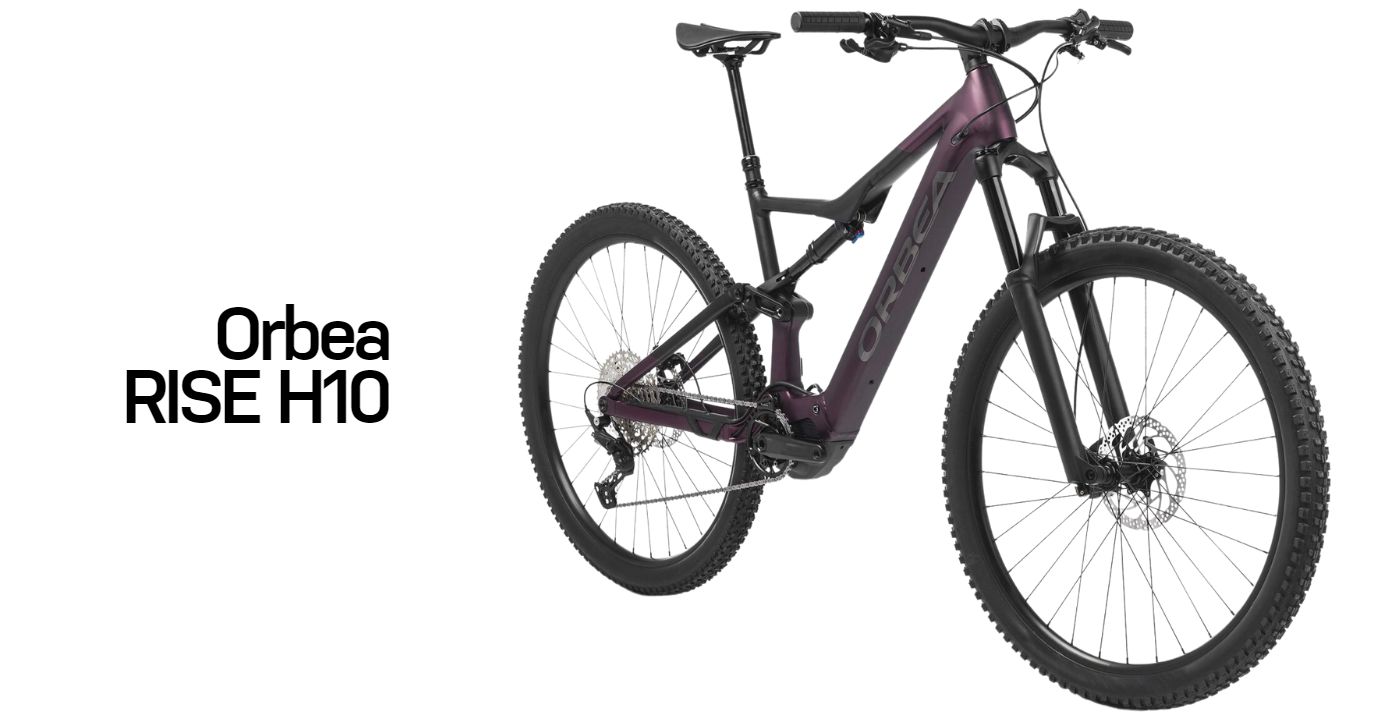 It comes in at $7,446 – $1,000 more expensive than the Turbo Levo SL Comp Carbon (currently) – so what do you get for your money?
It comes with a much larger 504Wh battery and a Shimano EP801-RS motor, which can kick out a monster 85Nm of torque; that gives you far more range and the gas to really take on some serious terrain.
Those larger components do add a little bit of weight, though – 1.5kg to be exact. It comes with 150mm travel at the front and 140mm at the rear, with FOX 36 Float Performance forks and FOX Float X performance 2-position rear shocks.
A bit like the Turbo Levo SL Comp Carbon, it has decent versatility, but it doesn't feel fully cut out for big drops and gnarly downhill lines, and its tyres aren't too durable, either.
It's a close contest, but which you go for really depends on whether you want to compensate on weight and price in exchange for a larger battery and more powerful motor.
We think the Turbo Levo SL Comp Carbon offers a more natural ride feel and is a more playful bike, overall, when out on the trails, so it gets our vote.
Specialized wanted to create a fun, lightweight and easy to handle e-MTB; one which still offers some juice in the tank to get you up the climbs, and a battery which will give you a decent length of ride.
The company has certainly achieved that with the Turbo Levo SL Comp Carbon. It's a versatile bike which thrives on the twisty and technical single-tracks, bounces up the climbs, and even manages some descending.
It's a seriously playful bike to ride and it feels nimble out on the trails.
It isn't perfect, though; there are issues with the suspension, which means it comes really unstuck on the gnarliest downhill trails and when you encounter big drops. At the same time, the brakes feel under-powered when moving at serious pace, and the tyres are also a bit of a disappointment.
It's a "so nearly" from the crew at Specialized here, but it's still a decent e-MTB, and one which we enjoyed riding. Give this one a pedal and let us know what you think.
If you enjoyed this review then make sure to check out our other Specialized reviews.
Was this article helpful?