Specialized's Turbo Levo range has been a firm favourite of ours for a while. From our numerous reviews of other bikes in the range, we've come to know what to expect; bikes which offer chunky batteries and powerful motors, and all without overly compensating on weight.
They're playful eMTBs and handle really well out on the trails. We've previously rated the Turbo Levo Comp Carbon, Turbo Levo SL Comp and Turbo Levo Comp Alloy all very highly, with each bike scoring 4* and above.
But how does the second-highest spec bike in the range compare to the cheaper options? We've taken the Turbo Levo Expert to the trails, climbed the climbs and thrown ourselves down the descents, to give you a definitive answer.
Join us, then, as we delve deep into the world of the Turbo Levo Expert!
Bravo to Specialized on this one.
The Turbo Levo Expert is a serious contender in the enduro market, with a big old battery and powerful motor, without being too heavy.
It's a lightweight, playful eMTB, with a tailored feel, thanks to its adjustable geometry and different sizing options.
It's incredibly manoeuvrable and easy to manipulate through the twisty and challenging trails, while also having serious juice to power you up the hills and keep going all day.
Peaks:
Troughs:
Specialized Turbo Kenevo SL Expert
This is a very well-kitted-out eMTB, with a fully carbon, lightweight frame. We'll come to its electronics in a minute, but one of the big questions on riders' lips is how much the Turbo Levo Expert weighs?
And the answer is a very admirable 22.4kg (we reviewed the bike in a size 4). As with all the Turbo Levo range, you can choose between 6 different frame sizes when purchasing the bike, helping to create a more tailored feel to your ride, rather than just the small, medium and large options you get with many other brands.
That tailored and bespoke feel to the bike is furthered with the 6 distinct geometry settings you can choose between – with an adjustable headtube angle of between 63 and 65.5 degrees, along with a bottom bracket which can be adjusted up or down by 7mm.
All of these adjustable elements mean that you can tweak your Turbo Levo Expert to the demands of the day's trails or to your body.
On the trails the bike handles like a dream, with a very balanced feel, making it ideal for manipulating the bike through the twisty tree-lined trails and a comfortable partner to accompany you on longer days out riding.
Oh, and the bike is a beauty to look at, too. It's a very well-designed, with internally-routed cables and a sleek, polished finished. From afar, you wouldn't be able to even tell the bike had electrical assistance. Well, that is, of course, until you absolutely fly up the side of a mountain and leave conventional MTBs in your wake.
One the main selling points for the Turbo Levo Expert is the amount of range it has in the tank, without being overly heavy. The bike comes with the company's M3-700Wh battery, which carries a lot of juice to power you on some long old rides.
It's always hard to provide a truly definitive range figure, but Specialized's stated assisted ride time is 5 hours, which it managed well on flat terrain. There are a lot of variables to consider, including the weather, fitness of the rider and the type of terrain; however, we found the bike to perform admirably out on our review rides, giving us enough juice to cope with most ride demands.
The battery is concealed neatly into the downtube and its casing has been strengthened in this newer edition. This is a welcome update after previous incarnations of the Turbo Levo Expert had issues with water seepage into the battery, and other impact issues.
Overall, we're impressed with the battery and it ticks the boxes for most ride days out, unless you're looking to go out on some monster rides with endless climbing.
The Turbo Levo Expert comes with the company's Turbo Full Power 2.2 motor, which kicks out an incredibly powerful 90Nm of torque. That's a serious set-up, which provides a punchy kick up almost any climb you encounter.
It's complemented by the lightweight frame, helping you to dance up even the steepest of climbs. The power delivery also feels nice and smooth, without any real jerkiness, and the motor operates silently, which again adds to that impression that you might be riding a normal MTB.
The reduction in noise is another solid improvement from the crew at Specialized, as previous editions of the Levo Expert had a slight rattle. The bike has a very natural ride feel due to that smooth power delivery, which adds to the bike's playful nature.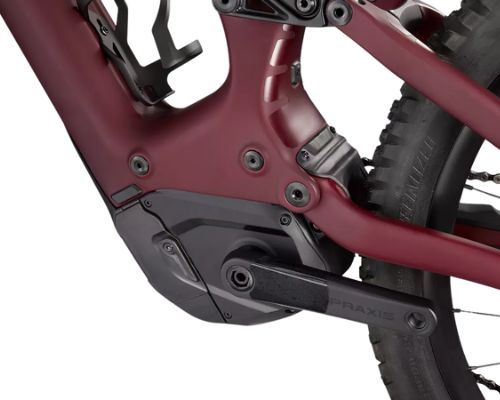 We've harked on about the Turbo Levo range's display for a long time now, and justifiably so in our eyes because it's undoubtedly one of the best in the business. Specialized's Mastermind Turbo Control Unit (TCU) is mounted neatly onto the handle bars and displays the amount of charge you have left in 10 LED light increments.
That's far more precise than some displays, particularly the Shimano EP8, which has 5 lights. It's far more than that, though, it's an all-encompassing ride aid, and one that's highly customisable; you can display your power output, climbing data and link it up to heart rate (HR) devices and other apps.
It's a seriously nifty piece of kit and it can be linked up to your smartphone, too. A very handy friend to have with you on your rides, to be sure.
The Turbo Levo Expert comes with 160mm travel at the front and 150mm travel at the rear. It's geared up with FOX Float 38 Performance Elite forks and FOX Float DPS Performance rear shocks
! NB:
Now, this isn't the most advanced set-up by any stretch of the imagination, far from it. It's a very primitive suspension set-up compared to some of the best e-MTBs out there.
It's key to consider the style of riding you want to be doing. The bike's suspension lends itself to enduro and cross-country style riding.
It would come enormously unstuck on serious downhill routes and on any big drops, in fact you would probably end up feeling pretty battered and bruised after a chunky air or gnarly descending section.
If you take the bike for what it is, then the suspension is more than adequate for long days out on varied trails and can happily cope with obstacles and leave you feeling comfortable. However, if you're looking for some full-send rides, then this isn't the eMTB for you.
The Turbo Levo Expert comes with a mullet wheel set-up, which we've become accustomed to these days on many market leading eMTBs. It has a Traverse 29in at the front and a Traverse 27.5in at the rear, giving you a stable footing on the trail, while also providing the playfulness you want from a pricey eMTB.
The larger front tyre is a Butcher with Grid Trail casing and the rear is an Eliminator with the same casing. We've always been impressed with the Grid Trail – its teeth dig sharply into the dirt and feels really stable when hitting corners at pace.
The mullet set-up feels balanced and playful at the same time, complemented by the lightweight nature of the bike.
The Turbo Levo Expert comes with SRAM Code RS, 4-piston caliper, hydraulic disc brakes at both the front and rear. They're super responsive and a trusty accompaniment to the powerhouse of a motor you get with this bike.
The brakes are also incredibly durable and brake fading is minimal, even after a lot of heavy use. No matter how hard you push the Specialized Levo Expert, the brakes stand up to the test.
The Levo Expert comes with an SRAM XG Eagle, 12 speed cassette, and SRAM X01 Eagle 12-speed rear derailleur and shifters. It's a decent set-up, with smooth shifting, which coupled with the smooth power delivery of the eMTBs motor, creates very natural ride feel.
This is a big win for the Turbo Levo Expert. The bike has been heavily discounted on Specialized's official website at the time of writing. For context, it usually comes in around the $11,000 mark.
With nearly $3,000 off, it becomes a very attractive option if you're looking for an enduro and general trail-riding eMTB.
Turbo Levo Expert Facts & Figures
GEOMETRY

S1

S2

S3

S4

S5

S6

Crank Length

160mm

160mm

160mm

160mm

160mm
160mm

Handlebar Width

780mm

780mm

780mm

780mm

780mm
780mm

Stem Length

40mm

40mm

50mm

50mm

50mm
50mm

Saddle Width

155mm

155mm

143mm

143mm

143mm
143mm

Seatpost Length

100mm

125mm

150mm

170mm

170mm
190mm

Stack

605mm

617mm

626mm

635mm

644mm
653mm

Reach

412mm

432mm

452mm

477mm

502mm
532mm

Headtube Length

105mm

105mm

115mm

125mm

135mm
145mm

Headtube Angle

64.5°

64.5°

64.5°

64.5°

64.5°
64.5°

BB Height

352mm

350mm

350mm

350mm

350mm
350mm

BB Drop

25mm

27mm

27mm

27mm

27mm
27mm

Trail

130mm

130mm

130mm

130mm

130mm
130mm

Fork Length (full)

557mm

567mm

567mm

567mm

567mm
567mm

Fork Rake/Offset

44mm

44mm

44mm

44mm

44mm
44mm

Front Center

738mm

760mm

784mm

814mm

843mm
878mm

Chainstay Length

442mm

442mm

442mm

442mm

442mm
442mm

Wheelbase

1179mm

1200mm

1225mm

1255mm

1284mm
1318mm

Bike Standover Height

752mm

776mm

783mm

787mm

788mm
790mm

Seat Tube Length

380mm

390mm

405mm

425mm

445mm
465mm

Seat Tube Angle

78°

77.2°

76.7°

76.2°

76.2°
76.2°

Max Seatpost Insertion

210mm

220mm

240mm

255mm

275mm
295mm

Min Seatpost Insertion

80mm

80mm

80mm

80mm

80mm
80mm
COCKPIT

Stem

Alloy Trail Stem, 35mm bar bore

Handlebars

Specialized Trail, 7050 alloy, 8-degree backsweep, 6-degree upsweep, 30mm rise, 800mm, 35mm clamp

Grips

Deity, Knuckleduster, Black

Saddle

Bridge Comp, Hollow Cr-mo rails, 155/143mm

SeatPost

X-Fusion Manic, infinite adjustable, two-bolt head, bottom mount cable routing, remote SLR LE lever, 34.9, S1: 100mm, S2: 125mm, S3: 150mm, S4/S5: 175mm, S6: 190mm
BRAKES

Front Brake

SRAM Code RS, 4-piston caliper, hydraulic disc, S/M: 200mm, L/XL: 220mm

Rear Brake

SRAM Code RS, 4-piston caliper, hydraulic disc, 200mm

DRIVETRAIN

Rear Derailleur

SRAM X01 Eagle, 12-speed

Shift Levers

SRAM XO1 Eagle trigger, 12-speed, single click

Cassette

SRAM XG-1275, 12-speed, 10-52t

Chain

SRAM GX Eagle, 12-speed

Crankset

Praxis Forged/Custom Offset/ISIS Spindle Interface, 160mm

Chainrings

SRAM X-Sync Eagle, 104 BCD, 32T, steel

WHEELS

Inner Tubes

Standard, Presta Valve

Front Wheel

Traverse 29

Rear Wheel

Traverse 29

Front Tire

Butcher, GRID TRAIL casing, GRIPTON® T9 compound, 2Bliss Ready, 29×2.6″

Rear Tire

Eliminator, GRID TRAIL casing, GRIPTON® T7 compound, 2Bliss Ready, 27.5×2.6″

FRAMESET

Seat Binder

Alloy, 38.6mm

Frame

FACT 11m full carbon, 29″ front wheel, 27.5″ rear wheel, full internal cable routing, 148mm spacing, fully sealed cartridge bearings, 150mm of travel, geo adjust head tube, geo adjust horst pivot

Fork

FOX FLOAT 38 Performance Elite 29, Grip2 damper, 44mm offset, HSC, LSC, HSR, LSR, 110x15mm, 1.5″ tapered steerer, 160mm travel
E-BIKE

Motor

Specialized Turbo Full Power System 2.2 Motor

Charger

Custom charger, 42V4A w/ Rosenberger plug, 100-240V

UI/Remote

Specialized MasterMind TCU, percentage of remaining charge, 120 possible display configurations, MicroTune assist adjustment, over-the-air updates, ANT+/Bluetooth®, w/Handlebar remote

Battery

Specialized M3-700, Integrated battery, 700Wh

Wiring Harness

Custom Specialized wiring harness
SUSPENSION

Rear Shock

S1: Fox Float DPS Performance, S2-S6: FOX FLOAT X2 Performance, LSC, LSR, 2-position lever
ACCESSORIES

SWAT

SWAT CC steerer tube integrated tool with chain tool and link
* Specifications are subject to change without notice
Ok so the Turbo Levo Expert ticks quite a few boxes in the enduro market, with its chunky battery, powerful motor, and lightweight and playful nature. And the discounted price point is unquestionably appealing.
We've reviewed other bikes around the same price point to determine whether it's worth taking the plunge on the Specialized Turbo Levo Expert.
Mondraker Crafty Carbon RR
Coming in at $9,250, you have the Mondraker Crafty Carbon RR, with a 29in wheel set-up. It's just under a kilogram heavier than the Turbo Levo Expert, coming in at 23.3kg.
However, that extra weight is due to the Crafty Carbon's chunky 750Wh battery, slightly bigger than the Turbo Levo Expert. It's geared up with a Bosch Performance Line CX Cruise motor, kicking out 85Nm of torque, meaning it's slightly smaller than the Turbo Levo Expert.
The suspension set-up places it in the same target market as the Specialized, with 160mm travel at the front and 150mm at the rear, gearing it up for enduro-style riding.
It's also got a sturdy SRAM G2 RSC brakes set-up and solid drivetrain.
Overall, it rides not too dissimilar to the Turbo Levo Expert, but you care carrying that little extra weight in exchange for not much more gain spec wise. It also looks a little frumpy in comparison to the sleek Turbo Levo Expert and it's more expensive, too.
We would go for the Specialized here.
Cube Stereo Hybrid ONE55 C:68X TM 750
Cube need little introduction, as they're a serious player in the MTB market. Their Stereo Hybrid ONE55 C:68X TM 750 is a decent eMTB to rival the Turbo Levo Expert.
With a 750Wh battery and Bosch Drive Unit Performance CX G4 motor, which kicks out 85Nm of torque – it's certainly a punchy beast. It does come in a little heavier than the Turbo Levo Expert at 22.9kg.
It also comes with a similar suspension set-up, with 160mm travel at the front and 150mm at the rear. The Cube has a progressive geometry, but it doesn't have the level of adjustable elements that the Turbo Levo Expert has and it isn't quite as playful on trails.
It's also a little more chunky-looking than the polished finish on the Turbo Levo Expert and comes in close to $1,400 more expensive (when factoring in Specialized's hearty discount). It's still the Turbo Levo Expert for us in this match-up.
We're big fans of the Turbo Levo Expert. There aren't many aspects to hold against the bike and it achieves exactly what it sets out to. Suspension is the only area you would flag on the Levo Expert, but then again, it isn't designed to be taking on the biggest drops and gnarliest trails.
This is a serious player in the enduro market, with a large battery, powerful motor and playful feel. Despite its solid eMTB credentials, you aren't compensating on weight, which is a real achievement from Specialized.
And it's that combination of factors which makes us give it a big vote of confidence. The Turbo Levo Expert is a fantastic eMTB and, with its currently heavily-discounted price on Specialized's website, it's an absolute steal. It's a thumbs up from us, but what do you make of this beauty?
Take it out on the trails, yourself, and let us know!
"If you enjoyed this review then make sure to check out our reviews of other Specialized e-MTBs"