Cannondale brought out the Moterra Neo Carbon LT range with the claim it can excel in every discipline. Now, obviously, that's a very bold claim indeed.
Balancing gnarly descending with chunky climbing and flat and fast, hard packed riding, is almost the bike version of utopia. However, Cannondale has form when it comes to crafting excellent e-MTBs, so this one certainly sparked our interest to review.
So did Cannondale manage it? Or is it a push too far? Let's find out in this Cannondale Moterra review…
Cannondale has, unfortunately, set itself up for failure with the Moterra Neo Carbon LT 1. It claims to be an all-rounder, but performs well off the mark of that.
At 26kg, it's far too heavy and handles clumsily as a result – ruling it out of technical terrain, and feeling sluggish overall.
It isn't a poorly built bike, it's comfortable to ride, has a top end motor, battery, brakes and drivetrain.
However, if you set your mark as "capable of conquering all", but don't achieve that – ultimately the bike is a failure.
Peaks:
Troughs:
Cannondale Moterra Neo Carbon LT 1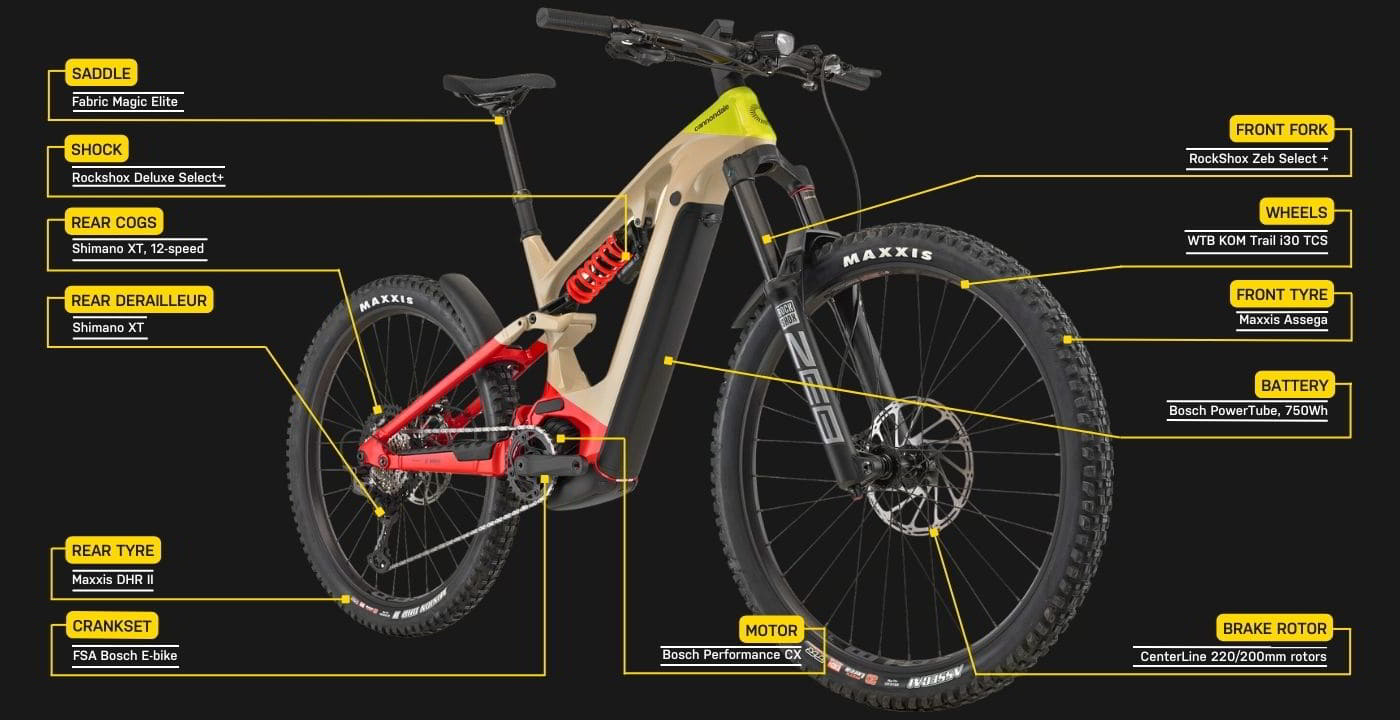 The Moterra Neo Carbon LT 1 has a mixed frame setup despite the word carbon in the name – it has a carbon front triangle, but an aluminium rear end.
If you're wondering, how much does the Moterra Neo Carbon LT 1 weigh? It's actually very weighty – coming in at a whopping 26kg (in the large sized frame), that's a heavy old beast and it certainly feels it out on the trails.
For a bike, which claims to excel in every area, that weight doesn't work – it feels assured on the flats, both stable and robust – but when things get more tricky, particularly between the trees, it just doesn't feel agile enough.
It doesn't have a light touch of handling, and instead feels a bit of a beast to control; it certainly isn't a bike to be throwing around or spanking up a techy climb. It can manage a bit of jumping, but only when they're set out fairly straight – on jump lines, the weight becomes too much to handle.
Another aspect, which adds to the weight, is a sturdy aluminium protector Cannondale have used on the underside of the frame, to prevent the bike falling foul of rock impacts and the like. All the cabling is internally routed through the frame, which comes in 4 sizes – small, medium, large and extra large.
The Moterra Neo Carbon LT 1 comes fitted with a 750Wh Bosch PowerTube battery. The PowerTube is an excellent battery and that 750Wh version gives you incredible range, but it also adds to the overall heavy weight.
On the flat stuff, you can knock out around 125km in one sitting, which is good going and you feel comfortable throughout thanks to the stability in the frame geometry. On more varied terrain, though, and particularly where climbing comes into it, that overall range is shaved down quite considerably – simply due to the heavy weight you have to contend with.
There are rubber protectors placed over the battery components to help protect it from damage out on the tails and it's fitted sturdily into the downtube of the frame. The battery operates conservatively, working cleverly with the motor to release its power at a steady pace – it means you get a lot of bang for your buck on the right terrain for the weight.
It takes the PowerTube 2 and a half hours to get up to 50% charge from empty and 6 hours to get up to full charge.
The Moterra Neo Carbon LT 1 comes with a Bosch Performance Line CX motor, which can throw out 85Nm of torque – a serious punch in the motor department. And my God you need it with that weight – it certainly helps dramatically to get you up some challenging climbs, but the bike's handling isn't light enough to take on twisty or uneven ones comfortably.
It does, however, manage okay on the longer, straighter climbs. The motor and battery have an excellent partnership – releasing the power steadily, so it holds on to the battery's range. You also get a very intelligent power delivery from the motor, you ease into the power gently, without any rough kick or jolt and similarly when you ease off the assist, it drops down softly.
You get a decent selection of assistance modes too – Sport, e-MTB, Tour and Tour+ – along with a Walk Assist function. A very good motor choice, which does a good job of making a heavy bike feel slightly lighter.
The Moterra Neo Carbon LT 1 comes with a Bosch Kiox 300 motor display. It's an excellent display, which offers such a lot to your overall ride experience. You get the percentage of battery remaining displayed as an exact figure, which is the crème de la crème for us.
You can also customise your view to look at aspects such as your power output, overall ride distance, time, speed, distance until your end destination and much more. You can also link your smartphone to the Kiox 300 and upload mapping data on a pre-planned route, so you can navigate via the handlebar mounted display.
There's also a neatly placed handlebar controller, so you can flick up and down the modes of assist. A well-crafted display.
The giveaway is in the name – the LT in the Moterra Neo Carbon LT 1 – stands for long travel. You get 170mm of travel at the front and 165mm at the rear, which is a big relief given the bike's overall heavy weight. You're provided with RockShox Zeb Select+ forks and RockShox Deluxe Select+ rear shocks, with exterior coil technology.
The exterior coil actually looks a bit clunky from a visual perspective, but the more important thing is how it rides. They're decent enough to take some lumps and bumps on the trails, but a more experienced rider will find the bike limiting due to the lack of adjustable components in the suspension setup.
It isn't easily tweakable and that means you're stuck with what you got. On paper the amount of travel reads like a gnarly downhill thrasher, but when you combine the weight with the lack of adjustability, the bike feels limited on the most serious trails.
The Moterra Neo Carbon LT 1 comes with a mullet setup, with a larger 29 inch tyre at the front and a smaller 27.5 inch tyre at the rear end. The rims are provided by WTB, with their KOM Trail i30s fitted, with a Maxxis Assegai tyre at the front end and a Maxxis DHR II at the rear.
Once again, that reads like a playful setup, but once you take into the weight and clunky handling, it actually rides fairly averagely. The tyres offer you enough bite into the dirt and the wheels offer decent stability.
The Moterra Neo Carbon LT 1 comes with SRAM-Code RSC hydraulic disc brakes. These are some of the best out there and they offer an epic level of stopping power – a relief given that weight.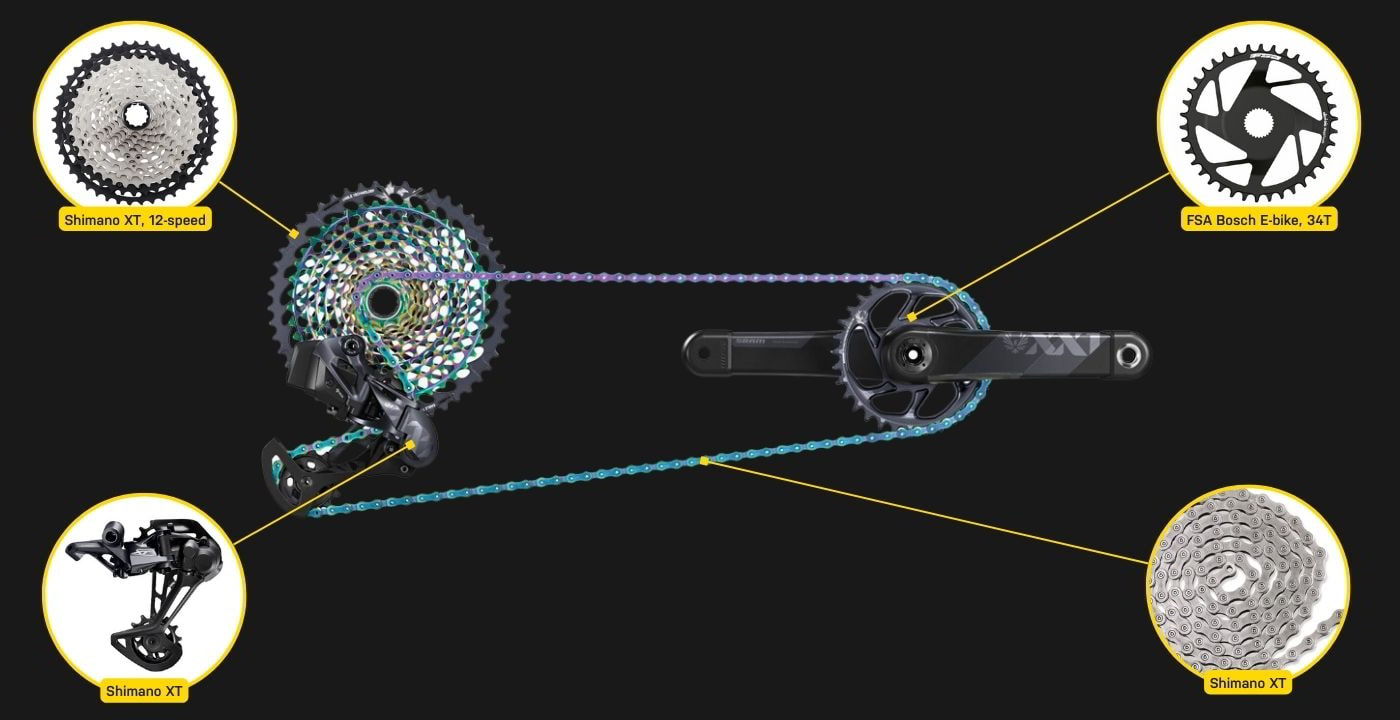 The Moterra Neo Carbon LT 1 is fitted with a 12-speed Shimano XT drivetrain. Another very reliable and top end component, which is made for sleek shifting and a comfortable ride experience.
You've certainly got some top end components on the Moterra Neo Carbon LT 1. However, the lack of adjustable suspension, the clunky overall weight and the feeling of the bike not performing as it reads on the box, makes us feel let down with the price.
Clearly some of the components, such as the brakes, electrics and drivetrain cost what they cost – but you can get better bikes at this price.
Cannondale Moterra Neo Carbon LT 1 Facts & Figures
GEOMETRY

S

M

L

XL

WHEEL SIZE

27.6″ R /
29.0″ F
27.6″ R /
29.0″ F
27.6″ R /
29.0″ F
27.6″ R /
29.0″ F

SEAT TUBE LENGTH (cm)

40.0
46.0
46.0
49.0

TOP TUBE HORIZONTAL (cm)

58.0
60.2
63.4
67.1

TOP TUBE ACTUAL (cm)

54.0
55.5
58.5
62.1

HEAD TUBE ANGLE

64.0°
64.0°
64.0°
64.0°

SEAT TUBE ANGLE EFFECTIVE

76.5°
76.5°
76.5°
76.5°

SEAT TUBE ANGLE

69.6°
69.2°
69.7°
70.2°

STANDOVER (cm)

76.3
76.3
76.7
77.7

HEAD TUBE LENGTH (cm)

10.5
11.5
12.5
13.5

WHEELBASE (cm)

121.7
124.2
127.6
131.5

FRONT CENTER (cm)

76.6
79
82.4
86.3

CHAIN STAY LENGTH (cm)

45.2
45.2
45.2
45.2

BOTTOM BRACKET DROP (cm)

1.1
1.1
1.1
1.1

BOTTOM BRACKET HEIGHT (cm)

35.6
35.6
35.6
35.6

FORK RAKE (cm)

4.4
4.4
4.4
4.4

TRAIL (cm)

13.5
13.5
13.5
13.5

STACK (cm)

62.3
63.3
64.2
65.1

REACH (cm)

42.6
44.6
47.6
51.1
DETAILS

Platform

Model Name

Model Code

Moterra Neo LT
Moterra Neo Carbon LT 1
C25472U

FRAMESET

Frame

Fork

Headset

Moterra Neo Carbon Front Triangle

SmartForm C1 Alloy Swingarm, 165mm travel, Proportional Response Tuned Suspension, removable downtube battery, alloy skid plate, 55mm chainline, internal cable routing, 148x12mm thru-axle, UDH hanger, post mount brake, 1.5" – 1.8" tapered headtube, 18mm two-bolt kickstand mount
RockShox Zeb Select +

Charger RC, 170mm, DebonAir, 15x110mm, 44mm offset
Acros integrated sealed bearing, tapered

Rear Shock

RockShox Deluxe Select+

Coil, 2-Pos mode adjust, adjustable rebound

E-SYSTEM

Drive Unit

Battery

Charger

Bosch Performance Line CX 250W
Bosch PowerTube 750Wh
Bosch 4A

Display

Bosch Kiox 300 w/ LED remote
DRIVETRAIN

Rear Derailleur

Shifters

Chain

Shimano XT
Shimano XT, 12-speed
Shimano XT, 12-speed

Crank

Rear Cogs

FSA Bosch E-bike w/ 55mm chainline, 160mm, 34T
Shimano XT, 10-51, 12-speed

BRAKES

Disc Brake

Brake Levers

SRAM Code RSC hydraulic disc

4-piston, CenterLine 220/200mm rotors
SRAM Code RSC hydraulic disc

WHEELS

Rims

Spokes

Tire Size

WTB KOM Trail i30 TCS, 32h, tubeless ready
DT Swiss Champion
2.6

Wheel Size

Hubs

Tires

29
(F) Formula 15x110mm thru-axle
(R) DT Swiss, 12x148mm thru-axle
(F) Maxxis Assegai, 29 x 2.6″, 3C, EXO+, tubeless ready
(R) Maxxis DHR II, 27.5 x 2.6″, 3C, EXO+, tubeless ready

COMPONENTS

Handlebar

Stem

Grips

HollowGram SAVE riser bar

Carbon, 35mm clamp, 30mm rise, 8° sweep, 5° rise, 780mm
Cannondale 2, 6061 Alloy, 35mm, 0°
Fabric FunGuy

Saddle

Seatpost

Fabric Magic Elite Saddle, cro-mo rails

Cannondale DownLow Dropper

internal routing, 31.6, 125mm (S), 150mm (M), 170mm (L-XL)

EXTRA

Extra 1

Lezyne Super HB E1000 w/ remote high beam switch
PLEASE NOTE THAT, BASED ON COMPONENT AVAILABILITY AND OTHER FACTORS, SPECIFICATIONS ARE SUBJECT TO CHANGE WITHOUT NOTICE.
A good bike to compare the Cannondale Moterra Neo Carbon LT 1 to is the Specialized Turbo Levo Expert – which also claims to be an all-rounder.
Let's firstly start off with weight – the Turbo Levo Expert only weighs in at 22.4kg, 3.6kg lighter than our Cannondale, which instantly makes it handle better. It also has a more progressive geometry, which opens it up to being thrown around more.
You don't lose out much in the battery department – the Turbo Levo Expert comes with a 700Wh battery, compared to the 750Wh Neo Carbon – however, the Bosch PowerTube is superior to the custom battery on the Specialized.
Specialized also has a custom motor on its bike, which comes with 90Nm of torque, 5Nm more than our Bosch motor – both excellent products, but that power makes a big difference on the Specialized due to the lower weight.
The Turbo Levo Expert has an excellent display too, but has slightly less travel – 160mm at the front and 150mm at the rear – compared to the 170mm and 165mm on our Cannondale Moterra.
However, Specialized have gone with some highly adjustable FOX products, which are super sleek to ride and perform very well with the lower weight. You also get excellent SRAM brakes and an SRAM drivetrain on the Turbo Levo Pro.
Overall the Specialized bike is far superior – it's lighter, much more fun to handle and genuinely ticks the all-rounder box much better than the clunky Moterra. And the Specialized is cheaper at only $8,240 –only one winner here.
Sadly, the Moterra Neo Carbon LT 1 strikes well below the mark it targets. By claiming to be an all-rounder, it's very easy to set yourself up for failure and Cannondale certainly has here. The bike is far too heavy and handles very clumsily, making it inappropriate for technical descending, where you need to manipulate the bike easily.
It also feels sluggish on more technical climbs too. It does have its strong areas – the bike feels comfortable, and over long distances, it performs well, capable of taking some lumps and bumps, with some excellent components, such as the brakes, electrics and drivetrain.
It unexpectedly ends up being an adept tourer, which also has a decent suspension for some rougher terrain. But is it an all-rounder? Not in our opinion, and that makes it a let down. Now time for you to saddle up and decide for yourselves.
If you enjoyed this review then make sure to check out our other Cannondale Moterra reviews.