The Orbea Rise M-LTD is one of few bikes in the industry looking to break the mould, by reducing the size and power of the electrics. Traditionally, bigger and more powerful was seen as better.
However, a number of manufacturers are changing that idea and looking to create ultra-light e-MTBs, which almost feel like traditional e-MTBs. The Orbea Rise is one such bike, but getting it right isn't easy.
How does this e-MTB stand up to the competition? Time to hit the trails in our Orbea Rise review…
The Orbea Rise M-LTD is pretty special. It weighs in at 16.2kg, which is quite frankly outrageous – it handles a complete dream as a result and often feels like a normal MTB.
You have a powerful motor, decent battery and other brilliant components. It bridges the world of e-MTB and MTB majestically – the only downside, a display doesn't come as standard and it's damn expensive.
Overall, though, this bike is a true beauty.
Peaks:
Troughs: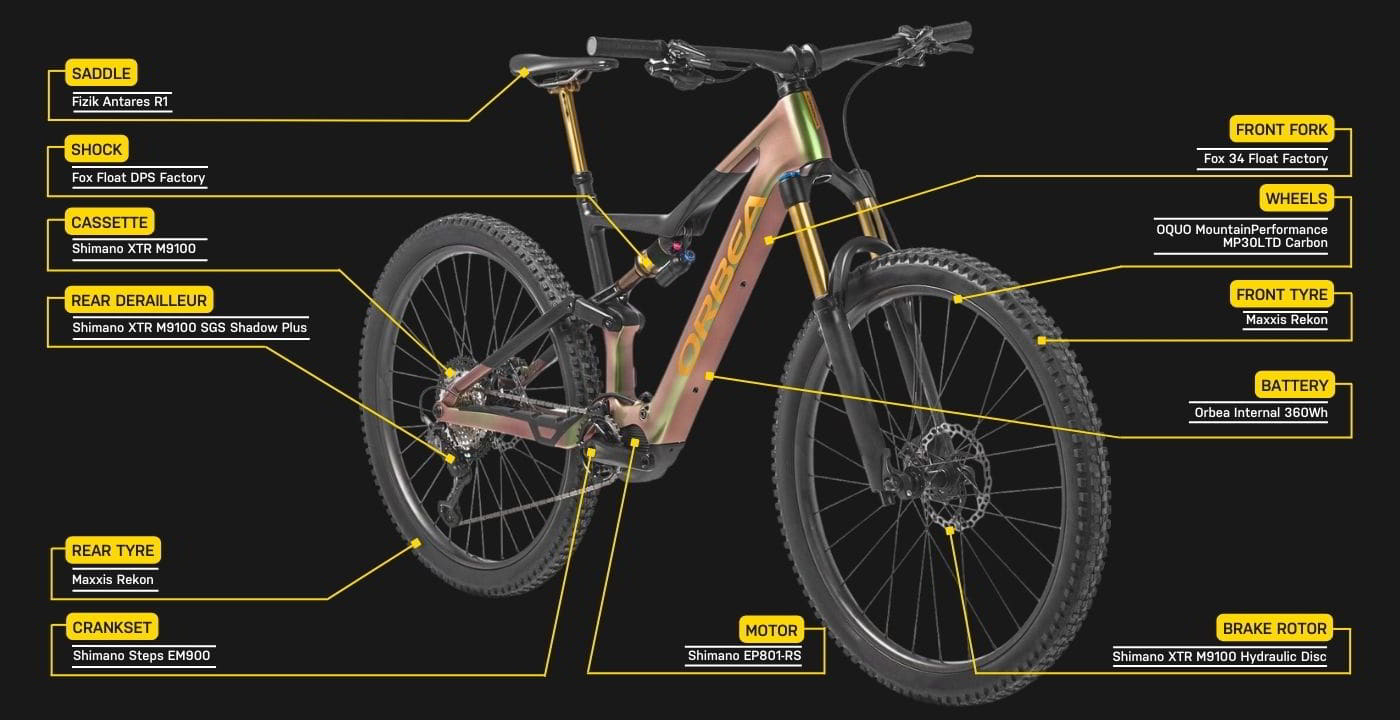 One of the key headlines in this review is the weight – it's essentially what makes it so special. The Orbea Rise weighs in at an astonishing 16.2kg (in the medium frame), that's truly outrageous for an e-MTB and very rare to find in the industry.
It's thanks to an ultra-light OMR Evo carbon compound frame, which is super sleek and refined, cutting away with any bells and whistles to help reduce the overall weight figure. The geometry gives you an upright position on the e-MTB, with quite a short frame to make you feel very much in control at the helm.
The lightness means it handles a dream, with very responsive handling and an ease of use, which means it likes to be thrown about on the trails. You feel very composed going downhill and it's incredibly easy to manipulate in the twisty sections.
The lightness of the frame does mean that you do feel a few shocks through the impacts and it doesn't dissipate bumps quite as well as a thicker frame – but it's a minor compromise for a featherlight bike. It comes in 4 frame sizes – small, medium, large and extra large.
For the bike to come in at that light weight then there has to be compromises and one of them is in the battery. The Orbea Rise M-LTD comes with a 360Wh custom battery as standard, which clearly is much smaller than a lot of e-MTBs.
However, you have to remember why this bike was designed – it's to offer a natural ride experience, almost like a conventional e-MTB, but with a bit of gas in the tank to help you along your way.
And this battery certainly does that. It offers you enough range to push out a considerably longer day than if you were just on leg power alone. For an extra $491 you can get a 250Wh Orbea Rise range extender, which makes an enormous difference – it sends your range seriously high, particularly when you factor in the weight.
The battery is also conservative in its power release, which helps drag that range out more than you would expect. A major benefit is also how long it takes to charge up – it only takes 2 hours to get up to 80% of charge and can get up to full charge in 3 hours.
ℹ️ If you need a lot of assistance from an e-MTB, then this isn't the bike for you. This is better suited to fitter riders, who want to have an extra helping hand on the trails. It isn't made to drag you around all day and simply won't be able to.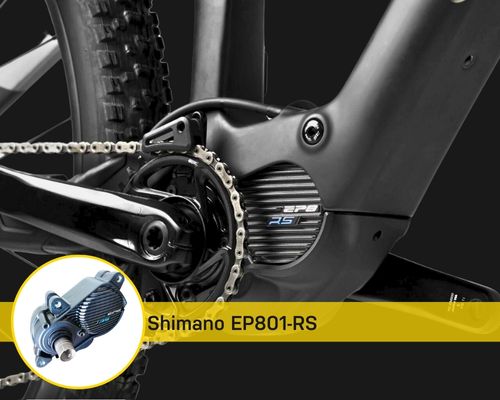 The Orbea Rise M-LTD comes with the Shimano EP801-RS motor, which punches out 60Nm of torque. It's slightly reduced power version of the usual Shimano EP801, which has 85Nm of torque – this was produced specially for the Orbea Rise.
It's still a very powerful kick to have at your disposal, particularly when the weight is so flipping light. That combination makes climbing an absolute doddle – you absolutely dance up the most technical and steep climbs.
A lighter rider might find the front wheel rides up a bit on the climbs when the power is wacked up on full, simply due to the light weight of the frame – it's important to keep your weight planted forwards or ease off the assistance trigger.
There's a very balanced feel to the power delivery, it feels quite natural and intuitive rather than a harsh pull – that makes taming the bike very easy indeed. You get 4 modes of assist – Eco, Trail and Boost – with a Walk function also included.
The Orbea Rise M-LTD doesn't come with a display as standard, which is a problem for us. It frustrates us enormously when manufacturers choose not to include displays on their standard sale bikes.
It's an easy fix, which Orbea even offers customers; you can buy a Shimano EN600 display for an extra $109. The display offers you 10 LED lights for the amount of battery life you have left, representing 10% of charge and you can customise your view to include info such as speed, trip distance, time, estimated range, RPM and a few other options.
It's a nifty little device, which is compact and sits neatly on the side of the handlebar of your choice. You also get an easy to flick between remote as standard with the bike, so you can move through the modes of assist.
It should be included, as standard.
The Orbea Rise M-LTD comes with 140mm travel at the front and 140mm at the rear. When you take into account the very low weight too, this is more than enough give in the suspension to cope with all the obstacles and challenges you throw at it.
The bike is capable of launching off some very naughty-looking heights without bottoming out, and copes admirably on wild descents. The forks are supplied by FOX, with their 34 Float Factory model on the standard bike, and you get FOX Float DPS rear shocks.
For an extra $164, you can upscale that fork setup to 150mm travel FOX 36 Float Factory model. We found the 140mm did the job on all the varying terrain we launched the bike at, but a heavier rider might want to upgrade.
It feels balanced once again and the plush suspension setup means you have enough give for the hits, without losing too much traction on the climbs.
The Orbea Rise M-LTD comes with 29 inch OQUO Mountain Control wheels at both the front and the rear. These are ultra-light, which makes them nimble to move about on the trail. They're covered in Maxxis Rekon tyres, which are 2.6 inch wide – this allows you to have added traction out on the trail, which improves stability.
The Orbea Rise M-LTD comes with Shimano XTR M9100 brakes. These are very good bikes indeed, which bite hard when you need them most and due to the low weight of the overall bike, you don't need anything burlier. They do the job needed nicely for our Orbea e-MTB.
The Orbea Rise M-LTD comes with a 12-speed Shimano XTR drivetrain. Another big tick from us – it is very responsive and fits nicely into the overall package.
The 2023 Orbea Rise is very expensive and it's a bitter pill to swallow when you have to pay extra for quite a few different aspects, such as the display.
It's a brilliant bike, but when you aren't getting enormous range or power, then it can feel a little painful to pay such a large amount. You have some excellent components in there, but it doesn't detract from the overall cost.
Orbea Rise M-LTD Facts & Figures
SIZE

CRANK

STEM

HANDLEBAR

DROPPER




SEATPOST

RIDER HEIGHT

S

165

40

800

380/100

150 cm – 165 cm




59.1″ – 65.0″

M

165

40

800

430/100

160 cm – 175 cm




63.0″ – 68.9″

L

170

50

800

430/100

170 cm – 185 cm




66.9″ – 72.8″

XL

170

50

800

430/100

180 cm – 198 cm




70.9″ – 78.0″
COMPONENT GEOMETRY

S

M

L

XL

SEAT TUBE (C-T)
381.0
419.0
457.0
508.0
TOP TUBE (EFF)
565.0
592.0
619.0
649.0
HEAD TUBE
95.0
105.0
120.0
140.0
CHAINSTAY
445.0
445.0
445.0
445.0
BB HEIGHT
336.0
336.0
336.0
336.0
BB DROP
35/32
35/32
35/32
35/32
WHEELBASE
1180.0
1205.0
1229.0
1255.0
HEAD ANGLE
66.0°/65.5°
66.0°/65.5°
66.0°/65.5°
66.0°/65.5°
SEAT ANGLE
77.0°/76.5°
77.0°/76.5°
77.0°/76.5°
77.0°/76.5°
STANDOVER
710.0
736.0
766.0
776.0
REACH
425.0
450.0
474.0
500.0
STACK
604.0
613.0
627.0
646.0
FORK LENGTH
547.0
547.0
547.0
547.0
RAKE
44.0
44.0
44.0
44.0
FRAME

FRAME

SHOCK

SUSPENSION FORK

Orbea Rise Evo OMR 2023

140mm travel, 29″ wheels, Concentric Boost 12×148
Fox Float DPS Factory

3-Position Adjust Evol Kashima custom tune 210x55mm
Fox 34 Float Factory

140 FIT4 3-Pos-Adj QR15x110 Kashima

HEADSET

LINKAGE

Alloy 1-1/2″, Black Oxidated Bearing

DRIVETRAIN

CHAINRING

CRANK

SHIFTERS

e*thirteen e*spec Direct Mount 32T Boost
Shimano Steps EM900
Shimano XTR M9100

CASSETTE

REAR DERAILLEUR

CHAIN

Shimano XTR M9100

10-51t 12-Speed
Shimano XTR M9100 SGS Shadow Plus
Shimano CN-9100

CHAINGUIDE

Orbea Rise chainguide

COCKPIT

HANDLEBAR

STEM

OC Mountain Control MC10 Carbon

Rise 20, Width 800
OC Mountain Control MC10 Alu SL, 0º

BRAKES

BRAKES

BRAKES CONFIGURATION

Shimano XTR M9120Hydraulic Disc

WHEELS

WHEEL

TYRE

OQUO Mountain Performance MP30LTD Carbon
Maxxis Rekon 2.60″ 120 TPI 3CMaxxTerra Exo TLR

Maxxis Rekon 2.40″ FB 60 TPI Dual Exo TR

COMPONENTS

SEATPOST

SEATPOST LEVER

SADDLE

Fox Transfer SL Factory Kashima Dropper 31.6
Shimano SL-MT-800 I-Spec EV
Fizik Antares R1 142mm

EBIKE

Motor

Battery

RANGE EXTENDER

Shimano EP801-RS
Orbea Internal 360Wh (Optional 540Wh)
N/A

DISPLAY

CHARGER

REMOTE

N/A
Orbea 2.Generation eBike Smart charger 42V/2-4A
EN600-L

ACCESSORIES

TOOLS

OC FLP Multitool MT-20, Hex 2, 3, 4, 5
Another manufacturer looking to turn heads in this ultra-light e-MTB sector of the market is Trek – with its Fuel EXe 9.9 XTR. Let's pit it against our Orbea Rise M-LTD.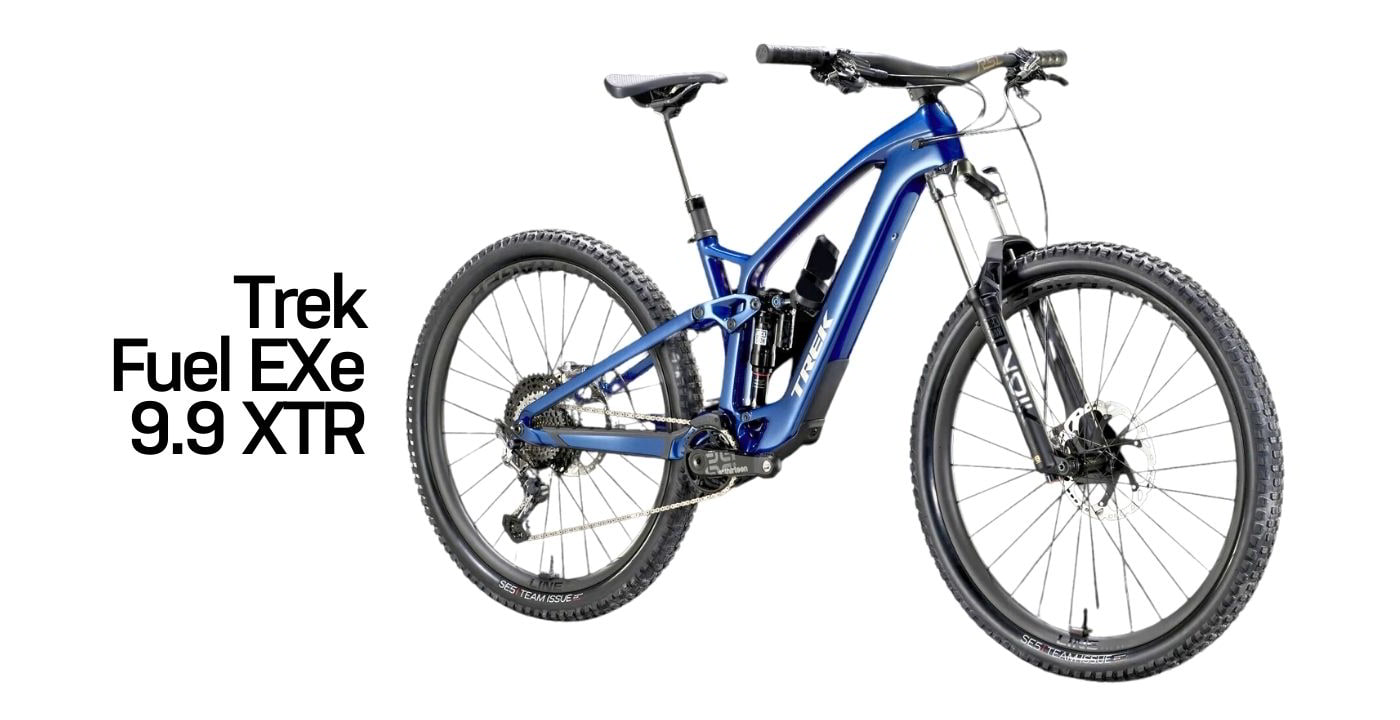 The Trek is heavier than our Orbea, coming in 1.2kg more than our Rise M-LTD.
It comes with a TQ battery and motor pairing – it's a 360Wh battery, which matches ours, and you get a motor which can knock out 50Nm of torque, 10Nm less than our Orbea.
With less power and more weight the Trek feels just a slight bit less nimble on the trails and our Orbea certainly shines in the handling department.
However, the TQ display which comes with the Trek is an absolute triumph, offering you a vast array of customisable viewing options – our Orbea doesn't even come with one as standard.
You get a slight bit more travel at the front end on the Trek, 150mm, and the same, 140mm, at the rear.
You get top end RockShox components fitted as standard, which are on par with our FOX products and you get an identical drivetrain and brake set-up, provided by Shimano.
The Shimano comes in at $12,999, which is $851 more expensive than our Orbea.
Both are truly excellent bikes – our Orbea Rise e-MTB edges it in terms of handling and ride quality, due to the lower weight and chunkier motor, however, the electrics are exceptional on the Trek.
This one is a draw.
The Orbea Rise M-LTD is a phenomenal bike to ride. It's very easy to forget you're on an e-MTB, because it handles like a conventional one, with great manoeuvrability and an insane nimbleness.
It flies up the climbs and comes alive on the descents – with a punchy motor to help you when you need it most. You also get top end components included throughout the bike and it's simply a joy to ride.
We're frustrated with the lack of motor display, which is a massive missing link, and the price is pretty painful. However, you're getting one of the market-leading bikes and we guess you have to pay a premium for that.
It's certainly a winner for us and a round of applause is due. The Orbea Rise 2023 is a must ride for us – you know what to do.
If you enjoyed this review then make sure to check out our other Orbea Rise reviews & reviews of our other Orbea e-MTBs.