The Orbea Wild already has a strong reputation in the industry, with previous incarnations of the bike offering outstanding climbing and descending ability.
The 2023 edition of the bike has been tweaked in a few different areas, which could be said to be risky. Sometimes, after all, less is more and changing a good thing can actually take a bike backwards, rather than improving it.
So does the Spanish manufacturer make any poor decisions with the 2023 Wild M-LTD? Or do they just add a cherry to the cake? Let's get stuck into this Orbean Wild review…
The Orbea Wild M-LTD is among the best enduro e-MTBs we've ever ridden.
It's an absolute beauty, offering immense versatility and durability. It's capable of the biggest drops, the trickiest climbs and has the handling to cope with the most challenging technical sections.
There are few bikes which offer such a rounded package; it's dripping in high-spec components and has a market-leading bit of kit in the motor department.
There are only two issues; you don't get a display as standard and it's a hassle to charge.
These are very easy fixes to make, though, to take this to a 5 out of 5.
Peaks:
Troughs:
ℹ️ We reviewed the standard Orbea Wild M-LTD. Upon purchase on the company's website, you can upgrade different elements, which we've listed.
The Orbea Wild M-LTD comes with the company's carbon compound Wild OMR 2023 frame. It's ultra strong, with outstanding shock absorption, which helps dissipate impacts through the frame, rather than through your body.
The Orbea Wild weight is 22.56kg in the large frame size, which we rode during our review rides. The frame stiffness is one area which has been heighted in this 2023 edition of the bike – the company has done away with the battery flap on the downtube, which they say reduced downtube stiffness by more than 50%.
There are pros and cons here – you have a more robust front triangle, but it takes longer to remove your battery. The bike's geometry is geared up for enduro style riding, with a balanced geometry offering aggressive elements, but also stability.
That balance means the bike feels assured on the climbs, offering enough traction to heighten pedalling efficiency, but also having enough of an aggressive stance to be able to attack descents comfortably.
You can choose between 4 bike Orbea has got the mix bang on and the bike comes in 4 frame sizes – small, medium, large and extra large.
The Orbea Wild M-LTD comes with a 625Wh Bosch PowerTube battery as standard, although you can upgrade the set-up on purchase to a 750Wh for an extra $275. We're very impressed with the performance of the Bosch PowerTube on the Orbea Wild – it's a good battery anyway, but seems to excel on this bike.
We managed to knock out some enormous numbers, hitting over 150km, including large sections of climbing. The battery size to weight ratio is impressive and clearly, with the 750Wh battery, you would have even more gas in the tank.
The battery is lodged firmly into the downtube as we already mentioned – it can be a bit of a hassle to remove, but Orbea claims it improves the strength of the bike's frame by removing the clip in and out flap.
Luckily you have that big range, which means you don't have to face hassle too quickly. The battery takes 2 hours to charge up to 50% from empty and just under 5 hours to charge up to 100%.
The Orbea Wild comes with the all-new Bosch Performance Line CX-R motor. The R stands for the race and it's a limited-edition motor, which Bosch have brought out for top end bikes and elite level racers – it's more advanced than the excellent Bosch Performance Line CX model.
You still get a sizeable 85Nm of torque, but there are added features in there, which heighten the ride experience. The motor is ultra intelligent and can sense how much force you're putting through the pedal and knocks off the support if it thinks you can manage a section on your own – similarly, if it feels you struggling, it will heighten its assistance independently.
It makes riding the bike a dream and creates a completely natural feel to the power output. The bike's handling, reasonable weight and motor power makes climbing a doddle and the bike handles all challenges with ease. You get 4 modes of assistance to choose from, including Eco, Tour+, e-MTB and Race.
ℹ️ For an inexperienced rider, the Race mode could be like a kick in the face – it's really very powerful and takes some getting used to. We only recommend using this in the hardest sections. Experienced riders should tame it fairly quickly.
The Orbea Wild doesn't come with a display as standard – Orbea says its done this to keep a clean looking finish and for minimal distraction from the handling.
There's a Bosch System Controller integrated into the top of your top tube, which shows you 5 LED lights for the amount of battery you have left – our absolute nightmare in the e-MTB world.
The top tube setup also shows you what mode of assist you're in and you have a small controller on the handle bars to flick between them. That's all you get, which we find pretty poor and uninspiring, to be honest. On such a beautiful bike, we expect a lot more.
When you purchase the bike on the company's website you can include a Bosch Kiox display for an extra $165, which you can then mount on your handle bars – offering lots of customisable data options. However, to not include one as standard is poor in our opinion.
The standard Orbea Wild comes with 170mm of travel at the front and 160mm at the rear, however, for no extra cost you can lower the fork travel to 160mm.
The standard bike comes with FOX 38 Float Factory forks and FOX Float X2 Factory rear shocks. That's a mega setup made for some serious punishment on the trickiest descents and the bike excels as a result.
It feels very comfortable at flat-out speeds, downhill, and at times has the air of a conventional enduro MTB, you can launch it off some big old drops and the suspension responds with finesse. At no point do you come crunching down or feel like you're about to break a limb on impact.
The suspension and super strong frame work in harmony to create a very comfortable ride experience, even on the most gnarly terrain.
The Orbea Wild M-LTD comes with 29in wheels at both the front and rear. The wheels are OQUO Mountain Controls, which are extra sturdy to take the big impacts we mentioned in the last section.
They respond well to all the punishment you throw in their way and come with a Maxxis Minion DHF tyre at the front and a Maxxis Minion DHR II at the rear. The tyres offer a very toothy bite into the trail and are also super light; they offer everything you need from an e-MTB setup.
The Orbea Wild M-LTD comes with Shimano XTR M9120 brakes, which are top-end Shimano models, capable of bailing you out of trouble when you need them most. They have immense fighting power into the corners and when you're flying nose-down on the descents. Ultra trustworthy.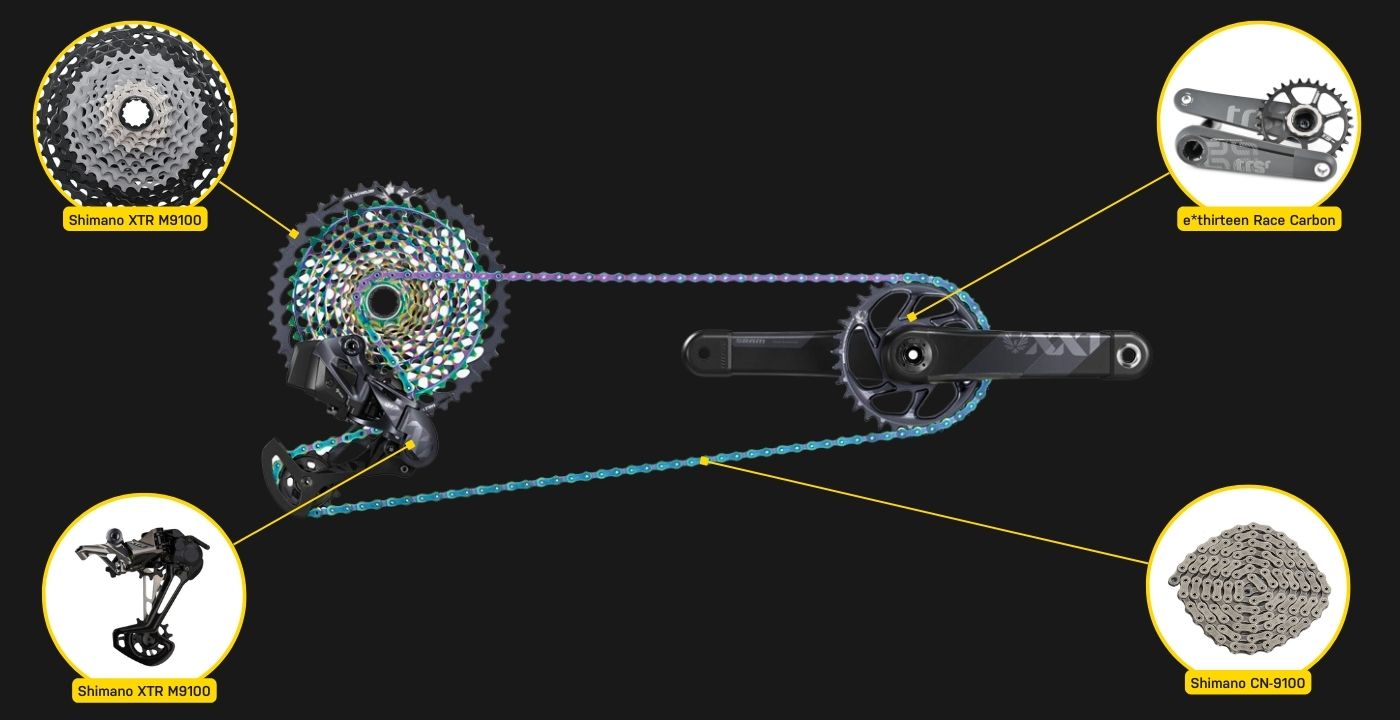 The Orbea Wild M-LTD comes with a 12-speed Shimano XTR M9100 drivetrain. Another excellent set of components, which are some of the best on the market. They offer insanely smooth shifting and responsiveness, which are capable of handling the high demands you ask of them.
This is clearly a lot of money, but you're getting a truly exceptional bike for that amount. There isn't a great deal we can fault the bike on, however, we are disappointed by the lack of display. It's only that aspect, plus the hassle of clipping in and out the battery which causes us any concern.
Orbea Wild M-LTD Facts & Figures
SIZE

CRANK

STEM

HANDLEBAR

DROPPER




SEATPOST

RIDER HEIGHT

S

160
40
800
363/125
150 cm – 175 cm
59.1″ – 65.9″

M

160

40

800

418/150

160 cm – 185 cm




63.0″ – 72.8″

L

160

50

800

475/175

170 cm – 195 cm




66.9″ – 76.8″

XL

160

50

800

530.7/200

180 cm – 205 cm




70.9″ – 80.7″
| | S | M | L | XL |
| --- | --- | --- | --- | --- |
| SEAT TUBE (C-T) | 415.0 | 415.0 | 435.0 | 460.0 |
| TOP TUBE (EFF) | 573.0 | 595.0 | 622.0 | 649.0 |
| HEAD TUBE | 110.0 | 120.0 | 130.0 | 140.0 |
| CHAINSTAY | 448.0 | 448.0 | 448.0 | 448.0 |
| BB HEIGHT | 353.0 | 353.0 | 353.0 | 353.0 |
| BB DROP | 25.0 | 25.0 | 25.0 | 25.0 |
| WHEELBASE | 1223.0 | 1247.0 | 1277.0 | 1306.0 |
| HEAD ANGLE | 64.0° | 64.0° | 64.0° | 64.0° |
| SEAT ANGLE | 77.5° | 77.5° | 77.5° | 77.5° |
| STANDOVER | 700.0 | 700.0 | 700.0 | 700.0 |
| REACH | 435.0 | 455.0 | 480.0 | 505.0 |
| STACK | 621.0 | 630.0 | 639.0 | 648.0 |
| FORK LENGTH | 575.0 | 575.0 | 575.0 | 575.0 |
| RAKE | 44.0 | 44.0 | 44.0 | 44.0 |
FRAME

Frame

Shock

Suspension Fork

Orbea Wild OMR 2023
160mm travel, 29″ wheels, Concentric Boost 12×148
Fox Float X2 Factory Trunnion
2-Position Adjust Kashima custom tune 205x65mm
Fox 38 Float Factory
170 Grip2 QR15x110 Kashima

HEADSET

Alloy 1-1/2″, Black Oxidated Bearing

DRIVETRAIN

Chainring

Crank

Shifters

e*thirteen e*spec Direct Mount 34T Boost
e*thirteen Race Carbon
Shimano XTR M9100

Cassette

Rear Derailleur

Chain

Shimano XTR M9100
10-51t 12-Speed
Shimano XTR M9100 SGS Shadow Plus
Shimano CN-9100

Chainguide

e*thirteen Plus Bosch CX Gen4 32-38t

COCKPIT

Handlebar

Stem

OC Mountain Control MC10 Carbon, Rise 20, Width 800
OC Mountain Control MC10 Alu SL, 0º

BRAKES

Brakes

Brakes Configuration

Shimano XTR M9120Hydraulic Disc

WHEELS

Wheel

Tyre

OQUO Mountain Control MC32LTD Carbon
Maxxis Minion DHF 2.60″ 120 TPI FB 3C Maxx Terra Exo+ TR

Maxxis Minion DHR II 2.60″ 120 TPI FB 3C Maxx Terra Exo+ TR

COMPONENTS

Seatpost

Seatpost Lever

Saddle

Fox Transfer Factory Kashima Dropper 31.6
Shimano SL-MT-800 I-Spec EV
Fizik Terra Aidon X1 145mm

ACCESSORIES

Lights

eBike

Motor

Battery

Display

BOSCH Performance Line CX-R BDU3741
BOSCH Powertube 625Wh Horizontal BBP3760
BOSCH System Controller BCR3100

Charger

Remote

Bosch Charger 4A (230V) BPC3400

BOSCH Mini Remote BRC3300
We're going to pit the Orbea Wild M-LTD up against the Specialized S-Works Turbo Levo – another market leader in the enduro market.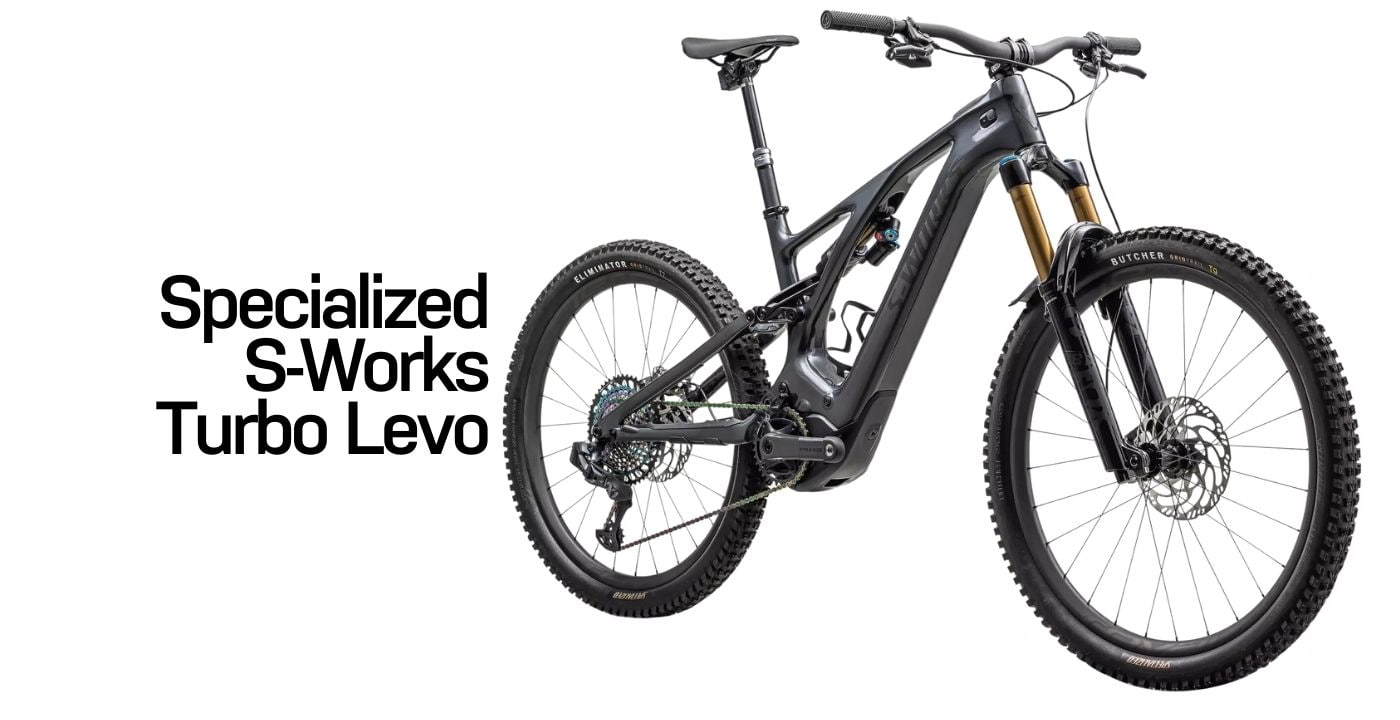 The S-Works comes in at 22.1kg, 0.4kg lighter than our Orbea Wild, with a fully carbon frame. You get a custom 700Wh battery on Specialized, which is on par with our Bosch model, with excellent range on both.
And you get 90Nm of torque with Specialized's custom motor, which is 5Nm more than our Orbea's Bosch Performance Line CX-R – both operate incredibly intelligently and are at the very top of their game.
Specialized has included its excellent Mastermind TCU display, which elevates a ride experience in every way, but you get less travel – with only 160mm at the front and 150mm at the rear.
Our Orbea has 10mm more at both the front and rear end, however, the Specialized has a mullet wheel setup designed to add playfulness. Specialized has gone for Magura MT7 brakes and an SRAM XG drivetrain – on par with our components.
The Specialized comes in at $15,000 – around $1,700 more than our Orbea. The Specialized is overpriced, but it is excellent in every way, just pipping our outstanding Orbea to the post on this one.
The Orbea Wild M-LTD is a truly sensational e-MTB. It's geared up for war and can take on the gnarliest descents and the most challenging climbs, operating seamlessly throughout. It's seriously robust and is capable of taking on the biggest hits, but leaving you feeling comfortable.
It's dripping in high-spec components, has market leading electrics, a big old range and handles a dream. It's one of the best enduro bikes we've ever ridden and in terms of rideability, there are few better on the market.
However, there are two areas which annoy us, the lack of a display as standard is an oversight and it's a hassle to charge the battery, but in terms of ride quality, it's an absolute dream. If Orbea sorts out the display and the charging issue, then this is 5 out of 5. This is a bike you absolutely have to saddle up on, so get out there and ride it now.