Trek's Rail range is known for offering some of the highest-spec bikes out on the market. They're synonymous with big batteries, powerful motors and a whole host of high-quality bells and whistles running from top to bottom. This is particularly the case for the most expensive bikes in the range, which can cost the same as a small mortgage – seriously.
The Rail 9.9 XTR Gen 3 was created with the aim of providing a versatile all-rounder; a bike which could take on the best e-MTBs out there. So, does it stand up to the test? Or should that small fortune be spent on another manufacturer? We've spent hours out on the trails on this Trek e-MTB, to nail down the facts for you.
Join us, then, as we get hands on with the Rail 9.9 XTR Gen 3!
The Rail 9.9 XTR Gen 3 is another Trek e-MTB which makes a real statement in the market.
It's advanced in many areas, offering a huge range of adjustable elements to create a bespoke e-MTB for your needs, and to adapt to the terrain you're facing, accordingly.
It's covered in high-spec elements – with a fantastic and versatile suspension, great wheels and absolutely top electrical components.
The bike will last all day out on the trails and has a very strong motor punch to get you up the trickiest mountains.
Trek could have gone one or two steps further in certain areas, such as the brakes and the amount of travel, but they're small tweaks.
Overall, we think this one's a winner.
Peaks:
Troughs:
The Trek Rail 9.9 XTR Gen 3 is fitted with the company's new OCLV mountain carbon frame. Although it's made out of carbon, that doesn't mean it's flimsy, far from it. The OCLV compound is seriously strong and can take a real beating – it soaks up a lot of pressure and leaves the rider feeling comfortable up top.
How much does a Trek rail 9.9 weigh, we hear you ask? We're glad you asked! The 9.9 XTR Gen 3 weighs in at 22.77kg, which isn't super light, but its clever geometry lends itself to still being playful. The Mino Link adjustment feature allows you to shift up or down position on the bike while out on a ride – so you can nail your positioning as you change terrain or the style of riding you're doing.
The bike handles incredibly well as a result of this adjustment feature, and actually has a nimbler feel than you would expect from a bike with such burly electrical components. It copes well in the twisty sections, has a light-footed feel and manages the descents with ease, too. It's a beauty to manipulate on the trails and the geometry adjustments mean you're always left feeling comfortable.
The frame comes in 4 sizes – small, medium, large and extra large.
The Rail 9.9 XTR Gen 3 comes with a Bosch PowerTube 750Wh smart system battery. It's a fantastic piece of kit, which is a reassuring partner to have out on the trails. We never ran out of battery whilst riding, even on some really long, all-day affairs – that's quite an achievement.
The battery is placed neatly into the downtube and although it's a chunky beast, it doesn't look obtrusive at all. Overall, the bike has a decent look.
There isn't any real excuse for running out of battery on the Rail 9.9 XTR Gen 3 – it works intelligently with the motor and by just being mindful of the settings you're using, it will retain a lot of juice for a long time.
That isn't always the case with many batteries, so we're very impressed with the Bosch battery here – although the company has good form for creating excellent e-MTB components, so we're not surprised.
The Rail 9.9 XTR Gen 3 is fitted with another outstanding Bosch component when it comes to the motor. The Bosch Performance Line CX smart system is fitted on the bike, which we rate very highly – in fact, we think it might well be the best e-MTB motor out there on the market.
The motor kicks out 85Nm of torque, which is a very punchy kick indeed, and it will help drag you up any climb you put in its way. Sometimes, a chunky amount of torque can equal an unnatural feel on the trails, with an uncomfortable drag, overshoot into corners or an inability to knock off the assist easily.
However, the power delivery on the Rail 9.9 XTR Gen 3 is very smooth, which adds to the comfortable feel of the bike's handling. The motor and battery work intelligently together, helping to conserve battery for a long time, rather than rinsing through it at pace. The motor has four modes you can flick between: Eco, Tour+, e-MTB and Turbo.
❗NB:
The motor and battery combination will serve as great partners to you out on the trails, if you think smartly about which mode you're using. If you've got the assist on Turbo the whole day then you'll be sure to run out of battery, but if you operate it intelligently then it's very unlikely you will run out.
The Rail 9.9 XTR Gen 3 is fitted with the Bosch Kiox 300 – it's everything you could want from an e-MTB display and it's found on other Trek e-bikes. It's an advanced piece of technology, which offers you a lot more than just the percentage of battery you have left.
It's a full onboard computer, offering the ability to really nail your performance while out riding. It offers data on your current speed, your RPM, your wattage, range estimation, cadence, the amount of elevation you've done, and much more.
You can customise your display, so you only see the information you want and it allows you to really hone in your effort on a ride.
❗NB:
The LED controller, which allows you to flick between different modes of assist, is a little too much in the "danger zone" for us. It sits quite high up on the handle bars, which opens it up to getting knocked or damaged. A heavy impact or fall could really cause it some mischief.
Overall, the motor display is great.
The Rail 9.9 XTR Gen 3 is a versatile beast and it needs a solid suspension setup to cope with a big range of riding styles and terrain. The bike has 160mm travel at the front and 150mm travel at the rear, which isn't the most travel you'll find on an e-MTB.
However, Trek has paired up with RockShox at either end to provide a serious setup. It comes with RockShox Zeb Ulitmate, Air Wiz, DebonAir spring forks and RockShox Super Deluxe Thru Shaft, Air Wiz rear shocks.
These offer a silky smooth ride experience and effortlessly soak up impact out on the trails. You have enough give to take some big impacts, while also not feeling over the top or too bouncy on the flat or while climbing. It's a robust suspension setup, which coped with everything we threw at it with real ease.
You can also adjust the setup on the move to tailor it to the upcoming challenges. So if you're moving from twisty technical sections to a gnarly downhill section, then you can make small tweaks accordingly.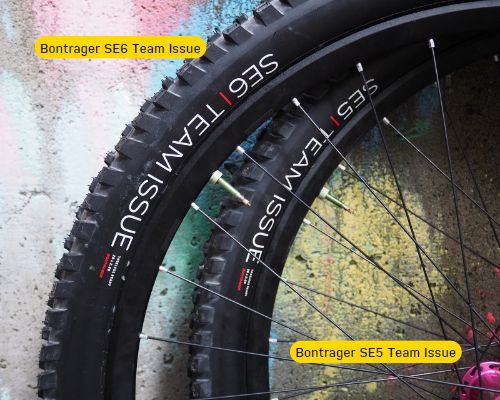 The Rail 9.9 XTR comes with 29in Bontrager Line Pro 30 wheels at both the front and the rear, made out of a lightweight and sturdy OCLV Mountain Carbon compound. This bike is made to take some punishment and the wheel setup offers you a strong base on the trail.
The 29in wheels offer a good surface area to soak up pressure, and provide a decent amount of clearance to hop up and over roots, rocks and other obstacles. If, for whatever reason, though, you find the wheels aren't to you liking, then it's worth checking out our guide on the best electric mountain bike wheels to look at some alternatives.
Tyre-wise, the bike comes with Bontrager SE5 Team issue tyres – these have a strong amount of tread to cut nicely into the dirt and it gives you a lot of confidence while moving at pace.
You can push the bike hard into corners, without fearing you'll slip out; the tyres are a clever pairing and another factor which makes you want to go fast on the bike. We also found them to be durable, we didn't encounter punctures or any problems, no matter how hard we pushed them.
The Rail 9.9 XTR comes with Shimano XTR M9120, 4-piston brakes. They offer a strong bite and give you a decent amount of confidence when pushing it flat out downhill, rolling hard into the corners or having to weave in some trickier terrain.
The heat management seemed decent to us, too, and they lasted well after a lot of riding. In comparison, the Rail 9.9 XX1 GXS Gen 3 comes with SRAM Code RSC hydraulic disc brakes. In our opinion, the SRAM Code RSCs are definitely superior, but we're talking about really fine margins here.
The Shimano XTRs certainly did enough for us during our review rides.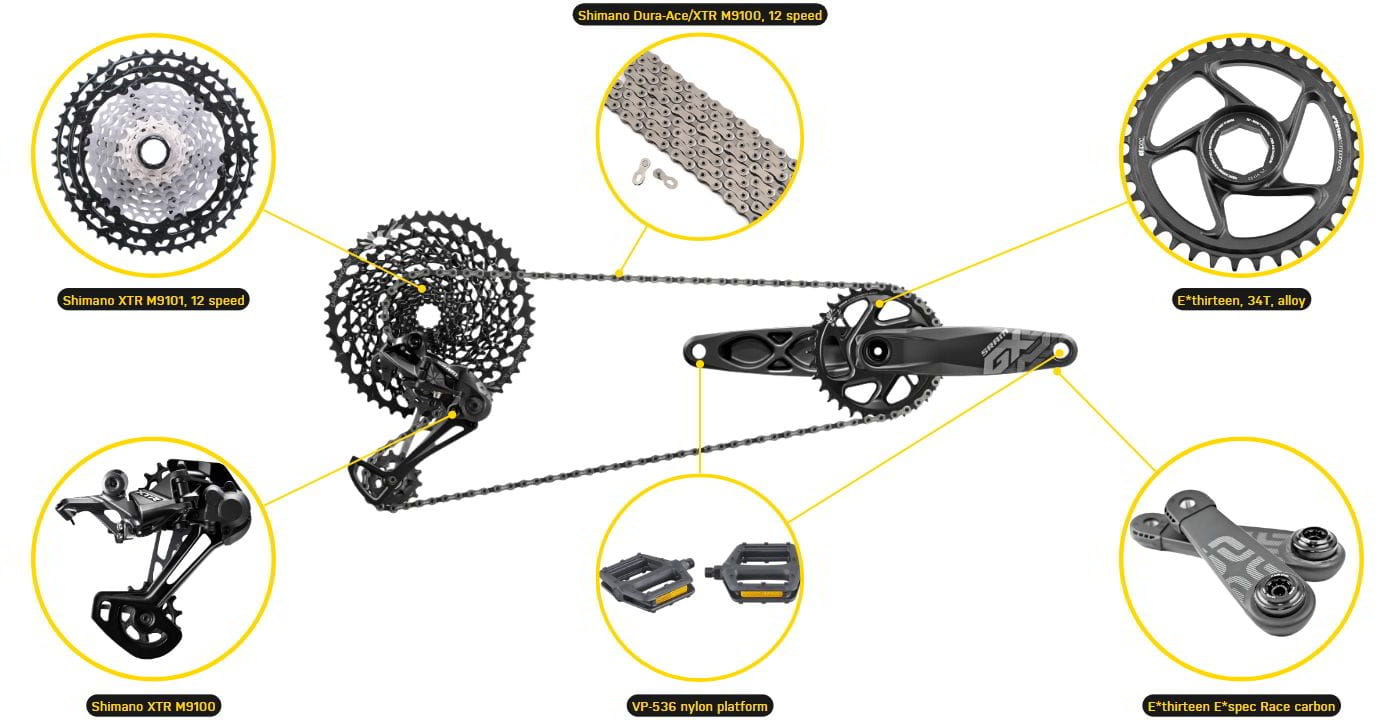 The Rail 9.9 XTR Gen 3 comes with a Shimano XTR M9101, 12-speed cassette and Shimano XTR M9100 rear derailleur and shifters. No problems with these at all – they're high-spec components, which offer quick and responsive shifting.
They worked well with the motor's output and never gave us any reason to grumble or feel concerned.
It's clearly a lot of money, but there aren't many areas in which we think Trek has let us down here. You're getting solid components throughout, and in some cases, advanced components.
The company hasn't held back in any area and although we think it's a lot of money, you're getting a truly brilliant, versatile bike for that amount. If you have deep enough pockets, then it's certainly worth considering.
Trek Rail 9.9 XX1 AXS Gen 3 Facts & Figures
SIZE

RIDER HEIGHT

INSEAM

S
153 – 167 cm
5'0″ – 5'6″
72 – 79 cm
28″ – 31″
M
161 – 175 cm
5'3″ – 5'9″
76 – 82 cm
30″ – 32″
L
174 – 188 cm
5'9″ – 6'2″
82 – 88 cm
32″ – 35″
XL
186 – 196 cm
6'1″ – 6'5″
87 – 92 cm
34″ – 36″
SIZING TABLE

Frame size letter

M

M

L

L

XL

XL

Geometry position

Low

High

Low

High

Low

High

Wheel size

29″

29″

29″

29″

29″

29″

Seat tube

42.0

42.0

45.0

45.0

50.0

50.0

Seat tube angle

70.8°

71.2°

70.8°

71.2°

70.8°

71.2°

Effective seat tube angle

76.7°

77.1°

76.7°

77.1°

76.7°

77.1°

Head tube length

11.0

11.0

12.5

12.5

14.0

14.0

Head angle

64.2°

64.6°

64.2°

64.6°

64.2°

64.6°

Effective top tube

60.1

60

63.9

63.8

67.3

67.1

Bottom bracket height

34.1

34.6

34.1

34.6

34.1

34.6

Bottom bracket drop

3.3

2.7

3.3

2.7

3.3

2.7

Chainstay length

44.8

44.7

44.8

44.7

44.8

44.7

Offset

4.3

4.3

4.3

4.3

4.3

4.3

Trail

13.3

13

13.3

13

13.3

13

Wheelbase

123.6

123.6

127.8

127.7

131.4

131.3

Standover

76.8

77.3

76.5

77

76.3

76.8

Frame reach

45.2

45.6

48.7

49.1

51.7

52.1

Frame stack

63.3

62.9

64.6

64.3

66

65.6
FRAMESET

Frame

NEW OCLV Mountain Carbon main frame, 1.8″ lower head tube, Removable Integrated Battery (RIB), Knock Block 2.0, guided internal routing, 34.9 mm seat tube, magnesium rocker link, Motor Armour, Mino Link, ABP, Boost148, 12 mm thru axle, 150 mm travel

Fork

RockShox ZEB Ultimate, AirWiz, DebonAir spring, Charger 2.1 RC2 damper, e-MTB optimised crown, tapered steerer, 44 mm offset, Boost110, 15 mm Maxle Stealth, 160 mm travel

Shock

RockShox Super Deluxe Thru Shaft, AirWiz, 230 mm x 57.5 mm

Max compatible fork travel

170mm (580mm axle-to-crown

WHEELS

Wheel front

Bontrager Line Pro 30, OCLV Mountain Carbon, Tubeless-Ready, 6-bolt, Boost110, 15 mm thru-axle

Wheel rear

Bontrager Line Pro 30, OCLV Mountain Carbon, Tubeless Ready, Rapid Drive 108, 6-bolt, Shimano MicroSpline freehub, Boost 148, 12 mm thru axle

Skewer rear

Bontrager Switch thru axle, removable lever

*Tyre

Size: M, L, XL


Bontrager SE5 Team Issue, Tubeless Ready, Core Strength sidewalls, aramid bead, 120 tpi, 29×2.50″

Size: M, L, XL


Bontrager SE6 Team Issue, Tubeless Ready, Core Strength sidewalls, aramid bead, 120 tpi, 29×2.50″

*Tyre part

Size: M, L, XL
Bontrager TLR sealant, 180 ml/6 oz
Size: M, L, XL
Quarq TyreWiz tyre pressure monitors

Max tyre size

Frame: 29×2.60″ Fork: See manufacturer

DRIVETRAIN

Shifter

Shimano XTR M9100, 12 speed

Rear derailleur

Shimano XTR M9100, Shadow Plus, long cage, 51-T max cog

Crank arm

E*thirteen E*spec Race carbon, 34T, 165 mm length

Chainring

E*thirteen, 34T, alloy

Cassette

Shimano XTR M9101, 10-51, 12-speed

Chain

Shimano Dura-Ace/XTR M9100, 12 speed

Pedal

VP-536 nylon platform

Max. chainring size

34T

WHEELS

Saddle

Bontrager Arvada, austenite rails, 138 mm width

*Seatpost

Size: M


Bontrager Line Elite Dropper, 150 mm travel, MaxFlow, internal routing, 34.9 mm, 440 mm length

Size: L


Bontrager Line Elite Dropper, 170 mm travel, MaxFlow, internal routing, 34.9 mm, 485 mm length

Size: XL


Bontrager Line Elite Dropper, 200 mm travel, MaxFlow, internal routing, 34.9 mm, 550 mm length

Handlebar/stem (integrated)

Bontrager Line Pro, OCLV Carbon, 35 mm, 27.5 mm rise, 780 mm width

Grips

Bontrager XR Trail Elite, nylon lock-on

Stem

Bontrager Line Pro, 35 mm, Knock Block, Blendr-compatible, 0-degree, 45 mm length

Headset

Knock Block Integrated, 58-degree radius, cartridge bearing, 1-1/8" top, 1.8" bottom

Brake

Shimano XTR M9120 4-piston hydraulic disc

Brake rotor

Shimano RT86, 6-bolt, 203 mm

ACCESSORIES

Battery

Bosch PowerTube 750Wh, smart system

Charger

Bosch standard 4A, 230V, smart system

Motor

Bosch Performance Line CX, smart system, magnesium motor body, 85 Nm

Computer

Bosch Kiox 300, smart system

WEIGHT

Weight

M – 22.77 kg / 50.2 lbs (with TLR sealant, no tubes)

Weight limit

This bike has a maximum total weight limit (combined weight of bicycle, rider and cargo) of 136 kg (300 lb).
*Please note – spec applies to all sizes unless listed separately
There are a lot of manufacturers pumping out impressive e-MTBs at the minute. Specialized is out there near the front of the pack, and its Turbo Levo Pro is one serious bit of kit.
It comes in just under the $12,000 mark and has a 700Wh battery, slightly smaller than our Trek, and its own custom Turbo Full Power System 2.2 Motor, which kicks out 90Nm of torque. It's a very setup, but we think the Bosch components on the Trek provide a better all-around package and emit the power in a more natural way.
The Turbo Levo Pro comes with SRAM Code RSC brakes and a quality SRAM drive train, which we think trumps our Shimano components on the Trek. Suspension-wise, you get 160mm of travel at the front and 150mm at the rear with the Turbo Levo Pro.
The Levo pro's FOX Factory 38 forks and FOX FLOAT X2 Factory shocks don't quite match the plush RockShox setup on the Trek. But the Levo does offer a vast array of adjustable geometry options and it has a really advanced motor display.
They're very close competition to each other, but for us, we're going to stick with the Trek – particularly with its awesome electrical components and suspension. It's a very close call, though, and both bikes are definitely worth the money.
Trek has created a very impressive bike in the Rail 9.9 XTR Gen 3. The manufacturer hasn't held back in any area, and has offered up an incredibly fun and versatile e-MTB. It's absolutely covered in high spec components, and has one of the best motor and battery combinations on the market.
There are many adjustable components available, too, which really elevate ride experience and help you nail your performance on the trails.
You could potentially ask for more travel and the brakes aren't the absolute top-dogs on the market, but you aren't far off here. The bike will last all day and cope with all sorts of terrain, but it doesn't come cheap.
All in all, it's certainly one to consider, particularly if you're looking for an all-rounder. That's our view, what's yours? There's only one thing left to do, and that's to get spinning.
Was this article helpful?