The lightweight e-MTB is the new battleground for bike manufacturers. Over the past two years we've seen some of the top names in the industry push to create lighter rides and, increasingly, more of the bigger companies are now looking to this sector of the e-MTB market.
Lightweight bikes bring a whole different ride experience and it's a complete switch in direction from the historic e-MTB goals of powerful and long-range electric two wheelers. So, what's all the hype about? And is a new wave, lightweight e-MTB right for you?
In this article, we'll highlight the pros and cons of a light e-MTB and showcase some of the best out there right now. Hop on board, then, as we get to grips with the lightweight e-bike industry…
Peaks:
Troughs:
How Does a Lightweight e-MTB Differ from a Traditional e-MTB?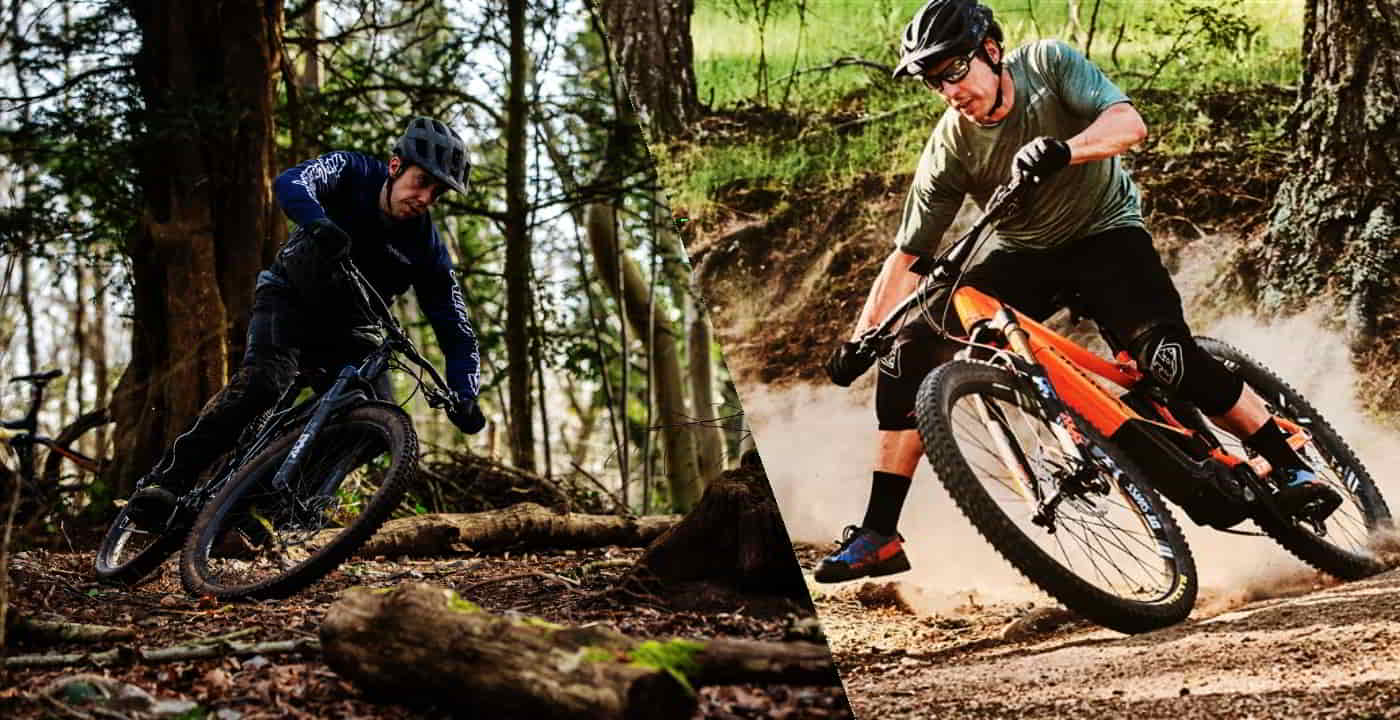 This is very much pointing out the obvious, but they're lighter.
Manufacturers reduce the weight in a number of ways, including using lighter frame materials (usually carbon fibre) and using higher-spec components made out of lightweight (yet robust) materials, including the suspension.
However, the major factor comes down to the electrical components. Reducing weight often means that the electrical components, which weigh a lot, are smaller – so a smaller battery and a less powerful motor.
The average weight of an e-mountain bike is normally around 20kg to 26kg for the fully-assisted models. However, the new wave of super lightweight e-MTBs can be down at around 17kg and manufacturers are continuing to push that number down. But what benefits does this bring?
Pros of a Lightweight eMTB
A lightweight electric mountain bike is more playful and easier to manipulate. By shedding weight you can handle the bike with more ease; it's easier to weave through tight trail lines, negotiate around obstacles and you can push it harder into the corners. The lightest weight e-MTBs mimic the feel of a conventional mountain bike.
The natural ride experience is one of the main selling points. Sometimes e-MTBs can feel like big burly machines, which can be hard to tame and certainly can't be thrown around in the same way a traditional mountain bike can. The goal of the lightweight e-MTB is to try and eliminate that experience and bring it closer to a normal two-wheeler.
A lightweight e-MTB is better to ride on gnarly, downhill-focused routes. The lightness means it's nimble-footed, can be controlled with more ease and it's easier to bring to a halt. That's perfect for taking on super technical lines, rather than carting a big machine around with you instead, which is harder to stop and less natural to be in control of.
A lightweight e-MTB often means the electrical components are smaller, less powerful and don't have quite the same range. This brings benefits for rider fitness because the onus is on the rider's body to do more of the work, yet you can still call on a bit of electrical assistance.
E-MTBs are good for fit riders, in particular, who want to have a challenging day of riding, but just a little electric helping to extend a ride or to help in the seriously testing terrain – however, this support isn't limitless.
Cons of a Lightweight eMTB
The battery is one of the heaviest components on an e-MTB, so to reduce weight the size of the battery is one of the main areas targeted by manufacturers. Super lightweight e-MTBs tend to have batteries around half the size of their weightier counterparts – around 320Wh, instead of 600Wh and above. This means your range is smaller and you can't call on that assistance for anywhere near as long.
Exactly the same logic applies with the motor; to reduce weight, manufacturers create smaller motors, which are less powerful as a result. Lightweight e-MTBs tend to have motors which only kick out around 35Nm of torque or a little more, compared to 85Nm or higher on the top normal e-MTBs.
This means you have less gas to call upon to get you up those challenging climbs and the emphasis is on the rider, more than the technology, to get you up the hills.
This may come as a surprise, but a lightweight e-MTB can sometimes be more expensive than its heavier counterparts. You might be asking why? Especially given that you have smaller electrical components.
The bikes often cost more because many of the materials used to bring the weight down, such as the frame and suspension, are made out of more complex and high value materials – carbon fibre, for instance.
The companies aim to make weight savings in every area of the bike's design, which often means many of the components are more expensive. There are exceptions here; some of the highest-spec, fully-juiced e-MTBs can be more expensive than their lighter-weight rivals.
Is a Lightweight e-MTB for You?
If you're asking yourself whether a light mountain bike is better? You need to think long and hard about what you want from an e-MTB. If you're looking to do super long days out, using a lot of assistance on the route, then a lightweight e-MTB isn't for you.
It won't offer you the range reliability you need or enough of a kick to help you get up those tricky inclines. However, if you're looking for a very easy to handle e-MTB, which provides a natural ride feel, is super playful and gives you a harder workout, then a lightweight e-MTB is for you.
ℹ️ Consider the type of riding you want to do and your own level of ability before pulling the trigger on a lightweight e-MTB.
With all this in mind, here are some of our favourites available right now!
The Best Lightweight e-MTBs Out Right Now
Specialized Turbo Kenevo SL Expert
The Turbo Kenevo SL Expert is the second-highest-spec bike in Specialized's groundbreaking Turbo Kenevo SL range. It's a downhill-focused lightweight e-MTB, which is made to take on the wildest trails.
It weighs a light 19.2kg, has a plush 170mm travel suspension and dances up hills, while flying downhill. It's also priced very reasonably, especially considering how high the spec level is here and how beautiful it is to ride.
There is a higher spec S-Works Turbo Kenevo SL option, but it costs much more. Check out our full review of the Turbo Kenevo SL Expert:
If you have deeper pockets and want a top-spec, lightweight e-MTB, then the Fuel EXe 9.9 XTR could well be the answer for you.
It weighs an astonishing 17.47kg, which is impressive, but even more remarkable is that you actually have a sizeable motor on there, which can kick out 50Nm of torque.
This bike is a lightweight all-rounder, with enough punch to help you up some very tricky terrain, yet super lightweight for some technical twisty trails and some downhill elements.
It isn't downhill-focused, so doesn't have the same level of travel as the Turbo Kenevo SL Expert, but it's a hugely versatile lightweight e-MTB.
Check out our full review:
Specialized Turbo Levo SL Comp
The Turbo Levo SL Comp is the all-rounder sister bike, compared to the Turbo Kenevo SL range, which is downhill-focused. The Levo SL Comp is the entry-level bike and a fantastic lightweight option for people on a smaller budget than the Trek we recommended.
It weighs only 19.4kg, has 150mm of travel and a smaller motor than the Trek, but it manages a variety of terrain adeptly and is a beauty if you want something that is playful to use, can climb well and do a bit of descending just to top it all off.
There are higher spec options in the Levo SL range, but we think this is great value for money.
There you have it, our comprehensive guide to the world of lightweight e-MTBs. Before taking the plunge on a lightweight e-MTB, think long and hard about what you're looking for from a bike.
Realise that the bikes have limitations, but they also have enormous potential. For the right rider, someone who wants a playful, natural ride feeling bike, with maximum handling potential and a good workout – then a lightweight e-MTB is perfect for you.
It isn't for someone who needs a lot of electrical assistance. We've highlighted some of the best out there now, so get out there and give them a try for yourself.