The Orbea Urrun 10 is the company's answer to the electric XC bike. The Spanish manufacturer has entered the market with their first e-cross-country bike and made bold claims on its release.
Orbea has quoted some astronomical range figures for this hardtail, but they certainly aren't the only manufacturer looking to break this new sector of the e-MTB industry. The manufacturer has form for creating some magnificent e-MTBs, so how does their XC entry compare to the other top companies vying for attention?
We've spent hours in the saddle on this one, so it's time to find out our thoughts in this Orbea Urrun review…
The Orbea Urrun 10 is a very good hardtail e-XC bike and it doesn't cost the earth. You get an enormous range for under $6,000, a serious intelligent motor, which offers a natural ride feel and the bike moves very quickly indeed.
Those are all aspects you want from a cross-country bike, so in that sense it's a success. It does get found out on rowdier terrain, though, the frame feels very rigid on moderate bumps and it can feel uncomfortable in those environments – plus the display is a letdown.
Room for improvement, but as an affordable e-XC bike, this is a very good option.
Peaks:
Troughs:
The Orbea Urrun 10 has an aluminium frame, which offers a lot of stability out on the trails. It's a sturdy bike, with particular attention paid to the connection points between the different parts of the frame – the company has introduced hydroformed elements to provide smooth welds, giving an overall polished finished.
This is more than just for aesthetic purposes – Orbea claims the technology helps improve the strength at the joints, which builds durability over the bike's life-time. The bike is made to be ridden for long distances and the geometry reflects that – you have a long chainstay to help bring stability, but also maximise pedalling efficiency, and you sit fairly upright in a comfortable body position.
It isn't made for the toughest downhill terrain or the most technical twisty sections, but you still have a decent handling ability. One criticism is that the extra strength in the frame means it isn't very forgiving – you feel the bumps quite a lot through your body, and if it gets really rowdy on the trails then you can be in for some punishment.
The bike weighs in at 19.6kg in the large frame size, which we rode during our test rides, and it comes in 4 frame sizes – small, medium, large and extra large.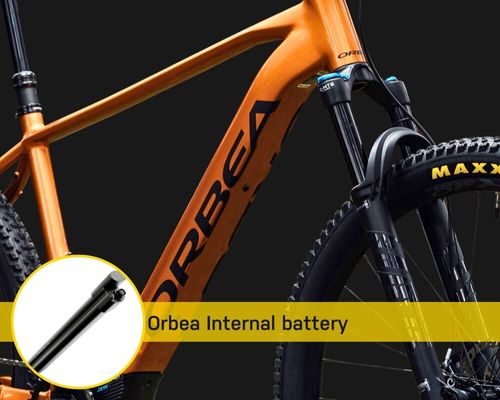 The Orbea Urrun 10 comes with a custom made 540Wh battery. You can pay extra for a 252Wh range extender, too, which takes the total battery up to just under 800Wh. That's a whopping amount of battery at your disposal for a sporty and light e-MTB.
The company claims you can push out up to 8 hours of riding on the Urrun on the 540Wh battery, alone, with more than 3,000m of climbing, which is astronomical. We didn't quite achieve those figures, but still managed some chunky old days in the saddle – pushing up to 150km on one charge alone, with a decent amount of climbing.
The 540Wh battery takes roughly 3 hours to charge up to 80% and four and a half hours to reach 100%. That's a swift turnaround, which helps get you back out riding quickly. We're impressed with the battery's range capabilities.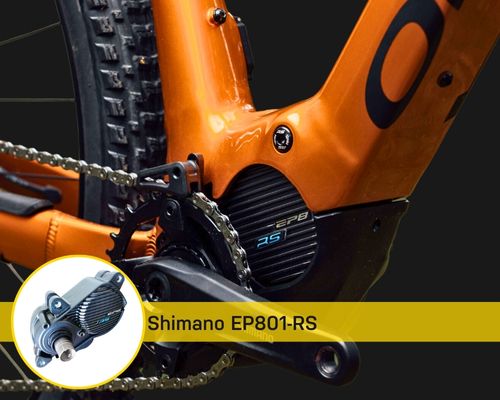 The Orbea Urrun 10 comes with a Shimano STEPS EP8 RS motor, which emits 85Nm of torque as standard, but has been specially capped at 60Nm for this bike. This is a specially-tuned version of their normal EP8 motor, which is supposed to be more than one and a half times more power efficient, conserving battery for longer.
We certainly felt that on the trail; we were quite astonished by the numbers we were pushing out with still plenty left in the tank. That capping of the maximum torque means you get a very smooth power delivery and it almost feels consistent with the feel of a normal e-MTB, it doesn't feel overpowering at any moment.
If you've ridden with a Shimano EP8 before you will feel that the motor is just a slice less powerful on the chunkiest climbs and it takes a little more effort on the seriously steep stuff. However, with the bike weight kept low, it actually doesn't make a world of difference. You get 3 modes of assist with the EP8 – Eco, Trail and Boost.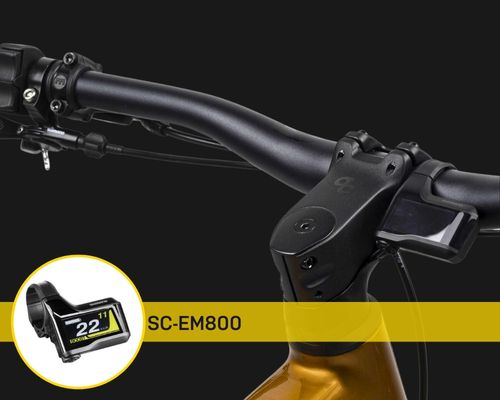 The Orbea Urrun 10 comes with a Shimano STEPS SC-EM800 display. We're not a fan of the display – it presents the amount of battery life you have left as 5 LED lights, which isn't accurate at all in terms of guessing how much gas you have left in the tank.
One plus side is that the bike has enormous range, so it reduces range anxiety quite a bit, however, it wouldn't be hard to include a percentage figure in there. You can choose an estimated range figure as one of the data views, but it isn't particularly accurate – you can also flick between things such as time, speed, gear, distance, riding time and cadence.
ℹ️ There's the option to link the display up to your smartphone and there's a small controller on your handle bars to flick between the modes of assist.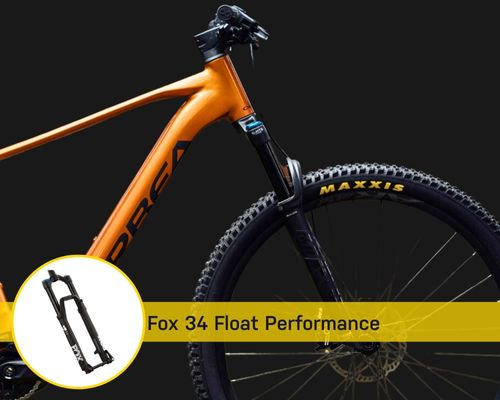 The Orbea Urrun 10 is a hardtail, so only comes with front suspension. The hardtail means you have excellent pedalling efficiency and it helps you build up speed quickly – a rear suspension setup can add sponginess and reduce pedalling efficiency and speed.
You get 120mm of travel at the front end, with FOX 34 Performance Grip forks. These offer you a decent level of cushioning when things get a little bumpy out on the trails, without bringing too much bounciness.
However, the overall feeling of the bike is pretty solid, which as we already mentioned, isn't the most forgiving when things get hectic on the trails. The bike is made for speed and made for long hours in the saddle on flatter ground, but if you encounter a lot of bumps, you could be in for a pretty unpleasant day.
The Orbea Urrun 10 comes with 29in wheels at both the front and the rear. The rims are supplied by Race Face, with AR 30cs at both ends, and they're coated in Maxxis Rekon tyres. You get a thin(ish) tyre to help reduce the amount of rolling resistance you have and the bike moves quickly over the ground as a result – just what you want from an XC bike.
The Orbea Urrun 10 comes with Magura MT5 brakes, which do everything you need them to out on the trail. They're reliable and responsive – absolutely capable of bringing this fast-moving bike to a stop when needed.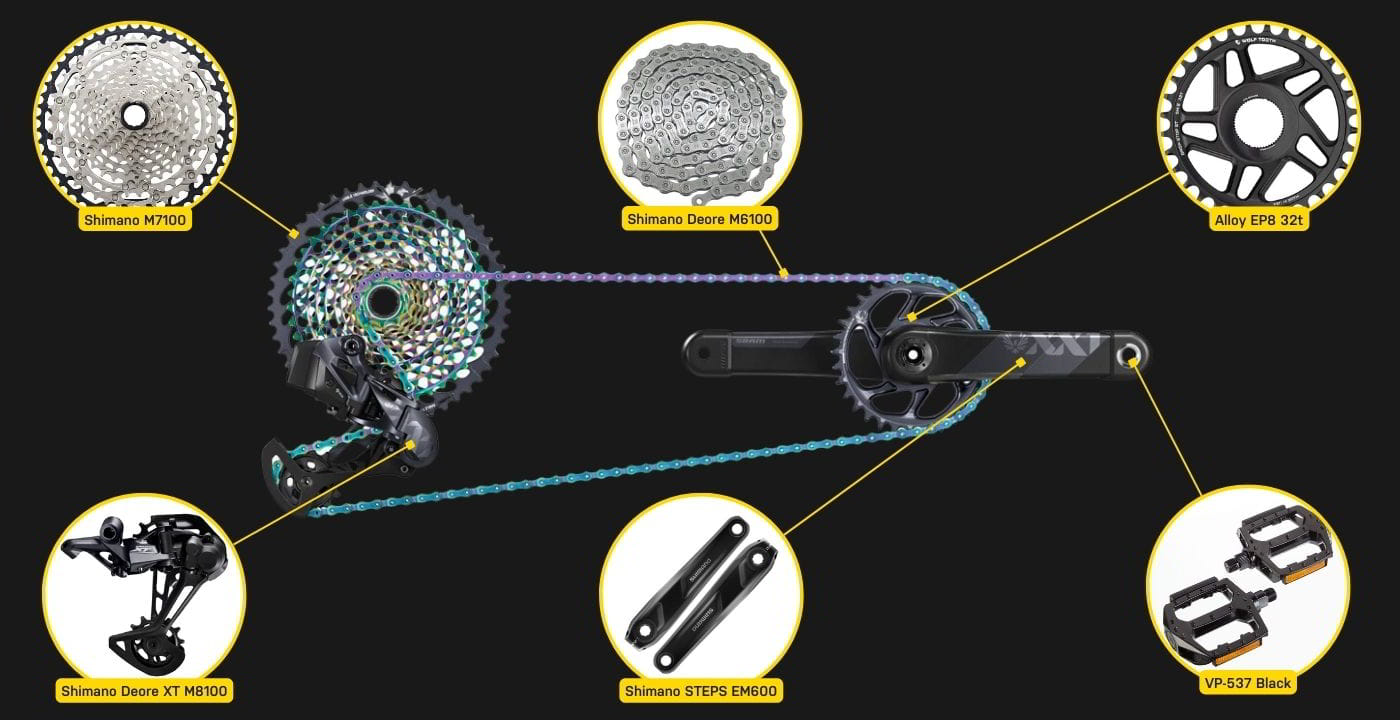 The Orbea Urrun 10 comes with a 12-speed Shimano M7100 drivetrain, which offers quick shifting and works in harmony with that tuned motor. No problems to report in this department.
We think this is excellent value for money. You're getting a decent e-XC bike, which gives you enormous range with decent components and for under $6,000. It isn't without its faults, but in an age where you can pay five figures for many e-MTBs, this seems fair.
Orbea Urrun 10 Facts & Figures
| Frame Size | Rider Height (cm) | Rider Height (in) |
| --- | --- | --- |
| XS | 148cm – 158cm | 4'10" – 5'2″ |
| S | 158cm – 168cm | 5'2″ – 5'6″ |
| M | 168cm – 178cm | 5'6″ – 5′ 10″ |
| L | 178cm – 185cm | 5'10" – 6'1″ |
| XL | 185cm – 193cm | 6'1″ – 6'4″ |
| XXL | 193cm – 198cm | 6'4″ – 6'6″ |
COMPONENT GEOMETRY

S

M

L

XL

SEAT ANGLE

74.8°

74.6°

74.6°

74.5°

HEAD ANGLE

65.5°

66.0°

66.0°

66.0°

CHAINSTAY

445.0

445.0

445.0

445.0

SEAT TUBE

400.0

453.0

483.0

533.0

TOP TUBE

565.0

579.0

608.0

645.0

HEAD TUBE

110.0

115.0

132.0

153.0

FORK OFFSET

44.0

44.0

44.0

44.0

BOTTOM BRACKET DROP

54

56.0

56.0

56.0

BOTTOM BRACKET HEIGHT

322

320

320

320

WHEELBASE

1143.0

1150.0

1173.0

1220.0

STANDOVER

798.0

826.0

848.0

882.0

STACK

631.0

628.0

647.0

666.0

REACH

395.0

405.0

440.0

460.0
FRAMESET

FRAME

SUSPENSION FORK

HEADSET

rbea Urrun, Shimano Steps, Integrated battery, Hydroformed Alloy 6061 series Internal Cable Routing, Boost 148×12, carrier and kickstand compatible
FOX FLOAT 34 Performance

GRIP damper, e-bike optimized, 44mm offset, 120mm
FSA, integrated, aluminum cups

DRIVETRAIN

CASSETTE

CRANK

SHIFTERS

Shimano M7100, 10-51
Shimano STEPS EM600, 170mm length
Shimano Deore XT M8100, 12-speed

REAR DERAILLEUR

CHAIN

CHAIN RING

Shimano Deore XT M8100, 12-speed, SHADOW RD+, SGS cage
445mm, Orbea upper slider, Shimano STEPS EP8, alloy, 32 tooth, Shimano Deore M6100, 12-speed
 Alloy EP8 32t

CHAIN GUARD

Orbea Chainguide

COCKPIT

HANDLEBAR

STEM

Orbea OC, 780mm width, 20mm rise, 35mm clamp diameter
Orbea OC1, 70mm length, 6° drop, 35mm bar clamp

BRAKES

BRAKES

BRAKES CONFIGURATION

Magura MT5 E-STOP, 4-piston, Magura MT5 E-STOP

WHEELS

WHEEL

TYRE

HUBS

Race Face AR 30c wheelset, tubeless ready
Maxxis Rekon, 3C MaxxTerra, EXO+, TR, 120 TPI, 29″" x 2.4″
Race Face AR 30c wheelset, 15x110mm Boost front, 12x148mm Boost rear with MICRO SPLINE driver

WHEEL SIZE

SPOKES

29″
Race Face AR 30c wheelset

COMPONENTS

SEATPOST

SADDLE

Orbea OC MC20 Mountain Control dropper, 100mm drop, 31.6mm, Single bolt, 31.6mm, Single bolt
Selle Royal Vivo

EBIKE

Motor

Battery

RANGE EXTENDER

Shimano STEPS EP8 RS (60Nm max torque) / Orbea 540Wh (+ optional 252Wh range extender)
Orbea, integrated; optional 252 Wh range extender available, 540 Wh
N/A

DISPLAY

CHARGER

REMOTE

Shimano SC-EM800
Orbea Smart Charger (42V-4A)
EN600-L

ACCESSORIES

TOOLS

PEDALS

OC FLP Multitool MT-20, Hex 2, 3, 4, 5
VP-537 Black
A small, but increasing, number of manufacturers are stepping into the e-XC market. One company is Trek, with its E-Caliber range – we're going to put their E-Caliber 9.6 Gen 2 up against our Orbea Urrun 10 in this comparison.
The Trek weighs in at 18.48kg, thanks to their OCLV carbon frame, which as a full package comes in 1.12kg lighter than the Orbea. Our range is far superior, though – the Trek only has a 250Wh battery, which can't match even half the range of our 540Wh beast, never mind the range extender.
You get a slightly smaller motor on the Trek too, with a 58Nm Fazua model installed – it doesn't quite reach the standard of our Shimano EP8. The displays on both bikes are equally as frustrating and don't tick the boxes we want – so a draw in that sense.
The Trek has 120mm of travel at the front and 60mm at the rear – compared to just 120mm at the front end of our Orbea. The Trek feels more comfortable on the bumpy terrain as a result and doesn't feel quite as rigid, but its speed ability and pedalling efficiency isn't as strong as our Orbea.
We have superior brakes on our Orbea, but the drivetrains are fairly similar on both. Now down to price – the Trek comes in at $6,764, which is $1,231 more expensive than our Urrun Orbea. The Urrun 10 is victorious in this comparison, by quite a stretch.
There are aspects to really celebrate on the Orbean Urrun 10. The range is truly astonishing, you have a very intelligent battery, which works in harmony with a very intelligent motor.
The power delivery is super natural, the bike is very quick indeed and you can ride for hours and hours without needing to recharge. Those are all qualities you absolutely want from an XC bike and in that sense it's an absolute triumph.
However, if you want to venture into wilder terrain and take on a lot of lumps and bumps, this bike is completely inappropriate – it feels uncomfortable on rowdy terrain and very rigid. Keep that in mind and avoid those areas and you find yourself pedalling on a very good bike.
Does it tick the e-XC boxes? Abso-flipping-lutely, and it doesn't cost a fortune either, but there are areas for improvement. Time for you to spend hours in the saddle on this one.
If you enjoyed this review then make sure to check out our other Orbea reviews.