A lot of e-MTBs on the market target the enduro, trail and downhill riders, without a great deal of attention paid to the cross-country cyclists amongst us. Trek brought out the E-Caliber 9.9 XX1 AXS with the aim of trying to fill that void.
The E-Caliber 9.9 XX1 AXS is set out aggressively, but with a short amount of travel, with Trek hoping it will allow riders to cycle further, yet still be fun to handle.
The Gen 2 is the second incarnation of Trek's venture into the cross-country e-MTB market. So does it hit the nail on the head? Or has the manufacturer missed the mark?
With a price tag of more than $15,000, you would hope it's the former…
Trek is trying to break new ground with the E-Caliber 9.9 XX1 AXS and they're achieving it impressively.
The bike is incredibly fast and lightweight, rides aggressively and still packs a decent punch in the motor department.
The ability to remove the battery and motor all together is very clever indeed and you have a super smooth riding experience.
The price is anxiety-inducing and the motor display is a let-down – but overall, we're very impressed with this bike.
Peaks:
Troughs:
Trek E-Caliber 9.9 XX1 AXS Gen 2
The weight of the E-Caliber 9.9 XX1 AXS is a serious head turner.
Trek has managed to bring the bike in at 16.35kg (in a size medium). That's a remarkable weight for a bike which still offers a hefty punch in the electrical department.
As you'd expect, it's a fully carbon frame (with Trek using its OCLV compound) which comes in 4 different sizes – small, medium, large and extra large.
Despite the impressive weight for an e-MTB, it is still fairly weighty compared to a non-electrically assisted XC bike. However, the bike's aggressive geometry and balanced level of electrical assistance, means it still rides well over a long distance.
There were complaints when Trek brought out the Gen 1 version that the bike didn't include a dropper post – an intentional move to save weight – but the good folk at Trek listened and the Gen 2 comes with a 100mm Fox Transfer SL dropper.
It makes a world of difference, allowing you to play with your positioning, depending on the needs of the day's riding. The bike has a sporty feel, has light-touch handling, and moves at a pace thanks to the aggressive layout.
Despite being light, the frame has a robustness that can still comfortably take a few decent lumps and bumps.
The E-Caliber 9.9 XX1 AXS Gen 2 comes with a 250Wh Fazua Evation battery. It isn't the largest for an e-MTB, by any stretch of the imagination, but this bike is meant to feel playful and sporty – to do that, Trek needed to keep the battery size down.
It's part of a new wave of e-MTB, which offer a natural ride feel out on the trail, mimicking the qualities of a traditional MTB.
The 250Wh Fazua still offers a decent amount of assistance and it certainly makes a big difference when you take into account the bike's extremely lightness, with the battery offering up a range of between 55km and 72km.
ℹ️ If you're looking for a bike, which will offer you assistance all day long, then this bike will be a big let down for you. Make sure you're aware of what you're getting yourself into.
One huge selling point is that you can remove the battery and motor from the bike all together, replacing it with an empty plastic shell. That drops the overall weight of the bike by 2.9kg and means it can be ridden as a normal MTB – it's not a common feature seen across the industry.
The E-Caliber 9.9 XX1 AXS Gen 2 comes with a Fazua Ride Trail 50 motor, which kicks out 58Nm of torque, which isn't insignificant at all.
The motor's power delivery is very intelligent, offering a seriously smooth kick out on the trails, without any unnecessary lag or jolting.
It works in harmony with your pedal strokes and the battery, to deliver a very precise riding experience, which moves in and out assistance in a natural feeling way.
The XX1 AXS comes with three modes of assist – Breeze, River and Rocket – be cautious on using the Rocket setting, it packs a serious punch and really isn't needed apart from on the harshest climbing sections.
ℹ️ If you use the Rocket setting too liberally you will find the battery being drained out very quickly. So only use it sparingly.
As we've already mentioned, the motor is removable, so should you want to rely purely on human power, you can – it's a simple case of clipping the battery and motor in and out.
The Trek E-Caliber 9.9 XX1 AXS Gen 2 comes with the Fazua Remote BX controller, which is situated neatly by the handle bars.
However, we think the display is an oversight – it's a very rudimentary 5 LED light system, which is situated on the top tube or can be moved to the handlebars with a mount.
The 5 LED lights represent 20% increments of assist, which we don't think is good enough for a bike of this calibre.
The range estimation is far too vague and you never really know how close you are to running out. It makes ride planning very tricky.
We think Trek and Fazua could have done a lot better here, particularly when the bike costs more than $15,000. It's a major flaw in an otherwise very good bike.
The Trek E-Caliber 9.9 XX1 AXS Gen 2 comes with 120mm travel at the front end and 60mm at the rear. It's fitted with RockShox SID Ultimate forks and a collaboration shock setup with FOX at the back end, the Trek IsoStrut FOX Factory shocks.
The rear end is a single-pivot suspension, which has been designed to offer the maximum traction needed for XC style riding, while also offering a slice of give to be able to take some lumps and bumps.
Saving weight was at the heart of the design, reducing any extra pivots and nuts and bolts.
The 120mm of travel at the front end means the bike can cope with some pretty aggressive terrain without coming unstuck and it opens the bike up to some varied riding styles. It's made to handle high speeds and bumpy terrain at the same time – making it a very diverse ride.
The E-Caliber 9.9 XX1 AXS Gen 2 comes with 29in wheels at both the front and the rear. It's fitted with Bontrager Kovee XXX rims, which are made out of the same lightweight, yet robust, OCLV carbon compound frame.
And they come with Bontrager XR3 Team Issue tyres, which offer a firm bite into the dirt, to offer a decent level of traction out on the trails, without feeling too soft or spongy. The perfect mix to move at pace and super durable.
The E-Caliber 9.9 XX1 AXS Gen 2 comes with SRAM G2 Ultimate Hydraulic disc brakes. They offer ample stopping power for the style of riding you're likely to be doing on the bike, but they're by no means the best brakes out there.
They're a smaller sibling to SRAM's excellent Code brakes, which offer incredible power in all conditions and terrains. The SRAM G2s offer no thrills, but do the job in hand.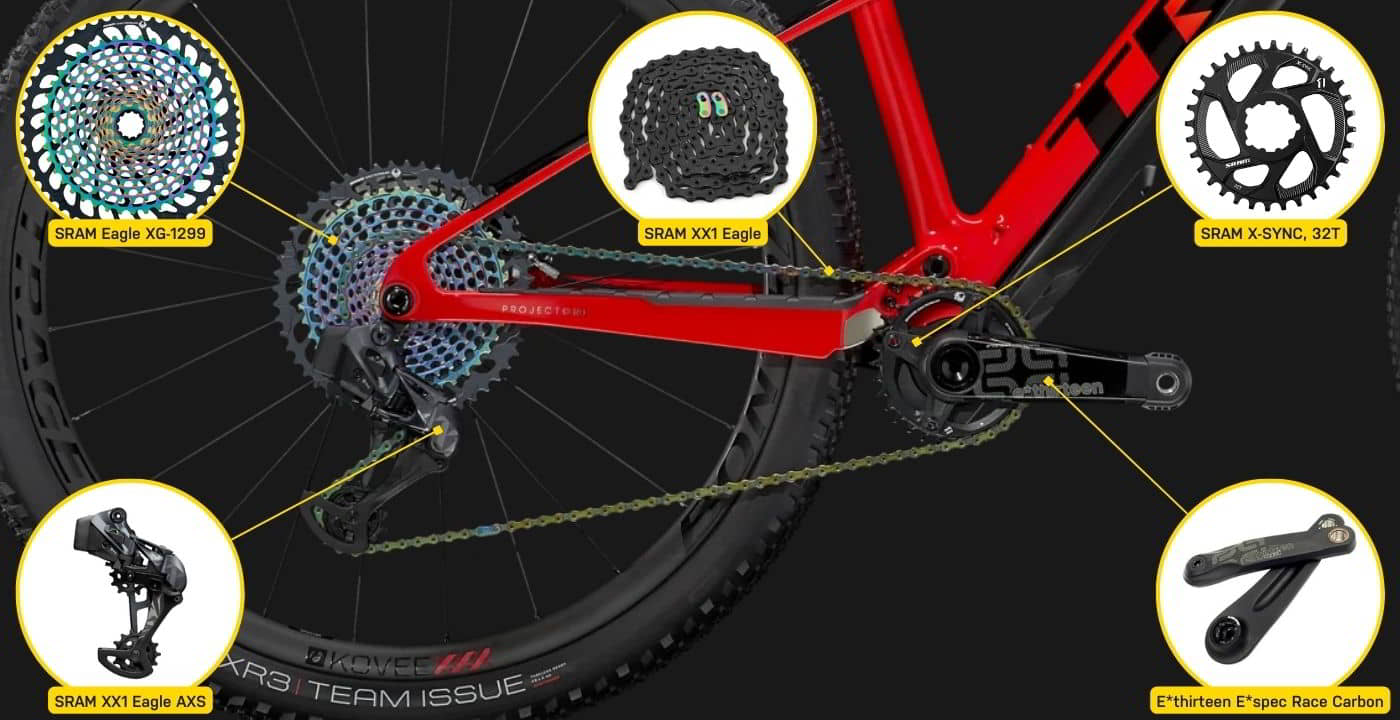 The E-Caliber 9.9 XX1 AXS Gen 2 comes with SRAM XX1 Eagle AXS drive train. It's seriously responsive, offering precise and pacey shifting; it's exactly what you need from a fast moving XC bike.
The drivetrain works cleverly with the motor so you don't get any unexpected lags or unnatural dragging.
The XX1 AXS Gen 2 is frighteningly expensive in all honesty. You are getting a wonderful machine, but it isn't without flaws, and we think for that price it has to be absolutely perfect. The oversight in the display department is one area needing to be addressed and the brakes could be improved.
Trek E-Caliber 9.9 XX1 AXS Gen 2 Facts & Figures
SIZE
RIDER HEIGHT
INSEAM
S
153 – 167 cm
5'0″ – 5'6″
72 – 79 cm
28″ – 31″
M
161 – 175 cm
5'3″ – 5'9″
76 – 82 cm
30″ – 32″
L
174 – 188 cm
5'9″ – 6'2″
82 – 88 cm
32″ – 35″
XL
186 – 196 cm
6'1″ – 6'5″
87 – 92 cm
34″ – 36″
SIZING TABLE

FRAME SIZE LETTER

S

M

L

XL

ACTUAL FRAME SIZE

15.5

17.5

19.5

21.5

WHEEL SIZE

29″

29″

29″

29″

SEAT TUBE

39.4

41.9

47.0

50.8

SEAT TUBE ANGLE

72.3°

72.6°

72.8°

72.8°

HEAD TUBE LENGTH

9

10

10.5

11

HEAD ANGLE

67.5°

67.5°

67.5°

67.5°

EFFECTIVE TOP TUBE

58

61.7

64.8

67

BOTTOM BRACKET HEIGHT

32.3

32.3

32.3

32.3

BOTTOM BRACKET DROP

5

5

5

5

CHAINSTAY LENGTH

44.7

44.7

44.7

44.7

OFFSET

4.2

4.2

4.2

4.2

TRAIL

10.9

10.9

10.9

10.9

WHEELBASE

112.6

116.5

119.7

121.9

STANDOVER

76.8

76.8

76.8

76.8

FRAME REACH

40.5

44

47

49

FRAME STACK

60.9

61.8

62.2

62.7
* All measurements provided in cm unless otherwise stated.
FRAMESET

FRAME

OCLV Mountain Carbon main frame and stays, IsoStrut, tapered head tube, Knock Block, Control Freak internal routing, Boost148, 60 mm travel

FORK

RockShox SID Ultimate, DebonAir spring, Charger Race Day damper, remote lockout, tapered steerer, 44 mm offset, Boost110, 15 mm Maxle Stealth, 120 mm travel

SHOCK

Trek IsoStrut, Fox Factory shock, air spring, DPS 2-position remote damper, Kashima Coat, 235 mm x 32.5 mm
MAX. COMPATIBLE FORK TRAVEL
120mm (531mm axle-to-crown)

WHEELS

WHEEL FRONT

Bontrager Kovee XXX, OCLV Mountain Carbon, Tubeless Ready, CentreLock, Boost 110, 15 mm thru axle

WHELL REAR

Bontrager Kovee XXX, OCLV Mountain Carbon, Tubeless Ready, DT Swiss 54T engagement, CentreLock, SRAM XD driver, Boost148, 12 mm thru axle

SKEWER REAR

Bontrager Switch thru-axle, removable lever

TYRE

Bontrager XR3 Team Issue, Tubeless Ready, Inner Strength sidewall, aramid bead, 120 tpi, 29 x 2.40″

TYRE PART

Bontrager TLR sealant, 180 ml/6 oz

MAX TYRE SIZE

Frame: 29×2.40″, Fork: See manufacturer

DRIVETRAIN

SHIFTER

SRAM Eagle AXS, wireless, 12-speed

REAR DERAILLEUR

SRAM XX1 Eagle AXS

CRANK

E*thirteen E*spec Race Carbon, 32T, 175 mm length

CRANK ARM

E*thirteen E*spec Race Carbon, 32T, 170 mm length

CHAINRING

SRAM X-SYNC, 32T, alloy

CASSETTE

SRAM Eagle XG-1299, 10-52, 12-speed

CHAIN

SRAM XX1 Eagle, 12-speed

MAXIMUM CHAINRING SIZE

1x: 32T

COMPONENTS

SADDLE

Bontrager Verse Pro, carbon rails, 145 mm width

SEATPOST

Fox Transfer SL, 100 mm travel, internal routing, 31.6 mm

HANDLEBAR

Bontrager Line Pro, OCLV Carbon, 35 mm, 15 mm rise, 750 mm width

GRIPS

ESI Chunky

*STEM

Size: S , M


Bontrager Kovee Pro, 35 mm, Knock Block, Blendr-compatible, 13-degree, 60 mm length

Size: L , XL


Bontrager Kovee Pro, 35 mm, Knock Block, Blendr-compatible, 13-degree, 70 mm length

HEADSET

Knock Block Integrated, 62-degree radius, cartridge bearing, 1-1/8" top, 1.5" bottom

BRAKE

SRAM G2 Ultimate hydraulic disc, carbon levers

*BRAKE ROTOR

Size: S , M , L , XL
SRAM CentreLine, CentreLock, round edge, 180 mm
Size: S , M , L , XL
SRAM Centreline, CentreLock, round edge, 200 mm

ACCESSORIES

E-BIKE SYSTEM

Fazua Ride Trail 50 motor

*BATTERY

Size: S , M , L , XL
Fazua Evation battery, 250 Wh
Size: S , M , L , XL
SRAM eTap battery pack (with charger)

CHARGER

Fazua Evation charger, 90-120V

CONTROLLER

Fazua Remote bX

TOOL

Bontrager Switch Lever, w/tool

WEIGHT

WEIGHT

M – 16.35 kg / 36.05 lbs (with TLR sealant, no tubes)

WEIGHT LIMIT

This bike has a maximum total weight limit (combined weight of bicycle, rider and cargo) of 136 kg (300 lb).
* Please note – spec applies to all sizes unless listed separately
It's hard to compare many bikes to the E-Caliber 9.9 XX1 AXS – there are very few fully fledged XC e-MTBs on the market.
Trek is very much trailblazing in this area of the industry. Why haven't many other manufacturers stepped up to the XC e-MTB challenge?
Firstly, it's a very tough balance to strike and it's still unknown how much of an appetite there is for XC e-MTBs.
However, by Trek leading the way, it will certainly turn the heads of other e-MTB manufacturers, who won't want to be left behind.
The Specialized S-Works Turbo Levo SL pitches a slight bit of competition, but really, it's more of a lightweight trail/enduro bike, rather than a dedicated XC bike.
It weighs in at 17.4kg, has a 320Wh battery (with around the same range as our Trek), has a custom motor which emits 35Nm of torque – so far, fairly similar.
However, the suspension offers 150mm of travel at either end, which really is too spongey for an all out XC bike and that reduces its overall speed, but does mean it performs better on the descents.
The Specialized does have slick tyres though, top end Magura MT7 brakes and a super responsive SRAM XG-1299 drivetrain. Technically, it could work for XC, but realistically it would be left in the dust against our beautiful Trek.
The E-Caliber 9.9 XX1 AXS Gen 2 is venturing into new territory in the e-MTB world. Trek set-out to crack the XC market and design a fully-fledged electric cross-country bike. So, has the manufacturer achieved its goal?
You know what, yes. It's aggressively designed, fast and feather light for an e-MTB. The technology to remove the battery and motor, to make it a normal MTB, is inspired and, overall, we're impressed with the e-MTB.
We do have a few grumbles, though; the price is eye-watering and the motor display is lacklustre for the price you're paying.  
It's a very nearly perfect bike…
"If you enjoyed this review then make sure to check out our other Trek reviews."