Trek's Powerfly range is the company's answer to a sporty commuter, which is designed to bridge the gap from the urban environment to the trails. The range of hardtail e-MTBs were brought out to be versatile, capable of holding their own on their dirt, but also capable for the daily routine of life or a companion on long distance tours.
The range comes in many different guises, from the super sporty FS versions, which come naked at the rear, or the Equipped versions, which have racks over the back wheel to take panniers or bags. The Powerfly 7 Equipped is the second highest spec bike in the Equipped series.
So, has Trek been able to really master multiple terrains and purposes at once? Or is it a case of this bike being a Jack of all trades, and master of none? Let's find out…
Congratulations to the crew at Trek – the company has created a belting bike here.
It's very hard to straddle the worlds of commuter, trail and tourer – and the folk at Trek have managed it here.
The bike features excellent component pairing, with a top end Bosch battery and motor, a seriously robust frame and durable wheel components – it's made for lots and lots… and lots of riding.
It isn't a gnarly single-track shredder, and it doesn't pretend to be, but it gets the elements it needs to get right absolutely spot on.
Potentially, the suspension deserves an upgrade given the price, but apart from that we're pretty stoked with this one.
Peaks:
Troughs: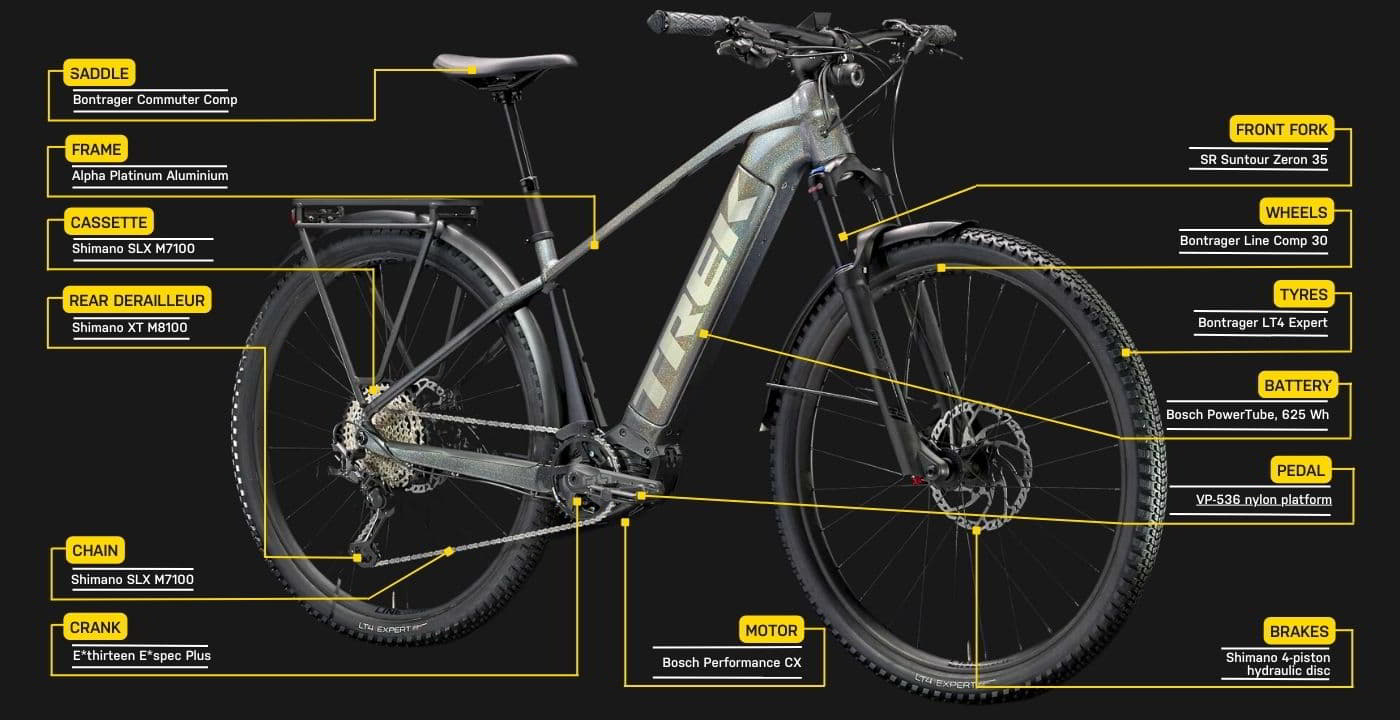 The Powerfly 7 Equipped comes with an Alpha Platinum compound aluminium frame.
The bike is made to be robust and is fitted with a pannier/bag cage over the back wheel, so it's usable on the daily commute or on touring style rides.
It's a solid bike and you feel very stable up top, exactly what you need from a bike which might have to balance extra weight on the back from luggage.
That comes at a cost, though, the overall weight of the bike comes in at 25.12kg (in a size medium), so it is a bit of a beast to contend with.
The bike comes in 5 frame sizes – extra small, small, medium, large and extra large – with the weight varying slightly between them.
You feel that extra weight out on the trickier trails, it doesn't manipulate well and feels very cumbersome, but really – the bike isn't made for technical trails or on seriously sharp up and down terrain.
It's made to be a loyal partner on longer, flatter, distances and it certainly holds its own on the gravel or on a dirt road with a few lumps.
ℹ️ Be clear about what you want from a bike. If you want a trail thrasher, then this definitely isn't the bike for you.
The Powerfly 7 Equipped comes with a chunky 625Wh Bosch PowerTube battery. The bike is made to take on some longer distance riding and the Bosch battery offers the capabilities to keep pushing on longer and longer.
Given the bike isn't made for super technical and steep trail-based inclines, that battery actually stretches a long old way and it's ultra reliable. On the flatter style of terrain you're likely to be tackling, the battery gives you hours and hours of fun.
How Long Does a Trek Powerfly Battery Last?
We found on our review rides that we got well over 100km on one charge, with juice still to go on with. It's secured tightly into the downtube and is easily removable with a simple click system.
The PowerTube takes around five hours to fully charge from dead and only two hours to get to 50%, which means you can get back out on the road/trail at pace. A fitting battery for this burly bike.
The Powerfly 7 Equipped comes with a seriously powerful Bosch Performance CX motor, which can punch out up to 85Nm of torque. We're very impressed with this pairing yet again from Trek.
That extra kick takes the edge off the bike's overall weight and means you don't have any anxiety when approaching a large hill. The power is delivered in a super-natural way and it doesn't give off any unusual drag or overshoot.
It also works very intelligently with the battery to release the power conservatively. Overall, it's a stunning partnership for a bike, which could feel very sluggish – however, the electrical components are well matched to the bike's needs.
The Powerfly 7 Equipped is fitted with a Bosch Kiox display – another excellent choice from Trek. The Kiox is a best friend while out riding, offering your battery percentage as an exact percentage – praise the Lord!
It's exactly what we want and now expect from a motor display, but it doesn't always happen. The Kiox offers much more than that, though. It also offers calorie consumption data, pedalling cadence, speed, distance to your destination, among many other features. You can also link it up to a heart rate monitor via Bluetooth to keep on top of your performance.
We found it a beautiful display to accompany us on our review rides and it elevated the overall ride experience.
The Trek Powerfly 7 Equipped is a hardtail e-MTB, so only comes fitted with front suspension. It's one of the reasons the bike is so good on the longer distance rides and on urban streets – you don't suffer from any unnecessary bounce or sponginess from the back end.
At the front end the bike comes with SR Suntour Zeron 35, air-sprung, front forks, which have 120mm of travel. Listen, the forks are a bit uninspiring if we're honest, but you haven't bought this bike to launch of jumps and take on huge downhill routes.
The bike has enough give to cope with the demands of a touring cycle and on your daily commute.
ℹ️ Another moment to be very aware of what you're looking at here. This isn't an all gnarly trail rider, so steer clear if that's what you want.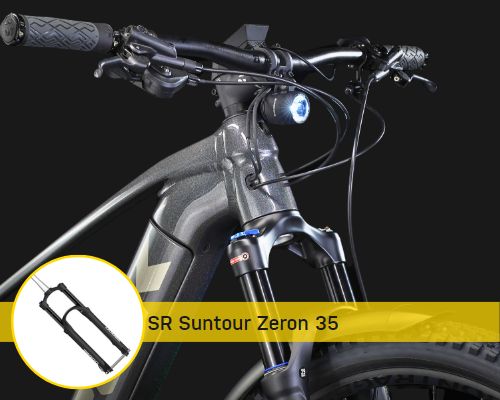 The Trek Powerfly 7 Equipped is fitted with different wheel sizes, depending on the size of frame you go for. For the extra small and small versions you'll get a 27.5in wheel setup, but a larger 29in setup on the medium, large and extra large frame sizes.
The bike comes with Bontrager Line Comp 30 wheels and Bontrager LT4 Expert tyres. Both are a really decent accompaniment for the type of strains the bike is put under. The wheels are super durable and ultra strong – capable of taking the extra weight of luggage and long distance use.
The tyres offer enough bite on the dirt, but also shed very well on hard packed and on concrete – useful so that you aren't carting extra drag around for hours on end.
The Powerfly 7 Equipped comes with a 4-piston, hydraulic disc brake setup, with M6100 levers and M6120 callipers. They offer enough bite to bring you to a halt when needed. They aren't all singing, all dancing, but you don't need them to be.
The Powerfly 7 Equipped comes with a 12-speed SLX M7100 group set. They offer smooth shifting and an ease of use, which you need when spending hours up top on the pedals. The pairing does everything you need them to.
A decent price point for the Trek Powerfly 7 Equipped. We're impressed with the ability to include those high spec Bosch components for the price and there aren't many points to grumble about throughout the whole bike. Bravo to the Trek team.
Trek Powerfly 7 Equipped Facts & Figures
SIZE
RIDER HEIGHT
INSEAM
S
153 – 167 cm
5'0″ – 5'6″
72 – 79 cm
28″ – 31″
M
161 – 175 cm
5'3″ – 5'9″
76 – 82 cm
30″ – 32″
L
174 – 188 cm
5'9″ – 6'2″
82 – 88 cm
32″ – 35″
XL
186 – 196 cm
6'1″ – 6'5″
87 – 92 cm
34″ – 36″
SIZING TABLE

FRAME SIZE LETTER

S

M

L

XL

ACTUAL FRAME SIZE

15.5

17.5

19.5

21.5

WHEEL SIZE

29″

29″

29″

29″

SEAT TUBE

39.4

41.9

47.0

50.8

SEAT TUBE ANGLE

72.3°

72.6°

72.8°

72.8°

HEAD TUBE LENGTH

9

10

10.5

11

HEAD ANGLE

67.5°

67.5°

67.5°

67.5°

EFFECTIVE TOP TUBE

58

61.7

64.8

67

BOTTOM BRACKET HEIGHT

32.3

32.3

32.3

32.3

BOTTOM BRACKET DROP

5

5

5

5

CHAINSTAY LENGTH

44.7

44.7

44.7

44.7

OFFSET

4.2

4.2

4.2

4.2

TRAIL

10.9

10.9

10.9

10.9

WHEELBASE

112.6

116.5

119.7

121.9

STANDOVER

76.8

76.8

76.8

76.8

FRAME REACH

40.5

44

47

49

FRAME STACK

60.9

61.8

62.2

62.7
* All measurements provided in cm unless otherwise stated.
FRAMESET

*Frame

Size: XS , S
Alpha Platinum Aluminium, curved top tube, Removable Integrated Battery (RIB), tapered head tube, Control Freak internal routing, Motor Armour, Boost148, 12 mm thru axle
Size: M , L , XL
Alpha Platinum Aluminium, Removable Integrated Battery (RIB), tapered head tube, Control Freak internal routing, Motor Armor, Boost148

Fork

SR Suntour Zeron 35, air spring, LO R damper, hydraulic lockout, tapered steerer, 44 mm offset, Boost110, 15 mm bolt-on thru axle, 120 mm travel

Max compatible fork travel

120mm, XS & S: 100mm

WHEELS

Hub front

Bontrager alloy, sealed bearing, alloy axle, 6-bolt, Boost110, 15 mm thru axle

Hub rear

Bontrager alloy, sealed bearing, 6-bolt, Rapid Drive 108, Shimano MicroSpline freehub, Boost148, 12 mm thru axle

Skewer rear

Bontrager Switch thru-axle, removable lever

Rim

Bontrager Line Comp 30, Tubeless-Ready, 28-hole, Presta valve

*Tyre

Size: XS , S


Bontrager LT4 Expert, reflective strip, wire bead, 60 tpi, 27.5×2.40″

Size: M , L , XL


Bontrager LT4 Expert, reflective strip, wire bead, 60 tpi, 29×2.40″

Max tyre size

Frame: 29×2.60″ or 27.5×2.80″ (XS & S: 27.5×2.60″), Fork: See manufacturer

DRIVETRAIN

Shifter

Shimano SLX M7100, 12-speed

Rear derailleur

Shimano XT M8100, long cage

Crank

E*thirteen E*spec Plus, 165 mm length

Chainring

E*thirteen, 36T, steel

Cassette

Shimano SLX M7100, 10-51T, 12-speed

Chain

Shimano SLX M7100, 12-speed

Pedal

VP-536 nylon platform

Max. chainring size

1x: 38T

COMPONENTS

Saddle

Bontrager Commuter Comp

*Seatpost

Size: XS , S
TranzX JD-YSP18, 100 mm travel, internal routing, 31.6 mm, 361 mm length
Size: M , L , XL
TranzX JD-YSP18, 130mm travel, internal routing, 31.6 mm, 425 mm length

*Handlebar

Size: XS , S
Bontrager alloy, 31.8 mm, 15 mm rise, 720 mm width
Size: M , L , XL
Bontrager alloy, 31.8 mm, 15 mm rise, 750 mm width

Grips

Bontrager XR Endurance Elite

*Stem

Size: XS , S


Bontrager Elite, 31.8 mm, Blendr light mount, 7-degree rise, 60 mm length

Size: M , L , XL


Bontrager Elite, 31.8 mm, Blendr light mount, 7-degree rise, 70 mm length

Head set

FSA IS-2, 1-1/8″ top, 1.5″ bottom

Brake

Shimano 4-piston hydraulic disc, M6100 lever, M6120 calliper

*Brake rotor

Size: XS , S
Shimano RT66, 6-bolt, 180 mm
Size: XS , S , M , L , XL
Shimano RT66, 6-bolt, 203 mm

ACCESSORIES

Battery

Bosch PowerTube, 625 Wh

Charger

Bosch standard 4A, 220-240 V

Computer

Bosch Kiox with Anti-theft solution

Motor

Bosch Performance CX, magnesium motor body, 250 watt, 85 Nm, 25 km/h max assist

*Light

Size: XS , S , M , L , XL
AXA Blueline taillight
Size: XS , S , M , L , XL
Supernova Mini 2, 5-21V LED

Kickstand

Pletscher Comp Flex 18

Cargo rack

MIK-compatible alloy rear rack

*Mudguard

Size: XS , S


Trek Powerfly 27.5″ custom fender

Size: XS , S , M , L , XL


Trek Powerfly custom mudguard

Size: M , L , XL


Trek Powerfly 29″ custom fender

WEIGHT

Weight

M – 25.12 kg / 55.39 lb (with TLR sealant, no tubes)

Weight limit

This bike has a maximum total weight limit (combined weight of bicycle, rider and cargo) of 136 kg (300 lb).
* Please note – spec applies to all sizes unless listed separately
A good range of bikes to compare the Powerfly 7 Equipped to is the Canyon Grand Canyon:ON series.
The Grand Canyon:ON bikes are made for the same purpose – with the aim of being versatile rides, capable of switching from road to dirt and useful for commuters, along with being comfortable over longer distances.
We've recently reviewed the Grand Canyon:ON 8, so will shine the spotlight on this bike in our comparison.
Firstly, the Powerfly 7 Equipped is more than $2,500 more expensive, but is it worth the extra money?
The Grand Canyon:ON 8 is lighter by 3kg, but it is far more poorly kitted out in the electronics department. The Shimano components, despite offering the same sort of power and battery life, are far inferior.
The Shimano Steps EP8 on the Canyon doesn't touch the Bosch Performance CX motor on our Trek. And the user experience is far poorer, too. The display on the Canyon is disappointing and our Kiox 300 is magnificent.
You also can't just clip out your battery on your Canyon, it has to be unscrewed, which is a pain in the backside. The Canyon shades it with a RockShox suspension, with the same 120mm of travel.
The wheels, brakes and drivetrain on both are solid and do the job needed. Overall, it's a tough call, but we found the overall user experience far more enjoyable on the Trek, compared to the Canyon.
You may pay more, but we think you're getting a much better rounded package.
We think Trek has done beautifully here. We've thoroughly enjoyed riding the Powerfly 7 Equipped in our review rides. It's a versatile e-MTB, which can take on many different types of terrain and do so with a flourish.
Be it commuting in the city, heading out on a long touring cycle or a quick rip through some forest roads and minor trails – the bike handles it well. They've selected their component partnerships excellently and the bike rides a dream.
Our only qualm would be the suspension – for the price you're paying, we think Trek could have pushed the boat out more. It isn't cheap for this sort of bike, but you won't be let down.
At least that's our view, now go out and find out for yourselves.
If you enjoyed this review then make sure to check out our other Trek reviews.