The Canyon Neuron:ON 7 is the middle spec bike in the Canyon Neuron:ON range. The bikes are made for people entering the e-MTB market, so are set out fairly conservatively, with a view to be ridden on a variety of terrain, but without venturing too far into the gnarly areas.
They're also priced at an attractive point, to try and hook in some of the vast numbers of people taking up the sport. The Canyon Neuron:ON 7 is very similar to its junior sibling the Neuron:ON 6, and the prices aren't too dissimilar either.
So which one should you pull the trigger on? Or should you even go for this range at all? Time to get to grips with another Canyon Neuron review…
The Canyon Neuron:ON 7 is a success. The company has upgraded a number of elements from the Canyon Neuron:ON 6 – with a better suspension, more gears and a lighter weight.
It's a comfortable and versatile entry level trail bike, which offers decent range and enough power to get up any climb. There are a few niggles – the motor is both noisy and can feel unnatural at times in its power delivery and the brakes can feel a little weak for the amount of torque.
However, it's a solid choice and pitched at a reasonable price.
Peaks:
Troughs:
Canyon Neuron:ON 7 Review
The Canyon Neuron:ON 7 has the same aluminium frame as the Neuron:ON 6, but is slightly lighter (due to other changes, which we'll come to later). How much does a Canyon Neuron:ON 7 weigh, exactly? The answer is a total of 23.4kg.
That's still a pretty heavy bike and you can feel it on the trails – it certainly isn't made for super technical terrain. Although it's capable of enjoying a good day out on some varied moderate trails, it feels very laboured if you have to make too many quick changes of direction and that rules it out of some of the more technical areas.
The geometry is conservative and that's what's needed for a gateway style bike – if it were too aggressively laid out you would find people struggling and certainly uncomfortable over longer distances.
This Canyon Neuron:ON comes in 5 frame sizes – extra small, small, medium, large and extra large – with the geometry conservative across the range.
ℹ️ If you're looking for an aggressive e-MTB geared up for lots of descending, this certainly isn't the bike for you.
The battery on the Canyon Neuron:ON 7 is one of the major changes between this model and the Neuron:ON 6. This Canyon Neuron 7 comes with a Shimano BT-E8036, this is an upgraded battery to the one on the Neuron:ON 6.
Although it emits the same 630Wh of power as the Canyon Neuron:ON 6, it's lighter and there's a weight saving on the overall bike as a result. That weight saving also means the overall range is slightly enhanced – we found we could pedal out over 90km on one charge.
It also charges faster – sadly that still means over 5 hours, but it's down from at least 6 hours on the normal version. However, you can get to 50% of charge in between two and two and a half hours. It's a decent battery, which is secured firmly into the downtube – with the ability to plug into charge while fixed to the bike or take it out.
The Canyon Neuron:ON 7 comes with the Shimano EP8 motor. We haven't been the biggest fans of the EP8 over the years, but it performs better with the Shimano battery than it does when paired with other companies' products.
Sometimes we find it incredibly power thirsty, but it works far more conservatively on the Canyon Neuron:ON 7.0 and that's why you see those big range figures. One thing that's always a feature is the immense power that EP8 can emit – you can't dispute its exceptional ability to throw you up any climb – with 85Nm of torque.
That's particularly handy when you have a chunky overall weight like we do here. It does the trick nicely and the 3 modes of assist – Eco, Trail and Boost – all have a worth, however, the Boost can almost be too strong at times.
ℹ️ If you're new to e-MTBing be very cautious with your use of the Boost function – it can be very unnatural at times and could feel overpowering for some riders who haven't got their full confidence yet.
Although there is a lot to admire with the EP8 here, it is fairly noisy and it's not the most natural feeling motor function we've ever seen – it can feel a bit jolty.
The Canyon Neuron:ON 7 comes with a Shimano SC-E7000 motor display. We're really disappointed with this display – it's incredibly limited and it's far from the perfect ride aid you need for a day out riding.
You don't get a nailed-on battery percentage figure, which we expect in this day in age – instead you get an inadequate 5 light system, which represents 20% of charge. It's a nightmare when trying to judge your ride effort and you don't get much more info supplied either – only a distance covered figure and a time measurement, but that's it.
A huge oversight if we're honest. One ray of sunshine is the ability to link the display up to the Shimano smartphone app, which offers more customisable data, but it relies on your smartphone being out in the open on your handlebars – a bit sketchy when you're giving it a good go on the trails.
FOX FLOAT DPS Performance
The Canyon Neuron:ON 7 comes with 130mm at the front and the rear, with both components supplied by FOX. You get FOX 34 Rhythm Grip forks and FOX Float DPS Performance shocks – these are slightly upgraded from the RockShox components on the Neuron:ON 6.
They certainly offer you a little more playfulness out on the trails and you can manage a few more lumps and bumps. That amount of travel still means it's fairly reserved, but you can climb adeptly, handle some moderate descents and it certainly feels at home on the varied terrain.
The small amount of travel at the rear end means you get a decent amount of traction to move at pace and it doesn't feel too shaky. It's a very good setup for a decent entry level trail bike and it manages all the kind of moderate challenges you would expect to be tackling at that stage of your e-MTB career.
Rodi TRYP 30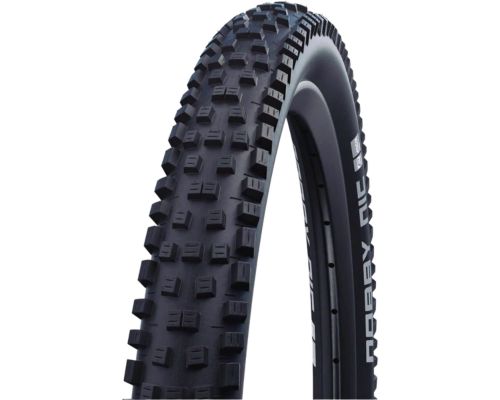 Schwalbe Nobby Nic Performance
The Canyon Neuron:ON 7 comes with 29in tyres at the front and the rear. The bike is fitted with Rodi TRYP 30 wheels and Schwalbe Nobby Nic Performance tyres – these offer a solid basing for a day's riding.
The wheels are sturdy and you also have 2.6 inch tyres, which offer a strong planting on the trail – very important to improve balance and confidence on the trails. The tyres offer plenty of traction too; ideal on the climbs.
Shimano SM-RT30 Center Lock
The Canyon Neuron:ON 7 is paired with Shimano MT420 brakes. We aren't best impressed with these and don't think they offer enough reliability when you need it most. When you factor in the immense power of the motor and its unnatural jerkiness, the brakes need to be absolutely brilliant – sadly they aren't.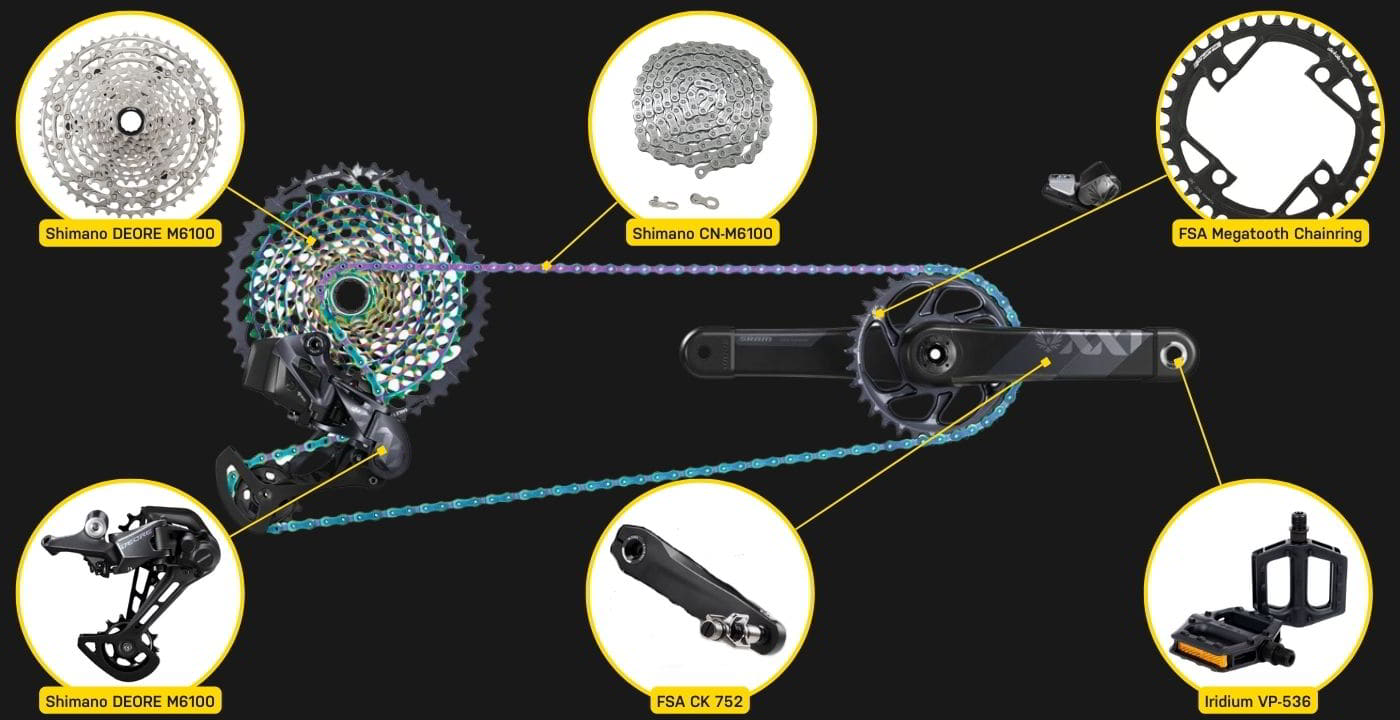 The Canyon Neuron:ON 7 comes with a 12-speed Shimano Deore M6100 drivetrain. This is a step up from the 10-speed set up on the Canyon Neuron:ON 6. The upgrade was definitely needed and those extra 2 gears offer you the ability to reach places and hit gradients you weren't able to before with the 10-speed setup.
The Canyon Neuron:ON 7 is pitched at a fair price and they've certainly upgraded the offer from the Canyon Neuron:ON 6. There is only a $377 difference between the two, but you're getting a slightly better battery, an upgraded suspension, 2 more gears and it's lighter.
Canyon Neuron:ON 7 Review Facts & Figures
BASIC GEOMETRY

XS

S

M

L

XL

BODY HEIGHT IN CM

≤ 160
160 - 172
172 - 183
183 - 194
≥ 194

SEAT HEIGHT IN MM

582 - 681
647 - 756
693 - 823
733 - 863
773 - 903

SEAT TUBE LENGTH IN MM

380
420
440
480
520

TOP TUBE LENGTH IN MM

562
588
608
631
654

HEAD TUBE LENGTH IN MM

100
100
120
130
140

HEAD TUBE ANGLE

66.5°
66.5°
67.5°
67.5°
67.5°

SEAT TUBE ANGLE

75°
75°
74.5°
74.5°
74.5°

CHAINSTAY LENGTH IN MM

435
435
440
440
440

WHEEL BASE IN MM

1.135
1.165
1.175
1.199
1.223

STACK IN MM

584
607
625
634
644

REACH IN MM

405
425
435
455
475

STAND-OVER HEIGHT IN MM

766
772
798
800
808

BOTTOM BRACKET OFFSET IN MM

20
20
33
33
33
COMPONENT GEOMETRY

XS

S

M

L

XL

SPACER IN MM

20.0

20.0

20.0

20.0

20.0

STEM LENGTH IN MM

50

50

50

50

50

HANDLEBAR WIDTH IN MM

740

760

760

780

780

CRANK LENGTH IN MM

165.0

165.0

170.0

170.0

170.0

SEAT POST DIAMETER IN MM

30.9

30.9

30.9

30.9

30.9

DROPPER POST TRAVEL IN MM

100

125

150

150

150

SEAT POST LENGTH IN MM

323

378

425

425

425

MAXIMUM SEAT POST INSERTION DEPTH IN MM

169

199

220

220

220

MINIMUM SEAT POST INSERTION DEPTH IN MM

70

90

90

90

90

WHEEL SIZE

27.5″

27.5″

29″

29″

29″

DISC SIZE IN MM

203 / 180

203 / 180

203 / 203

203 / 203

203 / 203

FRONT FORK TRAVEL IN MM

120

120

130

130

130

REAR SUSPENSION TRAVEL IN MM

130

130

130

130

130

BATTERY CAPACITY

504 Wh

504 Wh

630 Wh

630 Wh

630 Wh

FITTING LENGTH IN MM

190X45

190X45

210X50

210X50

210X50
FRAME

Frame

Rear Shock

Suspension Fork

Canyon Neuron:ON

Canyon Neuron:ON aluminium frame, 130 mm rear travel. Incredible kinematics thanks to Triple Phase Suspension design. Integrated battery. Boost standard rear axle (148 mm). Post mount brakes (180 mm rotors).
Axle dimension: 12×148 mm
Material: Aluminium (AL)
FOX FLOAT DPS Performance
FOX 34 Rhythm Grip
Stanchion Diameter: 34 mm
Travel: 130 mm
Fork steer tube diameter: 1 1/8″ – 1 1/4″

DRIVETRAIN

Motor

Battery

Rear Derailleur

Shimano Steps EP8 Motor
Shimano BT-E8036
Shimano DEORE M6100
Cage length: long

Chainguard

Shift Lever

Cassette

Canyon Chainguide EP1001-02
Shimano DEORE M6100
Shimano DEORE M6100
Number of sprockets: 12

Crank

Chainring

Chain

FSA CK 752 E-MTB
Number of chainrings: 1
FSA Megatooth Chainring 104BCD
Shimano CN-M6100 12s

BRAKES

Disc Brake

Brake Rotor

Shimano MT420

Shimano BR-MT410 Deore
Shimano SM-RT30 Center lock 203 mm
Size: 203 mm

Shimano RT-EM300 STEPS
Size: 203 mm

WHEELS

Wheel

Tyre

Thru Axle

Rodi TRYP 30 | Shimano MT400
Rotor mount: Center Lock
Wheelsize: 29″

Iridium 30 | Shimano MT410
Rotor mount: Center Lock
Wheelsize: 29″
Schwalbe Nobby Nic Performance, 2.6
Width: 2.6″
Canyon GP0225-01 Thru Axle 148×12

COCKPIT

Stem

Handlebar

Grips

FSA Comet 35
Fork steer tube diameter: 1 1/8″
Clamping diameter: 35,0 mm
FSA Comet Alloy 35 Riser
Width: 760 mm
Rise: 25 mm
Canyon Lock-On

Display

Modeswitch

Shimano SC-E7000
Shimano Steps E7000

SEAT

Saddle

Seatpost

Fizik Terra Alpaca X5
Iridium Dropper Post
Move more freely on steep descents, by dropping down saddle with the press of a handlebar-mounted button. With internal cabling.
Clamp diameter: 30,9 mm
Material: Aluminium (AL)

LIGHT

Light

Reflector Set

ACCESSORIES

Battery Charger

Trekking & City Pedals

Manuals and Accessories

Shimano STEPS – Battery Charger
Iridium VP-536
Canyon Small Box
Wrench Tool 15mm
Quickstartguide Canyon eMTB
We're going to compare our Canyon Neuron:ON 7 to a bike made by one of the lesser known manufacturers on the market. The Focus Thron² 6.7, which is another entry level e-MTB stepping into the area.
The Focus weighs in at 25.8kg, which is 1.5kg heavier than our Canyon, but you do get a superior battery in terms of quality.
It comes with a 625Wh Bosch battery, which offers a big old day out on the trail and works intelligently with the excellent Bosch Performance Line CX motor, which kicks out 85Nm of torque.
The power delivery on the Focus is far more natural-feeling and you feel more in control of the bike than you sometimes do with our Canyon. You get 130mm of travel at the front and rear on the Focus, as you do with our Canyon, but it's fitted with some pretty poor SR SunTour forks at the front end, but a better set of RockShox shocks – we much prefer the FOX components on our Canyon.
You have Shimano MR-MT420 brakes on the Focus, the same as our Canyon, but you're one gear short in the drivetrain department, even though Focus go for Shimano Deore, too. The Focus costs $5,588, which is $692 more expensive than our Canyon. It's a win for the Canyon here – better suspension, more gears, lighter and cheaper.
The Canyon Neuron:ON 7 is certainly an improvement on the Canyon Neuron:ON 6. It's lighter, you have a more polished battery offer, the suspension is better and you have 2 extra gears to play with.
All of these factors make it a better bike to ride and it neatly achieves the goal of being an adept entry level bike, which offers an ease of use and without breaking the bank. It's an affordable bike, which doesn't scrimp on quality components – with a powerful motor and plush suspension.
There are still a few issues – the brakes are a little under gunned for the power, the motor is noisy and a bit jerky, and it's still fairly heavy. Overall, though, this is a very decent bike, so go out and give it a spin yourself!
If you enjoyed this review then make sure to check out our other Canyon e-MTB reviews: