The Neuron:ON 9 is the top spec bike in Canyon's all-rounder range of aluminium-framed e-MTBs. It's designed to be a versatile and playful e-MTB, which can take on some serious trails, but without breaking the bank.
It's the shorter, more compact, sibling to the Spectral:ON series of Canyon bikes – which are designed for more of the seriously aggressive terrain.
The Neuron:ON comes in a more expensive and lighter carbon framed version, too, but does the aluminium-framed standard bike hit the nail on the head? Or should you be looking elsewhere? Saddle up, it's time to get stuck into this Canyon Neuron review….
A reliable e-MTB, which offers a big battery range, trustworthy suspension and a super responsive brake setup and drivetrain. It feels pretty fun and sporty to ride, with 130mm of travel, which takes more punishment than you would expect.
It isn't the lightest e-MTB, and the motor emits a grinding noise, which over time gets on your nerves and the display is, frankly, poor. It's a safe bet option if you want a reliable e-MTB, but it certainly doesn't set your world on fire.
Peaks:
Troughs:
The Neuron:ON 9 has a seriously robust aluminium frame, which is designed to take a pummelling while out riding. It's made of a heavy-duty compound to help soak up shocks from impact, but that comes at a cost – with the bike's total weight coming in at 24.5kg.
That weight can make the bike feel a little sluggish at times, but you fortunately have a punchy old motor in the tank to be able to help alleviate that. The bike comes in five frame sizes – extra small, small, medium, large and extra large.
The Neuron:ON 9's geometry is set out to keep things compact and easy to handle – you feel very stable up top and have an ease of handling. The bike comes into its own on varied, up and down, terrain – the bike feels easy to manipulate thanks to reach length and a sporty, but not overly slack head tube angle.
It's geared up for some pretty challenging terrain, but the geometry (and suspension, which we'll come to later) holds it back from the seriously wild stuff.
The Neuron: ON 9 comes with a 630Wh Shimano BT-E8036 battery, which offers a sizable day out riding. It's a big old battery, which contributes to the overall weight of the bike, but offers you hours of fun out on the trails.
It's the largest battery option offered by Shimano and it tucks nicely into the downtube of the bike. The batteries are made to be durable and are meant to offer more than 1,000 full charge cycles before needing to be serviced or replaced – that's a heck of a lot of riding.
The only issue with the battery is the charge time – it takes around 5 hours to get back up to full charge, from empty, although you can get 80% in just over 3 hours. With rapid charging batteries on the market these days from other manufacturers it seems a bit of a pain that Shimano haven't managed to quicken this time up yet.
When working though the battery offers many hours of use – we found it offered a range of up to around 120km on our review rides.
The Neuron:ON 9 comes with a Shimano EP8 motor. It's a burly setup, which can kick out a punchy 85Nm of torque, and really you need it with that heavy weighted frame. The punch in the motor helps alleviate concerns around the overall weight and it actually scampers up tricky inclines with relative ease.
The sporty layout and feel of the bike also means the bike doesn't feel as sluggish as you first might imagine and it makes light work of tough terrain. The EP8 is renowned for being reliable – it's a very trusty partner out in the mountains and it certainly comes into its own here.
It offers a smooth level of power delivery, without any real noticeable drag, and it works intelligently with the battery to release power smoothly.
You get 3 modes of assist to call upon – Eco, Trail and Boost – but be very cautious with your use of the Boost function, it can really sap your battery quickly if you're too liberal with its use.
ℹ️ The motor emits a bit of an ugly-sounding clunking noise, too, which can be a very grinding experience on a long ride. Something to note for sure.
The Shimano EP8 motor display has been a bug bear for us for a long long time, and it's no different on the Neuron:ON 9. It simply doesn't match the standards of other motor displays out on the market.
Our biggest issue is with the way the percentage of battery life you have left is displayed – as 5 LED lights. It creates enormous range anxiety because you never truly know how much you have left – they indicate 20% increments, which could mean you're about to grind to a halt or have 19% left.
It's a ridiculous system in this day and age, when other manufacturers can offer exact percentages. That said, there are some cool options which come with this bike. You get a USB-C charging port on your top tube, so you can hook a smartphone up to the bike's battery power, which can then sit on your handlebars to operate as an onboard computer through an app.
It's a cool idea, but we can't really identify what extra pressure that puts on the battery, but it certainly runs out a little quicker. It's also useful for charging lights in the dark if you run out of juice.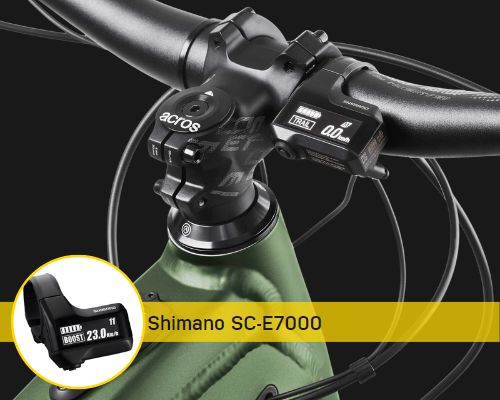 The Neuron:ON 9 comes with 130mm of travel at both the front and the rear. It's fitted with RockShox Pike Select+ forks and RockShox Deluxe Select R rear shocks – a solid partnership, which offer a very comforting feel out on the trails.
It comes with a three phase suspension set-up, which soaks up little lumps and bumps without detracting from the speed of the bike and keeps you firmly planted on the trail.
When it comes to the larger impacts you have 130mm of travel to call upon – the bike actually takes a lot more punishment than you would expect with only 130mm at its disposal. The RockShox setup does a very admirable job.
This bike is never going to take the gnarliest downhill lines or outrageous drops from heights, but if you want a sporty trail bike, which can take some solid ups and downs – this set-up nails it.
The Neuron:ON 9 comes with 29in DT Swiss H 1900 Spline Hybrid wheels at both the front and the rear. They're incredibly strong, without adding too much unnecessary weight, and can take a real beating on the trail.
They're durable and capable of taking some real punishment. They come with 2.6in wide Schwalbe Hans Dampf SuperTrail tyres at the front and 2.6in Schwalbe Nobby Nics at the rear.
These are seriously toothy tyres, designed to bite hard into the dirt and offer you maximum confidence when pushing this Canyon Neuron hard.
The Neuron:ON 9 comes with SRAM Code R brakes. We know what to expect with SRAM these days – reliability and immense stopping power. With 200mm rotors, the SRAM Code Rs offers a serious bite when you need it most.
The Neuron:ON 9 comes with a 12-speed SRAM GX Eagle AXS group set, which offers super responsive shifting. It's a cable-free setup, which is easy to maintain and offers you the chance to enjoy shifting power to take on the trickiest terrain.
You're getting decent bang for your buck here. You have some high-spec components throughout and a lot of reliable components, which are made to be durable.
You also get big old electrical components and a sporty feeling bike. This is definitely pitched at a fair price.
Canyon Neuron:ON 9 Facts & Figures
| BASIC GEOMETRY | | | | |
| --- | --- | --- | --- | --- |
| | S | M | L | XL |
| BODY HEIGHT IN CM | ≤ 172 | 172 – 183 | 183 – 194 | ≥ 194 |
| SEAT HEIGHT IN MM | 647 – 756 | 693 – 823 | 733 – 863 | 773 – 903 |
| SEAT TUBE LENGTH IN MM | 420 | 440 | 480 | 520 |
| TOP TUBE LENGTH IN MM | 588 | 608 | 631 | 654 |
| HEAD TUBE LENGTH IN MM | 100 | 120 | 130 | 140 |
| HEAD TUBE ANGLE | 66,5° | 67,5° | 67,5° | 67,5° |
| SEAT TUBE ANGLE | 75° | 74,5° | 74,5° | 74,5° |
| CHAINSTAY LENGTH IN MM | 435 | 440 | 440 | 440 |
| WHEEL BASE IN MM | 1.165 | 1.175 | 1.199 | 1.223 |
| STACK IN MM | 607 | 625 | 634 | 644 |
| REACH IN MM | 425 | 435 | 455 | 475 |
| STAND-OVER HEIGHT IN MM | 772 | 798 | 800 | 808 |
| BOTTOM BRACKET OFFSET IN MM | 20 | 33 | 33 | 33 |
COMPONENT GEOMETRY

S

M

L

XL

SPACER IN MM

20,0

20,0

0,0

10,0

STEM LENGTH IN MM

50

50

50

50

HANDLEBAR WIDTH IN MM

760

760

780

780

CRANK LENGTH IN MM

165,0

170,0

170,0

170,0

SEAT POST DIAMETER IN MM

30,9

30,9

30,9

30,9

DROPPER POST TRAVEL IN MM

125

150

150

150

SEAT POST LENGTH IN MM

378

425

425

425

MAXIMUM SEAT POST INSERTION DEPTH IN MM

199

220

220

220

MINIMUM SEAT POST INSERTION DEPTH IN MM

90

90

90

90

WHEEL SIZE

27.5″

29″

29″

29″

DISC SIZE IN MM

200 / 180

200 / 200

200 / 200

200 / 200

FRONT FORK TRAVEL IN MM

130

130

130

130

REAR SUSPENSION TRAVEL IN MM

130

130

130

130

BATTERY CAPACITY

504 Wh

630 Wh

630 Wh

630 Wh

FITTING LENGTH IN MM

190X45

210X50

210X50

210X50
FRAME

Frame

Rear Shock

Suspension Fork

Canyon Neuron:ON
Canyon Neuron:ON aluminium frame, 130 mm rear travel in sizes M-XL (125 mm in sizes XS-S).
Axle dimension: 12×148 mm
Material: Aluminium (AL)
RockShox Deluxe Select R
Provides 130 mm of rear travel.
Rockshox Pike Select +
Axle dimensions: 15×110 mm.
Travel: 130 mm
Fork steer tube diameter: 1 1/8″ – 1 1/4″

DRIVETRAIN

Motor

Battery

Rear Derailleur

Shimano Steps EP8 Motor
High-torque motor. Maximum torque: 85 Nm. 3 app-tunable support modes: Eco, Trail, Boost.
SRAM Powerpack
Removable battery for wireless eTap derailleurs.
Charge time: less than 60 minutes

Shimano BT-E8036
Slimline Shimano battery with 630 Wh capacity.
SRAM GX Eagle AXS
Next-gen wireless 1×12 groupset. App-configurable.

Chainguard

Shift Lever

Cassette

Canyon Chainguide EP1001-02
SRAM GX Eagle AXS
SRAM GX Eagle, 12-speed (10-52)
Cassette size: 10-52T
Gear range: 520%

Crank

Chainring

Chain

Shimano Steps E-MTB
Designed for the rigors of E-MTB riding, 24mm spindle, 170mm crank arms
FSA Megatooth Chainring 104BCD
SRAM GX Eagle 12s
Strong and sturdy 12 speed chain with SRAM's easy to use powerlink.

BRAKES

Disc Brake

Brake Rotor

SRAM Matchmaker Clamp

SRAM Code R
SRAM Centerline Rounded
SRAM's 200mm Centerline rotor ensures you always have stopping power to spare.
Size: 200 mm

WHEELS

Wheel

Tyre

Thru Axle

DT Swiss H 1900 Spline Hybrid 29
Rotor mount: IS 6-bolt
Wheelsize: 29″

DT SWISS H 1900 Spline Hybrid 29
Rotor mount: IS 6-bolt
Wheelsize: 29″
Schwalbe Nobby Nic SuperTrail Speedgrip
29×2.6″

Schwalbe Hans Dampf SuperTrail, 2.6
29×2.6″
Canyon GP0225-01 Thru Axle 148×12
Dimensions: 148 x 12 mm

COCKPIT

Stem

Handlebar

Grips

FSA Comet 35
Fork steer tube diameter: 1 1/8″
Clamping diameter: 35,0 mm
FSA Comet Alloy 35 Riser
Width: 760 mm
Rise: 25 mm
Canyon Lock-On Grips

Display

Modeswitch

Shimano SC-E7000
Shimano Steps E7000

SEAT

Saddle

Seatpost

Fizik Terra Alpaca X5
Iridium Dropper Post
Clamp diameter: 30,9 mm
Material: Aluminium (AL)

LIGHT

Light

Reflector Set

ACCESSORIES

Battery Charger

Trekking & City Pedals

Manuals and Accessories

SHIMANO Steps EC-E8004-01 charger for europe
Adaptor for external charging not included.
Iridium VP-536
Canyon Bag
Wrench Tool 15mm
Quickstartguide Canyon eMTB
Canyon Smallbox
* Please note – spec applies to all sizes unless listed separately
The Focus Thron 2 6.9 is a good bike to compare the Neuron:ON 9 to.
It's a similar mid-travel e-MTB, which has 130mm of travel at both the front and the rear, supplied by FOX. It also has an aluminium frame and comes in over our Canyon at 26.6kg – 2.1kg heavier.
The Focus trumps our Canyon in the electrics department, it comes with a monster 750Wh Bosch battery and the excellent Bosch Performance CX motor, which kicks out a similar 85Nm of torque.
It also has the Bosch Kiox 300 display, which is far more advanced than our Shimano EP8 and comes with a super responsive Shimano Deore drivetrain set-up and Shimano MT520 disc brakes.
The Focus also comes in just a little more expensive at $6,830, compared to the $6,617 for our Canyon. We're very impressed with the Focus and think it pips our Neuron:ON 9 to the post.
Reliability is a good word to use to sum up the Neuron ON:9.
There are aspects we really admire – we think it's a fun and sporty mid-travel e-MTB to ride – offering a big old battery range and a clever suspension set-up, which manages much more punishment than you would expect for 130mm. It has many durable components, which last, and ones which you can usually trust.
It's fun enough to ride and offers a simplicity, which doesn't get your head in a spin. However, is that enough? We aren't sure it's a bike you would go screaming off the rooftop about – we hate the motor display, the motor makes an annoying clanking noise and it's fairly weighty overall.
It's not a bad e-MTB by any stretch of the imagination, but there is just a little extra spice missing for us. Go out and see for yourselves. Get spinning.
"If you enjoyed this review then make sure to check out our other Canyon reviews."