The S-Works Turbo Levo SL is the highest-spec bike in Specialized's highly regarded Turbo Levo range. The SL stands for super light, with the manufacturer aiming to mimic the qualities of a conventional mountain bike, while also offering a little extra in the electrics department.
The Turbo Levo is the all-rounder e-MTB in Specialized's locker – aiming to be adept on the climbs, manoeuvrable in the twisty sections and able to take a bit of pounding downhill, too. Getting that right is a real balancing act, so has Specialized managed to pull it off? And is that big price tag worth it?
We've taken it on a variety of terrain to get a definitive answer. Join us, then, in our S-Works Turbo Levo SL review…
Balanced and versatile are the first words that come to mind with the S-Works Turbo Levo SL.
It's ultra-lightweight and handles almost identically to a normal mountain bike as a result. It can take on almost any terrain you put in its way and although it only has small-scale electrical components, they make a real difference with that lightweight frame.
It dances up hills, can be thrown around corners with ease and descends well, too.
Specialized certainly achieves its all-rounder ambitions, but the manufacturer has made a couple of slight errors with the geometry, which could be improved upon to create a true showstopper.
It's a case of "very nearly" from Specialized, here.
Peaks:
Troughs:
For the S-Works Turbo Levo SL to be true to its name it has to be light and it certainly is, weighing in at 17.4kg. That's right up there among the lightest e-MTBs on the market and it means the bike is very easy to control and manipulate out on the trails.
We're surprised Specialized didn't go with its new S-sizing system, which the S-Works Turbo Kenevo SL eMTB comes with – although it is focused at the downhill and more descent-focused market.
The manufacturer has gone for the standard small, medium, large and extra large frame sizing options; these don't offer the same amount of adjustable options as the S-sizing bikes, and for the price you're paying, we think that's a let-down.
The bike is still very fun to ride and you feel at one with the trails on it, however, the ride experience would be elevated even further with the new S-sizing system – it would allow you to tweak and adjust your ride even further, and create a truly bespoke feel.
The frame is made out of the company's robust S-Works carbon compound, which soaks up pressure well and makes for a comfortable ride.
The S-Works Turbo Levo SL comes with the company's custom SL1-320Wh battery. Obviously, that's a fraction of the largest battery e-MTBs out there, but it's still an admirable size considering the bike only weighs 17.4kg.
ℹ️ Remember what this bike sets out to achieve here. It's aiming to be as close to a conventional mountain bike as possible, so there is more emphasis on the rider's effort, rather than reliance on electrical assistance.
The battery still offers you a decent day out on the trails, assisting us for up to 45km out on the trails during our review rides and with a decent chunk of climbing in there too – roughly around 1,600m.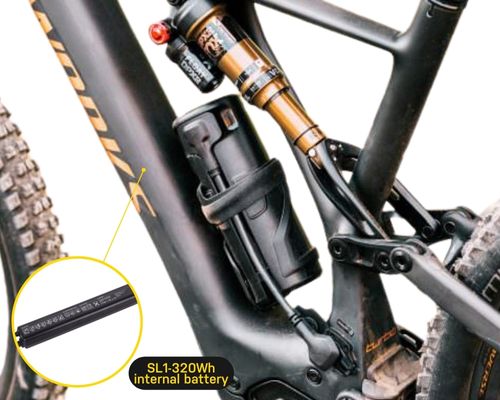 The battery is sealed firmly into the frame's downtube and it releases its power conservatively, working intelligently with the motor and display (which we'll come to shortly).
The S-Works Turbo Levo SL comes with Specialized's custom SL 1.1 motor, which can produce 35Nm of torque.
ℹ️ Similar to the battery, you have to remember here that the aim of this bike is to be a halfway experience between a conventional mountain bike and an e-MTB.
Although you only get 35Nm of torque, that actually makes a decent amount of difference when you consider how light the bike is.
The way the motor releases its power feels really natural on the trail, it kicks into life promptly and dies off intelligently. It gives you enough spring in your step to scamper up some sizable climbs and it works cleverly with the battery to release the power conservatively.
We think it offers quite a lot for its size.
The display on the S-Works Turbo Levo SL is really something to celebrate. Specialized's Mastermind Tactical Control Unit (TCU) is a beauty – it's very easy to use and offers loads of customisable options to really aid your riding experience.
The TCU is placed on the top tube, so you can flick between viewable options on the move – such as speed, distance, amount of battery left and RPM, etc. Our only criticism is that it's a little small to see, which isn't ideal when you're flying through the trees or riding through a tricky section.
You can get round that though by linking it up to your smartphone using the company's Mission Control app. That offers you a larger view and even more customisable options, becoming a little onboard computer to really hone in your experience.
You have 3 modes of assist to use with the S-Works Turbo Levo SL: Eco, Trail and Turbo, as well as a walk assist function, too.
The S-Works Turbo Levo SL comes with 150mm travel at both the front and rear. It comes with FOX Float 36 Factory forks and FOX Float DPX2 Factory rear shocks; they're top level products, which offer an immense amount of cushioning out on the trails.
That amount of travel offers the all-rounder experience Specialized are looking for. It offers enough cushioning to take some pretty gnarly terrain, but not too much bounce on the climbs.
ℹ️ If you want a bike that can take the wildest downhill routes, then look towards the descent-focused S-Works Turbo Kenevo SL.
The Specialized S-Works is more balanced in the suspension department than the Kenevo and that means it's suited to many different styles of riding. We love the suspension setup on this one.
The S-Works Turbo Levo SL comes with a durable carbon wheelset – the Roval Traverse SL. They're light and offer a strong footing on the trail, which can soak up a lot of pressure, just like the frame.
This Specialized S-Works Turbo comes with an Eliminator Grid Trail casing tyre at the front and a Butcher Grid Trail casing at the rear. These are top-of-the-range tyres which offer a very strong bite into the trail and allow you to push the bike hard into the corners and on the hills.
However, they don't retain dirt too long and the tread spacing means you can off-cast the mud easily when you hit firmer ground. A solid pairing for a versatile bike.
The S-Works Turbo Levo SL comes with Magura MT7 custom Loic lever blade brakes. Due to the lightness of the bike, this Specialized Turbo Levo SL doesn't need world beating brakes. The Magura MT7s offer enough bite for the bike and it pulls up nicely when called upon.
The S-Works Turbo Levo SL comes with an SRAM XG-1299 12-speed cassette, and an SRAM XX1 Eagle AXS rear derailleur. They're very good components, which offer rapid shifting and reliability. Just what you want when you have to move fast up and down the gears on a variety of terrain.
It's a lot of money, but you're getting a lot of very good, high-spec components. It's also more than $2,000 cheaper than the S-Works Turbo Kenevo SL, with only the suspension and brakes differing.
You're getting a top bike here and the price isn't completely eye watering, especially compared to some of the other players out there.
S-Works Turbo Levo SL Facts & Figures
GEOMETRY

S

M

L

XL

Crank Length

165mm

165mm

170mm

170mm

Handlebar Width

780mm

780mm

780mm

780mm

Stem Length

35mm

35mm

50mm

50mm

Saddle Width

155mm

143mm

143mm

143mm

Seatpost Length

125 mm

150 mm

170 mm

170 mm

Stack

606mm

606mm

633mm

647mm

Reach

415mm

435mm

455mm

480mm

Head-Tube Length

95mm

95mm

125mm

140mm

Head-Tube Angle

66°

66°

66°

66°

B-B Height

348mm

348mm

348mm

348mm

B-B Drop

27mm

27mm

27mm

27mm

Trail

111mm

111mm

111mm

111mm

Fork Length (full)

560mm

560mm

560mm

560mm

Fork Rake/Offset

51mm

51mm

51mm

51mm

Front-Center

729mm

749mm

781mm

812mm

Chain-Stay Length

437mm

437mm

437mm

437mm

Wheelbase

1165mm

1185mm

1217mm

1248mm

Top-Tube Length (horizontal)

574mm

597mm

629mm

663mm

Bike Stand-Over Height

787mm

790mm

807mm

814mm

Seat-Tube Length

390mm

410mm

455mm

505mm

Seat-Tube Angle

75.3°

75°

74.6°

74.2°
E-BIKE

Battery

Specialized SL1-320, fully integrated, 320Wh

Wiring Harness

Custom Specialized wiring harness w/ chargeport

UI/Remote

Specialized TCU, 10-LED State of charge, 3-LED Ride Mode display, ANT+/Bluetooth®, w/Handlebar remote

Charger

Custom charger, 48V System w/ SL system charger plug

Motor

Specialized SL 1.1, custom lightweight motor

COCKPIT

SeatPost

RockShox Reverb AXS, 30.9mm, S: 125, M:150, L/XL: 170mm

Handlebars

Roval Traverse SL Carbon, riser bar, 6-degree upsweep, 8-degree backsweep, 30mm rise, 780mm, 35.0mm

Grips

Deity Knucklebuster

Stem

Deity, 35.0mm

Saddle

Bridge, 155/143mm, Hollow Ti-rails

WHEELS

Inner Tubes

Standard, Presta valve

Front Hub

Roval Traverse SL, sealed cartridge bearings, 15mm thru-axle, 110mm spacing

Rear Hub

Roval Traverse SL, DT Swiss Star Ratchet, 54t engagement, SRAM XD driver body, 12mm thru-axle, 148mm spacing

Rims

Roval Traverse SL 29, hookless carbon, 30mm inner width, 2Bliss Ready, hand-built, 28h

Rear Tire

Eliminator, GRID TRAIL casing, GRIPTON® compound, 2Bliss Ready, 29×2.3″

Spokes

DT Competition Race

Front Tire

Butcher, GRID TRAIL casing, GRIPTON® compound, 29×2.3″

DRIVETRAIN

Cassette

Sram XG-1299, 12-Speed, 10-52t

Rear derailleur

SRAM XX1 Eagle AXS

Chain

SRAM XX1 Eagle

Chainrings

SRAM X-Sync Eagle, 94 BCD, 30T

Shift Levers

SRAM AXS Eagle Controller

Crankset

Praxis Carbon/M30 Spindle Interface

BRAKES

Front Brake

Magura MT7 with custom Loic lever blade, 203mm rotor

Rear Brake

Magura MT7 with custom Loic lever blade, 203mm rotor

SUSPENSION

Rear Shock

Fox Float DPX2 Factory, 3- position adjustment, 52.5x210mm, Rx Trail Tune

FRAMESET

Fork

Fox Float 36 Factory, Grip2 damper, 150mm, 51mm rake, HSC, LSC, HSR, LSR, Kabolt axle

Frame

FACT 11m full carbon, 29 Trail Geometry, Integrated down tube battery, enclosed internal cable, Command Post routing, 148mm spacing, fully sealed cartridge bearings, 150mm of travel

Seat Binder

Alloy, 38.6mm
* Specifications are subject to change without notice
One of the major manufacturers vying for the same custom as Specialized in this area of lightweight all-rounder e-MTBs is Trek.
Their Fuel EXe 9.9 XX1 AXS is their answer to the S-Works Turbo Levo SL.
It weighs in at 18.45kg, so 1kg heavier than our S-Works bike, however, it offers a slightly larger TQ battery at 360Wh and it comes with a brilliant TQ motor which kicks out 50Nm of torque.
The electrical components offer more than our Specialized, but it comes at a cost with the bike coming in at a whopping $16,250. The price difference is astonishing – nearly $5,000 more.
Suspension-wise, you get 150mm travel at the front and 140mm at the rear, with top-end RockShox products and you get some of the best SRAM brake and drivetrain products on the market.
The Trek Fuel EXe 9.9 XX1 AXS is a beautiful bike, but my goodness that price is upsetting. That is the deciding factor for us and we would recommend going for the Specialized Turbo Levo SL, instead.
You can read our full review of the Trek Fuel EXe 9.9 XX1 AXS here:
https://emountainbikekings.com/reviews/fuel-exe-9-9-xx1-axs/
There are many aspects to really admire on the S-Works Turbo Levo SL. It neatly achieves the all-rounder aim Specialized wanted – offering a very comfortable and versatile riding experience.
The bike is adept on almost every terrain, handles well, is super light and more than anything, it's just a very fun bike to ride. But listen, it doesn't come without flaws. The decision not to include the progressive S-sizing framing seems like a major oversight from the crew at Specialized.
The bike could be elevated to a new stratosphere if the company included its progressive geometry technology, which it uses on some of its other bikes.
It would be an easy correction to make, but it might see the price go up. Overall, we think Specialized has created a very good bike, but it isn't a perfect bike. At more than $10,000, it isn't cheap either – but what do you make of it?
It's definitely worth a spin, now get out there and give it a try.
"If you enjoyed this review then make sure to check out our other Specialized SL reviews."