The Specialized Turbo Levo range of bikes are among the best two-wheelers for enduro riding on the market. They're super versatile, fun to ride and capable of taking on some wild terrain.
The company has nearly 50 years of experience in the cycling industry and you can see that craftsmanship with these bikes. The Specialized Turbo Levo Carbon is one of the lower-spec bikes in the range.
But is it worth stepping up to some of the higher spec bikes? Or does the Turbo Levo Carbon suffice? Let's reveal all in another Turbo Levo review…
We really aren't too far off a 5 out of 5 for the Specialized Turbo Levo Carbon.
It's a beautifully balanced e-MTB, with brilliant electrical components which offer a big range and tonnes of power.
It's super playful and versatile, descending and climbing well, while also coming alive in super technical twisty terrain.
There isn't much to grumble about; however, an upgraded brake and fork setup would just elevate the overall experience.
Easy tweaks to make to create a perfect bike.
Peaks:
Troughs:
Specialized Turbo Levo Carbon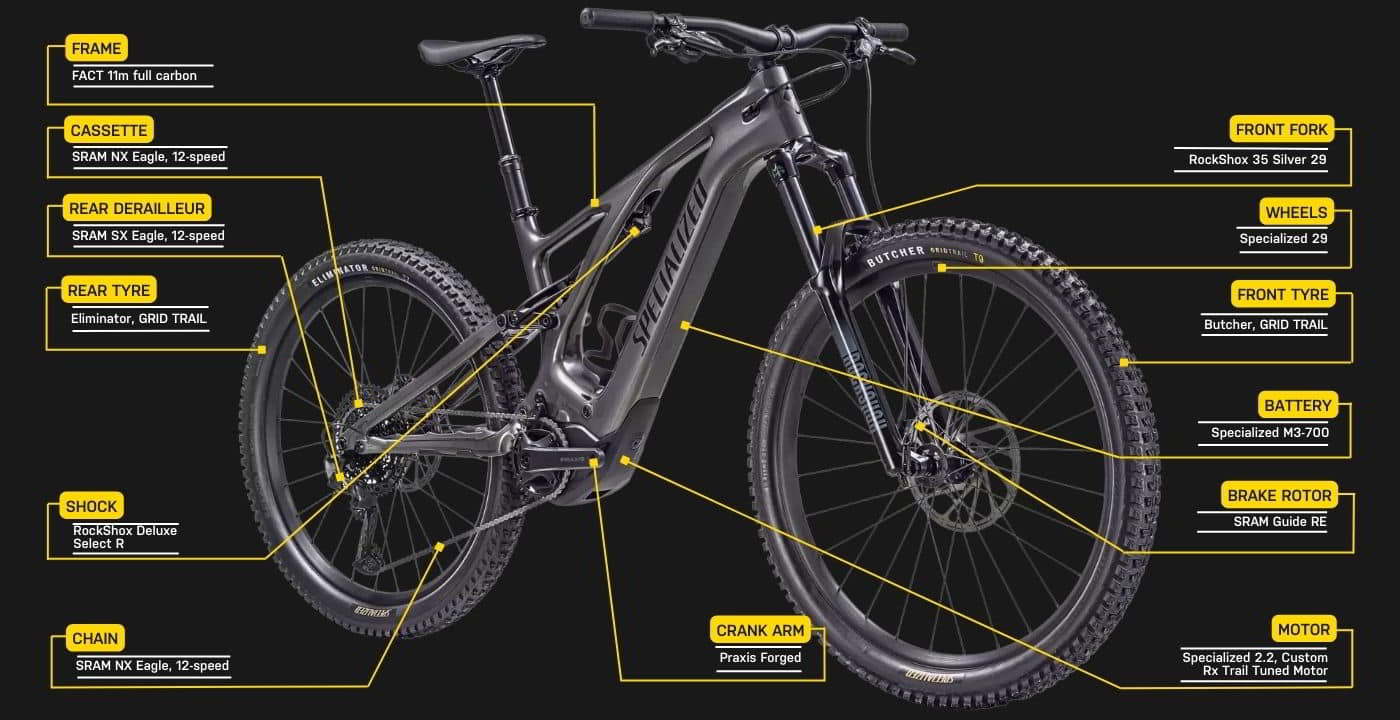 The Specialized Turbo Levo carbon comes with a fully carbon frame, with a total bike weight of 23kg in the S4 size (which we rode on our review rides – comparable to a large on other ranges).
It comes with an aggressive geometry setup, like all the Turbo Levo range, and is made for taking on technical terrain. Handling is at the forefront of the bike's design, with every aspect of its frame geometry and wheel setup (which we'll come to later) geared up for taking on some of the most challenging routes out there.
The bike can cope with some pretty gnarly descending, but feels balanced enough to also perform well on the climbs, with a decent amount of traction. The bike's at its best through the trees, with lots of changes of direction and although it's fairly weighty overall, it moves like a much lighter bike.
It's also super adjustable, particularly in the bottom bracket, which can be moved up/down by 7mm – useful for really creating a bespoke feel to your Turbo Levo Carbon.
You can buy the bike in 6 different frame sizes, in the company's S1-S6 framing models, so there are a lot of options to try; most have similar geometry settings, but the smaller sizes are much more playful, with their size making them more nimble
ℹ️ If you feel the bike is too heavy, don't fear. There are a number of super light versions of the Specialized Tubo Levo, which have smaller batteries, but feel more like a conventional MTB. These weigh feather-light as a result.
The Specialized Turbo Levo Carbon comes with the company's custom made M3-700, which is a 700Wh battery. This is a sizable beast to have at your disposal out on the trails and it gives you a decent overall range.
Specialized claim the M3-700 can give you up to 5 hours of riding time on one charge – there are certainly a lot of variables in that claim and we didn't find we could quite push 5 hours out. However, we still managed around 80km on our review rides, on varied routes and we still had a little left in the tank.
We're impressed with the battery's relationship with the motor; it releases the power conservatively, which means it doesn't empty the tank quite as quickly as you find on some e-MTBs of a similar size.
The charge time takes around 4 hours to go from empty to full, which is on the speedier side of things in the e-MTB battery market. A decent product, overall, which is nicely secured into the downtube.
The Specialized Turbo Levo Carbon comes with the company's custom 2.2 RX Trail Tuned motor. The custom motor can emit a monster 90Nm of torque and when you combine that with the bike's sporty layout and reasonable weight, it makes light work of any climb you put in its way.
Sometimes that amount of power in a motor can feel very unnatural out on the trails, but fortunately the power is emitted in a very intelligent way and you never feel out of control on the bike.
That really helps on the super technical terrain – you have full trust in the motor to die off when you need it to and come into life modestly, so it really feels at one with the pedals. It's a very smooth riding experience, which adds to the bike's playfulness and it manages to operate without making any nasty noises.
The motor has three modes – Eco, Trail and Turbo – and you can switch between them using a neatly placed controller on the handlebars. A triumph from Specialized in the motor department.
The Specialized Turbo Levo Carbon is fitted with the company's Mastermind Turbo Control Unit (TCU), which is the same across the full Turbo Levo range. We've sung its praises before and will again – it's a well-thought-out motor display which offers many different layers of customisation.
You want a motor display to elevate a riding experience and the TCU certainly does that – you get 10 different LED lights, which highlight 10% of battery life – we would have preferred an exact figure, but it's more reliable than some displays.
You can flick between lots of different data points, such as the amount of ascent you've ridden, your speed, distance, cadence and much more. It also provides prompts on when to change up or down the modes of assist, so you get the most out of your e-MTB and it can be linked to a heart rate monitor.
All of this can be fed through the company's smartphone app, so you can reflect on your performance.
The Specialized Turbo Levo Carbon comes with different levels of travel depending on which frame size you go for. The smallest, S1, frame has 150mm of travel at the front and the rear, meanwhile the S2-S6 frame sizes come with 160mm of travel at the front and 150mm at the rear.
It comes with RockShox 35 Silver forks and RockShox Deluxe Select R shocks. It isn't a bad pairing, but it's certainly downgraded compared to some other higher spec bikes in the range – particularly in the forks.
The Turbo Levo Pro comes with FOX 38s, so the 35s seem a little under-gunned compared to the rest of the bike. It means it can't perform quite as well on the gnarliest terrain, but it still does very admirably and feels well balanced.
It still remains playful and comes alive on technical sections and the suspension setup suits the bike's progressive geometry.
The Specialized Turbo Levo Carbon has a mullet wheel setup, with a large 29in wheel at the front and a smaller 27.5in wheel at the rear. This is another aspect which adds to the bike's playfulness – you feel well planted at the front end, with that big 29er, which provides a lot of traction.
However, the smaller back end lends itself to being thrown about and comes well with sharp changes of direction and aggressive movements. The wheels are in-house products, with Butcher Grid Trail tyres at the front and Eliminator Grid Trail tyres at the rear.
The Specialized Turbo Levo Carbon comes with SRAM Guide RE brakes – we love SRAM products, but these aren't at the top end of the company's spec. Given the level of aggressive riding, we would have liked to have seen a higher spec brake for the price you're paying overall. However, we can't complain too much about SRAM products, it's still a decent set of brakes.
The Specialized Turbo Levo Carbon comes with a 12-speed SRAM NX Eagle drivetrain. Smooth shifting and reliability, which is exactly what you want on an aggressive setup.
We think the Specialized Turbo Levo Carbon is priced fairly.
You're getting some truly excellent components here and a huge level of playfulness. Not only are you getting reliability throughout the bike's components, but also a heck of a lot of fun.
Turbo Levo Carbon Facts & Figures
GEOMETRY

S1

S2

S3

S4

S5

S6

Crank Length

160mm
160mm
160mm
160mm
160mm

160mm

Seatpost Length

100mm
125mm
150mm
170mm
170mm

200mm

Handlebar Width

780mm
780mm
780mm
780mm
780mm

780mm

Stem Length

40mm
40mm
40mm
40mm
50mm

50mm

Saddle Width

155mm
155mm
143mm
143mm
143mm

143mm

Stack

605mm
617mm
626mm
635mm
644mm

653mm

Reach

412mm
432mm
452mm
477mm
502mm

532mm

Headtube Length

105mm
105mm
115mm
125mm
135mm

145mm

Headtube Angle

64.5°
64.5°
64.5°
64.5°
64.5°

64.5°

BB Height

352mm
350mm
350mm
350mm
350mm

350mm

BB Drop

25mm
27mm
27mm
27mm
27mm

27mm

Trail

130mm
130mm
130mm
130mm
130mm

130mm

Fork Length (full)

557mm
567mm
567mm
567mm
567mm

567mm

Fork Rake/Offset

44mm
44mm
44mm
44mm
44mm
44mm

Front Center

738mm
760mm
784mm
814mm
843mm
878mm

Chainstay Length

442mm

442mm

442mm

442mm

442mm

442mm

Wheelbase

1179mm

1200mm

1225mm

1255mm

1284mm

1318mm

Bike Standover Height

752mm

776mm

783mm

787mm

788mm

790mm

Seat Tube Length

380mm

390mm

405mm

425mm

445mm

465mm

Seat Tube Angle

78°

77.2°

76.7°

76.2°

76.2°

76.2°

Max Seatpost Insertion

210mm

220mm

240mm

255mm

275mm

295mm

Min Seatpost Insertion

80mm

80mm

80mm

80mm

80mm

80mm
FRAMESET

Frame

Seat Binder

Suspension Fork

FACT 11m full carbon, 29″ front wheel, 27.5″ rear wheel, full internal cable routing, 148mm spacing, fully sealed cartridge bearings, 150mm of travel, geo adjust head tube, geo adjust horst pivot
Alloy, 38.6mm
RockShox 35 Silver, 130mm
Travel: 130 mm
Fork steer tube diameter: 1 1/8″ – 1.5″

SUSPENSION

Rear Shock

Fork

RockShox Deluxe Select R, rebound adjust, S1: 52.5x210mm, S2-S6: 55x210mm
Rockshox 35 Silver 29, Turnkey damper, S1: 150mm travel, S2-S6: 160mm travel

DRIVETRAIN

Crankset

Cassette

Chain

Praxis Forged/Custom Offset/ISIS Spindle Interface, 160mm
SRAM NX Eagle, 12-speed, 11-50t
SRAM NX Eagle, 12-speed

Shift Levers

Rear Derailleur

Chainrings

SRAM SL SX Eagle, 12-speed
SRAM SX Eagle, 12-speed
SRAM X-Sync Eagle, 104 BCD, 34T, steel

BRAKES

Brakes

Front: SRAM Guide RE, S1-S3: 200mm, S4-S6: 220mm

Rear: SRAM Guide RE, 200mm

WHEELS

Wheel

Tyre

Spokes

Specialized 29, hookless alloy, 30mm inner width, tubeless ready
Front: Butcher, GRID TRAIL casing, GRIPTON® T9 compound, 2Bliss Ready, 29×2.6″

Rear: Eliminator, GRID TRAIL casing, GRIPTON® T7 compound, 2Bliss Ready, 27.5×2.6″
DT Swiss Industry

Hub

Inner Tubes

Front: Specialized alloy front hub disc, sealed cardridge bearings, 6-bolt, 15x110mm thru-axle, 32h

Rear: Alloy, sealed cartridge bearings, 12x148mm thru-axle, 32h
Standard, Presta Valve


COCKPIT

Stem

Saddle

Tape

Alloy Trail Stem, 35mm bar bore
Body Geometry Bridge Saddle, steel rails
Specialized Trail Grips

Handlebars

SeatPost

Specialized, 6061 alloy, 6-degree upsweep, 8-degree backsweep, 30mm rise, 780mm width
TranzX dropper, 34.9mm, S1: 100mm, S2: 125mm, S3: 150mm. S4-S5: 170mm, S6- 200mm

E-BIKE

Wiring Harness

Charger

Motor

Custom Specialized wiring harness
Custom charger, 42V4A w/ Rosenberger plug, 100-240V

Specialized 2.2, Custom Rx Trail Tuned Motor

Battery

UI/Remote

Specialized M3-700, Integrated battery, 700Wh

Specialized TCU, 10-LED State of charge, 3-LED Ride Mode display, ANT+/Bluetooth®, w/Handlebar remote
* Weights based on production painted frames as pictured. Actual weights will vary based on colourway, frame size, and component variation. Specifications are subject to change without notice.
This is a very competitive sector of the market, with many great options out there. We've decided to pit the Specialized Turbo Levo Carbon up against the Canyon Spectral:ON CFR.
Firstly, the Canyon is lighter at 21.87kg, compared to 23kg on our Specilialized bike – and the Canyon has a larger 900Wh battery, which gives you a monster range.
However, the Canyon is fitted with the inferior Shimano EP8 motor, which although powerful at 85Nm of torque, is littered with issues.
Our 90Nm custom motor offers a much smoother riding experience and is a much better product, similarly the EP8 display on the Canyon isn't good.
You get 155mm travel at the front and 150mm at the rear on the Canyon, with a comparable standard of forks to our Turbo Levo Carbon.
You get a similar mullet style wheel set-up, but the Canyon has a superior Shimano XTR brake and drivetrain setup.
You pay a price for that, though. The Canyon comes in at $8,699 – close to $1,700 more than our Specialized.
We don't think it's $1,700 better as an overall ride experience, so we think you should stick with our cheaper Specialized Turbo Levo Carbon.
You can read our full Canyon Spectral:ON CFR review here:
The Specialized Turbo Levo Carbon is an excellent, well balanced trail beauty.
Despite a modest price for a top e-MTB, you still get some wonderful components and it has a nigh on unbeatable playfulness.
With a beastly custom battery and motor combo, you get a big old range and enough power to take on any terrain, along with an advanced display.
You always feel control and its aggressive geometry means you can throw the bike around at ease.
The handling is beautiful, the suspension decent enough and there isn't much to complain about in other areas.
It could have a bit more give in the forks and some upgraded brakes, but that would come at quite a cost and impact the overall price of the bike.
We're seriously impressed with the Turbo Levo Carbon – it offers great value for money.
Don't just sit there reading this, though, get out and give it a ride.
If you enjoyed this review then make sure to check out our other Specialized Turbo Levo e-MTBs review.