The YT Decoy 29 Core 3 is the middle spec bike in the YT Decoy 29 Core range. The series of trail bikes were brought out to be super versatile, capable of the ups and the downs, while also feeling comfortable over longer distances.
With 29in wheels and a fairly conservative geometry, they aren't there to take on the gnarliest downhill lines, but instead they're meant to be decent all-rounders. Getting that balance right can be a challenge and there are plenty of manufacturers vying for that corner of the market.
So does a lesser known name like YT manage to pull it off?
This is a bike which rides beautifully, but the electrics are a cause for concern. The bike's overall weight is fairly high, but the battery is small by modern standards.
The motor is noisy, battery thirsty and the display poor – however, the bike's handling is excellent, the suspension poppy and fun to ride and it's well balanced – capable of climbing and descending.
It also feels comfortable to ride and, overall, we enjoyed being on the trails on the YT Decoy 29 Core 3. We're split in two minds on this one.
Peaks:
Troughs:
YT Decoy 29 Core 3 Review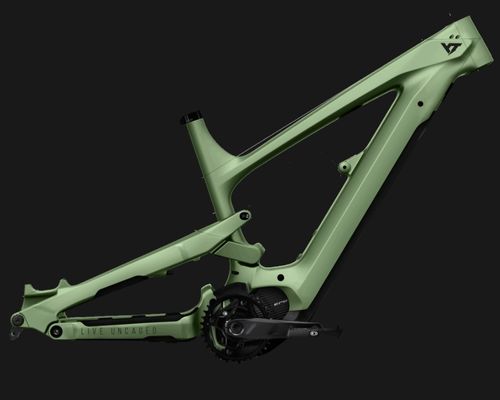 The YT Decoy 29 Core 3 comes with a carbon main frame and has an aluminium rear triangle around the back wheel and shocks. This differs from the fully carbon frame on the YT Decoy Core 4 and it weighs heavier as a result.
The total YT Decoy weight on the Core 3 is 23kg, compared to the 21.8kg of the higher spec fully carbon model. Much else is the same between the two of them – with the YT Decoy Core 3 coming in 5 frame sizes – small, medium, large, extra large and double XL.
All of them come with a fairly conservative geometry, which is suited over longer distances and isn't set out for short sharp descending. The bike can still manage a descent, but it's laid out to be an adept climber, too, and also feel comfortable on steadier ground.
This differs from the standard Decoy Core range, which comes with a mullet wheel setup with 29in at the front end and 27.5in at the rear – this increases the playfulness, but doesn't make it quite as versatile. The YT Decoy 29 Core 3 certainly still feels fun to ride and it feels at home twisting between the trees.
Overall, we're happy with the layout and think the geometry ticks the all-rounder boxes.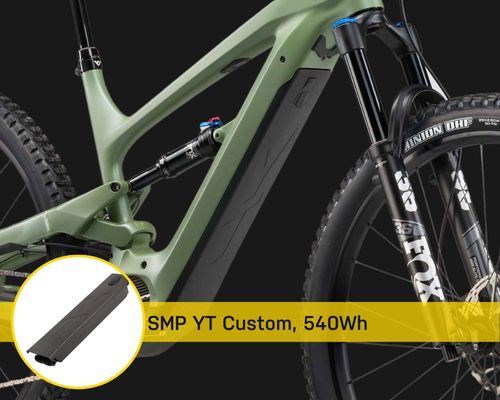 This YT Decoy 29 Core 3 comes with a custom battery, made by the company, which can emit 540Wh. This is clearly short of some other trail bikes on the market and it seems an odd battery choice in this day and age.
There is a 720Wh battery option to upgrade to, but it costs more money, which isn't ideal. Fortunately, though, they can be switched in and out easily.
With that 540Wh battery, you can get between 50km and 60km, depending on the amount of climbing you're looking to do and the amount of assistance you use – we managed to push out 1,300m of assisted climbing during our review rides of over 55km.
Still, though, it's a far cry from the monster batteries we're seeing these days and the overall weight of the bike is still pretty heavy.
ℹ️ The motor and battery don't have the most coherent relationship. The motor seems very power hungry and the battery doesn't seem geared up to cope with that. We've seen the EP8 motor (which we'll come to shortly) perform far better with some other batteries.
The YT Decoy 29 Core 3 comes with a Shimano EP8 motor, which can kick out 85Nm of torque. It's one of our least favourite motors on the market, however, you can't dispute its power – it has enough punch to throw you up any climb you put in its way.
That's certainly an asset and it makes climbing a doddle, but the EP8 doesn't emit its kick in the most intuitive way and it can feel quite jolty at times.
The motor has 3 modes of assist you can choose from – Eco, Trail and Boost – the highest setting really hammers the battery and although you expect some decent usage, it seems unacceptably thirsty in Boost mode.
Not ideal when you don't have the biggest battery at hand. The motor also has a dull buzzing noise, which is annoying over longer distances – we feel underwhelmed with the motor, despite its immense power.
The display pairing on the YT Decoy 29 Core 3 is another cause for concern. The Shimano E7000, which is often used in tandem with the Shimano EP8 motor, is far too primitive for this day and age.
You don't get an exact percentage figure for the amount of battery you have left, which is one of our biggest grumbles when it comes to displays. Instead, you get 5 lights, which represent 20% of charge – a very unhelpful reading, particularly when you have a very thirsty motor.
Although you can flick between a few data points, such as speed and distance covered – it seems years behind some of the other top display models, which have customisable data with up to 50 different readings.
One plus is that you pair the display with the company's E-Tube app – that gives you some extra data. However, it means you need a phone mount and might end up damaging your smartphone.
The YT Decoy 29 Core 3 has 150mm travel at the front end and 145mm at the rear – both components are delivered by FOX. You get FOX 36 Performance Elite forks and FOX Float DPS Performance Elite shocks.
These are top end suspension components, which do exactly what you need from a bike designed for descending and climbing. You have enough cushioning to take on some fairly wild terrain, while also not feeling too bouncy on the climbs and flats.
The bike felt comfortable through rock gardens and up and over roots, it also felt very assured through some fast-moving corner sections. The bike's geometry, combined with the suspension, makes for a decent ride experience and we thoroughly enjoyed riding the bike at pace.
The YT Decoy 29 Core 3 comes with 29in wheels – this differs from the mixed, mullet setup on the standard Decoy Core range. The large wheels at either end make the bike a better all-rounder and slightly less aggressive as a result.
It means it's geared up for both climbing and descending, while also providing a decent amount of traction to pick up speed on the flats. The wheels are provided by Crankbrothers and made out of a sturdy aluminium compound.
Meanwhile, the tyres are provided by Maxxis – with Minion DHFs at the front and Minion DHR IIs at the rear – these provide enough grip for the descents and corners, but have good shedding ability for the climbs and flats.
These YT Decoy 29 Core 3 brakes are provided by SRAM, with their Code Rs. A solid partnership, capable of bringing the bike to a halt at a moment's notice. SRAM brakes are among the best in the business and the Code Rs are high spec components, geared up for the task in hand.
The YT Decoy 29 Core 3 drivetrain is supplied by Shimano, with an SLX cassette and SLX rear derailleur, it also comes with a Shimano EM600 crank set. It's a downgrade from the Shimano XT set-up on the YT Decoy 29 Core 4, but it does the job needed. The 12-speed set-up offers pacy shifting and manages the power of the motor well.
The YT Decoy 29 Core 3 has been recently discounted on the YT website and usually comes in at more than $6,200. The current price seems fair for the quality of bike you're getting.
You have a fun and versatile bike, which is capable of riding over varied terrain – both climbing and descending. It's playful, nimble and well balanced, but isn't without its flaws in the electrics department – the price seems fair.
YT Decoy 29 Core 3 Review Facts & Figures
FRAME SIZE

SIZE

RIDER HEIGHT

S

154 cm – 165 cm




5'1″ – 5'5″

M

163 cm – 173 cm




5'4″ – 5'8″

L

172 cm – 182 cm




5'7″ – 5'11.5″

XL

181 cm – 191 cm




5'11" – 6'3″

XXL

190cm – 200cm




6'2.5″ – 6'7″
This size table is only a suggestion. The optimal frame size depends also on your personal riding style.
GEOMETRY

S

M

L

XL

XXL

TOPTUBE

565 mm

587 mm

608 mm

631 mm

654 mm

REACH

423 mm

443 mm

463 mm

483 mm

503 mm

STACK

614 mm

619 mm

623 mm

632 mm

641 mm

SEATTUBE

400 mm

420 mm

445 mm

470 mm

495 mm

CHAINSTAY

458 mm

458 mm

458 mm

458 mm

458 mm

HEADTUBE ANGLE

65.8° / 66.3°

65.8° / 66.3°

65.8° / 66.3°

65.8° / 66.3°

65.8° / 66.3°

SEATTUBE ANGLE (EFF)

77° / 77.5°

77° / 77.5°

77° / 77.5°

77° / 77.5°

77° / 77.5°

BB DROP

38 / 32mm

38 / 32mm

38 / 32mm

38 / 32mm

38 / 32mm

WHEELBASE

1197 mm

1219 mm

1241 mm

1265 mm

1289 mm

HEADTUBE

95 mm

100 mm

105 mm

115 mm

125 mm

BB HEIGHT

338 / 345 mm

338 / 345 mm

338 / 345 mm

338 / 345 mm

338 / 345 mm

STANDOVER HEIGHT

744 mm

731 mm

718 mm

708 mm

697 mm
FRAME

FRAME SIZE

S, M, L, XL, XXL

COLOR

ICE GREEN, BLACK MAGIC

WHEELS

WHEELS

CRANKBROTHERS SYNTHESIS ALLOY
Front: Aluminum Rim 29" | Inner Width 31.5 mm | Front Hub 110 x 15 mm
Rear: Aluminum Rim 29" | Inner Width 31.5 mm | Rear Hub 148 x 12 mm

TIRES

FRONT: MAXXIS MINION DHF
Front: Tire Size 29" x 2.5 WT | EXO Casing | 3C MaxxTerra Compound | Tubeless Ready

REAR: MAXXIS MINION DHR II
Rear: Tire Size 29" x 2.4 WT | EXO+ Casing | 3C MaxxTerra Compound | Tubeless Ready

SUSPENSION

FORK

FOX 36 PERFORMANCE ELITE E-BIKE+
29" | 150 mm Travel | 110 x 15 mm Axle | 51mm Offset Grip2 Damper, Adjustable High- and Low-Speed Compression and Rebound, Air Pressure

SHOCK

FOX FLOAT DPS PERFORMANCE ELITE
Shock Length: 230 mm | Shock Stroke: 60 mm ≙ 145 mm Travel 3-pos lever, Low-Speed Compression, Low-Speed Rebound, Air Pressure

DRIVETRAIN

CRANKSET

SHIMANO EM600
Crank Arm Length 165 mm

CASSETTE

SHIMANO SLX
M7100 | 10-51T | 12-speed I Hyperglide+

REAR DERAILLEUR

SHIMANO SLX
M7100 | Shadow Plus | 12-fach

CHAINRING

SHIMANO
CRE80-12 | 36T I DYNAMIC CHAIN ENGAGEMENT+

DISPLAY

SHIMANO E7000
Monochrome I 35 m

SWITCH

SHIMANO E7000-L
On-Bar

SHIFTER REAR

SHIMANO SLX
M7100 I 12-speed I 2-Way-Release

DRIVEUNIT

SHIMANO EP8
Torque 85 NM | Power 250 W I E-TUBE PROJECT APP

BATTERY

SMP YT CUSTOM
Removable | 540 Wh Capacity | 36 V

COMPONENTS

HEADSET

ACROS AZX-260
Block Lock I High Cap I 2 Spacer 5 mm I Flatcapset

STEM

E13 PLUS 35
Length 50 mm | 35 mm Clamp | Rise 0° | 7050 AL

HANDLEBAR

E13 PLUS 35
Rise 35 mm | Width 780 mm | 9° Back Sweep | 5° Up Sweep | 7050 AL

GRIPS

ODI ELITE MOTION V2.1
Lock On

BRAKES

SRAM CODE R
Rotor CENTERLINE Ø front 200 mm / rear 200 mm Adjustable Reach

SEATPOST

YT POSTMAN
Ø 31.6 mm | 125 mm Drop (Frame Size S) | 150 mm Drop (Frame Size M) | 170 mm Drop (Frame Size L-XXL) | MMX-Remote

SADDLE

SDG BEL AIR 3.0
YT Custom | Width 140 mm I Lux-Alloy Rail

CHAIN GUIDE

E13 E*SPEC PLUS
2 Bolt | 34-38T | Compact Slider

WEIGHT

WEIGHT

23,0 KG / 50,70 LB
Average weight for smallest size available, without tubes, pedals, and bottle.
A good bike to compare the YT Decoy 29 Core 3 to is the Canyon Spectral:ON CF 7. Both bikes were built to take on the all-rounder trail environment, so let's see how they face up against each other.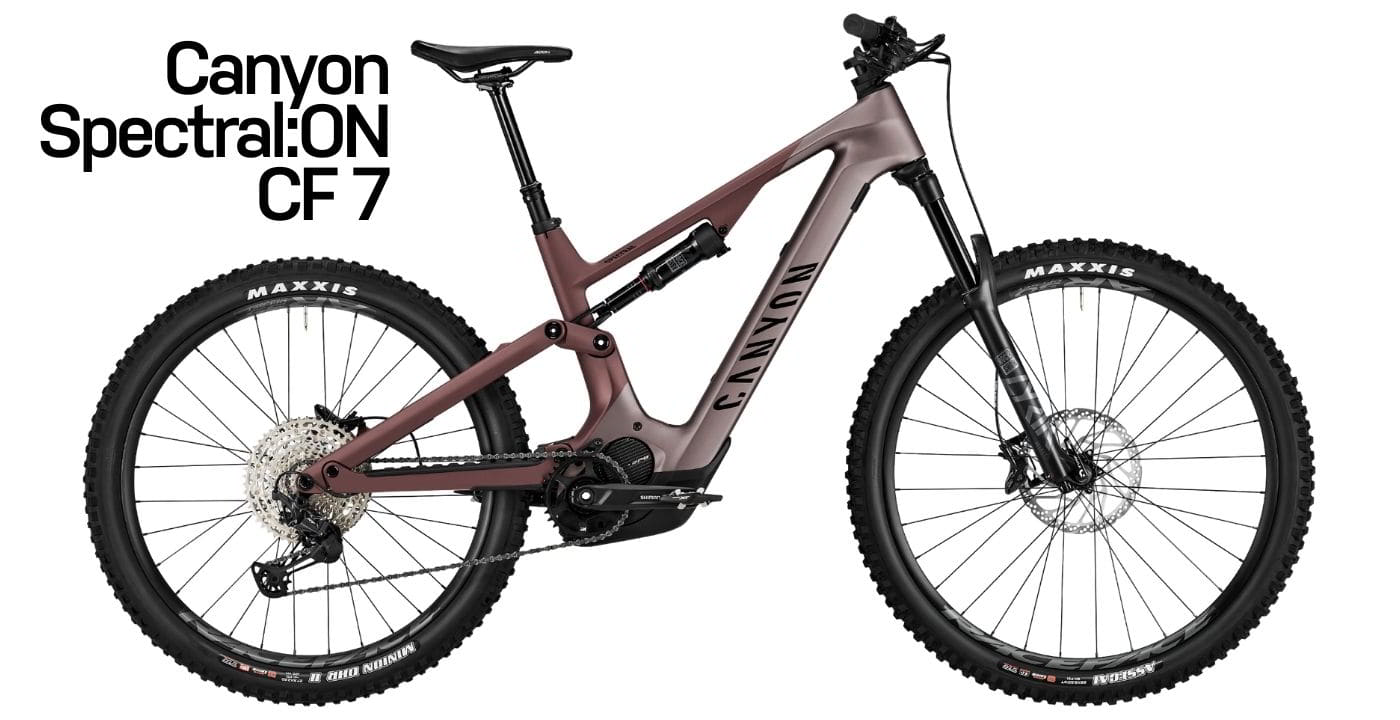 Both bikes weigh in at 23kg, although the Canyon has a fully carbon frame and 27.5in wheels at the front and rear. The Canyon is far superior in the battery department, it comes with 720Wh, which is capable of some serious numbers on the trails.
The Canyon has the same EP8 motor as our YT, which unfortunately suffers from the same issues, although the Canyon's battery works more intelligently with the EP8 than our YT custom build.
Canyon has paired their bike with a RockShox suspension, which is on par with our FOX components and has 150mm of travel at either end. The Canyon's Shimano Deore brakes are a standard down compared to our SRAM components, but they have similar Shimano drivetrain set-ups.
The bikes are almost identical in price, however, the Canyon's larger battery is very alluring in this comparison.
The YT actually feels more fun to ride, it has better handling, but it's short changed in the range department. A pretty even match, so worth considering whether you want better handling (YT) or longer range (Canyon). You can read our full Canyon Spectral:ON CF 7 review, here:
The YT Decoy 29 Core 3 is a frustrating bike. We love its handling, the suspension, the brakes and it's definitely a fun all-rounder to ride on the trails. However, there are certain aspects missing – the battery is unnecessarily small and the overall bike weight is still pretty heavy. The motor is very battery thirsty, noisy and the display is lousy.
There are things we love and things we certainly don't – it's a shame because when you aren't thinking about the electrics, the bike rides beautifully. Room for improvement from YT. What do you think? Saddle up and take one for a spin.
If you enjoyed this review then make sure to check out our other YT e-MTB reviews: