YT isn't necessarily the household name in the world of MTB and e-MTB. However, the manufacturer is making waves on the scene and taking on the big names, with some seriously well-crafted rides.
YT's Decoy Core enduro range is aiming to sweep up the market, by offering lower prices than some of the heavy hitters in the industry, but without compromising on quality. The Decoy Core 4 is the highest spec bike in their enduro range.
So, does it tick the right enduro boxes or should you go for one of the tried and tested manufacturers, instead?
This is a really solid bike from the crew at YT.
The Decoy Core 4 has undisputed moments of brilliance – its well-balanced suspension and wheel setup make the bike endlessly fun to tackle challenging terrain on.
The slightly aggressive, yet comfortable geometry, means you always feel at ease, but still poised to take on something gnarly.
However, we're disappointed that YT chose to go for a Shimano EP8 motor and display – the motor is battery hungry and accurate range estimation is nigh on impossible.
You also get a smaller battery than some of the competitors out there (although this can be upgraded to a bigger battery).
An excellent effort from one of the smaller manufacturers out there, though.
Peaks:
Troughs:
YT Decoy Core 4 MX Review
This YT Decoy has a fully carbon frame, with a total bike weight of 21.7kg.
It comes in 5 sizes – small, medium, large, extra large and double XL – you don't see many manufacturers offering a double XL option, so it's an interesting approach from YT eMTB. The frame offers a solid ride experience, with very good shock absorption, useful for the style of aggressive riding you're likely to be getting to grips with on this YT decoy.
On paper the bike doesn't look like a showstopper, geometry-wise, with a head-tube angle of 65 degrees and a reach of under 450mm in the large frame size (which is the bike we reviewed). However, it actually has excellent handling and feels super-nimble out on the trails, with really great manoeuvrability.
It's very responsive to ride, manipulating easily through tricky sections and you always feel very much in control. Overall it's a very playful ride and you can throw it around easily – exactly what you want from an enduro bike.
ℹ️ Balanced overall, but a lighter rider might find the back end lifts a bit too much on tricky descending sections – shifting your weight backwards should compensate for that, but it's something to bear in mind. You don't want to be chewing roots.
This YT electric mountain bike has a 540Wh SMP YT custom battery. It isn't the biggest out there, but it's still a fair size for a bike of only 21.7kg – you can also upgrade to a 720Wh battery, but that doesn't come as standard.
You can purchase the upgraded YT Decoy battery from the manufacturer's website and it's easily switchable for the 540Wh standard battery.
The battery doesn't offer the greatest range we've ever seen, we found the bike ran out of juice very quickly if you hammered the Boost mode too liberally – after only around 1100m-1200m of climbing in Boost it was nearly done and dusted.
The battery and Shimano motor (which we'll come to shortly) don't have the most intelligent relationship and it can lead to the motor being very battery hungry. Certainly something to keep in mind when you're out on the trails.
The battery is slotted neatly into the downtube and overall the bike has a very impressive-looking finish.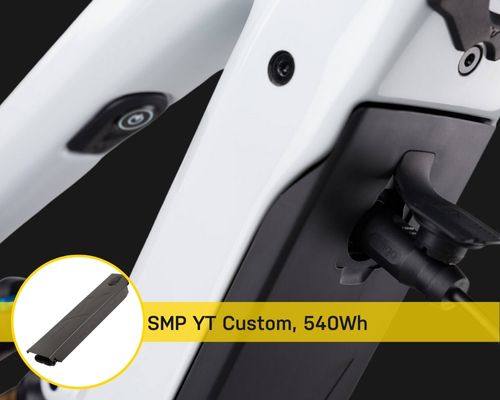 The YT Decoy Core 4 comes with a Shimano EP8 motor – that kicks out 85Nm of torque. The EP8 has three main modes of assist – Eco, Trail and Boost – as we've already mentioned, be very cautious of using the Boost mode too liberally.
Although incredibly powerful and useful to make lightwork of tricky climbing sections, it absolutely tanks the battery. In terms of power, the motor is excellent, it absolutely dances up any incline you put in its way and it's certainly geared up for the gnarly enduro terrain you want to tackle on this YT Decoy e-bike.
Does the YT Decoy Have a Walk Mode?
The YT Decoy does indeed have a walk mode, which certainly helps on the trickiest sections if you can't get up via pedal power.
The well-sized EP8 motor offers decent ground clearance, ideal for popping and hopping over obstacles in those tricky enduro environments. However, we're really disappointed with the amount of noise the battery emits – very noisy indeed and off-putting. The motor on the YT Decoy Core 4 certainly has flaws.
For those who've read our other e-MTB reviews, you'll know full well we're not the biggest fans of the display on the Shimano EP8 motor, and that's absolutely no different here.
It's a flipping nightmare and a huge oversight, spoiling the ride experience and in turn taking away from some of the bike's other excellent qualities.
The range estimation is poor – the amount of battery you have left is displayed as 5 LED lights, which represent 20% of charge – which isn't helpful at all.
You never quite know how much battery you have left and coupled with the battery hungry motor, you end up running out unexpectedly. It really leaves you in the lurch and is something that Shimano needs to address pronto.
ℹ️
Unfortunately, the motor and display actually detract from an otherwise decent bike and we think it's a poor choice from YT.
This YT Decoy e-bike is a big travel e-MTB. The YT Decoy 4 has 170mm of travel at the front end and 165mm of travel at the rear.
It comes with FOX 38 Float Factory forks and FOX Float X2 Factory shocks – a reliable suspension set-up, which is made for some big drops and aggressive riding.
The bike feels well-supported for all sorts of obstacles you throw at it, and it feels nimble and smooth with the way it soaks up pressure.
It's a balanced suspension setup which oozes versatility; comfortable both up and downhill, but not too spongy on the flats. It's a trustworthy partner for all the challenges you throw at it.
A real winner in the suspension department!
The YT Decoy Core 4 comes with a mullet setup, which means you have a 29in wheel at the front and a 27.5incher at the rear. That allows the bike to feel balanced on the trail, but playful and nimble at the rear end, which helps with twisting and weaving through technical sections.
When you have that mullet setup combined with the aggressive suspension, you end up with a very fun bike to ride. The rims are supplied by Crankbrothers, with the manufacturer's Synthesis aluminium E-MTB 19s offering a sturdy level of support, which can take the big hits the bike will face.
They're wrapped in a Maxxis Assegai tyre at the front and a Maxxis Minion DHR II at the rear – these offer a strong toothy bite, which offer you lots of confidence when moving at pace into corners and needing to switch direction sharply. They're absolutely the right accompaniment to suit this fun and playful e-MTB.
The YT Decoy Core 4 is fitted with SRAM Code RSC brakes. These are top range SRAM components, which are seriously reliable and offer immense stopping power out on the trail.
It's the perfect brake for an aggressive and versatile e-MTB.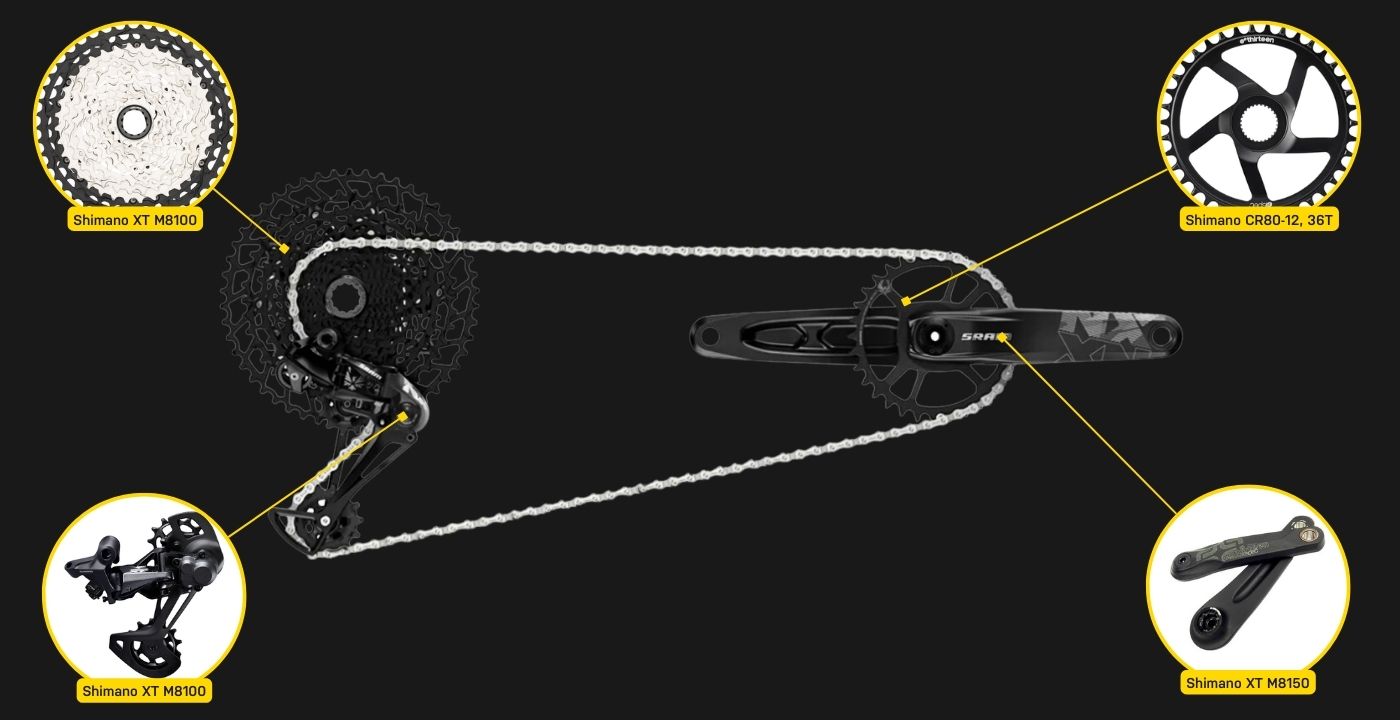 The Powerfly 7 Equipped comes with a 12-speed SLX M7100 group set. They offer smooth shifting and an ease of use, which you need when spending hours up top on the pedals. The pairing does everything you need them to.
The pricing of this YT e-bike seems fair. It's around average for this sort of e-MTB bike on the market and you're some excellent components in there.
YT Decoy Core 4 MX Review Facts & Figures
FRAME SIZE

SIZE

RIDER HEIGHT

S

154 cm – 165 cm




5'1″ – 5'5″

M

163 cm – 173 cm




5'4″ – 5'8″

L

172 cm – 182 cm




5'7″ – 5'11.5″

XL

181 cm – 191 cm




5'11" – 6'3″

XXL

190cm – 200cm




6'2.5″ – 6'7″
This size table is only a suggestion. The optimal frame size depends also on your personal riding style.
GEOMETRY

S

M

L

XL

XXL

TOPTUBE

569 mm
591 mm
612 mm
635 mm
658 mm

REACH

409 mm
429 mm
449 mm
469 mm
489 mm

STACK

624 mm
629 mm
633 mm
643 mm
652 mm

SEATTUBE

400 mm
420 mm
445 mm
470 mm
495 mm

CHAINSTAY

442.0 mm
442.0 mm
442.0 mm
442.0 mm
442.0 mm

HEADTUBE ANGLE

64.5° / 65°
64.5° / 65°
64.5° / 65°
64.5° / 65°
64.5° / 65°

SEATTUBE ANGLE (EFF)

75.5° / 76°
75.5° / 76°
75.5° / 76°
75.5° / 76°
75.5° / 76°

BB DROP

F32/R16 mm/
F24/R8 mm
F32/R16 mm/
F24/R8 mm
F32/R16 mm/
F24/R8 mm
F32/R16 mm/
F24/R8 mm
F32/R16 mm/
F24/R8 mm

WHEELBASE

1191 mm
1213 mm
1235 mm
1259 mm
1284 mm

HEADTUBE

95 mm
100 mm
105 mm
115 mm
125 mm

BB HEIGHT

344 / 352 mm
344 / 352 mm
344 / 352 mm
344 / 352 mm
344 / 352 mm

STANDOVER HEIGHT

752 mm
738 mm
724 mm
714 mm
702 mm
FRAME

FRAME SIZE

S, M, L, XL, XXL

COLOR

Arctic Blue, Black Magic, Matte Black Magic, Trooper White

WHEELS

WHEELS

CRANKBROTHERS SYNTHESIS ALLOY E-MTB I9 1/1
Front: Aluminum Rim 29" | Inner Width 31.5 mm | Front Hub 110 x 15 mm |
Rear: Aluminum Rim 29" | Inner Width 31.5 mm | Rear Hub 148 x 12 mm |
Freehub I9 1/1 Microspline

TIRES

FRONT: MAXXIS MINION DHF
Front: Tire Size 29" x 2.5 WT | EXO Casing | 3C MaxxTerra Compound |
Tubeless Ready

REAR: MAXXIS MINION DHR II
Rear: Tire Size 29" x 2.5 WT | EXO+ Casing | 3C MaxxTerra
Compound | Tubeless Ready

SUSPENSION

FORK

FOX 36 FLOAT FACTORY E-BIKE+
29" | 150 mm Travel | 110 x 15 mm Axle | 51mm OffsetGrip2 Damper, Adjustable
High- and Low-Speed Compression and Rebound, Air Pressure, Kashima Coating

SHOCK

FOX FLOAT DPS FACTORY
Shock Length: 230 mm | Shock Stroke: 60 mm ≙ 145 mm Travel 3-pos lever,
Low-Speed Compression, Low-Speed Rebound, Air Pressure, Kashima Coating

DRIVETRAIN

CRANKSET

SHIMANO XT
M8150 | Crank Arm Length 165 mm | HOLLOWTEC

CASSETTE

SHIMANO XT
M8100 | 10-51T | 12-speed I Hyperglide+

REAR DERAILLEUR

SHIMANO XT
M8100 | Shadow Plus | 12-fach

CHAINRING

SHIMANO
CRE80-12 | 36T I DYNAMIC CHAIN ENGAGEMENT+

DISPLAY

SHIMANO E7000
Monochrome I 35 m

SWITCH

SHIMANO E7000-L
On-Bar

SHIFTER REAR

SHIMANO XT
M8100 | 12-speed I 2-Way-Release

DRIVEUNIT

SHIMANO EP8
Torque 85 NM | Power 250 W I E-TUBE PROJECT APP

BATTERY

SMP YT CUSTOM
Removable | 540 Wh Capacity | 36 V

COMPONENTS

HEADSET

ACROS AZX-260
Block Lock I High Cap I 2 Spacer 5 mm I Flatcapset

STEM

RENTHAL APEX 35
Length 50 mm | 35 mm Clamp | Rise +/-6°

HANDLEBAR

RENTHAL FATBAR 35
Rise 30 mm | Width 800 mm | 7° Back Sweep | 5° Up Sweep

GRIPS

ODI ELITE MOTION V2.1
Lock On

BRAKES

SRAM CODE RSC
Rotor CENTERLINE Ø front 200 mm / rear 200 mm Adjustable Bite Point and Reach

SEATPOST

YT POSTMAN
Trooper White & Black Magic: Ø 31.6 mm | 125 mm Drop (Frame Size S) |
150 mm Drop (Frame Size M) | 170 mm Drop (Frame Size L-XXL) | MMX-Remote

Arctic Blue & Matte Black Magic: Ø 31.6 mm | 125 mm Drop
(Frame Size S) | 150 mm Drop (Frame Size M) | 170 mm Drop (Frame Size LXXL)
| MMX-Remote

SADDLE

SDG BEL AIR 3.0
YT Custom | Width 140 mm I Lux-Alloy Rail

CHAIN GUIDE

E13 E*SPEC PLUS
2 Bolt | 34-38T | Compact Slider

WEIGHT

WEIGHT

21.80 KG / 48.06 LB
Average weight for smallest size available, without tubes, pedals, and bottle.
Let's compare the YT Decoy 4 to one of the big hitters in the market – the Specialized Turbo Kenevo Expert – another e-MTB geared up for aggressive train riding.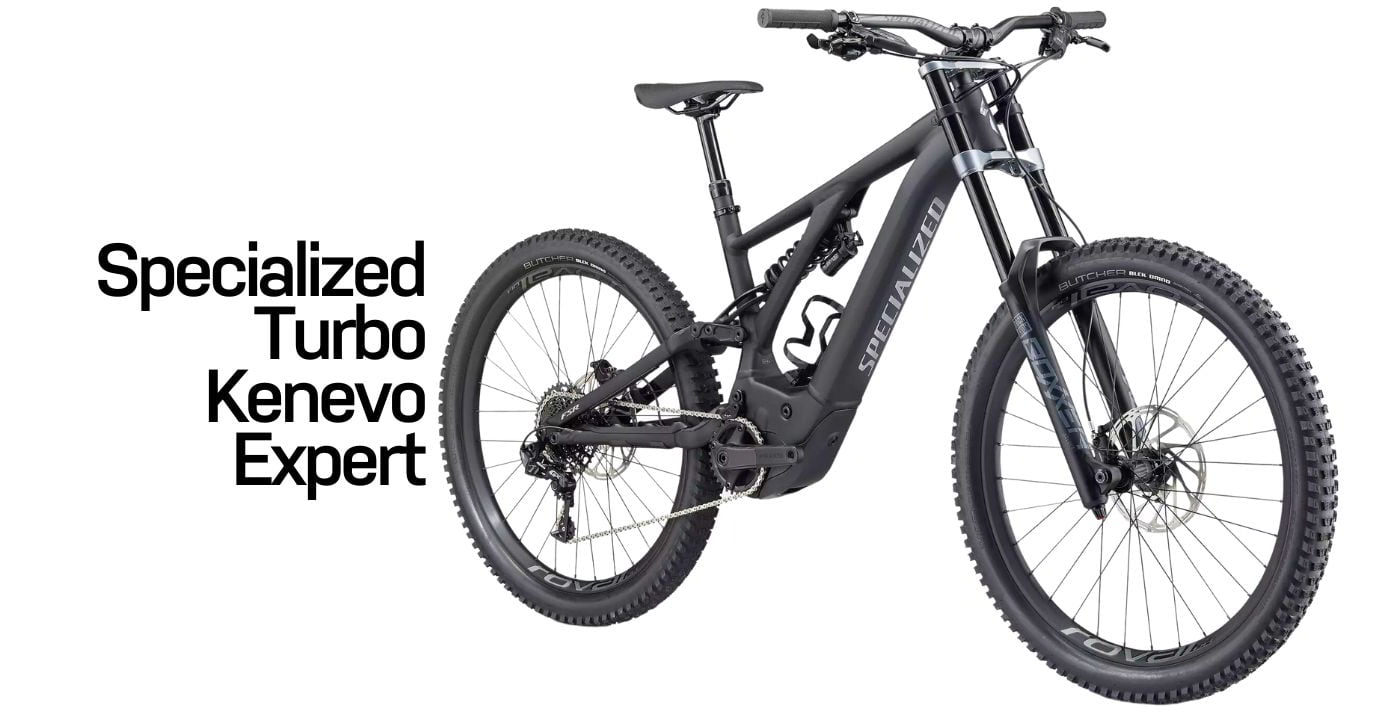 The Kenevo Expert comes with a larger 700Wh custom battery as standard and a larger custom motor, capable of kicking out 90Nm of torque (5Nm larger than our YT Decoy).
That comes at a weight compromise though and the Kenevo comes in 2.2kg heavier. You get a monster 180mm of travel though on the Kenevo Expert, at both the front and rear, more than our YT Decoy Core 4 – which makes it a win in the big hit department.
However, the Kenevo Expert is more descent focused and feels far spongier on the flat sections and uphill. You get similar SRAM brakes and an exceptional SRAM X01 Eagle group set on the Kenevo Expert – not too dissimilar to our Shimano.
There's a serious win for the Specialized bike in the price department – it's currently heavily discounted at only $5,799 on the official website. Both good bikes, but the Kenevo Expert shaves it for us – particularly if you want to take on the seriously challenging downhill trails.
However, on the flat and up hills the YT Decoy sneaks it. The Kenevo Expert's price really does make it alluring though and it avoids the pitfalls of the EP8 motor.
The YT Decoy Core 4 is a seriously decent head turner from a less well-known manufacturer than some of the big names.
It offers a playful ride experience and feels both versatile and well-balanced – capable of taking on some very aggressive descent orientated trails, but also nimble going uphill.
The layout opens it up to some challenging terrain, without taking away too much from comfort and you have some excellent components in there, such as the suspension and the brakes.
However, we think the bike is let down somewhat in the motor and display departments – we simply don't like the EP8 and it detracts from an otherwise excellent e-MTB.
A shame, really, but hopefully YT takes note for future incarnations of the bike. An undeniably solid effort from the company, though. Now, get out there and get a taste of the YT Decoy Core 4 for yourselves.
If you enjoyed this review then make sure to check out our other YT e-MTB reviews: