The YT Decoy 29 Core 2 is the entry level bike in YT's Decoy 29 Core series of all-rounder e-MTBs. They are designed to target the general trail market and offer versatility, without costing the world.
An all-rounder has to be able to climb adeptly, while also managing a level of descending and feel comfortable over a decent distance. This differs from a gnarly downhill orientated bike, which is far less comfortable over longer distances, but aggressively set out and capable of flying downhill.
The YT Decoy 29 Core 2 currently costs exactly the same as the slightly higher spec Decoy 29 Core 3 – so why go for this bike? Let's find out if you should.
YT have been the masters of their own downfall here. By pricing the Decoy 29 Core 2 the same as their higher spec Decoy 29 Core 3, it makes no sense to go for this bike.
The battery is small, motor noisy and display poor, which is same across both versions – however, the suspension isn't as good, nor is the drivetrain on this bike – yet it costs the same as the higher spec option.
The geometry is still decent and it is a versatile all-rounder, but there is enough missing in there for us to recommend avoiding this one.
Peaks:
Troughs:
YT Decoy 29 Core 2 Review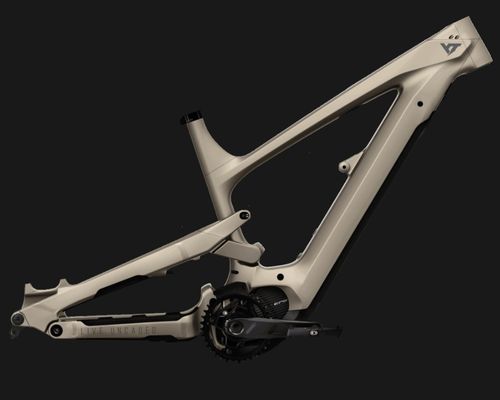 The YT Decoy 29 Core 2 has exactly the same frame features as the higher spec YT Decoy Core 2 – it has a carbon main frame and an alloy rear triangle. The bike weighs in at 23kg, which isn't the lightest trail bike we've ever seen, but it certainly isn't the heaviest either.
The geometry is exactly the same across the full YT Decoy 29 Core range – the bikes have a playfulness about them, but overall would be considered fairly reserved. What this brings is a sense of comfortability, which means you can ride the bike for many hours, without feeling too achey.
The bike still feels easy to manipulate, feels assured on the climbs and there's a good level of responsiveness in the handling. The frame comes in 5 sizes – small, medium, large, extra large and double XL – all of which benefit from the same handling characteristics.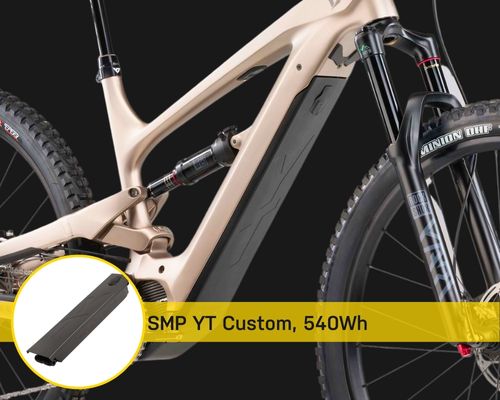 The YT Decoy 29 Core 2 comes with its own, custom made 540Wh battery. The choice of standard battery size is baffling – it's set half-way between some of the heavy hitters in the market, which have batteries of 720Wh and above, and the super light-weight models with 320Wh batteries.
You can get a decent day's riding on the 540Wh custom battery, which is slotted neatly into the downtube, but it might be worth considering buying the company's additional 720Wh battery, which is sold separately.
It's a pain that you have to shell out more, but we imagine a lot of riders will end up opting for that larger one. The battery can give you around 50km-60km out on trails, with over 1000m of assisted climbing – it isn't groundbreaking, and unfortunately the motor does give the battery a hammering quite quickly.
ℹ️ We really think YT could benefit from upscaling their battery offer to bring them on par with some of the other big competitors in this area of the market.
YT e-mountain bikes' choice of motor partner, across the whole YT Decoy 29 Core range is the Shimano EP8. You can't fault the EP8's level of power – it has 85Nm of torque at its disposal and it can hammer its way up every climb. Managing an incline is never a worry and it takes a lot of pressure off the legs in those challenging moments.
However, we aren't impressed with the way the power is delivered, it isn't the most intelligent motor and we sometimes feel quite a lot of jerk when you engage the assist – it doesn't feel at one with the pedals as some motors do.
You also get a little rattling noise and it sucks the life out of the battery quite quickly. It's fair to say that we have a challenging relationship with the EP8 motor.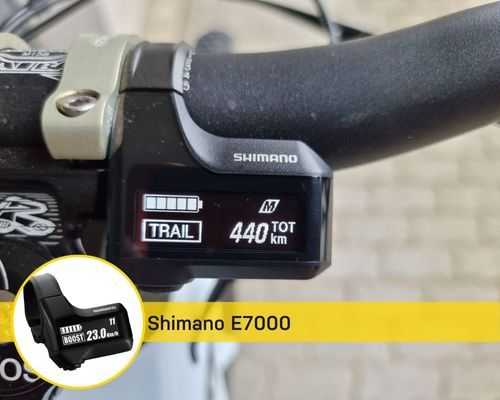 The Shimano EP8 motor comes paired with the Shimano E7000 on the YT Decoy 29 Core 2 – it's another frustrating aspect on this bike. You don't get your battery percentage provided as an exact figure, you get 20% increments, which means you never have an exact idea of where you're up to.
It creates unnecessary range anxiety and it can really catch you out if you aren't careful, particularly with a smaller battery, which doesn't have the most intelligent relationship with the motor. The E7000 is simple to use, with a small controller on the handlebars, but you don't get anywhere near as much data as we would like.
You can look at distance covered and speed, but that's about it – we expect much more from an e-MTB display. One plus is that you can link it up to your smartphone, using Shimano's custom app, however, you then have to run the gauntlet of leaving your smartphone mounted to your handlebars and that just opens it up to damage if you're out for an aggressive ride.
The YT Decoy 29 Core 2 comes with 150mm travel at the front and 145mm at the rear. The amount of travel helps create the versatile all-rounder that YT are going for, with enough movement at the front end to be able to soak up some fairly big hits and take on some descending.
However, it's also stable enough to not feel too spongy while negotiating climbs or on a more flowy single track. RockShox supply the suspension with their Yair RC forks at the front and Deluxe Select at the rear. This is a downgrade from the higher spec FOX components on the YT Decoy 29 Core 3 and they aren't quite as forgiving on the gnarlier terrain.
It's certainly a bit of a step down, however, you can still manage some varied terrain with this suspension setup.
The YT Decoy 29 Core 2 comes with 29 inch wheels at both the front and the rear. They're made out of aluminium and supplied by Crankbrothers with their synthesis alloy compound – this is the same across the range.
The 29in tyres offer a stable footing on the trail and a good amount of traction, for both climbing and on the flats – the standard YT Decoy Core range comes with a mullet setup, with a smaller back wheel, which makes it more aggressive to ride. The tyres are provided by Maxxis, with Minion DHFs on the front wheel and a Minion DHR II at the rear.
These are a trusty partner out on the trail and offer enough bite into the dirt to hang on through fast moving sections and allow the bike to be ridden fairly aggressively.
We're impressed with the brake pairing on the YT Decoy 29 Core 2 – they're supplied by SRAM, with their SRAM Code Rs fitted as standard. The Code Rs are made for serious riding – they offer a high level of reliability and can bring you to a halt when you need them most.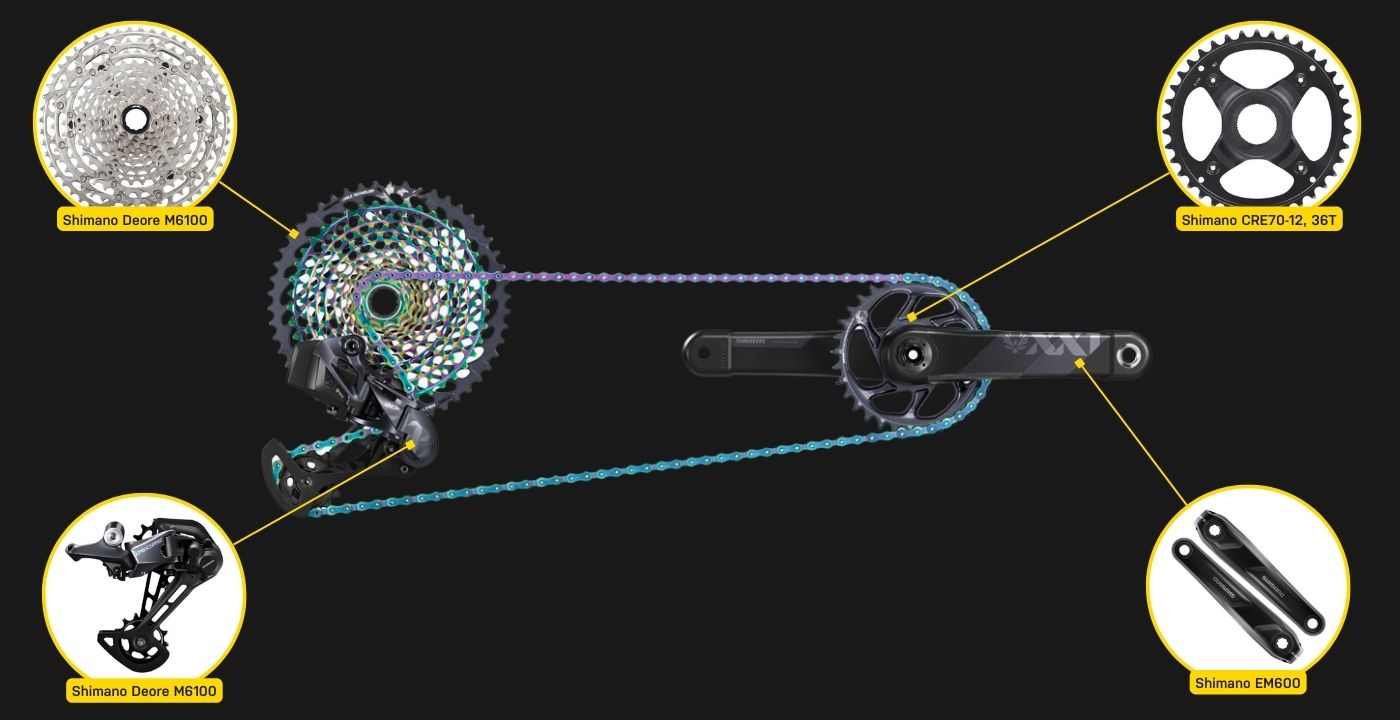 The YT Decoy 29 Core 2 is fitted with a Shimano Deore drivetrain – this is another step down from the YT Decoy 29 Core 3, which is fitted with the Shimano SLX drivetrain. The 12-speed Deore setup is fine, but it isn't quite as responsive in the shifting department as the SLX. It's decent, but it's certainly not all singing, all dancing.
YT has shot itself in the foot slightly with the pricing, here. The manufacturer has heavily discounted the higher spec YT Decoy 29 Core 3 on its website; it doesn't make any sense to pay the same amount for this bike with an inferior suspension and drivetrain.
If you're going to discount one, then you need to discount both, so there's a deal to be had in both departments. We would avoid the YT Decoy Core 2 at this time and just go for the higher spec option.
YT Decoy 29 Core 2 Review Facts & Figures
FRAME SIZE

SIZE

RIDER HEIGHT

S

154 cm – 165 cm




5'1″ – 5'5″

M

163 cm – 173 cm




5'4″ – 5'8″

L

172 cm – 182 cm




5'7″ – 5'11.5″

XL

181 cm – 191 cm




5'11" – 6'3″

XXL

190cm – 200cm




6'2.5″ – 6'7″
This size table is only a suggestion. The optimal frame size depends also on your personal riding style.
GEOMETRY

S

M

L

XL

XXL

TOPTUBE




565 mm

587 mm

608 mm

631 mm

654 mm

REACH

423 mm
443 mm
463 mm
483 mm
503 mm

STACK

614 mm

619 mm

623 mm

632 mm

641 mm

SEATTUBE

400 mm

420 mm

445 mm
470 mm
495 mm


CHAINSTAY

458 mm

458 mm

458 mm

458 mm

458 mm

HEADTUBE ANGLE

65.8° / 66.3°
65.8° / 66.3°
65.8° / 66.3°
65.8° / 66.3°
65.8° / 66.3°

SEATTUBE ANGLE (EFF)

77° / 77.5°

77° / 77.5°

77° / 77.5°

77° / 77.5°

77° / 77.5°

BB DROP

38 / 32mm
38 / 32mm
38 / 32mm
38 / 32mm
38 / 32mm

WHEELBASE

1197 mm

1219 mm

1241 mm

1265 mm

1289 mm

HEADTUBE

95 mm
100 mm
105 mm
115 mm
125 mm

BB HEIGHT

338 / 345 mm

338 / 345 mm

338 / 345 mm

338 / 345 mm

338 / 345 mm

STANDOVER HEIGHT

744 mm
731 mm
718 mm
708 mm
697 mm
FRAME

FRAME SIZE

S, M, L, XL, XXL

COLOR

PLATINUM GREY, BLACK MAGIC

WHEELS

WHEELS

CRANKBROTHERS SYNTHESIS ALLOY E-MTB
Front: Aluminum Rim 29" | Inner Width 31.5 mm | Front Hub 110 x 15 mm
Rear: Aluminum Rim 29" | Inner Width 31.5 mm | Rear Hub 148 x 12 mm

TIRES

FRONT: MAXXIS MINION DHF
Front: Tire Size 29" x 2.5 WT | EXO Casing | 3C MaxxTerra Compound | Tubeless Ready

REAR: MAXXIS MINION DHR II
Rear: Tire Size 29" x 2.4 WT | EXO+ Casing | 3C MaxxTerra Compound | Tubeless Ready

SUSPENSION

FORK

ROCKSHOX YARI RC
29" | 150 mm Travel | DEBONAIR | 110 x 15 mm Axle | 51mm Offset Adjustable Low-Speed Compression, Rebound, Air Pressure

SHOCK

ROCKSHOX DELUXE SELECT
Shock Length: 230 mm | Shock Stroke: 60 mm ≙ 145 mm Travel | DEBONAIR | Custom Tune | DB2 adjustable Rebound, Air Pressure

DRIVETRAIN

CRANKSET

SHIMANO EM600
Crank Arm Length 165 mm

CASSETTE

SHIMANO DEORE
M6100 | 10-51T | 12-speed I Hyperglide+

REAR DERAILLEUR

SHIMANO DEORE
M6100 | Shadow Plus | 12-fach

CHAINRING

SHIMANO
CRE70-12 | 36T I DYNAMIC CHAIN ENGAGEMENT+

DISPLAY

SHIMANO E7000
Monochrome I 35 m

SWITCH

SHIMANO E7000-L
On-Bar

SHIFTER REAR

SHIMANO DEORE
M6100 I 12-speed I 2-Way-Release

DRIVEUNIT

SHIMANO EP8
Torque 85 NM | Power 250 W I E-TUBE PROJECT APP

BATTERY

SMP YT CUSTOM
Removable | 540 Wh Capacity | 36 V

COMPONENTS

HEADSET

ACROS AZX-260
Block Lock I High Cap I 2 Spacer 5 mm I Flatcapset

STEM

13 BASE 35
Length 50 mm | 35 mm Clamp | Rise 0° | 6061 AL

HANDLEBAR

E13 BASE 35
Rise 35 mm | Width 780 mm | 9° Back Sweep | 5° Up Sweep | 6061 AL

GRIPS

ODI ELITE MOTION V2.1
Lock On

BRAKES

SRAM CODE R
Rotor CENTERLINE Ø front 200 mm / rear 200 mm Adjustable Reach

SEATPOST

YT POSTMAN
Ø 31.6 mm | 125 mm Drop (Frame Size S) | 150 mm Drop (Frame Size M) | 170 mm Drop (Frame Size L-XXL) | Standard-Remote

SADDLE

SDG BEL AIR 3.0
YT Custom | Width 140 mm I Lux-Alloy Rail

CHAIN GUIDE

SHIMANO
CRE70-12 | 36T I DYNAMIC CHAIN ENGAGEMENT+

WEIGHT

WEIGHT

23 KG / 50.70 LB
Average weight for smallest size available, without tubes, pedals, and bottle.
We thought it would be useful to compare the YT Decoy 29 Core 2 to a bike with the same amount of travel, around the same price, but with a bigger battery. Up steps Cannondale with the Moterra Neo 4.
Firstly, the Cannondale costs just under $100 less than our YT, but offers a battery of 630Wh – that has a range of up to 125km. That's far more than our YT range and it really highlights the issues we have with the battery here.
They both share the same EP8 motor, and both suffer from the rattle noise, however, the battery works far more intelligently and allows you to push out a much greater range. The Cannondale has 150mm of travel at the front and rear, with excellent RockShox components.
You also get a far better SRAM SX/NX Eagle drivetrain on the Cannondale, but inferior brakes. The biggest downside with the Cannondale is that it weighs in at 25.9kg, 3kg more than our YT. Despite the weight – we recommend going for the Cannondale – it offers more range and better suspension and drivetrain.
We're a bit disappointed with the YT Decoy Core 2 on the whole, particularly considering its pricing. It means there isn't really any point going for the Decoy Core 2 at this moment – you have a small battery, a motor which is noisy and battery thirsty and a display that creates range anxiety. The suspension isn't as plush as the version up, nor is the drivetrain.
However, the bike does have a fun geometry and it is a capable all-rounder, which can take on climbs, descents and feels a comfortable, yet playful, bike to ride. This bike is never going to set the industry on fire, but there are aspects you can tip your hat to.
That's our stance, but get out there and take it to the trails for yourselves.
If you enjoyed this review then make sure to check out our other YT e-MTB reviews: