The YT Decoy 29 range of e-MTBs are designed to be versatile all-rounders. The 29 in the name is for 29 inch wheels, which come as standard across the range.
The company brought out the bike to try and tick lots of different boxes; capable of climbing and descending, remaining playful, but without breaking the bank. It's a hard balance to strike and there is a lot of competition in the trail bike sector.
So does YT manage to pull it off? Or are there better options out there? Let's get stuck in and find out in this YT Decoy 29 review…
The YT Decoy 29 Core 4 is a bike let down by its electrical components. The battery is small by modern standards, the motor is noisy and battery thirsty and the display is poor.
The suspension, brakes, tyres and geometry, though, are all positives; the bike rides beautifully and is truly versatile for climbing, descending and having hours of fun aboard.
A bike of two halves, then.
Peaks:
Troughs:
YT Decoy 29 Core 4 Review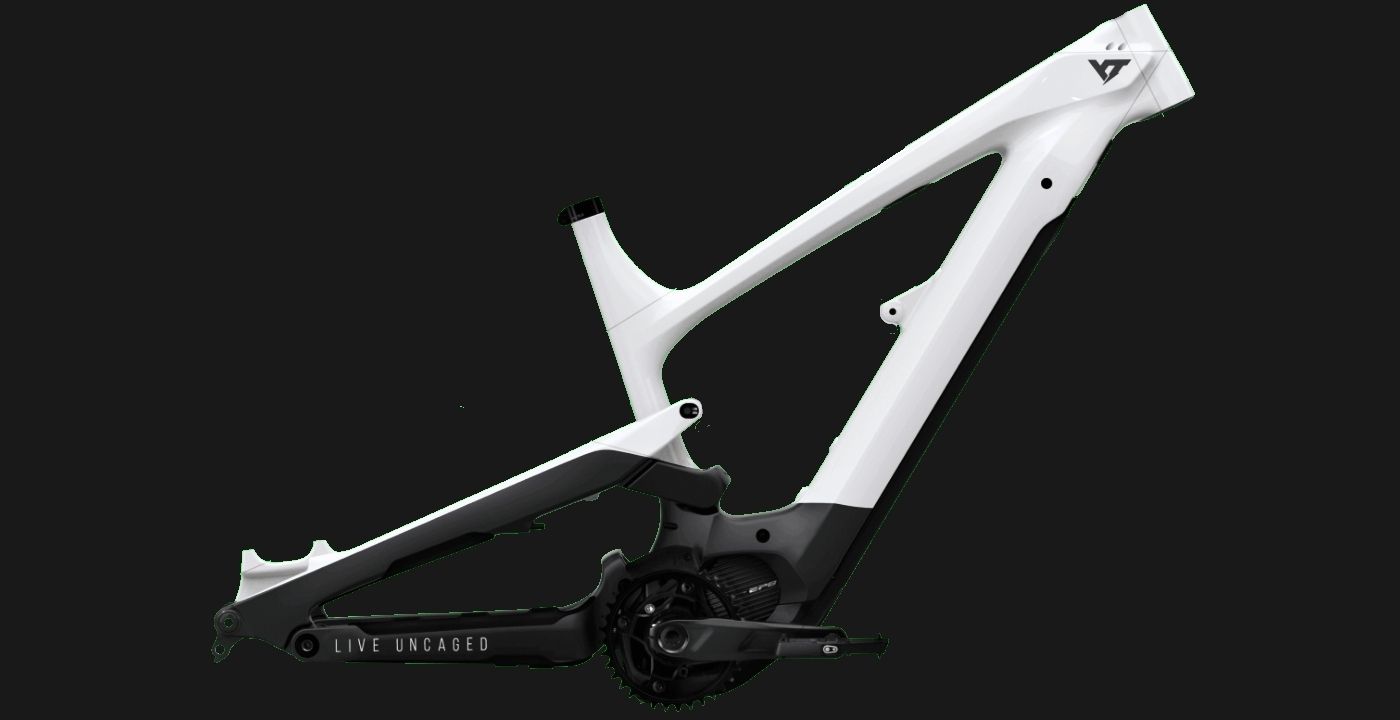 The YT Decoy 29 Core 4 has a fully carbon frame and internally-routed cabling throughout. It weighs in at 21.8kg, which isn't the lightest, but the playful geometry makes it a very fun bike to ride, which can be manipulated with ease.
The Decoy 29 range has a far more relaxed geometry than the standard Decoy Core range, which runs on a mullet style setup. Those bikes are geared up for a lot more descending and gnarlier terrain, while the Decoy 29 is set out more comfortably, so you can be in the saddle for many hours.
The frame layout allows the bike to take on some lumps and bumps, but without feeling too slack on the flats – it's definitely more geared up as an all-rounder. The bike comes in five frame sizes – small, medium, large, extra large and double XL.
The bike handles excellently, it's ultra responsive and very well balanced.
Just like the standard YT Decoy Core range, the YT Decoy 29 Core 4 comes with a 540Wh custom battery. It's a little under-gunned compared to some other versatile all-rounders on the market and you do feel short changed with the amount of money you're parting with.
There is the option of buying a separate 720Wh battery, but this obviously comes at an extra cost. On the plus side, you can clip the batteries in and out easily from the downtube, which has a strong outer casing to protect the battery.
We managed to push out around 50 kilometres with more than 1,200m of climbing on our YT Decoy battery review rides and still had quite a bit left in the tank. Clearly, if you rode over flatter terrain, you would be pushing for more, around 75km.
Time for our regular Shimano EP8 grumble. The YT Decoy Core 2 comes with the EP8, which has both pros and cons. The motor is very powerful – with 85Nm of torque at its disposal – that amount of power makes a big difference on the climbs.
This YT e-bike is a very good climber and no incline ever seems over facing. However, as we've already mentioned, the motor is incredibly battery-hungry and that means you do have to be quite conscious about how much you use the electrical assistance.
There are 3 modes you can choose from – Eco, Trail and Boost – Eco puts a lot more emphasis on the rider and is a good way to conserve battery, Trail mode is prepped for some more challenging terrain, while Boost is your emergency line to get up the trickiest sections.
The motor also makes quite a loud rattling noise, which can be very off-putting on a long ride. There are elements to really enjoy with the motor, but aspects we find a nagging pain too.
We aren't happy with the Shimano E7000 display on the YT Decoy 29 Core 4. It's a fairly standard piece of kit to accompany the EP8 motor, however, there are a number of points that we think could be done a lot better.
The controller offers simple use, but the percentage of battery left is displayed as 5 LED lights, rather than a nailed on figure and that creates a lot of range anxiety. It's a big oversight from Shimano, especially when you consider many manufacturers are offering exact percentages, so Shimano could, too.
You can flick between a few different data points on this YT decoy e-bike, such as speed and the electrical assistance setting you're using, but it isn't ideal. One benefit is that you can link the display up to Shimano's E-Tube app, which allows you to use a smartphone to look at far more ride data, such as torque, cadence, etc.
It's still not the full package you get from some companies.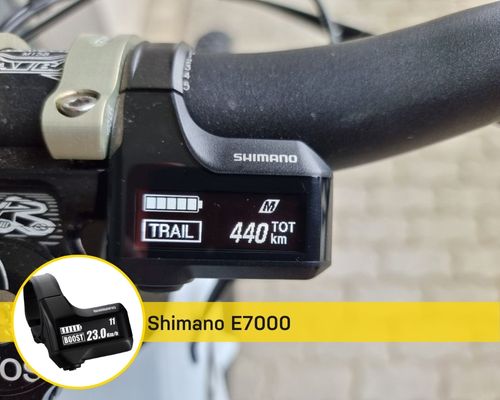 The YT Decoy 29 Core 4 comes with a more reserved suspension setup than the standard YT Decoy Core range. The YT Decoy 29 comes with 150mm travel at the front and 145mm travel at the rear – the setup is provided by FOX, with FOX 36 Float Factory forks and FOX Float DPS Factory shocks.
It might not be the most gnarly suspension set-up out there, but the bike feels incredibly well balanced – you have enough give to take on some very tricky sections and it can certainly descend admirably.
However, it doesn't feel too spongy at the back end, so the bike still performs excellently on the flat and climbs. It's exactly what you want from a versatile all-rounder and you feel very assured across multiple different types of terrain.
We're impressed with what YT have managed to achieve with the Decoy 29 Core 4 and it's a pleasure to throw down the hills and scamper up the climbs.
29 features in the YT Decoy 29 Core 4 name and that stands for 29 inch wheels – this differs from the mullet setup on the standard YT Decoy Core range. It makes the bike less aggressive and less descent orientated, but it feels more balanced overall – capable of both climbing and descending.
You have strong Crankrothers aluminium wheels under foot, which are made to soak up pressure and offer a strong durability. The tyres are supplied by Maxxis, with Minion DHFs at the front and Minion DHR IIs at the rear end. Another very reliable component, which you have full trust in while moving at speed into tight corners and coming up trumps when you need to grind at a halt.
The YT Decoy 29 Core 4 comes with SRAM Code RSC brakes – these are top end SRAM components, which offer immense stopping power. These are up there among some of the best you can get and exactly what you want from a versatile and fun trail bike. A great addition to this YT mountain bike.
The YT Decoy Core 4 comes with an excellent 12-speed Shimano XT drivetrain. Excellent smooth shifting and yet again more reliability, which is what you need from a bike which will take on varying terrain and need to be moving up and down through the gears at pace.
You're getting some absolutely awesome components with the YT Decoy 29 Core 4 and that comes at a price – the suspension, brakes, drivetrain and geometry are all worth shouting about.
It's a really beautiful bike to ride, but the battery size is a letdown and you can get trail bikes at around the same price with bigger ones. The weight saving isn't enormous either, it's fairly average in its weight, and the motor has its issues. It isn't extortionate, but it certainly isn't a bargain either.
YT Decoy 29 Core 4 Review Facts & Figures
FRAME SIZE

SIZE

RIDER HEIGHT

S

154 cm – 165 cm




5'1″ – 5'5″

M

163 cm – 173 cm




5'4″ – 5'8″

L

172 cm – 182 cm




5'7″ – 5'11.5″

XL

181 cm – 191 cm




5'11" – 6'3″

XXL

190cm – 200cm




6'2.5″ – 6'7″
This size table is only a suggestion. The optimal frame size depends also on your personal riding style.
GEOMETRY

S

M

L

XL

XXL

TOPTUBE

569 mm
591 mm
612 mm
635 mm
658 mm

REACH

423 mm
443 mm
463 mm
483 mm
503 mm

STACK

614 mm
619 mm
623 mm
632 mm
641 mm

SEATTUBE

400 mm
420 mm
445 mm
470 mm
495 mm

CHAINSTAY

458 mm
458 mm
458 mm
458 mm
458 mm

HEADTUBE ANGLE

65.8° / 66.3°
65.8° / 66.3°
65.8° / 66.3°
65.8° / 66.3°
65.8° / 66.3°

SEATTUBE ANGLE (EFF)

77° / 77.5°
77° / 77.5°
77° / 77.5°
77° / 77.5°
77° / 77.5°

BB DROP

38 / 32mm
38 / 32mm
38 / 32mm
38 / 32mm
38 / 32mm

WHEELBASE

1197 mm
1219 mm
1241 mm
1265 mm
1289 mm

HEADTUBE

95 mm
100 mm
105 mm
115 mm
125 mm

BB HEIGHT

338 / 345 mm
338 / 345 mm
338 / 345 mm
338 / 345 mm
338 / 345 mm

STANDOVER HEIGHT

744 mm
731 mm
718 mm
708 mm
697 mm
FRAME

FRAME SIZE

S, M, L, XL, XXL

COLOR

Arctic Blue, Black Magic, Matte Black Magic, Trooper White

WHEELS

WHEELS

CRANKBROTHERS SYNTHESIS ALLOY E-MTB I9 1/1
Front: Aluminum Rim 29" | Inner Width 31.5 mm | Front Hub 110 x 15 mm |
Rear: Aluminum Rim 29" | Inner Width 31.5 mm | Rear Hub 148 x 12 mm |
Freehub I9 1/1 Microspline

TIRES

FRONT: MAXXIS MINION DHF
Front: Tire Size 29" x 2.5 WT | EXO Casing | 3C MaxxTerra Compound |
Tubeless Ready

REAR: MAXXIS MINION DHR II
Rear: Tire Size 29" x 2.5 WT | EXO+ Casing | 3C MaxxTerra
Compound | Tubeless Ready

SUSPENSION

FORK

FOX 36 FLOAT FACTORY E-BIKE+
29" | 150 mm Travel | 110 x 15 mm Axle | 51mm OffsetGrip2 Damper, Adjustable
High- and Low-Speed Compression and Rebound, Air Pressure, Kashima Coating

SHOCK

FOX FLOAT DPS FACTORY
Shock Length: 230 mm | Shock Stroke: 60 mm ≙ 145 mm Travel 3-pos lever,
Low-Speed Compression, Low-Speed Rebound, Air Pressure, Kashima Coating

DRIVETRAIN

CRANKSET

SHIMANO XT
M8150 | Crank Arm Length 165 mm | HOLLOWTEC

CASSETTE

SHIMANO XT
M8100 | 10-51T | 12-speed I Hyperglide+

REAR DERAILLEUR

SHIMANO XT
M8100 | Shadow Plus | 12-fach

CHAINRING

SHIMANO
CRE80-12 | 36T I DYNAMIC CHAIN ENGAGEMENT+

DISPLAY

SHIMANO E7000
Monochrome I 35 m

SWITCH

SHIMANO E7000-L
On-Bar

SHIFTER REAR

SHIMANO XT
M8100 | 12-speed I 2-Way-Release

DRIVEUNIT

SHIMANO EP8
Torque 85 NM | Power 250 W I E-TUBE PROJECT APP

BATTERY

SMP YT CUSTOM
Removable | 540 Wh Capacity | 36 V

COMPONENTS

HEADSET

ACROS AZX-260
Block Lock I High Cap I 2 Spacer 5 mm I Flatcapset

STEM

RENTHAL APEX 35
Length 50 mm | 35 mm Clamp | Rise +/-6°

HANDLEBAR

RENTHAL FATBAR 35
Rise 30 mm | Width 800 mm | 7° Back Sweep | 5° Up Sweep

GRIPS

ODI ELITE MOTION V2.1
Lock On

BRAKES

SRAM CODE RSC
Rotor CENTERLINE Ø front 200 mm / rear 200 mm Adjustable Bite Point and Reach

SEATPOST

YT POSTMAN
Trooper White & Black Magic: Ø 31.6 mm | 125 mm Drop (Frame Size S) |
150 mm Drop (Frame Size M) | 170 mm Drop (Frame Size L-XXL) | MMX-Remote

Arctic Blue & Matte Black Magic: Ø 31.6 mm | 125 mm Drop
(Frame Size S) | 150 mm Drop (Frame Size M) | 170 mm Drop (Frame Size LXXL)
| MMX-Remote

SADDLE

SDG BEL AIR 3.0
YT Custom | Width 140 mm I Lux-Alloy Rail

CHAIN GUIDE

E13 E*SPEC PLUS
2 Bolt | 34-38T | Compact Slider

WEIGHT

WEIGHT

21.80 KG / 48.06 LB
Average weight for smallest size available, without tubes, pedals, and bottle.
A good bike to compare the YT Decoy 29 Core 4 to is the Cannondale Moterra Neo 3. Both target the same all-rounder area of the market.
The Moterra Neo 3 has a fully carbon frame, weighing in at 23kg – 1.2kg heavier than our YT Decoy 29 Core 4.
The Cannondale has a slightly smaller 500Wh Bosch Powertube Battery and a Bosch Performance Line CX motor, which kicks out 85Nm of torque – these are far superior to our YT Decoy battery and motor.
The display is also far more advanced on the Cannondale, compared to our YT Decoy 29. You get slightly more travel on the Cannondale too, 160mm at either end – provided by RockShox and offering better cushioning on the seriously challenging sections.
You have a similar standard of SRAM brakes on both bikes, an excellent SRAM drivetrain on the Cannondale (of similar standard to our Shimano) and solid tyres provided by Maxxis. The Cannondale Moterra Neo 3 also comes in $500 cheaper.
There's a clear winner in this battle and for us it has to be the Cannondale – not only cheaper, but also offering better electrical components and a solid level of reliability elsewhere.
You can read our full Cannondale Moterra Neo 3 review here:
The YT Decoy 29 Core 4 does some things absolutely excellently – the bike feels very well balanced from top to bottom, but there's still a lot of fun to be had aboard it. It's a genuine all-rounder, capable of descending and climbing, with enough power in the tank to take on any climb you put in its way.
You also have excellent brakes and a very well matched suspension, which can cope with just enough gnarly terrain to keep the bike feeling playful, but without being awkward over longer distances.
The battery size is an issue, though, and for the price you're paying we would like to see a greater range. We also dislike the motor display and the motor and battery don't have the most intelligent relationship with each other. It's a good bike, but we haven't been swept off our feet. Only one way for you to find out for yourselves, get out there and give one a go for yourself.
If you enjoyed this review then make sure to check out our other YT e-MTB reviews: