YT is a lesser known brand, which is stepping up to take on the big names. The company's mission statement is to offer a similar level of quality as some of the top manufacturers, but at a more affordable price.
The Decoy Core range is their heavy hitter, which can take on some of the gnarliest terrain out there. The bikes target the enduro and downhill markets, with long travel and robust frames.
The Decoy Core 3 is the mid-spec bike in range, but the price difference to the top model is negligible. So why go for this bike? Does it stand up to the test compared to the big name brands? Or does it falter?
Let's find out in another YT Decoy review…
A frustrating bike – shades of brilliance, elements of real headaches. The suspension is spot on, the bike has a playful yet comfortable geometry and it's made for fun and aggressive riding.
But the range anxiety is painful, the motor is very battery-hungry, the price is confusingly expensive compared to its carbon sibling and there are other niggles, too. It isn't a bad bike – we definitely enjoyed riding it, but there's enough to put us off a purchase for sure.
Peaks:
Troughs:
YT Decoy Core 3 MX Review
The YT Decoy MX Core 3 comes with a heavy-duty Crankbrothers Synthesis aluminium frame, which is made for taking the big impacts. It's designed to be ultra durable and manage some heavy knocks out on the trails.
However, that robustness does mean it comes with some extra weight – the bike comes in at 22.9kg – heavier than the Decoy Core 4 MX, which has a carbon frame and weighs in at 21.7kg.
There are 5 frame sizes available – small, medium, large, extra-large and double XL. The geometry offers an interesting mix of being comfortable, but also a little flair, which offers a nice balance.
Not only do you feel comfortable up top, but the geometry lends itself to being ridden reasonably aggressively when needed to. We're actually very impressed with its overall layout and YT have managed to strike an impressive balance between stable yet playful.
ℹ️ There are bikes with a far more aggressive layout, so don't for one second expect the geometry to set your world on fire. However, it offers a feeling off familiarity, with an extra added spice in there too. Intriguing for sure.
The YT Decoy Core 3 MX comes with a custom 540Wh SMP YT battery as standard. It's an odd size of battery to go for on a heavy duty enduro bike, but there is a 720Wh battery available on YT's website, which you can switch the 540Wh for – however, this obviously comes at an extra cost.
The battery options are the same as on the top spec YT Decoy Core 4 MX. The battery range is ok, without offering anything to write home about, but we found it really depended on what mode of assist you were using. The Boost mode is incredibly battery thirsty and if you're too keen to hammer out the climbs in that mode, you'll soon be caught out and find an empty tank.
If you're conscious of this, though, you can push out around 90km on a full tank. You can click the battery in and out easily, so swapping for a larger battery isn't too much of a headache. They're secured firmly into the downtube, providing a sleek-looking finish, overall.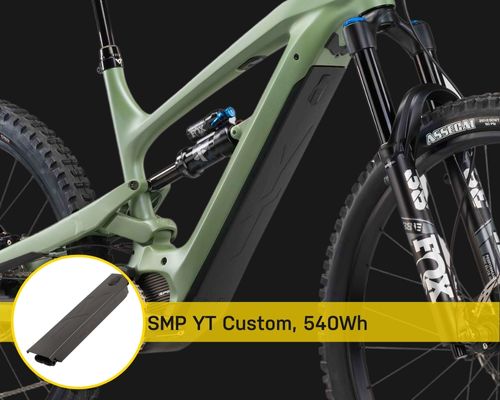 The YT Decoy Core 3 is fitted with a Shimano EP8 motor. That motor can emit 85Nm of torque and it certainly makes light work of any climb you put in its way. It offers a seriously punchy kick, which means you fly up the climbs.
For an enduro bike, that's encouraging, because you never want to face the concern of struggling up a steep incline and there's also a walk assist function if needed. However, that's where our praise ends for the motor.
It has 3 modes of assistance – Eco, Trail and Boost. The Eco and Trail settings are fairly standard and can be used without range anxiety, however, as we've already touched upon, the Boost setting is incredibly battery-thirsty. The EP8 motor also emits a lot of noise, which can be very off putting while out on a ride.
Unnecessary range anxiety is one of our biggest bugbears in the e-MTB industry and sadly the EP8 motor display on the YT Decoy Core 3 causes exactly that. It's a disappointing piece of kit, which only offers your battery percentage as a selection of 5 LED lights, with each standing for 20% of charge.
If you're out on a long ride you don't know if you've got 39% battery or 21% battery, similarly 19% or 1% – that makes battery management incredibly hard. That issue is constantly in the back of your mind during a ride and it's hard to settle as a result.
It's such a shame because the motor does that climbing well, but you're filled with nervousness to actually use it. Why Shimano did this, we'll never know, but we'll continue to be grumbling about it until we get an exact battery percentage figure.
The suspension on the YT Decoy Core 3 MX is exactly the same as on the YT Decoy Core 4 MX. You get 170mm of travel in the forks and 165mm of travel in the shocks – both of which are supplied by FOX.
You have FOX 38 Float Factory forks and FOX Float X2 Factory shocks – that's a burly setup which can take on some serious punishment out on the trails. This bike is made for wild terrain and the suspension is certainly geared up to take it on.
It's capable of soaking up the big impacts and harsh descents with relative ease and you always have trust in the suspension to bring you through comfortably.
The wheel setup on the YT Decoy Core 3 is another aspect which is exactly the same as the YT Decoy Core 4. The bikes are designed with a mullet style setup, with a large 29in wheel at the front, to offer stability out on the trail – so you feel planted and in control. With a playful 27.5in wheel at the rear end, you can manoeuvre nimbly and throw the bike around when needed.
We're seeing this setup more and more on aggressive enduro bikes at the moment and it certainly does the trick, offering a balanced experience of enough traction at the front end to keep you upright, while also enough fun to push the bike's limits.
The wheels are supplied by Crankbrothers, with a strong aluminium wheel to take on big impacts. Meanwhile, you have a mixed tyre pairing, with Maxxis Assegai at the front end and Maxxis Minion DHR II at the back end. It's an excellent pairing, which offers lots of traction, so you can throw the bike into descents and corners at pace.
The YR Decoy Core 3 comes with SRAM Code R brakes – these are top end SRAM components, which offer reliability. They're made to cope with hardcore riding and answer every test you put in their way. A reliable partner out on the trails.
This YT Decoy e-bike comes with a Shimano SLX group set, which differs from the Shimano XT on the Decoy Core 4. Another reliable partner out on the trails – smooth shifting, reliability and hassle free.
We're a little confused on the pricing with this bike, to be honest. You get a heavier aluminium frame, which is more expensive than the lighter weight carbon framed YT Decoy Core 4.
Otherwise, many components are the same, apart from the brakes – which are slightly higher spec. Aside from this, it's actually fairly pitched in the e-MTB world for a bike of this standard and you get some decent components – aside from the motor, which we'll eternally grumble about.
YT Decoy Core 3 MX Review Facts & Figures
FRAME SIZE

SIZE

RIDER HEIGHT

S

154 cm – 165 cm




5'1″ – 5'5″

M

163 cm – 173 cm




5'4″ – 5'8″

L

172 cm – 182 cm




5'7″ – 5'11.5″

XL

181 cm – 191 cm




5'11" – 6'3″

XXL

190cm – 200cm




6'2.5″ – 6'7″
This size table is only a suggestion. The optimal frame size depends also on your personal riding style.
GEOMETRY

S

M

L

XL

XXL

TOPTUBE

569 mm

591 mm

612 mm

635 mm

658 mm

REACH

409 mm

429 mm

449 mm

469 mm

489 mm

STACK

624 mm

629 mm

633 mm

643 mm

652 mm

SEATTUBE

400 mm

420 mm

445 mm

470 mm

495 mm

CHAINSTAY

442 mm

442 mm

442 mm

442 mm

442 mm

HEADTUBE ANGLE

64.5° / 65°

64.5° / 65°

64.5° / 65°

64.5° / 65°

64.5° / 65°

SEATTUBE ANGLE (EFF)

75.5° / 76°

75.5° / 76°

75.5° / 76°

75.5° / 76°

75.5° / 76°

BB DROP

F32/R16 mm/




F24/R8 mm

F32/R16 mm/




F24/R8 mm

F32/R16 mm/




F24/R8 mm

F32/R16 mm/




F24/R8 mm

F32/R16 mm/




F24/R8 mm

WHEELBASE

1191 mm

1213 mm

1235 mm

1259 mm

1284 mm

HEADTUBE

95 mm

100 mm

105 mm

115 mm

125 mm

BB HEIGHT

344 / 352 mm

344 / 352 mm

344 / 352 mm

344 / 352 mm

344 / 352 mm

STANDOVER HEIGHT

752 mm

738 mm

724 mm

714 mm

702 mm
FRAME

FRAME SIZE

S, M, L, XL, XXL

COLOR

ICE GREEN, BLACK MAGIC

WHEELS

WHEELS

CRANKBROTHERS SYNTHESIS ALLOY
Front: Aluminum Rim 29" | Inner Width 31,5 mm | Front Hub 110 x 15 mm |
Rear: Aluminum Rim 27,5" | Inner Width 31,5 mm | Rear Hub 148 x 12 mm

TIRES

FRONT: MAXXIS ASSEGAI
Front: Tire Size 29" x 2.5 WT | EXO Casing | 3C MaxxTerra Compound | Tubeless Ready

REAR: MAXXIS MINION DHR II
Rear: Tire Size 27,5" x 2.6 WT | EXO+ Casing | 3C MaxxTerra Compound | Tubeless Ready

SUSPENSION

FORK

FOX 38 PERFORMANCE ELITE
29" | 170 mm Travel | 110 x 15 mm Axle | 51mm Offset Grip2 Damper, Adjustable High- and Low-Speed Compression and Rebound, Air Pressure

SHOCK

FOX FLOAT X PERFORMANCE ELITE
Shock Length: 230 mm | Shock Stroke: 65 mm ≙ 165 mm Travel | 2pos-Adjust | Custom Tune Adjustable Low-Speed Compression, Adjustable Low-Speed Rebound, Air Pressure

DRIVETRAIN

CRANKSET

SHIMANO XT
Crank Arm Length 160 mm

CASSETTE

SHIMANO SLX
M8100 | 10-51T | 12-speed I Hyperglide+

REAR DERAILLEUR

SHIMANO SLX
M7100 | Shadow Plus | 12-fach

CHAINRING

SHIMANO
CRE80-12 | 36T I DYNAMIC CHAIN ENGAGEMENT+

DISPLAY

SHIMANO E7000
Monochrome I 35 m

SWITCH

SHIMANO E7000-L
On-Bar

SHIFTER REAR

SHIMANO SLX
M7100 I 12-speed I 2-Way-Release

DRIVEUNIT

SHIMANO EP8
Torque 85 NM | Power 250 W I E-TUBE PROJECT APP

BATTERY

SMP YT CUSTOM
Removable | 540 Wh Capacity | 36 V

COMPONENTS

HEADSET

ACROS AZX-260
Block Lock I High Cap I 2 Spacer 5 mm I Flatcapset

STEM

E13 PLUS 35
Length 50 mm | 35 mm Clamp | Rise 0° | 7050 AL

HANDLEBAR

E13 PLUS 35
Rise 35 mm | Width 800 mm | 9° Back Sweep | 5° Up Sweep | 7050 AL

GRIPS

ODI ELITE MOTION V2.1
Lock On

BRAKES

SRAM CODE R
Rotor CENTERLINE Ø front 200 mm / rear 200 mm Adjustable Reach

SEATPOST

YT POSTMAN
Ø 31.6 mm | 125 mm Drop (Frame Size S) | 150 mm Drop (Frame Size M) | 170 mm Drop (Frame Size L-XXL) | MMX-Remote

SADDLE

SDG BEL AIR 3.0
YT Custom | Width 140 mm I Lux-Alloy Rail

CHAIN GUIDE

E13 E*SPEC PLUS
2 Bolt | 34-38T | Compact Slider

WEIGHT

WEIGHT

22,90 KG / 50,49 LB
Average weight for smallest size available, without tubes, pedals, and bottle.
A good bike to compare the YT Decoy Core 3 to is the Canyon Torque:ON 7. Both bikes target the big travel enduro markets.
There are a lot of similarities between these two bikes. First and foremost, they both have a middling battery size, 540Wh for our YT and 504Wh with Canyon, who opted for the Shimano BT-8035.
They both also use the nightmare of the Shimano EP8 motor, which both suffer the same range anxiety issues with the display. In the suspension department the Canyon has 180mm travel at the front and 175mm at the rear, with RockShox supplying the goods – this is 10mm of travel at each end more than our YT Decoy.
It means the Canyon is better geared up for serious downhill routes, but it has a sponginess, which isn't quite as solid on the climbs. Which option you prefer depends on whether you expect to be hitting more descent focused lines, or varied up and down terrain.
Our YT has far superior brakes, with Canyon going for Shimano Deore, instead of our SRAM brakes, and similarly our drivetrain is far smoother, with Canyon going for a lower spec Shimano option. This is reflected in the price, with the Canyon Torque:ON 7 only coming in at $5,100 – $2,500 cheaper than our YT. It's a hard one to call here because our bike isn't $2,500 better. We think both have issues and would recommend probably going for other options, rather than these bikes.
There are certainly aspects we admire with the YT Decoy Core 3. It's playful, the suspension can take anything you throw at it and the motor is powerful enough to take on inclines without any challenge.
But there are also elements which really frustrate us – the motor display offers a miserable ride experience, range anxiety is a big issue, it's heavier than the YT Decoy Core 4 and more expensive, but isn't better.
There are also other manufacturers who are offering similar style bikes for a fraction of the price. It isn't a bad bike, but it isn't a great bike – sadly that means we feel frustrated overall by the price tag. That's our thoughts in this YT Decoy Review, now time for you to saddle up.
If you enjoyed this review then make sure to check out our other YT e-MTB reviews: