The YT Decoy Core 2 MX is the entry-level bike in the YT Decoy Core range. The manufacturer isn't one of the most well-known names out there, but it's looking to swoop in for people's custom by creating a gnarly e-MTB under the price point of some of the other household names.
The YT Decoy range offers long travel enduro bikes, which are designed to take some punishment out on trails. At $7,000, the Decoy Core 2 MX comes in cheaper than some of its competitors, but does that mean the bike has something missing? Or is the YT Decoy Core 2 a genuine bargain? Let's find out in our review!
The YT Decoy Core 2 is a pleasant bike to ride, but there's definitely room for improvement. The suspension is a real highlight, offering the ability to take on some seriously gnarly terrain, but the geometry also offers a layer of comfort too.
The brakes have great stopping power and you can have a lot of fun through the fast and twisty sections. However, the motor is a real let down, it's very battery thirsty and the display is a big letdown.
Not a bad bike, but we would shop around elsewhere at that price point.
Peaks:
Troughs:
YT Decoy Core 2 MX Review
The YT Decoy Core 2 has a carbon main frame and aluminium rear triangle, and comes in at 23kg overall. The carbon main frame keeps the weight down, allowing the bike to feel playful out on the trail, with an ease of handling.
Meanwhile, the robust aluminium rear end is made for big impacts and offers a lot of stability. Due to the mixed compound frame elements, the YT Decoy Core 2 is heavier than the more expensive YT Decoy Core 3 and 4.
The bike comes in 5 frame sizes – small, medium, large, extra-large and double XL. The geometry of all the bikes in the YT Decoy 2 range are the same – offering a level of comfortability, but with a little extra playfulness in there too.
It's definitely not ultra-aggressive in its layout, but you can still attack corners and feel composed. Some descent-focused bikes can feel uncomfortable after being ridden for a while, but the YT Decoy 2 MX isn't one of them; you can spend hours in the saddle, thanks to the overall balance of the bike.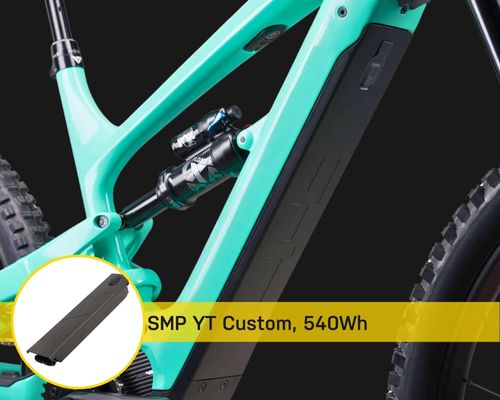 Like the YT Decoy Core 3 and 4, the YT Decoy Core 2 comes with a custom 540Wh battery – you can also buy a separate 720Wh, but it does come at extra cost. The choice of battery size is an odd one – it places the bike in a no man's land, with a modest sized battery, but still a fairly heavy overall weight.
Usually you lose weight by shaving down the size of the battery or you have a heavier bike with a big old battery – the YT Decoy Core 2 sits somewhere in the middle. You can eke out around 100km on a single charge, but only if you really play it safely with the electrical assistance. Rely on it too much and you'll soon find the battery sapped of juice.
It's located in the bike's downtube and it's easy to clip in and out, particularly useful if you want to upscale to the 720Wh battery, which certainly offers you a much greater range.
ℹ️ Unfortunately, the 720Wh battery isn't compatible with the small frame size – if you're one of the smaller riders, you're stuck with the 540Wh.
The YT Decoy Core 2 comes with the Shimano EP8 motor.
It isn't our favourite motor by any stretch of the imagination – there are certain aspects we admire, such as the ferocious power, which can emit up to 85Nm of torque. And we can't dispute its ability to scamper up the climbs, making lightwork of anything you put in its way.
However, that's where the plaudits end – first the EP8 makes a hideous rattling noise, which really grinds on your ears. The EP8 also has a very awkward relationship with the battery and is incredibly power thirsty.
You have 3 modes of assistance – Eco, Trail and Boost – but using the boost too liberally can really catch you out. It absolutely sucks the life out of it. The motor has pros and cons, unfortunately the cons outweigh the pros for us.
The motor display on the EP8 is another point of real pain with this YT electric mountain bike. The display only shows the amount of battery you have left as 5 LED lights, which is a pretty useless way to gauge how much battery you have left.
You can be caught out very easily with the 20% increments and we found ourselves having constant range anxiety. The display also doesn't offer much more – simplicity is great in some cases, but in the age where some displays offer countless, customisable data options, the EP8 stands out as being somewhat dated.
It's a constant grumble of ours and the sooner Shimano sorts out the EP8's flaws, the better. Sadly, the display spoils the overall ride experience.
The YT Decoy Core 2 comes with 170mm travel at the front and 165mm at the rear. The forks and shocks are provided by RockShox – with Zeb Charger R forks at the front and Super Deluxe Select shocks.
The set-up is slightly downgraded from the FOX suspension on the YT Decoy 3, but then you're saving just under $1,000 on the overall price and the suspension comes into that. You still get the same amount of travel though and it's still set up to take some big old hits out on the trails.
It doesn't quite offer the same level of seamless descending experience as the YT Decoy Core 3 MX. However, it's capable of taking on some punishment for sure. It's a fun bike to ride and has enough give to negotiate some drops and tricky lines without sending shockwaves through your body.
The suspension is very much a strong point on the YT Decoy Core 2.
The YT Decoy Core 2 comes with a mullet style setup, with a 29in wheel at the front and a 27.5in at the rear. The mullet setup is becoming much more common in the world of enduro and on aggressive e-MTBs.
The larger 29in front wheel offers you stability out on the trail, you have a strong planted feeling and a large amount of traction. Meanwhile, the smaller 27.5in rear wheel offers a real level of playfulness, so you can duck, dive and weave through the trees with ease.
Crankbrothers provide the wheels, with their synthesis aluminium model, which are made to cope with big hits out on the trails. There are Maxxis Assegai tyres at the front end and Maxxis Minion DHR II tyres at the rear. A solid pairing, which offers enough bite and grip to move at pace through the corners.
The YT Decoy Core 2 comes with SRAM Code R brakes; we love SRAM products and the Code Rs offer exactly what you need from an aggressive bike. They're reliable and can bring your ride to a halt without any difficulty. The perfect pairing for this sort of e-MTB.
The YT Decoy 29 Core 3 drivetrain is supplied by Shimano, with an SLX cassette and SLX rear derailleur, it also comes with a Shimano EM600 crank set. It's a downgrade from the Shimano XT set-up on the YT Decoy 29 Core 4, but it does the job needed. The 12-speed set-up offers pacy shifting and manages the power of the motor well.
The YT Decoy 29 Core 3 has been recently discounted on the YT website and usually comes in at more than $6,200. The current price seems fair for the quality of bike you're getting.
You have a fun and versatile bike, which is capable of riding over varied terrain – both climbing and descending. It's playful, nimble and well balanced, but isn't without its flaws in the electrics department – the price seems fair.
YT Decoy Core 2 MX Review Facts & Figures
FRAME SIZE

SIZE

RIDER HEIGHT

S

154 cm – 165 cm




5'1″ – 5'5″

M

163 cm – 173 cm




5'4″ – 5'8″

L

172 cm – 182 cm




5'7″ – 5'11.5″

XL

181 cm – 191 cm




5'11" – 6'3″

XXL

190cm – 200cm




6'2.5″ – 6'7″
This size table is only a suggestion. The optimal frame size depends also on your personal riding style.
GEOMETRY

S

M

L

XL

XXL

TOPTUBE

569 mm

591 mm

612 mm

635 mm

658 mm

REACH

409 mm
429 mm
449 mm
469 mm
489 mm

STACK

624 mm

629 mm

633 mm

643 mm

652 mm

SEATTUBE

400 mm
420 mm
445 mm
470 mm
495 mm

CHAINSTAY

442 mm

442 mm

442 mm

442 mm

442 mm

HEADTUBE ANGLE

64.5° / 65°
64.5° / 65°
64.5° / 65°
64.5° / 65°
64.5° / 65°

SEATTUBE ANGLE (EFF)

75.5° / 765°

75.5° / 765°

75.5° / 765°

75.5° / 765°

75.5° / 765°

BB DROP

F32/R16 mm/
F24/R8 mm
F32/R16 mm/
F24/R8 mm
F32/R16 mm/
F24/R8 mm
F32/R16 mm/
F24/R8 mm
F32/R16 mm/
F24/R8 mm

WHEELBASE

1191 mm

1216 mm

1235 mm

1259 mm

1284 mm

HEADTUBE

95 mm
100 mm
105 mm
115 mm
125 mm

BB HEIGHT

344 / 352 mm

344 / 352 mm

344 / 352 mm

344 / 352 mm

344 / 352 mm

STANDOVER HEIGHT

752 mm
738 mm
724 mm
714 mm
702 mm
FRAME

FRAME SIZE

S, M, L, XL, XXL

COLOR

MINT GREEN, BLACK MAGIC

WHEELS

WHEELS

CRANKBROTHERS SYNTHESIS ALLOY E-MTB
Front: Aluminum Rim 29" | Inner Width 31,5 mm | Front Hub 110 x 15 mm
Rear: Aluminum Rim 27.5" | Inner Width 31.5 mm | Rear Hub 148 x 12 mm

TIRES

FRONT: MAXXIS ASSEGAI
Front: Tire Size 29" x 2.5 WT | EXO Casing | 3C MaxxTerra Compound | Tubeless Ready

REAR: MAXXIS MINION DHR II
Rear: Tire Size 27.5" x 2.6 WT | EXO+ Casing | 3C MaxxTerra Compound | Tubeless Ready

SUSPENSION

FORK

FOX 38 FLOAT RHYTHM E-OPTIMIZED
29" | 170 mm | GRIP | 15mm QR x110mm | 51mm Offset

SHOCK

FOX FLOAT X PERFORMANCE
Shock Length: 230 mm | Shock Stroke: 65 mm ≙ 165 mm Travel | 2 pos-Adjust | Custom Tune | 0.3 Spacer

DRIVETRAIN

CRANKSET

SHIMANO EM600
Crank Arm Length 160 mm

CASSETTE

SHIMANO DEORE
M6100 | 10-51T | 12-speed I Hyperglide+

REAR DERAILLEUR

SHIMANO DEORE
M6100 | Shadow Plus | 12-fach

CHAINRING

SHIMANO
CRE70-12 | 36T I DYNAMIC CHAIN ENGAGEMENT+

DISPLAY

SHIMANO E7000
Monochrome I 35 m

SWITCH

SHIMANO E7000-L
On-Bar

SHIFTER REAR

SHIMANO DEORE
M6100 I 12-speed I 2-Way-Release

DRIVEUNIT

SHIMANO EP8
Torque 85 NM | Power 250 W I E-TUBE PROJECT APP

BATTERY

SMP YT CUSTOM
Removable | 540 Wh Capacity | 36 V

COMPONENTS

HEADSET

ACROS AZX-260
Block Lock I High Cap I 2 Spacer 5 mm I Flatcapset

STEM

13 BASE 35
Length 50 mm | 35 mm Clamp | Rise 0° | 6061 AL

HANDLEBAR

E13 BASE 35
Rise 35 mm | Width 800 mm | 9° Back Sweep | 5° Up Sweep | 6061 AL

GRIPS

ODI ELITE MOTION V2.1
Lock On

BRAKES

SRAM DB8
Rotor CENTERLINE Ø front 200 mm / rear 200 mm

SEATPOST

YT POSTMAN
Ø 31.6 mm | 125 mm Drop (Frame Size S) | 150 mm Drop (Frame Size M) | 170 mm Drop (Frame Size L-XXL) | Standard-Remote

SADDLE

SDG BEL AIR V3 MAX
YT Custom | Width 140 mm I Lux-Alloy Rail

CHAIN GUIDE

SHIMANO
CRE70-12 | 36T I DYNAMIC CHAIN ENGAGEMENT+

WEIGHT

WEIGHT

23.9 KG / 52.69 LBS
We compared the YT Decoy Core 3 to the Canyon Torque:ON 7 and we're going to do the same here. Both are geared up for enduro riding and are targeting around the same area of the market.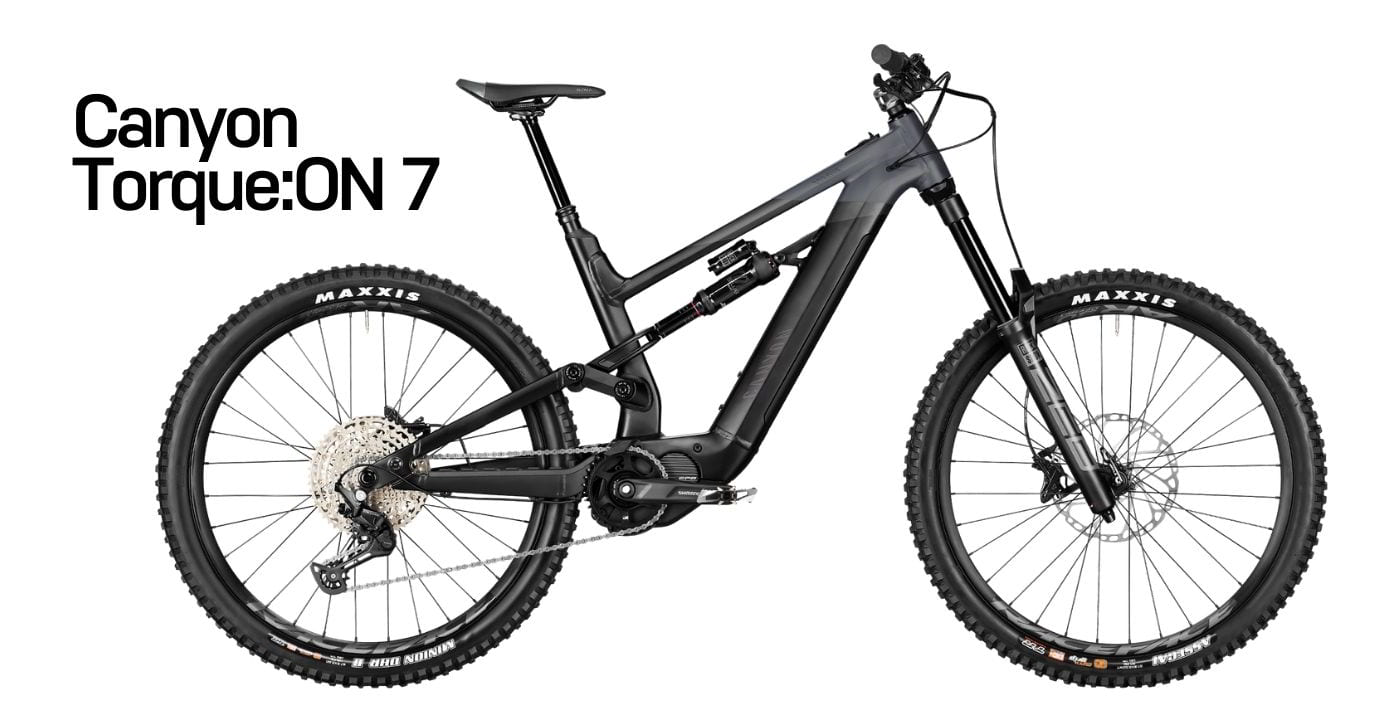 The Canyon Torque:ON 7 comes in at $5,100 – that's $1,600 cheaper than the YT Decoy Core 2. The Canyon has a slightly smaller battery, but also sits in this odd area of e-MTBing – weighing in at 23.3kg, but with only a 504Wh battery.
Both bikes use the Shimano EP8 motor, which we've already highlighted is littered with issues and they have the same display problems. The Canyon offers more travel, though, with 180mm at the front and 175mm at the rear – it's well geared up for some serious hits and full on descending – capable of actually taking on more of the gnarly stuff than our YT.
It doesn't perform quite as well on the flats though. Our YT e-bike is better in the brakes department, with our SRAM components trumping the Shimano Deore on the Canyon, but both have similar standard Shimano drive trains.
It's a tough comparison here, but price has to play a part in the decision making. Our YT Decoy rides better overall, but there is absolutely no reason it should cost $1,600 more than the Canyon. If you have the budget go for the YT, if you have a little less – go for the Canyon and you won't be missing out on much.
The YT Decoy Core 2 is a fun bike to ride and it certainly has a number of positives. The suspension is geared up for war on the trails and the geometry feels both comfortable and a little exciting.
You also have a strong pair of brakes and enough power in the motor to shoot up the climbs. The bike does have issues, though. The motor is very battery thirsty, it also rattles and the display is a major let-down.
It isn't an unpleasant bike to ride, but you feel like something is missing or you get a niggly annoyance every so often, which spoils the overall experience.
YT hasn't done poorly with the Decoy Core 2 – farm from it, it's a perfectly solid bike with some definite highlights – but there's certainly room for improvement. That's where we stand, now get out there and give her a whirl yourselves.
"If you enjoyed this review then make sure to check out our other YT e-MTB reviews:"