Specialized's Turbo Tero range is the company's hardtail all-rounder of e-MTB. The bike was brought out to span terrain – from the city streets, to dirt roads and longer distance dirt and gravel riding.
Getting that right is a fine balance and something often slips when trying to make a bike capable in so many different settings. The Turbo Tero 5.0 is the second highest spec bike in the range – with Specialized claiming it has "ride anywhere" capabilities.
So does that ring true? Or are there better hardtail options you could go for? Join us as we uncover all in our Specialized Turbo Tero 5.0 review…
An excellent, versatile hardtail that copes well with the demands of multiple different terrains. From city streets, to dirt roads and gravel path bike touring – the Turbo Tero 5.0 manages them all comfortably.
Enormous range in the battery, a beautiful motor display, decent spec elsewhere and without weighing a tonne or breaking the bank.
Our grumbles? The motor almost gives you too much power in turbo and can take skill to tame, and we wish there was a 12-gear option. Overall, though, it's a lovely bike which tackles multiple environments with ease.
Peaks:
Troughs:
Specialized Turbo Tero 5.0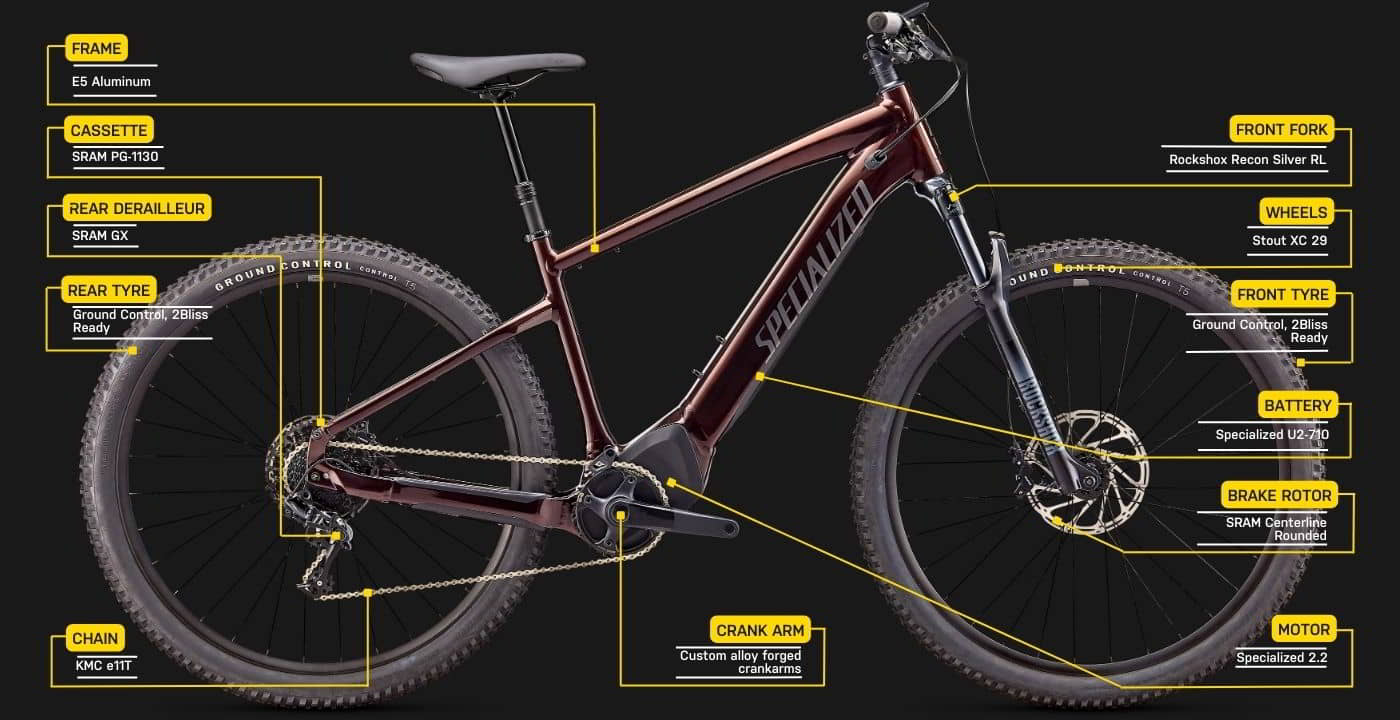 This Specialized Tero has a strong E5 aluminium frame, designed to soak up pressure and provide comfort over long distances. There are heavier competitors in this sector of the market and we think Specialized have done well to keep the bike's overall weight down at 22.7kg.
It isn't light, but considering the size of the electrical components (which we'll return to shortly) it's a damn good achievement. That weight does add to the bike's overall speed, though, which is exactly what you want to get about quickly in the city or on a point A to B long-distance touring ride.
The geometry lends itself to being comfortable – you feel upright and composed on the bike, which again lends itself to be ridden over long distances, rather than a more uncomfortable aggressive positioning.
The bike comes in 4 frame sizes – small, medium, large and extra large – and the rear end is compatible to house a luggage frame over the back wheel. With relative ease you can add on the small luggage/pannier rack, so you can gear up your bike ready for a touring cycle or bikepacking adventure.
ℹ️
It's a long old bike, so is worth noting for storage purposes, but that opens it up to being used to touring, with many points to attach fixings to carry extra weight – which its strong aluminium frame is geared up to take.
The Specialized Tero 5.0 comes with a monster battery. The custom-made U2-710 offers 710Wh of battery power, which offers enormously long ride potential.
When we say long, we mean really long – on our review rides we were clocking up between 140km and 160km. That's a bucket load of daily commutes or an all-day adventure out into the countryside.
We've already mentioned it, but we think Specialized have done admirably to keep that weight down, regardless of that big ol' battery. The battery takes around 5 hours to charge fully from empty, which isn't the quickest, but the range it emits balances out that concern.
You also have a very strong aluminium casing around the battery, which sits in the downtube and is easily clipped in and out for charging.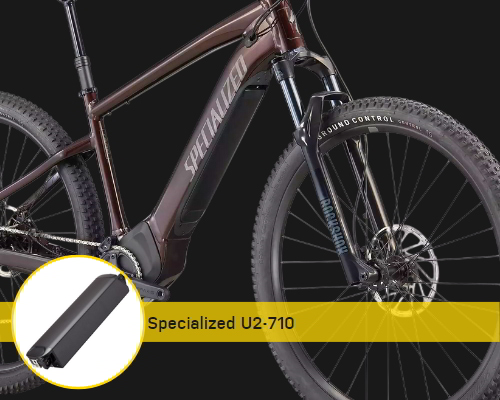 This Specialized Tero comes with a seriously powerful, custom-made 2.2 motor, which punches out 90Nm. It's another feature, which trumps some of the competitors in this hardtail all-rounder corner of the market.
That amount of power, coupled with the respectable weight, means you can absolutely fly up some very tricky climbs. This Specialized Turbo motor has 4 modes of assist – Eco, Trail, Turbo and Walk.
The bike can feel a little sluggish to get going in Eco mode, but when moving the bike feels comfortable. However, the Turbo mode can feel so powerful it feels unnatural if you use it in the incorrect setting – particularly in tight conditions on a narrow trail route.
The power is welcome on tricky ascents, but can feel like an overshoot on the flat – it certainly isn't the most natural power delivery.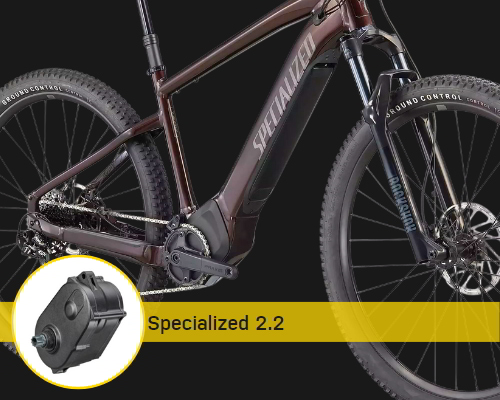 ℹ️ You'll never struggle on any terrain with this motor, but be cautious about where you use it, so you don't end up feeling like you're hanging on to the back of a rampaging bull.
This Specialized Tero comes with the company's custom Mastermind TCD display. The TCD is absolutely everything you want from an e-MTB display.
First and foremost, you get the amount of battery life displayed as a percentage, so you can accurately measure how much range you have left (likely to be a lot with that size of battery).
But there are many more customisable options, too – including cadence, speed, heart rate (if hooked up to a monitor), distance ridden, power, assist shifting prompts, time and altitude. You can select your customisable view easily and switch between data by a few clicks of a button.
It's easy to read and can all be hooked up to a smartphone to reflect back on your ride performance, look at areas for improvement and share you adventure with pals. It's a brilliant piece of kit.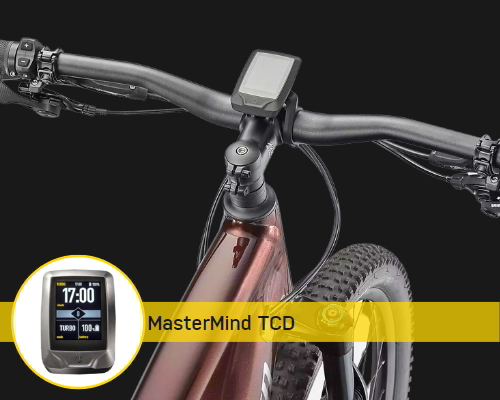 This Specialized Tero is a hardtail, so only has suspension at the front end. The rear end is fixed to maximise speed and comfort over longer distances and to prevent sponginess at the rear end, which would slow you down.
The Turbo Tero 5.0 has 110mm of travel at the front, with Rockshox Recon Silver RL forks. The suspension offers you enough give to comfortably move from an urban environment to a dirt road or gravel path, without any discomfort.
It feels balanced off-road and you have the perfect mix of traction, speed and comfort rolled into one. The bike isn't made for heavy hitting impacts or wild descent focus trails and it would come seriously unstuck if you tried to take it to those environments.
However, the bike has enough in the front end to feel comfortable riding off-road, which is what it's designed to do.
The Specialized Tero 5.0 comes with 29in wheels at the front and the rear, with robust Stout XC wheels. Those are fitted with Ground Control 2 Bliss Ready tyres, which are 2.35in wide.
The wheel and tyre pairing are designed to offer a solid amount of traction to provide a comfortable base over long-distance, while also being fast moving.
The wheels are also ultra strong to be able to cope with the extra weight of carrying luggage or other bike touring equipment. Overall, it's a solid pairing.
This Specialized Tero comes with SRAM G2 RS 4-piston, hydraulic disc brakes. Another really decent pairing, which offers strong bite and responsiveness.
Given the power of the motor, which can be a little too much at times, you need a pair of brakes you can rely on and fortunately these do the job nicely.
The bike can also really shift at quite a speed, particularly with extra weight on a bike tour or commute, but the SRAM G2s are capable of coping.
This Specialized Tero comes with SRAM PR-1130, 11-speed cassette, and an SRAM GX rear derailleur, with SRAM S700 shifters. We're surprised they didn't bump the bike up to a 12-speed – it seems an oversight to us. The 11-speed is good enough, but having an extra gear to play with is always useful.
Specialized has pitched this fairly in our opinion. You're getting monster electrical elements, a comfortable ride and decent components throughout.
We've looked at a lot of different hardtails recently and many come in pricier than this ride. Another coup in this Specialized Tero 5.0 review.
Specialized Turbo Tero 5.0 Facts & Figures
GEOMETRY

S
M
L
XL

CRANK LENGTH

170mm

170mm

170mm

170mm

SEATPOST LENGTH

360mm

400mm

400mm

400mm

HANDLEBAR WIDTH

720mm

750mm

750mm

750mm

STEM LENGTH

60mm

60mm

70mm

70mm

SADDLE WIDTH

155mm

155mm

155mm

155mm

STACK

637mm

651mm

664mm

687mm

REACH

405mm

426mm

446mm

462mm

HEADTUBE LENGTH

135mm

150mm

165mm

190mm

HEADTUBE ANGLE

66.4°

66.4°

66.4°

66.4°

BB HEIGHT

313mm

313mm

313mm

313mm

BB DROP

57mm

57mm

57mm

57mm

TRAIL

114mm

114mm

114mm

114mm

FORK LENGTH (FULL)

516mm

516mm

516mm

516mm

FORK RAKE/OFFSET

44mm

44mm

44mm

44mm

FRONT CENTER

709mm

736mm

761mm

787mm

CHAINSTAY LENGTH

470.4mm

470.4mm

470.4mm

470.4mm

WHEELBASE

1173mm

1200mm

1226mm

1252mm

TOPTUBE LENGTH (HORIZONTAL)

589mm

620mm

650mm

680mm

BIKE STANDOVER HEIGHT

773mm

807mm

807mm

835mm

SEAT TUBE LENGTH

400mm

450mm

460mm

500mm

SEAT TUBE ANGLE (VIRTUAL)

73.9°

73.4°

72.9°

72.4°
FRAMESET

Frame

E5 Aluminum, bottom bracket motor mount, fully integrated &lockable downtube battery, internal cable routing, lock and front rack mount

Fork

Rockshox Recon Silver RL, 110mm travel, Motion-Control

Seat Binder

SEAT COLLAR, KCNC, SPL-SC02-349-02, EXTRUDED, 7075-T73, 34.9MM, 10B21, BLACK ZINC BOLT, BOLT CLAMP TYPE
COCKPIT

Stem

Stout 3D-forged alloy, 31.8mm, 6-degree rise

Handlebars

Specialized Trail, 6061 alloy, 8-degree backsweep, 6-degree upsweep, 27mm rise, 31.8mm clamp, S 720mm, M-XL 750mm

Tape

Specialized Trail Grips, Lock-on

Saddle

Rivo Sport, steel rails, 155mm

SeatPost

TranzX Dropper, 30.9mm, S: 100mm, M-XL: 120mm
BRAKES

Front Brake

SRAM G2 RS, 4-piston caliper, hydraulic disc, 200mm

Rear Brake

SRAM G2 RS, 4-piston caliper, hydraulic disc, 180mm

DRIVETRAIN

Rear Derailleur

SRAM GX, long cage, 11-speed

Shift Levers

SRAM S700, single-click lever

Cassette

SRAM PG-1130, 11-speed, 11-42t

Chain

KMC e11T, 11-speed w/ Missing Link™

Crankset

Custom alloy forged crankarms

Chainrings

Praxis, 36T, 104BCD

ACCESSORIES

Pedals

Specialized platform pedal

Bell

Simple bell

WHEELS

Rims

Stout XC 29, 25mm internal width, disc-specific

Front Hub

Specialized alloy front hub disc, sealed cardridge bearings, 6-bolt, 15x110mm thru-axle, 32h

Rear Hub

Specialized alloy rear hub disc, sealed cardridge bearings, 6-bolt, 12x148mm thru-axle, 32h

Spokes

DT Swiss Industry

Front Tire

Ground Control, 2Bliss Ready, 29×2.35″

Rear Tire

Ground Control, 2Bliss Ready, 29×2.35″

Inner Tubes

Presta, 48mm valve

E-BIKE

Motor

Specialized 2.2, 90Nm torque, custom tuned motor, 250W nominal

UI/Remote

MasterMind TCD, w/handlebar remote, built-in anti-theft feature, Bluetooth® connectivity, customizable display pages

Battery

Specialized U2-710, alloy casing, state of charge display, 710Wh

Charger

Custom charger, 42V4A w/ Rosenberger plug, 100-240V

Wiring Harness

Custom wire harness
* Specifications are subject to change without notice
Another company vying for the market in this area of hardtail e-MTB is Trek. The manufacturer's Powerfly 7 Equipped is a great bike to compare to our Turbo Tero 5.0.
The bikes come in around the same price – with the Trek only $113 more expensive. However, it does carry extra weight at over 25kg, compared to the 22.7kg on our Specialized.
Both bikes have a similar comforting, but sporty geometry, although the Trek offers an extra 10mm of travel in the front suspension – allowing you to take on some bumpy terrain. The Specialized trumps the Trek in the battery department, by 75Wh and it offers a longer range.
You also get 5Nm more of torque in the motor with the Turbo Tero 5.0, however, the 85Nm on offer with the Trek feels more natural in its strongest mode. Display wise, the Specialized TCD offering is hard to compete with – Trek's Bosch Kiox 300 is decent, but just lags behind slightly.
You also get an extra gear with Trek's 12-speed group set.
This is one of the toughest comparisons we've done. It's a toss-up between extra battery life and power, over an extra gear and smoother motor output (but you do end up with more weight on the Trek).
Both excellent bikes, but we think the Trek sneaks it with its smoother output and extra gear.
This Specialized Tero is a fantastic bike, which manages to bridge the gap between urban and dirt with a brilliant level of accomplishment.
The bike feels comfortable over long distances and you get an enormous amount of range in the battery. Despite its high-level components and excellent added features, such as the display, you aren't paying an inflated price – which is another achievement from the crew at Specialized.
We have a few grumbles – the motor power output can be unsettling in its most powerful mode and we would love to see a twelfth gear.
However, overall, the Turbo Tero 5.0 is a cracking bike and it's a brilliant partner to take on a big old adventure or to accompany you on your daily commute. You can comfortably spend hours in the saddle with a smile on your face and that's something to celebrate.
Now go out and give it a go yourselves.
If you enjoyed this review then make sure to check out our other Specialized reviews.